If you're serious about boosting your local search presence and attracting local customers, you'll need to take some measures to optimize your Google My Business listing.
For those unfamiliar with it, Google My Business (GMB) is a free tool from Google that helps businesses manage their online visibility and outreach in Google Maps and Google Search.
If you've ever searched for a restaurant's name, you've probably seen their Google My Business listing, which is officially known as a "knowledge panel." This is a card that features important details people want to know about local businesses. It shows up to the right of organic search results on desktop, and at the top before the search results on mobile.
If you're searching for a business on Google Maps, the Google My Business listing is displayed at the left side on desktop, and at the bottom of the Maps page on mobile.
Here's what it looks like:

As you can see, the listing contains loads of valuable information that customers would find helpful, such as:
Images
Overall rating
Reviews
Business type
Business name
Physical address
Operating hours
Phone number
Questions related to the business
Popular times to visit
And more
Unfortunately, many restaurateurs set and forget their Google My Business listing for months at a time. While this won't necessarily harm your business, there are several ways you can optimize your listing to stand out from your competitors.

Let's take a look at some of the steps you can immediately take to boost your listing.
1. Add high-quality images and videos
Photos and videos increase the appeal of your Google My Business Listing and give people an indication of what to expect. You can add these by going to Home and clicking on the "+" sign. Be sure to follow Google's recommended dimensions while uploading, which are as follows:
Images:
Type: PNG or JPG
File size: Between 10 KB and 5 MB
Resolution: Minimum 720 px wide, 720 px tall
Quality: Realistic, well lit, and without filters
Videos:
File size: Less than 100 MB
Length: Up to 30 seconds
Resolution: 720p or above
While you upload images, you'll notice that there are multiple categories to choose from, including Exterior, Interior, Menu, Products, etc. Make sure to add relevant photos in each section to give people a detailed overview of your offerings, like the Dubai-based Al Dawaar Revolving Restaurant has done in its GMB listing.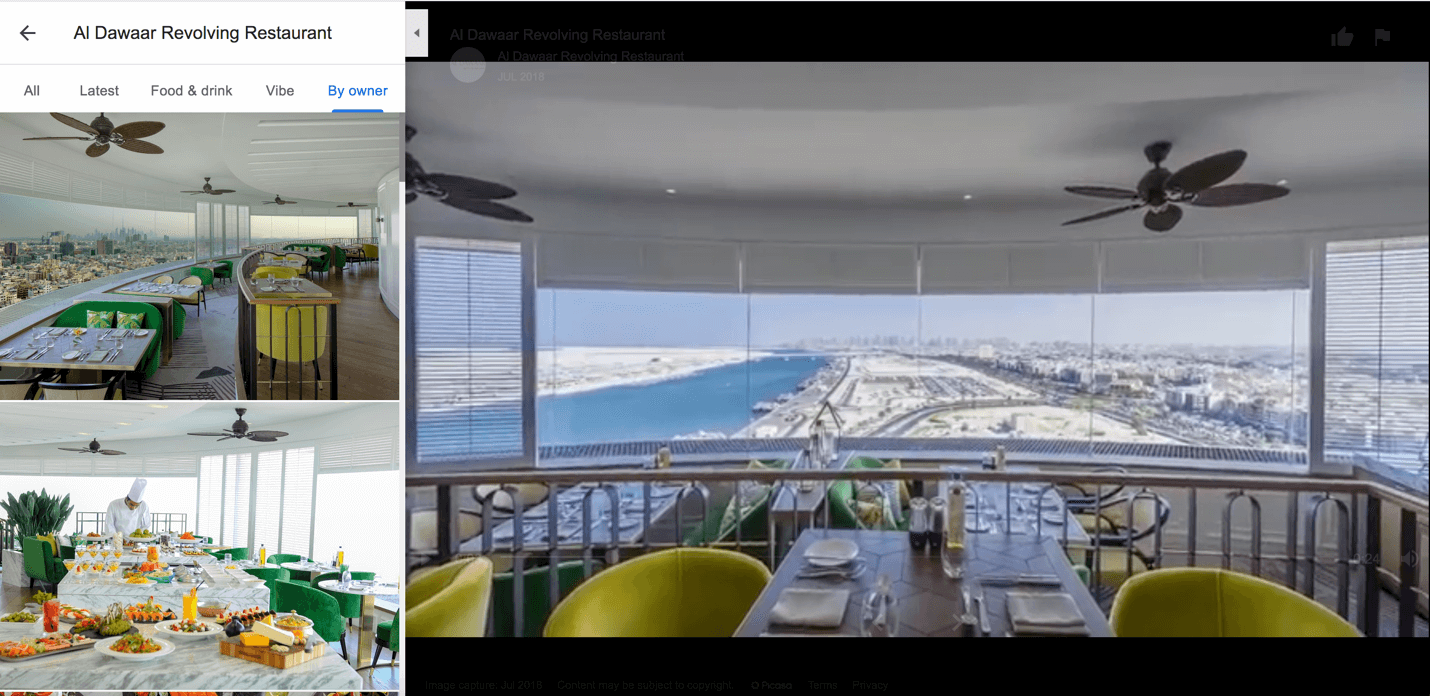 You can also create a 360-virtual tour of your restaurant by adding 360-degree images. This can be done with the help of the Google Street View app that's available for both iOS and Android handsets. The alternative is to buy a specialized camera, like the Gear 360 from Samsung, or hire a Google trusted photographer.
Google says that businesses with images on their listings get 42 percent more requests for driving directions than businesses without images, so don't miss out on this opportunity to bring more people to your restaurant.
2. Create Posts to Promote Daily Specials & Events
Did you know that it's now possible to have your content displayed in your Google My Business card?
In 2017, Google released "Posts" for GMB users, which allows business owners create several types of content to display in their Google My Business listing, including company news, articles, product promotion, upcoming events, and limited-time offers.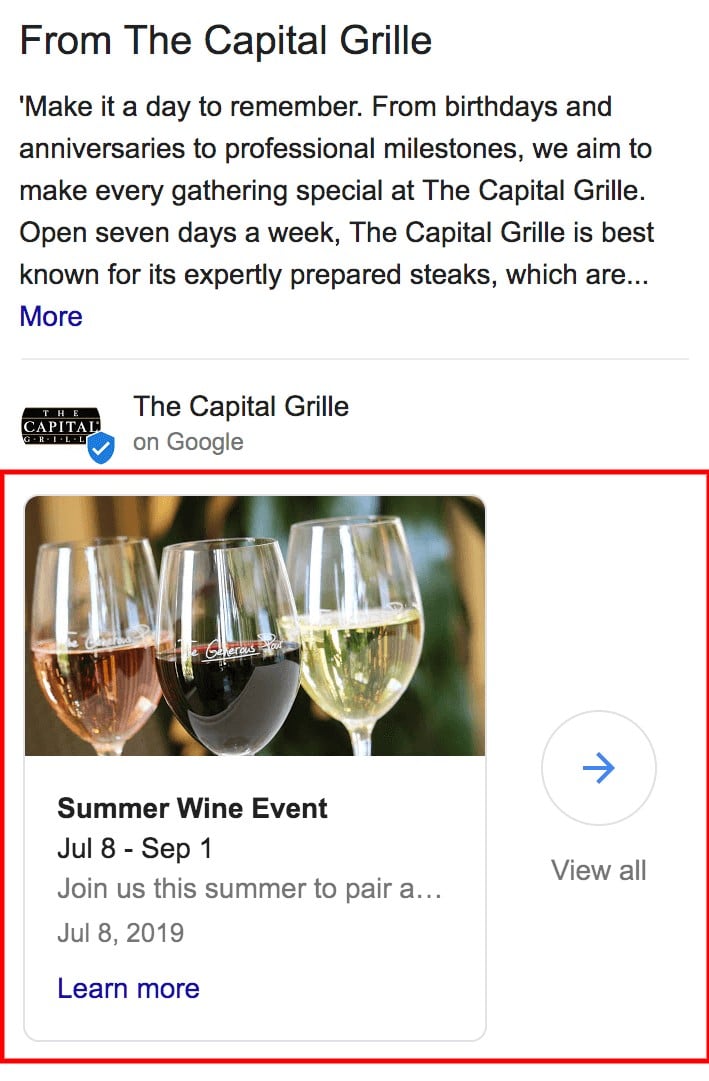 Really, you can post whatever you want patrons to know about your specials and the events you're planning to host.
For example, you can create a post for a 3-day wine-tasting event to attract the attention of potential guests. The Posts feature will also let you add an image for the event, as well as define a start and end date for it.
Customers can read the entire post, and they can also share it with their peers directly from Google. Content can be published on the go using the Google My Business website or Android and iOS apps.
3. Put up a booking reservation link or button
Google My Business also has the option to add reservation links within the knowledge panel, which any restaurant can do on their own through the URLs section of the tool.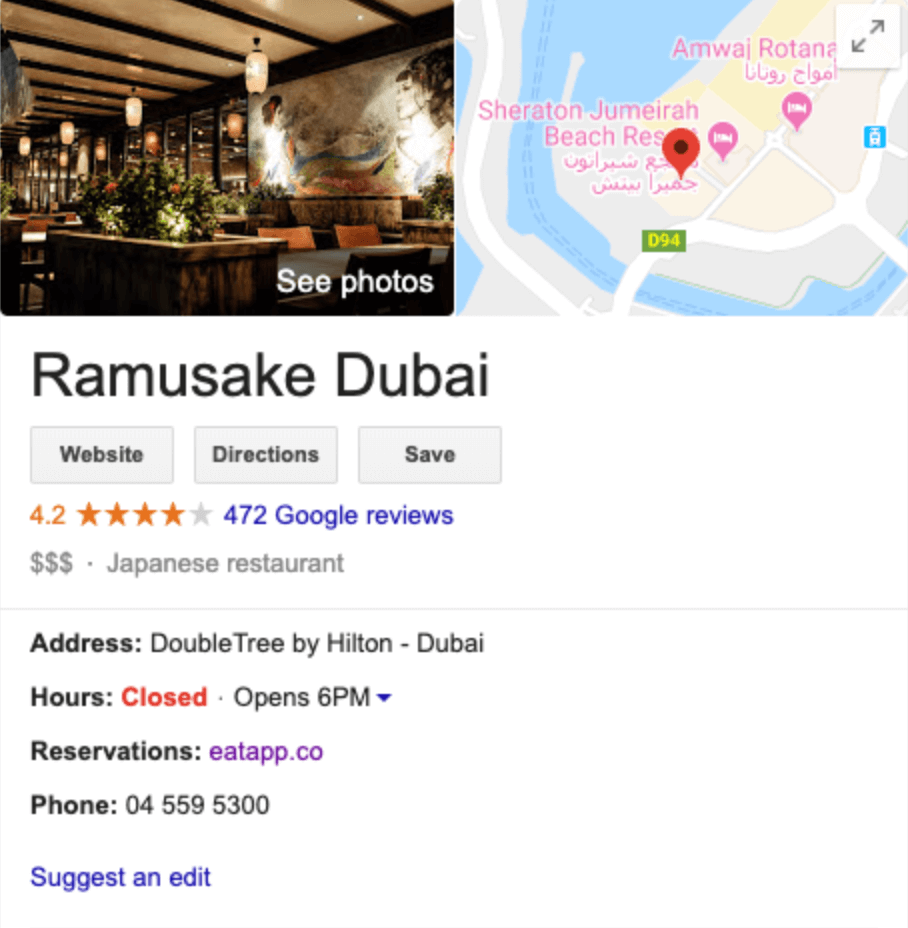 The link will direct potential customers searching for your business to your booking widget or website.
It may even be possible for you to include a Google reservation button in your listing if you're using a restaurant reservation system. Also referred to as Reserve with Google, the button lets people make table reservations from the listing directly without requiring them to load a restaurant's website or booking widget.
Restaurant reservation softwares like Eat App have partnered with Google to bring this feature to various restaurant in the market. Using this system will enable you to add a direct booking link to your Google My Business listing.

And because Reserve with Google directly connects with your reservation tables, it ensures that guests are only allowed to make reservations when there are free tables available. In addition, it will auto-suggest different dates when your tables are fully booked.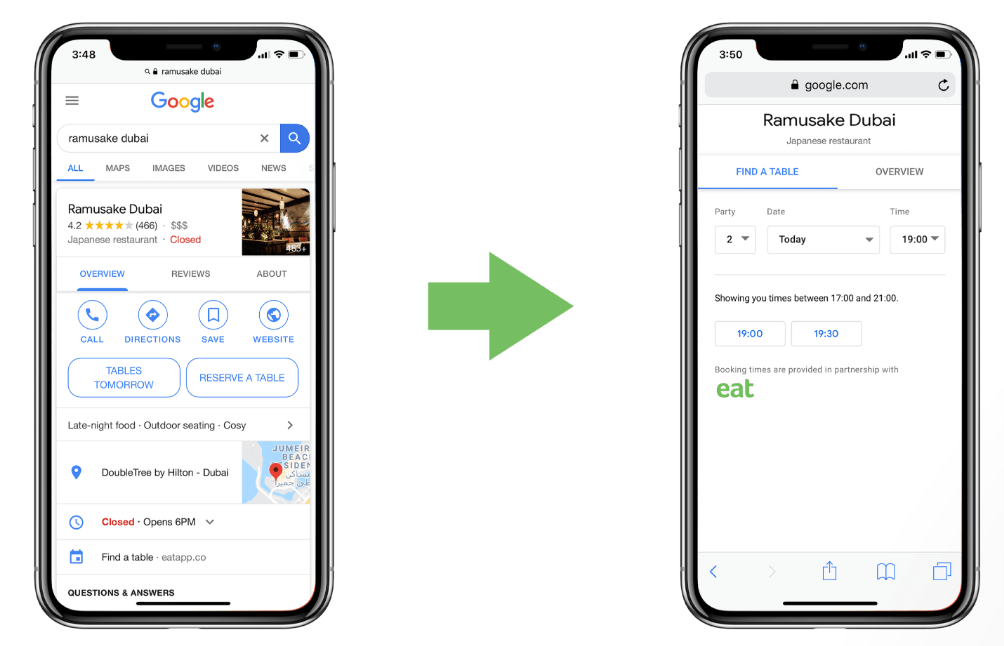 Adding a reservation link or button to your listing is crucial for a variety of reasons. If your website is still under construction, people can be directed to your GMB profile because they'll get all the details they need from your listing. Also, features that are integrated into these links and buttons help prevent double bookings and no-shows.
4. Get your operating hours right
The importance of getting your operating hours right is a no-brainer. There's nothing more frustrating for a customer than embarking on a long journey to reach the place where your restaurant is located, only to discover that it is closed. It can have a negative influence on customer loyalty and may even lead to bad reviews.
To prevent any hiccups, make sure your regular business hours are accurately listed on your Google My Business profile. Also, make sure to use the "special hours" feature for any public holidays around the corner.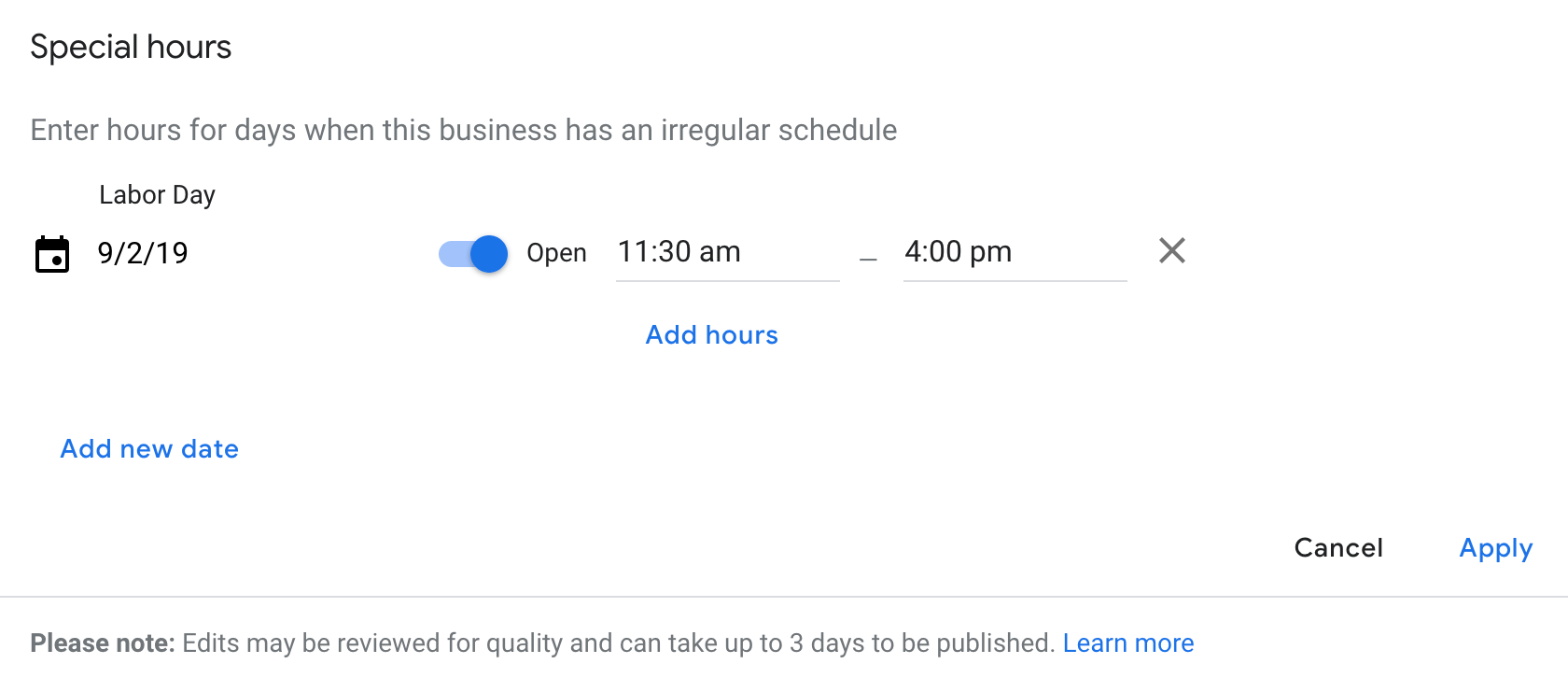 Perhaps you're a casual dining restaurant that will open for five days a week instead of seven during the Christmas season, or a QSR that's planning to stay functional 24/7 during the holidays. Use the special hours feature to let people know when they can drop in.
5. Manage your reviews
When it comes to influencing the buying decisions of potential guests, reviews are key. Why? Because 93 of local consumers read reviews to determine whether or not it's worth visiting a particular business.
Did other diners have a positive experience at that restaurant? How likely will their opinion define our expectations? Those who're influenced by reviews will have these questions in their minds. It's, therefore, essential that you take a proactive approach to manage your Google My Business reviews.

Responding to negative reviews is a good place to start. Whether a customer was dissatisfied with your service or an item on your menu, do not ignore their opinion. Apologize for providing a subpar experience, ask for detailed feedback, and offer to make things right, like in the example below.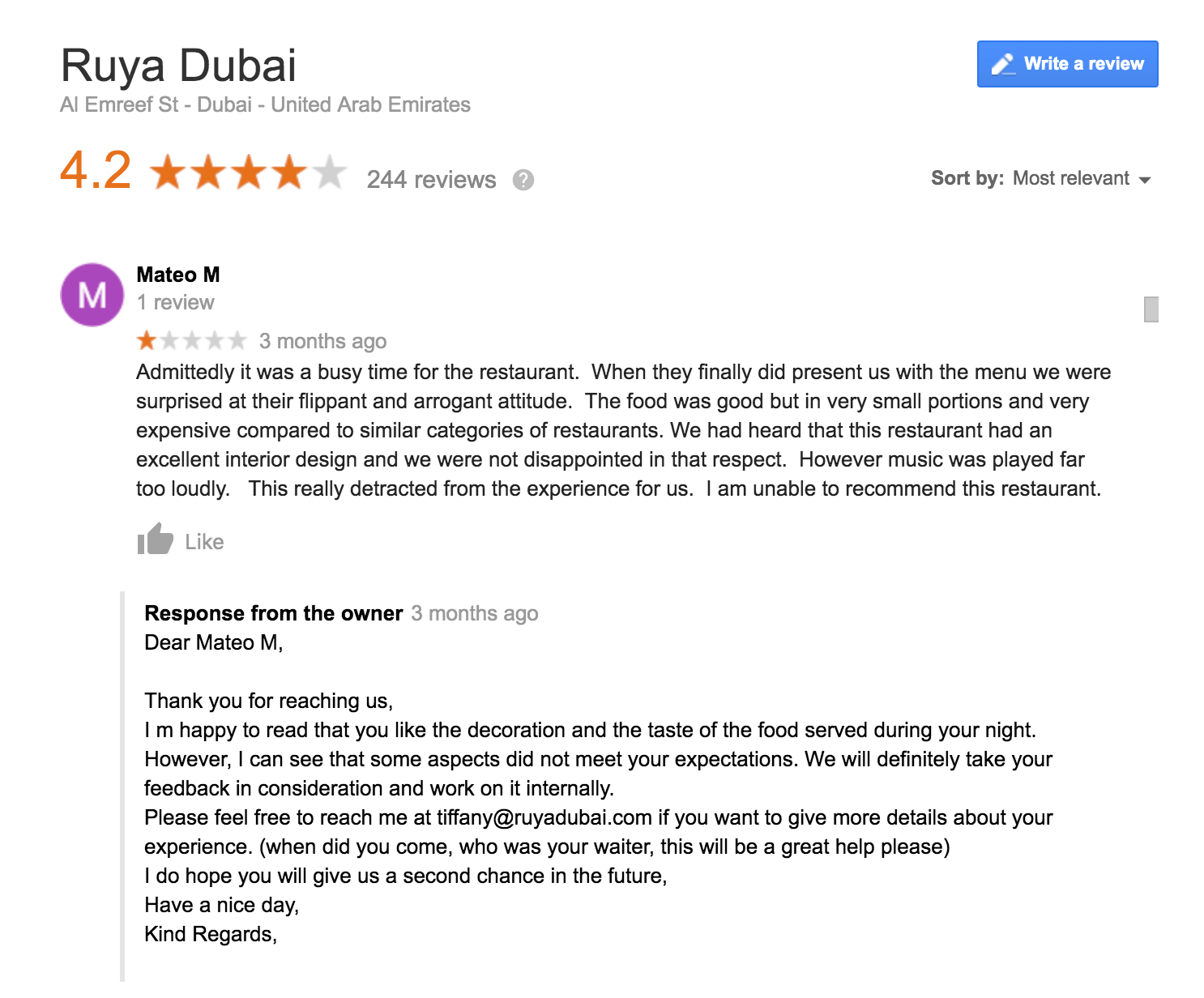 When you regularly respond to reviews, you provide customers with evidence of your authenticity and compassion. In addition, you give your listing a chance to win a "Local Pack" status in Google search results. This is a section of the search engine that shows three local businesses that might answer a customer's query.
For example, if you search for the "best restaurants in Dubai" on Google, the Local Pack displays the name of three restaurants that you might find interesting enough to check out.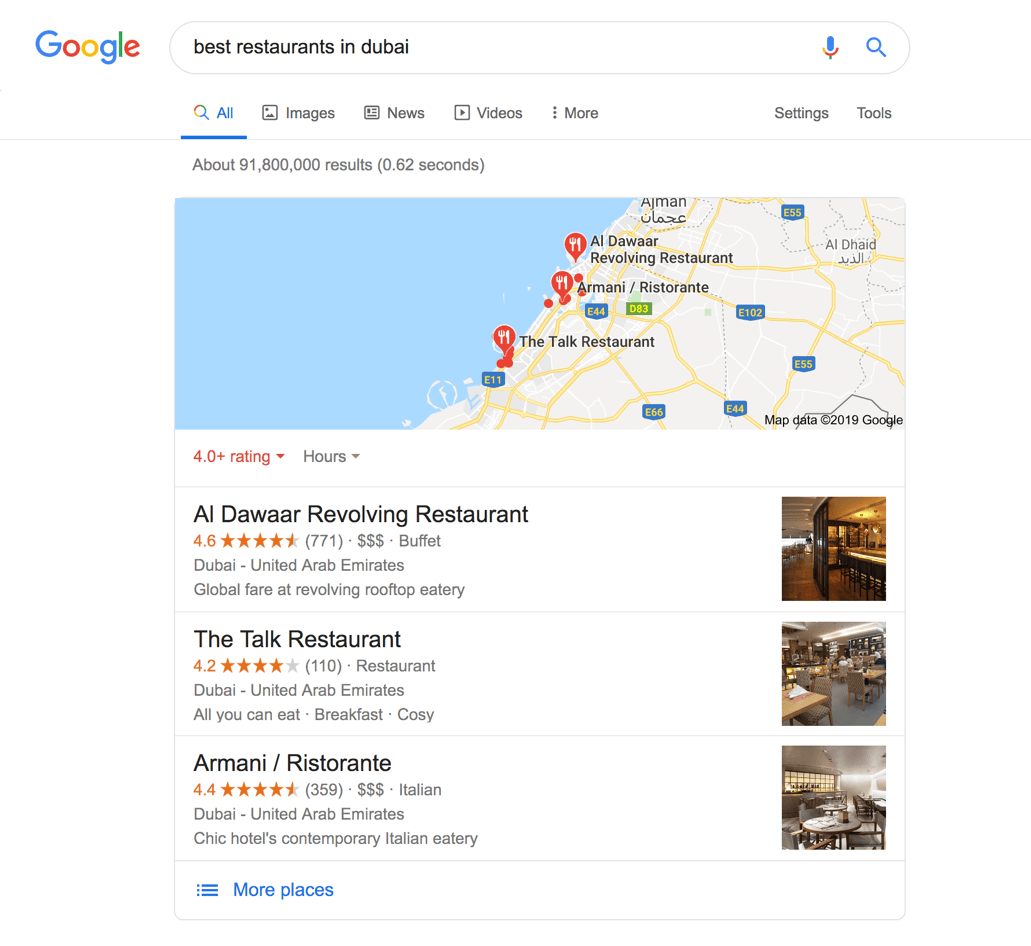 What's intriguing is that this section appears on the top of search engine results. So getting your restaurant featured in the Local Pack can generate lots of leads and customers for your business.
Let's not forget, it all begins with managing your GMB reviews, so don't waste any time in responding to negative comments. Besides that, encourage people who're satisfied with your restaurant to leave a positive review about your business.
6. Use Google Q&A to answer customers' questions
You may not know this, but your Google My Business listing has a Question and Answers section called Google Q&A. This works in a similar fashion as the "Ask the Community" feature on Yelp, providing customers with the ability to ask questions and get answers directly from your GMB card.
The unique aspect of this feature is that anyone can give an answer to customers' questions. It doesn't necessarily have to be the business owner. However, it's best if you answer most of these questions because no one knows your business better than you.
Questions and Answers can be seen in GMB listings on both mobile and desktop browsers via Google search and on the Google Maps app for Android handsets.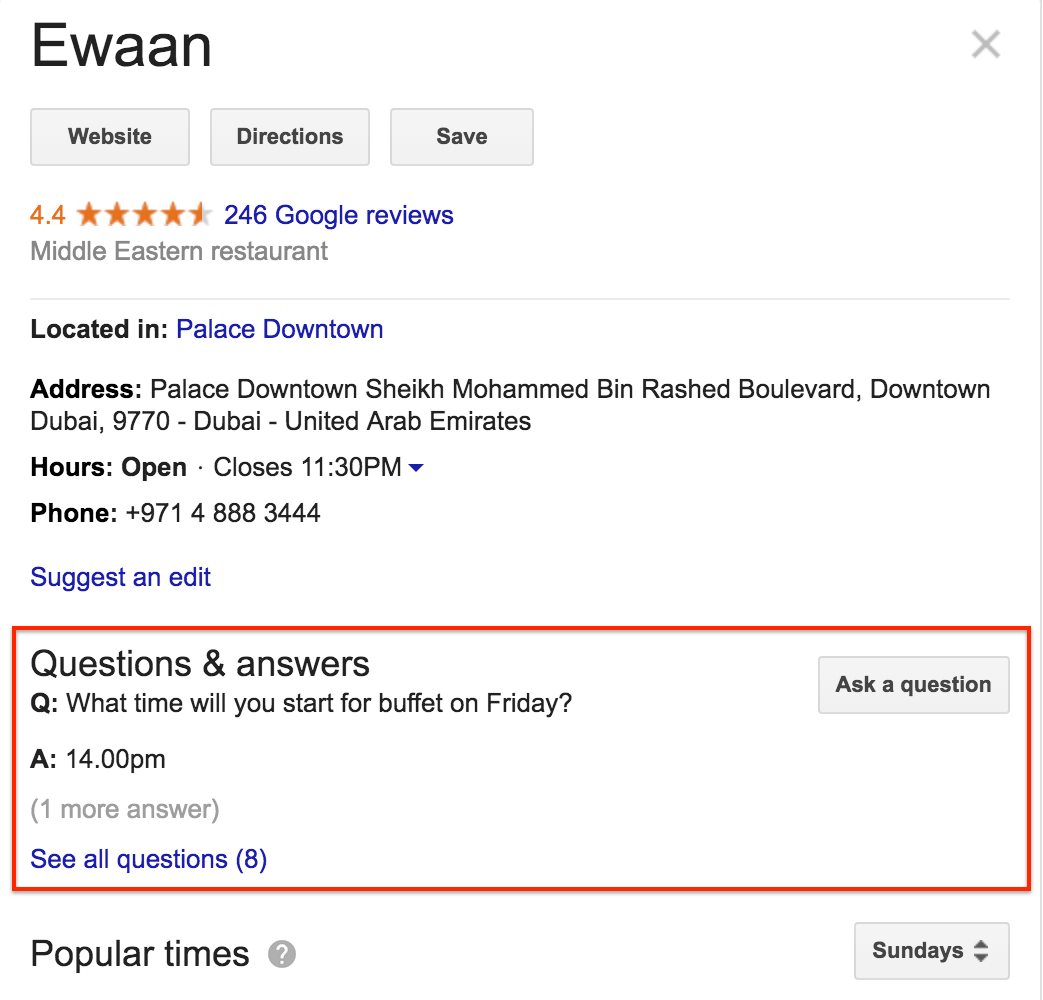 If no one has posted a question, feel free to populate Google Q&A with the
most frequently asked questions from your restaurant's website. The best strategy is to treat it like your own personal FAQ where you share all the information you want people to know about your business.
7. Activate messaging to have real-time conversations
The messaging feature in Google My Business allows people to message you directly from your listing. If you have the capacity and staff to immediately respond to a customer's inquiry, this is an ideal feature for your restaurant. Real-time communication can enhance a customer's experience, especially if they don't want to make a phone call and chatting is their preferred method of communication.
Here's what the messaging feature looks like in a GMB listing: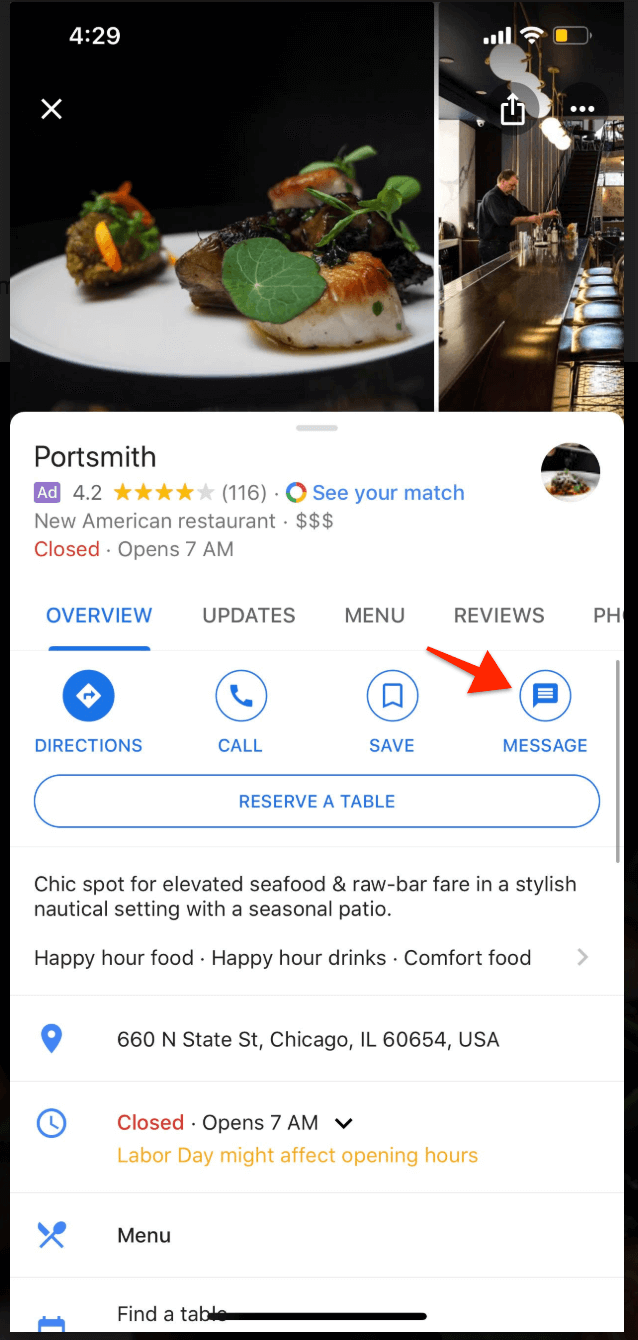 It's basically a button that a customer needs to tap to initiate a chat with the business.
You have the freedom to activate and deactivate this feature. I recommend keeping it enabled during business days and switch it off when no one is at the customer service desk.
The individual who responds on behalf of a business (whether it's the owner or a customer service representative) will display their Google avatar image and full name to the customer. Make sure to reply to the messages you get same-day, as Google analyzes your average response time and shares it with customers.
Business owners can also set up a custom message of up to 120 characters to welcome the customer. You can say something like "Thanks for getting in touch with us! Please allow us a few minutes to get back to you. In the meantime – check out our brunch menu."
8. Download the Google My Business mobile app
Taking this step will make it easier to respond to people, post articles and add visuals to your Google My Business listing. Also, the Messaging feature discussed in the previous point can only be activated via mobile. You'll be able to see all of your customers' messages in one place from the "Customers" tab inside the app.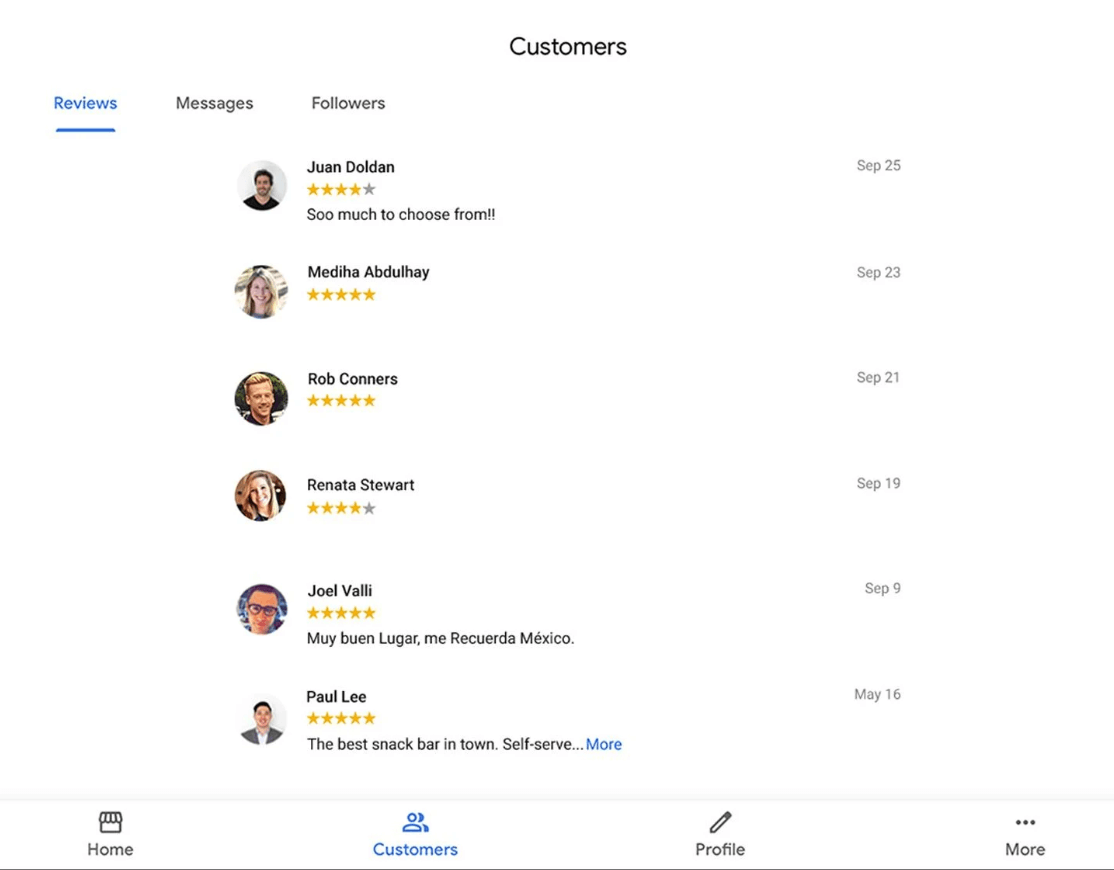 You can even create custom notifications, so you can stay on top of activities that matter the most for your listing. The app can send notifications for posts, product updates, the health of the listing, bookings, customer reviews, payments, and insights.
If you're rarely at your seat and always on the go, you can use the GMB app to keep things flowing. It's available for both iOS and Android devices.
9. Configure your service area
If your restaurant is offering a delivery service to customers living in specific localities, you can list those places as your "service areas" on your Google My Business profile. Doing this will help customers learn where deliveries are possible.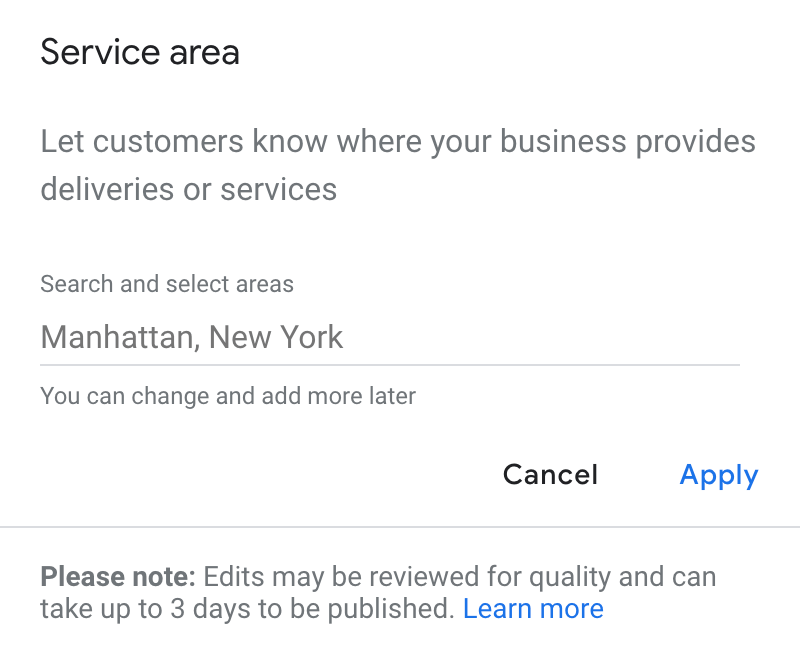 You can define a service area based on the cities, regions, and even postal/zip codes you cover. There's no need to set a radius around your establishment. Also, these settings can be modified as required – so there's no need to stress about being locked into any particular location.
10. Update your social media profiles
You may not be aware that a GMB listing can also display your other social media profiles. This can provide you with serious visibility benefits should customers decide to check you out on Facebook, Instagram, and other places.
Make sure the restaurant name mentioned on your social media profiles is the same as the one on your GMB profile
Where any of your profile requires verification, make sure to complete the process fully.
Add structured social profile markup on your restaurant website to tell Google which profiles you'd like GMB to display.
To make the most of the people who come from your Google My Business listing to your social media pages, make sure to welcome and engage with them. With hard work and consistency, you may be able to build a thriving community that generates word-of-mouth referrals for your restaurant.
Conclusion
Once you've created a Google My Business listing, be sure to take advantage of these features. You want to be easy to find when someone is looking for your restaurant, and an optimized GMB card is the best way to get in front of potential customers at that point. Download the Google My Business mobile app and you'll be able to make the majority of these optimizations on the fly.