The unexpected and sudden outbreak of the deadly Covid-19 has caused a slump in the road for the entire world - cancelled events, closed schools, restricted travel; we are currently facing one of the biggest challenges to our daily lives that we have seen as a community.
One of the biggest side-effects of this growing pandemic is being suffered by the restaurant industry, as travel bans restrict the influx of tourists, remote schooling and work from home reduce the number of people dining outdoors, and social distancing caused by general fear that is dropping the number of diners in restaurants on a daily basis.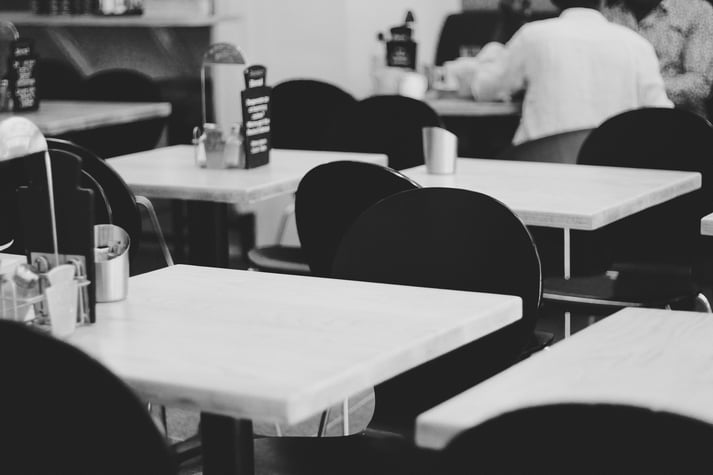 Read how restaurants across the world are reacting to the Coronavirus crisis
- "We're still seeing probably a 60-70% drop in business. We have decided to still stay open with our regular hours next week, but we're going down to a skeleton crew: one person per shift." — Adrienne Elliott, Kakao, Seattle
- "We had a very good Saturday and things were looking good. We closed early on Sunday because of a charity dinner, so it's hard to know what that day would have been like. Monday was OK, and then Wednesday totally tanked—I think we're down about 25 percent. And we lost a $6,000 catering order that's been in the works for six weeks—it was for a conference this weekend that got canceled." — Harris Mayer-Selinger, Creamline, New York
- "In the last two weeks, we saw decreases in restaurant attendance to the point that it became unsustainable—unbearable, even—for us to remain open." — Eric Ripert, Le Bernardin, New York
- "With the volatility in the stock market, extreme germophobia and basically no one traveling, we have to hunker down and prepare for an 80 percent decline in business," said Alex Stupak, the chef and an owner of the Empellón restaurants in New York.
- "On Tuesday night we sent out an email to our customers because we're trying to calm people, to take things seriously and show what we're doing to provide an environment that's still safe to come and enjoy." — Deborah VanTrece, Twisted Soul, Atlanta
- In anticipation of folks staying home, we are actively amping up our efforts on delivery platforms and adding wine and other prepared meals to our offerings. Starting Monday, we're also rolling out a wine and cheese hotline so guests can call for personalized wine and cheese recommendations (like we do in the shop), which will then be prepared for pickup. We are also testing prepared meals for guests to reheat at home and stock their freezers with. — Erin Carlman Weber, All Together Now, Chicago
- We have decided to still stay open with our regular hours next week, but we're going down to a skeleton crew: one person per shift. We're scheduling with a 30 minute overlap, so staffers are able to check in with each other. — Adrienne Elliott, Kakao, Seattle
- "Eight days ago, we were having a team meeting when we got the official announcement from the government telling people that no one should gather in large groups. We'd gone into the meeting to plan how we'd ride out the storm. But then we asked the question: How do you feed a city? What does hospitality look like? How can we keep our staff working and safe? We came out of the meeting thinking that we have a city to feed. We realized that the game is not over; we just need new rules. Instead of multi-course dinners, Canlis will serve bagels from an outdoor stand at breakfast and hamburgers for lunch. The hamburgers will be available for drive-through pickup. In the evening, the restaurant will offer home delivery of prepared meals. — Mark Canlis, Canlis, Seattle
- "We are wiping down the telephones, the computer keyboards, the bathroom door handles — anything staff would touch in the back. We're thinking of our guests, of course, but thinking of what changes we can do to protect everyone internally. That might even mean taking the temperature of every staff member before a shift starts. It's scary to think about, but we have to think outside the box" — Suzanne Humphries, Automatic Seafood and Oysters, Alabama
- "Today, I noticed our reservations have gone down. Now, we have to really keep an eye on labor costs. We usually are ready for service with a full staff, but because of fewer reservations at Mister Jiu's and Moongate Lounge, we had to cut a few people's shifts this week. Two servers, two bar backs, and two prep cooks were cut today. Everyone understands because it's evident that this is affecting all hospitality businesses. I can't remember the last time we've had to make cuts like this." — Brandon Jew, Mister Jiu's, San Francisco
- "We are in crisis mode. Drastic layoffs may be inevitable. Restaurants are a voluntary gathering place for meetings, for celebrations, for general revelry, for shared sustenance. None of those things will be happening." — Rocky Cirino, Altamarea Group
- "The biggest challenge we feel is how to be supportive of the industry, which is facing very real challenges, but be responsible when we are saying to people, 'Go eat at restaurants." — Mitchell Davis, James Beard Foundation
- "This feels like the beginning of a real, real long wait for a hurricane. We're just not going to lose power. When we get into stuff like this, I call it entrepreneurial terror." — Ti Martin, Commander's Palace, New Orleans
- "We're doing marketing with the most positive and upbeat aspects that we can put out there. Not 'We're open!' but messaging around the warmer weather, patios being open and dog-friendly, new spring menus, and Easter is approaching." — Pete Sittnick, Epic Steak and Waterbar
- "We will be eliminating half of our dining tables to allow for a minimum of six feet per table. We have a full-time sanitation position that is cleaning the restaurant and all touched surfaces constantly throughout the evening." — Josh Weeks, The Plumed Horse, Saratoga
- "We expanded our delivery menu to include more dishes that travel well. We tested a few additional recipes and added new dishes to the delivery menu that are also available in the restaurant." — Doug Collister, China Live
- "We're certainly thinking about some worst-case scenarios or prolonged closures. Our real concern is the hourly employees that come in and bring home compensation based on the amount of of hours they put in. In this industry, a lot of that is based on tips so they need customers coming in." — Natale Servino, Servino Ristorante, California
- "Given the increased advisements against public gatherings, we have determined it is in the best interest of our community to temporarily close Zola in efforts to 'flatten the curve. Despite this being a difficult personal and fiscal decision, our mission is to create a space for people to come together and this is precisely what we need to avoid for the time being." — Guillaume Bienaime, Zola, Palo Alto
- "We are taking things seriously. We've removed tables to increase space between guests, invested in the world's last bottles of Lysol to disinfect server stations throughout the shift, and have changed the way we handle cash and table settings." — Zach Pollack, Cosa Buona, Los Angeles
- "We at Cul+ure Collective are staying on top of the frequently updated protocols and news reports. The restaurant teams have increased their already diligent cleanliness, sanitation and food safety procedures. Our first and foremost priority is the health and safety of our team and our guests. We are committed to ensuring that our team members stay home if they are sick. With the financial hardships that are imminent, our goal throughout these difficult times is to safely create jobs for our team members while serving our community. On Monday morning we will be launching our takeout and delivery model to serve the community during these unsettling times." — Chris Viola, Cul+ure Collective, New Jersey
- "Our mission has always been to give each of our customers the best experience that Ramusake has to offer. This mission has an even stronger meaning today and we continue to monitor the situation on a daily basis and amend our practices accordingly. Rest assured, we will continue to adapt our actions in order to offer you the best experience there is." — Ramusake, Dubai
- "It is definitely impacting us. It's in our area, where our restaurant is—in Bergen County. Everybody's being precautious, which is good. We gotta hunker down into survival mode, no question about that. I don't want to sound pessimistic, but right now it's still getting worse." — Seth Warshaw, ETC.Steakhouse, New Jersey
- "We had a meeting to discuss what we were already doing and how to ramp it up. We are just trying to be diligent. We're changing out cleaning chemicals with fresh stuff, we're making sure soap is easily available and encouraging everyone to wash hands even more often. In the kitchen it's more frequent anyway, but we think of how many times people go out to touch tables and come back, so we're all helping each other. We're encouraging TWO Happy Birthday songs while scrubbing."— Mike DeCamp, Jester Concepts
- "We have very limited staff currently, as many of them are 'locked up' in their hometowns, where they went for the Chinese New Year, or in quarantine at home in Shanghai, because there is a 14-day quarantine period when people arrive from outside cities. Many restaurants have to be fully closed or takeaway only in Shanghai. Business is really down, as only a few people are willing to go out. I would say around 70 to 80 percent down." — Philippe Huser, Napa Wine Bar & Kitchen, Shanghai
- "Across the board I would expect to see cuts in operations and expendable operating cost, and that is going to start with labor and go down the line. Small businesses are going to hurt the most, and the more travel bans and social distancing we are going to need to follow, the less we will be capable of operating and weathering the economic downfall this is incurring on restaurants and bars" — Anonymous Bar Owner, New York
- "We're really sad to say that we'll be temporarily closing our deli. It's been a very tough week, and making decisions like this is the worst part of running a business, but we've seen a substantial drop in trade in a very short period of time due to concerns about the Coronavirus outbreak, and it's impossible for us to keep operating in this climate." — Ella Woodward, Deliciously Ella Deli, London
- "With Covid-19 becoming increasingly prevalent across the world, we want to assure you that the well-being of our guests and employees is our main priority. We are adhering to all advice provided by the W.H.O and local authorities and will continue to do so, following daily developments. As always, our restaurants and bars are continuing to maintain the highest possible hygiene standards, with all our employees fully aware of the current requirements" — Jason Atherton, London
- "We are all seeing the stories of the COVID-19 impact on people around the world; and while the impact of the news on all of us has been hard, we wanted to assure of our continued commitment of adhering to the strictest guidelines and protocols advised by local and international authorities. The well-being of you our guests and our teams in the stores is our top priority, and health and safety has our complete attention." — Fogo De Chao, Dubai
- "So far so good, we haven't had any major slowing, just this week has been slightly slower but we don't know if it's a bit of concern. In life you have to be proactive and we are trying as quickly as we can to get a takeaway service up and running from Sergio's so you can have Sergio's at home." — Gianni Poletti, Ristorante Sergio, Chester
- "As the infection rates and mortality rates begin to increase and it becomes more of a story on a more personal level, I have a feeling it's going to be pretty devastating. I'm expecting April, May, and June to be pretty awful. And I think I'm being kind in my words." — David Winer, EatWell DC
Sources: