Our chit printer enables your front-of-house staff to seamlessly print guest booking details and share useful information about the guest and reservation amongst your team.
What is a Chit Printer?
It is a device that prints guest reservations details such as tags, notes, and private comments as well as guest preferences on a slip. Businesses often need this technology to ensure clear communication between hostesses, waiters, the kitchen and other restaurant staff. This helps restaurant staff to manage guest preferences in the kitchen as well as in the seating area.
Restaurant staff work in a busy environment where mistakes can quickly snowball into kitchen backups and long wait times for tables. A chit printer system reduces the need for staff to decipher someone's handwriting which leads to fewer mistakes, faster service and more table turns.
Why you should get an Eat App Chit Printer for your restaurant?
Identify guest preferences and tags faster.
Share comments discretely with other team members
Reduce time spent walking back and fourth in communication.
We recommend using the Eat App chit printer for superior speed and connectivity. The Eat App chit printer has been developed to solve common issues with existing chit printer solutions. The Eat App chit printer is a cost effective way to get the most streamlined experience. For details on pricing please contact your account manager or sales rep today. Alternatively please email sdr@eatapp.co for further information.
_______________________________________________________________________________________________
How-to Setup Eat App Chit Printer
Pair your Chit Printer on iPad
Pairing your iPad with Eat App Chit Printer
Head to the settings app on your iPad
Tap on the bluetooth tab and make sure your bluetooth is switched on
In the devices section, look for your chit printer and tap to connect
Once connected, switch back to Eat App and tap on the "Settings" button on the bottom left hand side corner.
Select "Chit Printing"
If you've done everything correctly, your printer name should appear at the top.
Tap on "Test Print" to print out a sample reservation.
Using Your Chit Printer
Navigate to "Floor View" and select any upcoming or seated reservation. Tap the printer icon to instantly print out reservation details.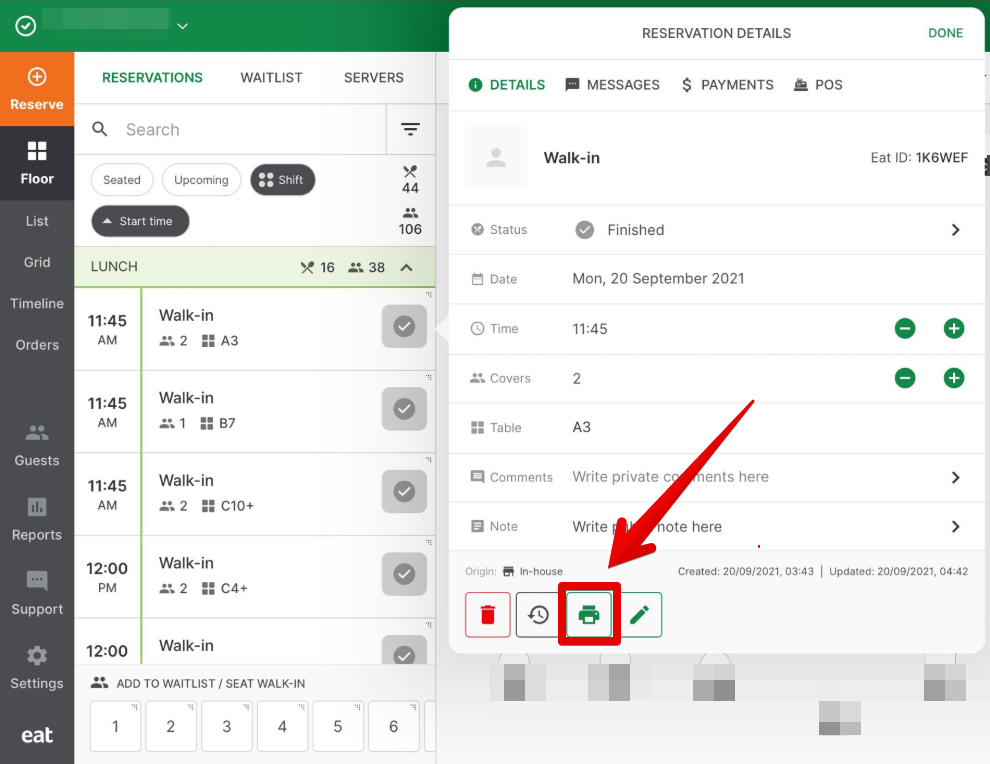 Watch the videos below to see how it works for both iPad and also mobile devices.
Chit Printing on iPad
Chit printing on mobile phones
iOS and Android platforms are both supported too.
Instructions
Make sure Bluetooth is turned on
Go to 'more' -> 'print settings' -> 'connect'