The Settings page makes it easier for you to navigate from the table manager to the page you would like to view or update with just a single click.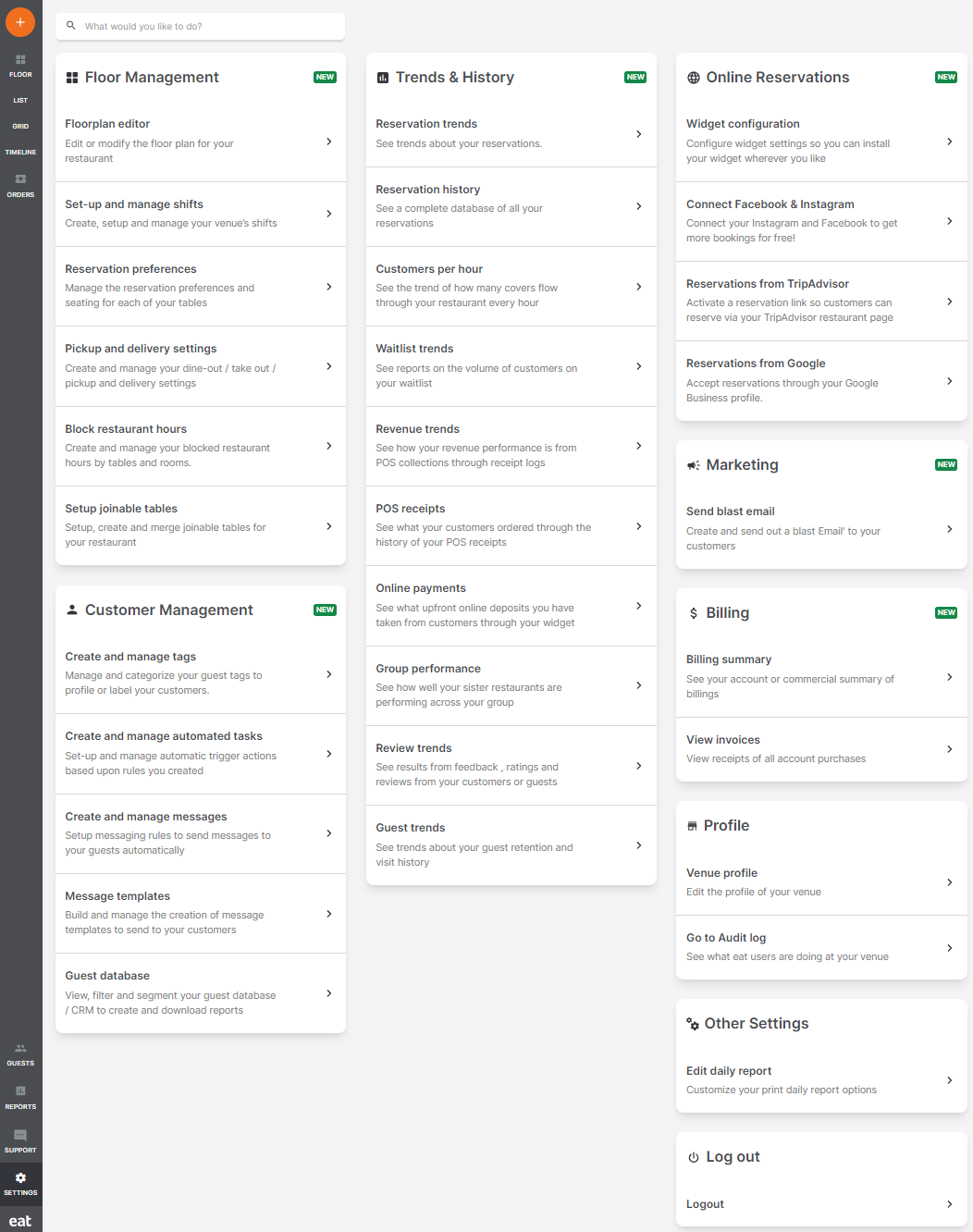 The Settings Page is categorized with the following:
Floor Management
Floorplan editor
Edit or modify the floor plan for your restaurant
Set-up and manage shifts
Create, setup, and manage your venue's shifts
Reservation preferences
Manage the reservation preferences and seating for each of your tables
Pickup and delivery settings
Create and manage your dine-out / take out / pickup and delivery settings
Block restaurant hours
Create and manage your blocked restaurant hours by tables and rooms.
Setup joinable tables
Setup, create and merge joinable tables for your restaurant
Customer Management
Create and manage tags
Manage and categorize your guest tags to profile or label your customers.
Create and manage automated tasks
Set-up and manage automatic trigger actions based upon rules you created
Create and manage messages
Setup messaging rules to send messages to your guests automatically
Message templates
Build and manage the creation of message templates to send to your customers
Guest database
View, filter and segment your guest database / CRM to create and download reports
Trends & History
Reservation trends
See trends about your reservations.
Reservation history
See a complete database of all your reservations
Customers per hour
See the trend of how many covers flow through your restaurant every hour
Waitlist trends
See reports on the volume of customers on your waitlist
Revenue trends
See how your revenue performance is from POS collections through receipt logs
POS receipts
See what your customers ordered through the history of your POS receipts
Online payments
See what upfront online deposits you have taken from customers through your widget
Group performance
See how well your sister restaurants are performing across your group
Review trends
See results from feedback , ratings and reviews from your customers or guests
Guest trends
See trends about your guest retention and visit history
Online Reservations
Widget configuration
Configure widget settings so you can install your widget wherever you like
Connect Facebook & Instagram
Connect your Instagram and Facebook to get more bookings for free!
Reservations from TripAdvisor
Activate a reservation link so customers can reserve via your TripAdvisor restaurant page
Reservations from Google
Accept reservations through your Google Business profile.
Marketing
Send blast email
Create and send out a blast Email' to your customers
Billing
Billing summary
See your account or commercial summary of billings
View invoices
View receipts of all account purchases
Profile
Venue profile
Edit the profile of your venue
Go to Audit log
See what eat users are doing at your venue
Other Settings
Edit daily report
Customize your print daily report options