Printing reservation reports on the fly
Eat App provides restaurant operators with an easy way to view and print restaurant reports on the fly.
Generating reservation reports
Your restaurant's reservation reports can be viewed by pressing the

"Print" icon on the top right-hand corner of Eat App. This icon is accessible from any view in Eat App.


Reservation reports are a daily digest of your restaurant performance that can be generated at any time in a matter of seconds. To view reports for days in the past or future, use the date toggle [link to date toggle page] at the top of any view in Eat App and then generate your report.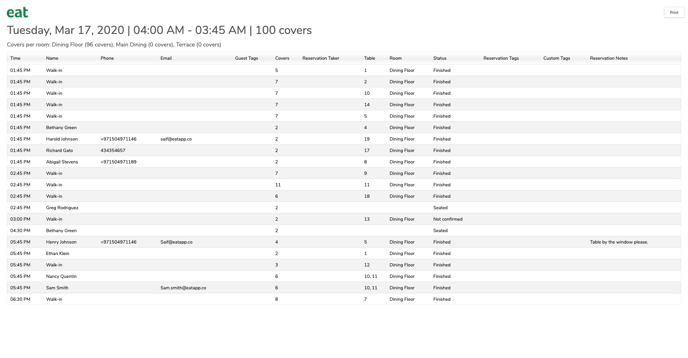 Reservation reports can be saved, shared, or printed just as you would with any pdf.
Customizing reservation reports
The data generated in every reservation report is completely customizable. To make changes to your reservation reports, head to the settings tab on the bottom left-hand corner of Eat App and click the "Edit daily report" under the "Other Settings" category.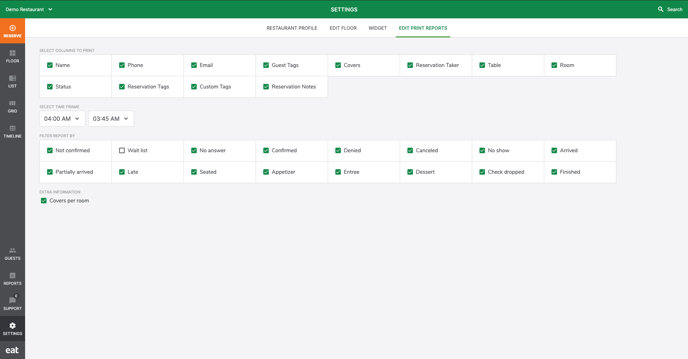 This tab is divided into four main sections.
1. Select Columns to Print
Here you can select exactly what columns should be displayed for each restaurant report.
Guest name
Guest phone number
Guest email
Guest tags
Covers
Reservation taker
Table number
Room name
Reservation status
Reservation tag
Custom tags
Reservation notes
2. Select Time Frame
Here you can control what time range is taken into consideration for every report that is generated.
Example: If you are only interested in viewing reservation details for reservations during your breakfast shift which is from 8:00am to 11:30am.
3. Filter Report By
This is where you are able to fine-tune the specific reservation statuses you are interested in seeing.
Example: There was an abnormally high number of no-shows today and you want to print a report to share with your manager or reservation team to investigate.
The statuses you can filter by are:
Not Confirmed
Waitlist
No answer
Confirmed
Denied
Canceled
No show
Arrived
Partially arrived
Late
Seated
Appetizer
Entree
Dessert
Check dropped
Finished
4. Extra Information
Covers per room: Toggling this option will add a line to each restaurant report with a summary of all the rooms at your restaurant along with how many guests were hosted at each room based on the filters applied.