A quick guide on how to create reservation preferences and events
Reservation preferences are an easy way to have your customers inform you of their preferences when making a reservation at your restaurant. These preferences can be in the form of "Indoor" vs "Outdoor" seating, "Smoking" vs "Non-Smoking" sections and even what section of your restaurant they prefer.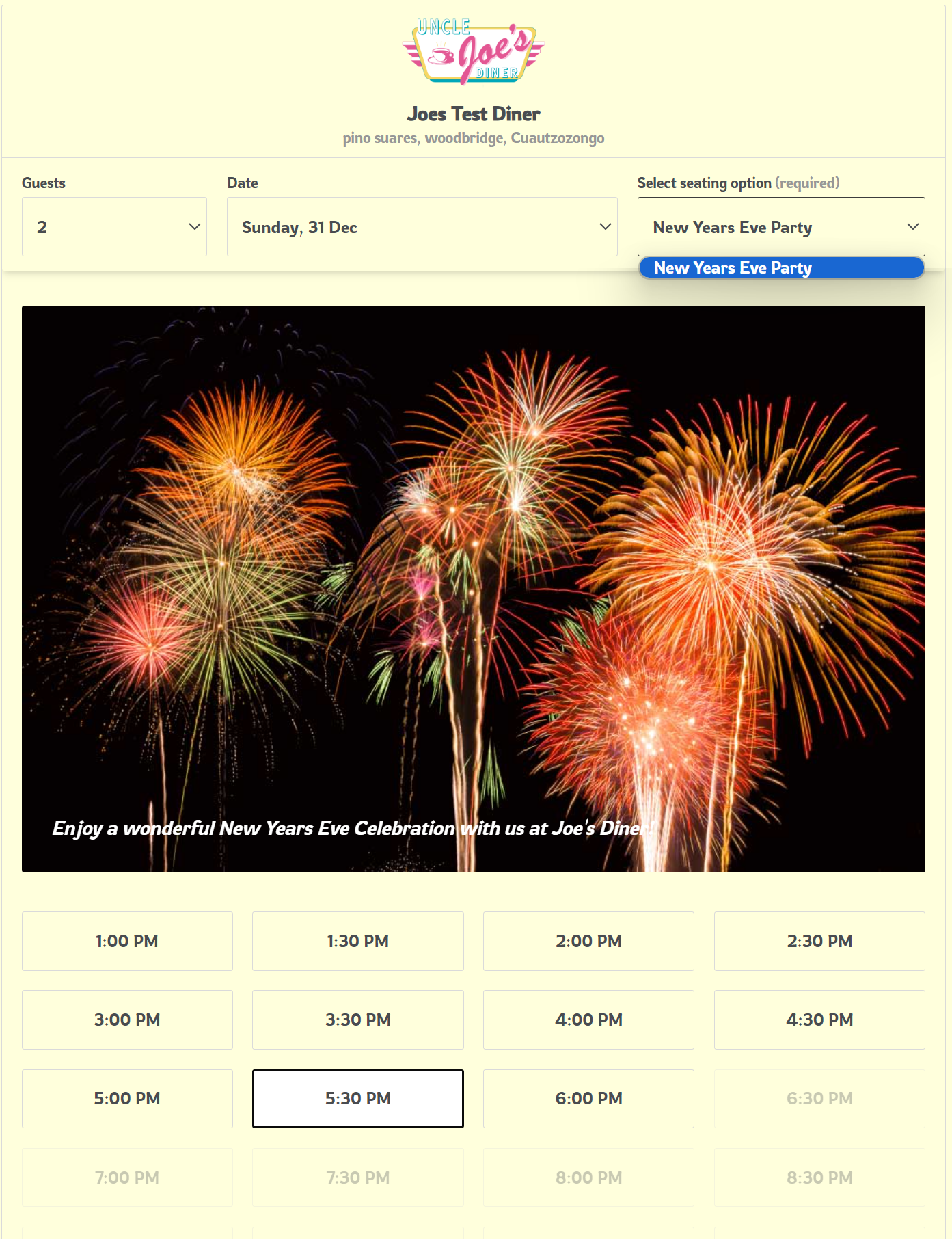 Start off by heading to admin.eatapp.co or navigating to advanced settings from within Eat App. From here, click on the "Availability" tab and switch over to "Preferences". From here you will be able to see a list of the reservation preferences you have created in the past on the left-hand side. Or alternatively, by clicking any reservation preference you can enter the reservation preference settings.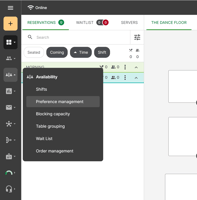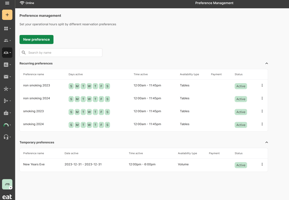 To create a new reservation preference, click the "New Preference" button on the bottom left.
Before you start creating your reservation preference, it's important to note that reservation preferences will overlap your existing restaurant shifts. So it's important to make sure the dates and times you set for your preferences align with your shift settings.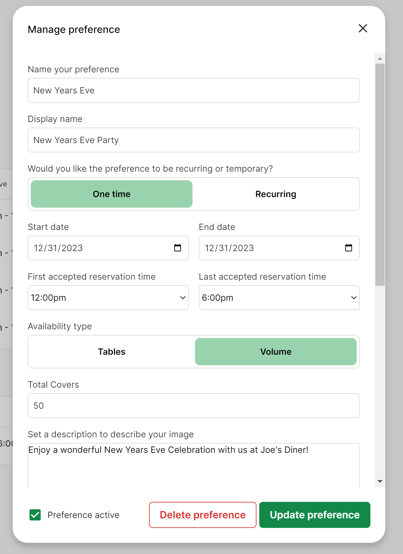 The information you'll need to provide to create your new reservation preference:
Name: The internal name assigned to your reservation preference. Your guests will not see this.
Display Name: The name that will be given to your reservation preferences on your booking widget. For example, "Non-Smoking Section" or "Indoor Seating"
Notes: Any notes you want to make about this reservation preference to be able to come back to in the future.
Preference Availability:

One time: Your reservation preferences will appear regardless of the day of the week between the dates and times you set. For one time reservation preferences you will need to set a start and end date.
Recurring: This will allow you to schedule reservation preferences to only appear on certain days of the week between the date and time you select.

Start and End Date: What time range will your reservation preferences run for. For one time reservation preferences this is mandatory whereas for Recurring, if you do not set a start or end date it will run indefinitely.
Days of Week: For recurring reservation preferences this determines which days every week your preferences will be available.
First and Last Seating: This determines the time range every day that customers will be able to select these reservation preferences.
Capacity By:

Tables: When selecting capacity by tables, you will be prompted to select which tables apply to this reservation preference. For example, if you are setting a non-smoking section preference, you would select all tables that are in the non-smoking section. Customers will only be able to book a table in this section provided a free spot is available.
Volume: If you don't want to restrict your customers by table but rather by volume, you would use this option and set the number of total covers. This can be useful in the event you are hosting a brunch and can accommodate a certain number of people for each package and don't want more people booking than you can handle.
When you are done, click "Create Preference".
If at any point you want to turn off this reservation preference, click "Preference Active" toggle on the bottom left of any preference detail view. You can also delete preferences here.

Mandatory Reservation Preferences
You might want to make it mandatory for your guests to select a reservation preference. This can easily be enabled with Eat App by navigating to the "General" tab in your advanced settings and scrolling down on your profile settings to a toggle labeled "Mandatory booking preferences if any". When enabled this will make it mandatory for your guests to choose a reservation preference if one is available.