Dining as we know it is about to become obsolete. Gone are the days where customers were offered physical menus and paper receipts - with the rise of COVID-19 and the precautionary measures it has enforced, the rules of dining out have completely changed.
Customers are now focused on factors like sanitization and safety when choosing a restaurant to dine at, which is causing a major shift in the restaurant industry to the concept of "contactless dining".
What is Contactless Dining?
Contactless dining, as the name suggests, aims at minimizing a customer's physical contact with high-touch elements (like physical menus and bills) at restaurants that can be carriers of infection in order to minimize the spread of COVID-19 and create a clean, sanitized, and stress-free dining experience.
Various contactless dining systems and tools have already become available to help restaurants adapt to this new age of dining and transition into the concept of contactless dining effectively and efficiently.
From contactless menus, contactless in-house ordering, to contactless payment, restaurants now have a wide stack of tech-enabled dining tools to choose from that can help make the customer's dining experience safe and reduce the risk of infection.
The goal is simple - eliminate every physical touchpoint possible while dining out to create a safer dining experience for customers. Though a few elements of eating out can never become contactless, by integrating the existing contactless tools into their system, restaurants can help their diners have peace of mind and encourage them to dine at their premises.
With this being such a new notion, it can be tricky to determine what is best suited for your restaurant, and which system will be the most effective and efficient for you.
To help you out, we have compiled a list of factors you should consider while choosing a contactless dining system, followed by a review of the top contactless dining systems on the basis of the listed factors.
Here are the best contactless dining systems available for restaurants:
Eat App
eazyFNB
Shoocal
Glyde
Zuppler
Ready
TableTab
Zomato
Presto
Factors to Consider while Choosing a Contactless Dining System
While choosing from the wide range of options, make sure to consider these factors to ensure that you're getting the system that fits your restaurant's needs best.
Features
The contactless dining concept includes various different tools like contactless menus, contactless payments, and more. Every system has a different set of features and complexities, ranging from a simple e-menu to in-depth features like contactless ordering, order modification, and more. Determine which features are best suited for your restaurant and consider the systems that offer all of those features together.
Pricing
With the unpredictability of the current times, it's very important to ensure that you choose the most efficient system. A few systems out there may provide you very similar features, but at different price packages. In cases like these, the cost can be your defining factor.
Before you decide, make sure that there are no hidden costs in the system that may escalate your price significantly.
We have rounded up and reviewed the industry's top nine contactless dining systems to help make your decision-making process easier.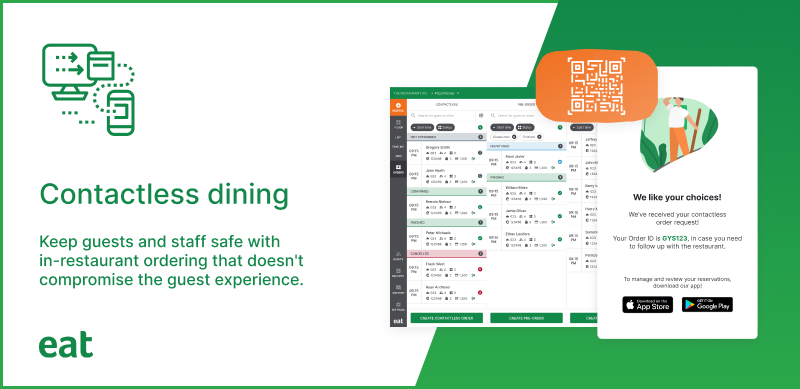 Eat App is a contactless dining system integrated with powerful table management and reservation system and is used by many big names in the hospitality industry including Four Seasons, Wolfgang Puck, Fairmont Hotels & Resorts, and thousands of restaurants around the world.

Eat App enables a seamless contactless dining experience by providing guests with the option to pre-order their food or place orders at their table without any physical contact through a beautifully designed e-menu. The e-menu is revenue-focused and allows you to set up and add modifiers, preferences, and up-sells. The e-menu can easily be accessed through a QR code or URL and is highly customizable.
Unique features for fine-dining & full-service restaurants
Directly connect all your reservations & customer base to contactless orders through table management integration
Share your e-menu with guests in advance via SMS, making the pre-order process speedy & convenient.
Manage your reservations and contactless dining guests with a single dashboard
With an increased focus on hospitality & customer service, Eat App's contactless dining system ensures that the use of technology does not compromise your guests' experience.
Pricing
This new contactless dining feature comes FREE with Eat App's table management and reservation system. If you are currently an Eat App user, you can easily integrate the contactless dining feature into your system free of cost.
Click here to learn more about Eat App's contactless dining features and request a free consultation.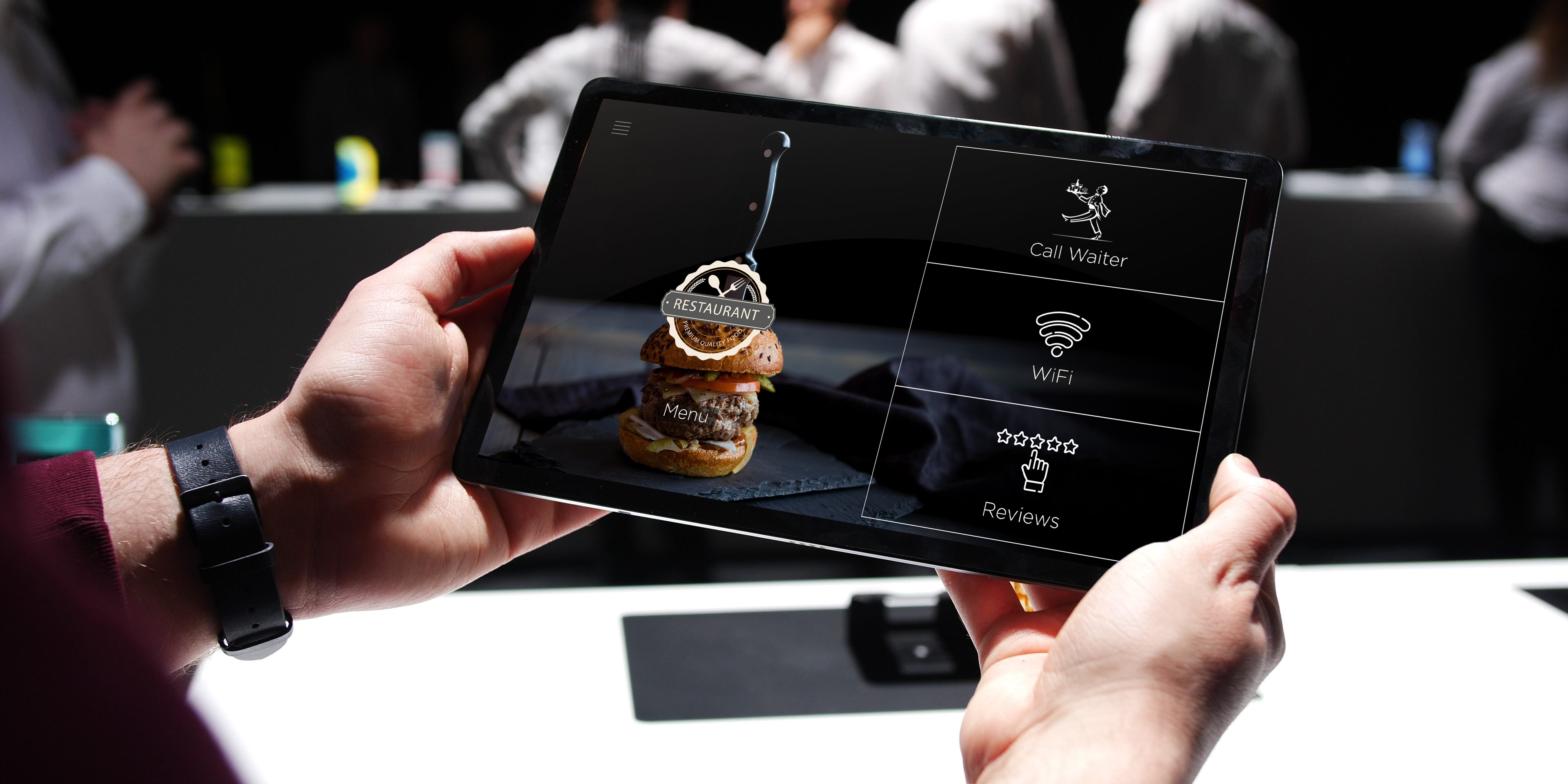 eazyFNB aims at digitizing a customer's dining experience at a restaurant through e-menus and a digital ordering system. eazyFNB is a mobile software that can be used on a tablet or a phone, and comes with an online menu that is available in different languages, easy menu management for making changes and updates, and a digital ordering system that enables diners to place their orders without any human contact. The app also includes other friendly features like call waiter function, customer feedback and review page, food nutritional information, and more. The tablet version includes more extensive features like a unique restaurant subdomain as compared to the QR version.
Pricing
eazyFNB includes 4 pricing packages, 2 for each version. The tablet version is billed at $420 annually for the basic plan and $495 for the advance plan. The QR version is billed at $240 annually for the basic plan and $280 for the advance plan.
There is also an additional setup fee of $272. Apart from that, eazyFNB also offers various add-ons like a loyalty program, table booking, website integration, and more for an added price.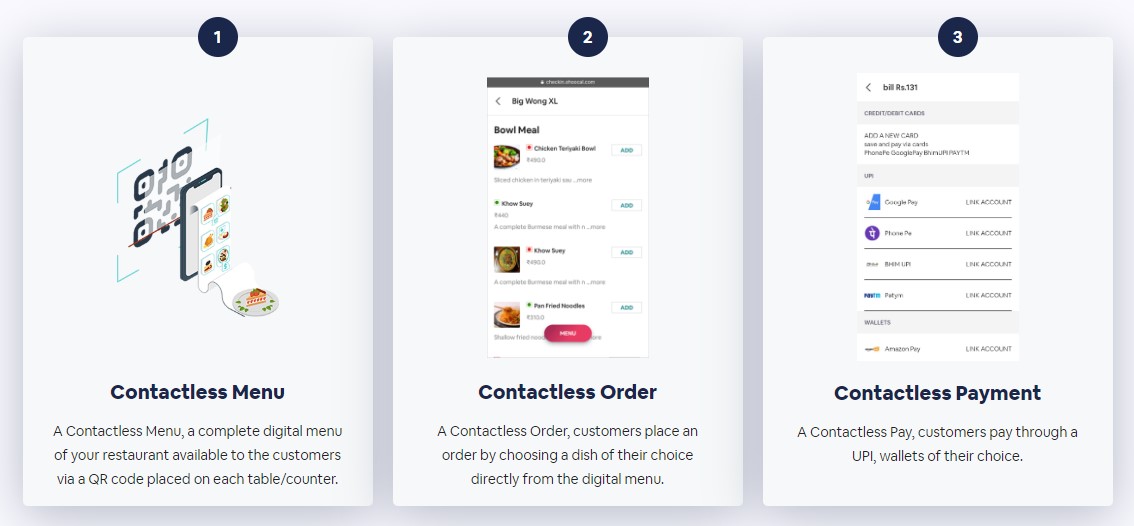 Shoocal Contactless Dining enables your restaurant to provide an end-to-end contactless dining experience to your customers. Customers can view the complete menu, place orders, and pay at the table without the need for any human contact. Shoocal's core features stand along the lines of its competitors: contactless menu, contactless ordering, and contactless payment. Apart from these, Shoocal includes an extensive range of restaurant management features like customer loyalty & rewards, analytics & reporting, marketing campaigns, feedback management, and also enables taking orders from your social media channels.
Pricing
Shoocal is offering its contactless dining system to restaurants free of cost for the first six months. Their website does not disclose the pricing plans post the complimentary six months without requesting a demo first.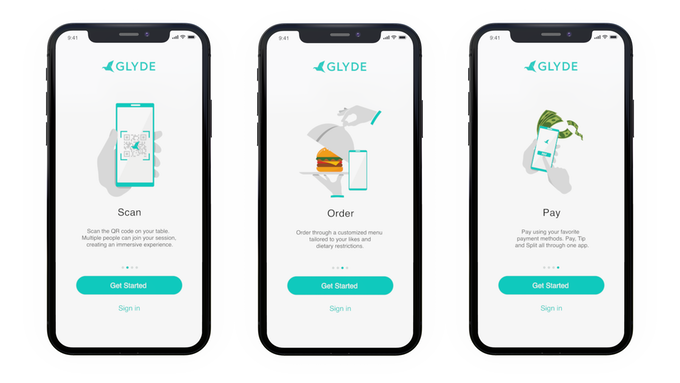 Glyde offers a system that enables a seamless contactless dining experience for customers. Like other contactless dining systems, Glyde includes an e-menu, a digital ordering system(with images, nutritional information, and ingredient list), and a digital payment system, with the aim to assure customer and staff safety.
Pricing
Glyde's pricing packages are currently not available on their website without requesting for a demo.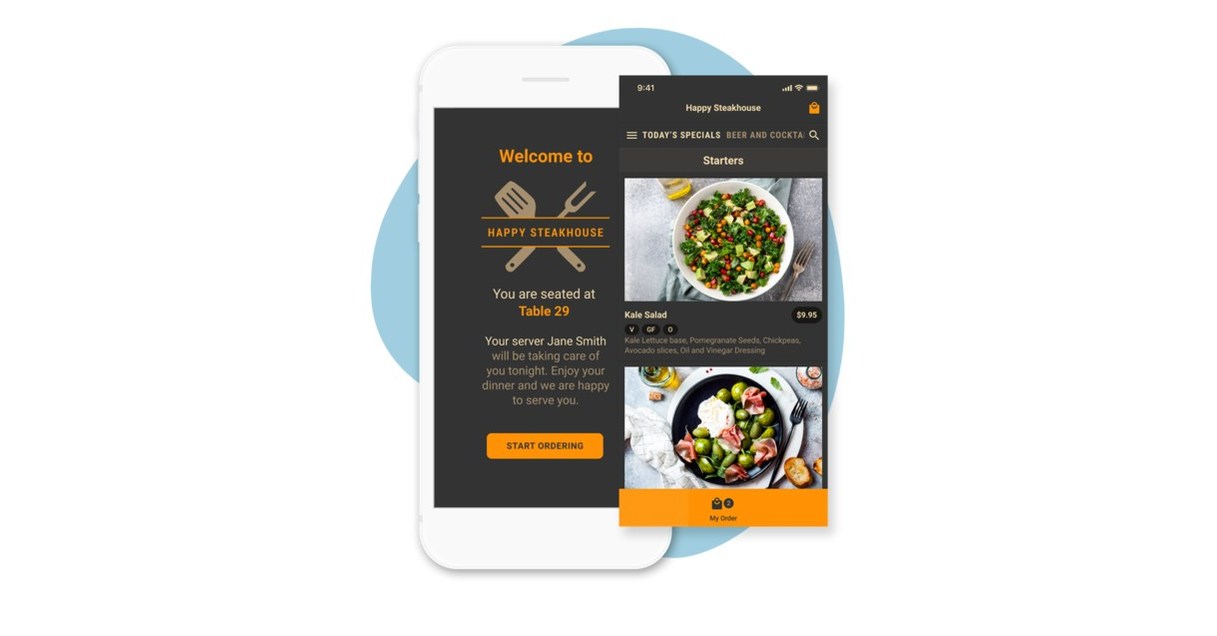 Zuppler offers a complete and dynamic online ordering experience for restaurants, caterers, hotels and more. With the growing demand for contactless dining, Zuppler has introduced an "On Premise Ordering" system that enables diners to order food from their own device. The e-menu is highly engaging and includes various features like images, modifiers, customizations etc.
Zuppler's digital menu also uses AI to dynamically encourage diners to add related items to their order and provide real-time offers and discounts. Zuppler also encourages loyalty as customers can use the same account while ordering from home or while dining in and build loyalty points every time. It also enables a greater customer analysis for the restaurant as all orders, online or dine-in, are processed on one system.
Pricing
Zuppler offers various pricing packages. The standard package is priced at $129 annually. Zuppler also orders a customized plan based on the requirements of individual restaurants. This plan has dynamic pricing based on the chosen features.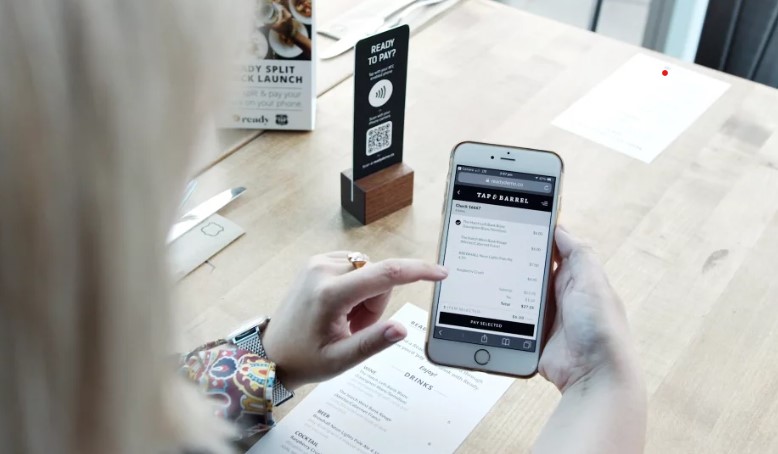 Ready is a contactless dining system that allows guests to order and pay on their phones. Diners can quickly access the restaurant's e-menu by scanning a QR code without downloading an app or signing up. Ready offers 4 ordering options: order online for pick-up, order on-premise, order to the car, and order to seat. Ready is flexible to your workflow and can be easily implemented into your system. Ready also includes other features like guest surveys, tailored branding, time-based menus, order ahead option, and more.
Pricing
Ready's pricing details are not available without a demo as of now.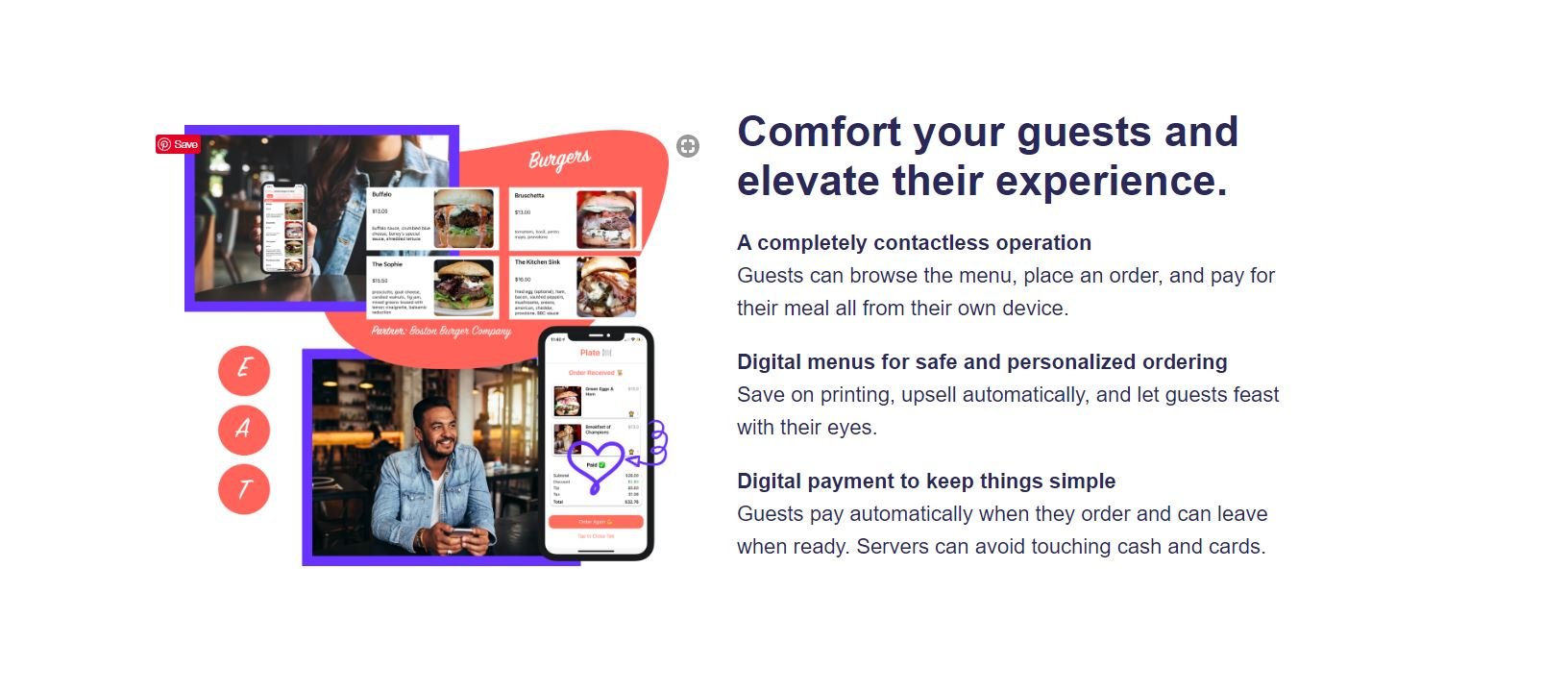 TableTab offers a contactless dining system that enables guests to browse the menu, order food, and pay for their meal from the convenience and safety of their own device. TableTab also shares guest data to enable you to communicate directly with your customers through targeted notifications.
Pricing
TableTab offers its contactless dining services to restaurants free of cost.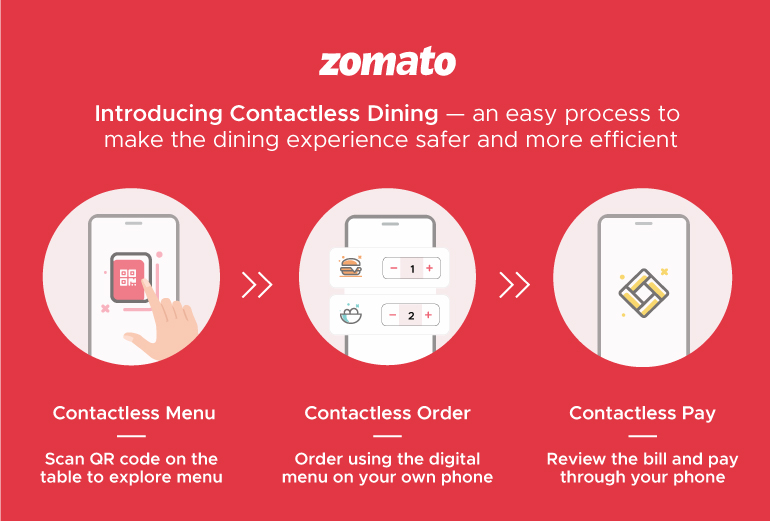 The food ordering giant, Zomato, has made a quick move into the contactless dining space. Famous across the world for its restaurant information and online ordering system, India-based Zomato has created a contactless dining system for restaurants that includes three main features: contactless menu through QR code scanning, contactless order directly from the digital menu on your phone, and contactless payment through your phone.
Zomato's contactless dining system is currently in its initial testing phases, but the company promises a large number of upcoming features like splitting the payment, ordering multiple courses, and more.
Pricing
With the system still in its initial phases, Zomato has made its contactless dining feature free for all restaurants for the first six months. Restaurants in India, the UAE, Australia, New Zealand, Turkey, Portugal, Philippines, Indonesia, and Lebanon can use these features at no cost barring the payment gateway fee. However, the pricing for this feature after the six-month free trial is yet to be confirmed.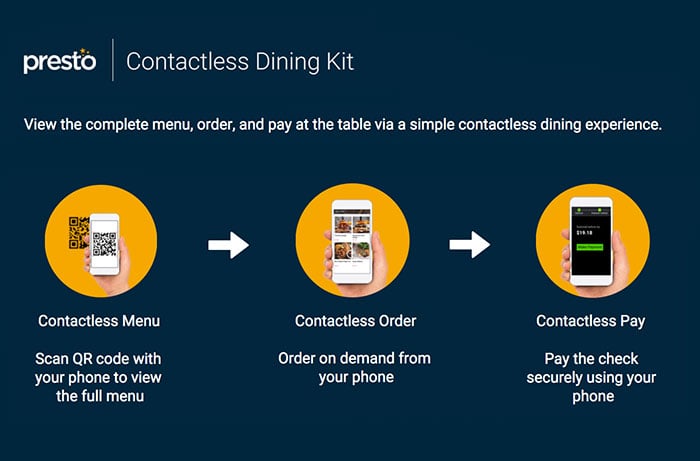 Presto is a restaurant management tool that aims at modernizing the restaurant dining room and enhance the guest experience by streamlining operations and increasing brand value. Presto's restaurant management system includes features like food ordering, feedback, and more.
With the rise of COVID-related precautions, Presto has added a contactless dining kit to their arsenal that enables restaurants to provide an end-to-end contactless dining experience to their customers. Similar to Zomato, Presto's contactless dining system includes a contactless menu that can be viewed by scanning a QR code, a contactless order that is displayed on the Presto tablet, and contactless payment that can be done securely through their phone.
Apart from these features, Presto also offers advanced features to enhance your restaurant's contactless dining experience like a pay-at-table tablet that enables guests to make payments, split bills, provide instant feedback, and order food & drinks, and computer vision technology that can track guest/staff spacing, measure occupancy, and send alerts to managers.
Pricing
Presto's contactless dining kit is available free of cost, however, spots are limited and are subject to availability.
The Takeaway
The concept of contactless dining is here to say, and tools to support it are sprouting up every day.
With a wide range of options already available, some at little to no cost, restaurants have a great opportunity to effectively and efficiently adapt to the changing environment.
Although it may seem like an unnecessary additional task, contactless dining has become the need of the hour for restaurants to survive in these unusual circumstances. By responding to customers' need for safety, restaurants can encourage them to visit risk-free.