As a restaurant owner, you can have the best ambiance, excellent menu, ample waitstaff coverage and still lose customers to your competitors.
Then again, you can have naive interns asking people if they'd like dessert after the main course and make a mint. The outcome depends on the quality of your restaurant customer service.
According to a 2017 Deloitte report, 60 percent of patrons will frequently visit restaurants where they had a positive experience. So a great way to drive repeat business and increase restaurant sales is to keep the quality of your customer service high.
In this post, we'll discuss the 7 elements of excellent restaurant customer service.
But first, you'll learn about the different types of restaurant service, what is service style, and the role restaurant owners play in shaping the customer experience.
Key Takeaways
Excellent customer service leads to satisfaction, loyalty, and increased revenue.

Personalize the customer experience through data, active listening, and customized offerings.

Effective communication is crucial for addressing customer needs and resolving issues.

Proper employee training and empowerment are essential for outstanding customer service.

Maintain a strong online presence and actively manage online reviews.

Create a welcoming atmosphere with friendly staff and attention to detail.

Consistency in service standards across all touch points is crucial.

Actively seek and leverage customer feedback for continuous improvement.
Meeting guest expectations
When customers walk into a restaurant, they come with certain expectations. Think about your expectations as a customer in a restaurant. You are likely to expect:
A warm welcome
Focused attention by the staff
Quick service at all fronts: from being seated to receiving the cheque & everything in between
A pleasant and comfortable atmosphere without unwanted disturbances
High-quality food that sits at par with the standards of the restaurant
Kind & cordial treatment by the restaurant staff throughout your dining experience
Easy payment methods
Your customers are likely to come to your restaurant with similar expectations of exceptional service. Paying attention to these factors is an integral part of a restaurant's success as customer service and satisfaction levels significantly determine whether they are likely to return to your restaurant or not.
But, before employing ways to improve your customer service, it is important to properly understand restaurant service and how it works.
10 Ways to improve restaurant customer service
1. Train your staff about proper etiquette
If you truly want to repeat customers, then you should definitely educate your staff on restaurant etiquette. Start by training them on proper customer etiquette like how to speak politely with the customers. Ideally, they should be well-mannered and greet incoming and outgoing guests with a warm smile. No one likes to eat around grumpy waiters.
Identifying particular members of the staff that require extra training can prove helpful. Consider using an online service management system to keep track of which server each table is assigned to. If the majority of the negative reviews seem to be coming from a particular server's table, provide them with a few extra hours of training to help them perform better.
Make sure that every customer-facing member of your staff is as friendly and inviting (and well-dressed!) as possible. It's also important to ensure that each member of the staff is well aware of the restaurant's core values and represents them when interacting with guests.

2. Go the extra mile
Check out the local competition to discover what they are neglecting in their customer experience, and then offer it in your restaurant. Something as simple as offering a free bottle of water to each customer could win you extra brownie points.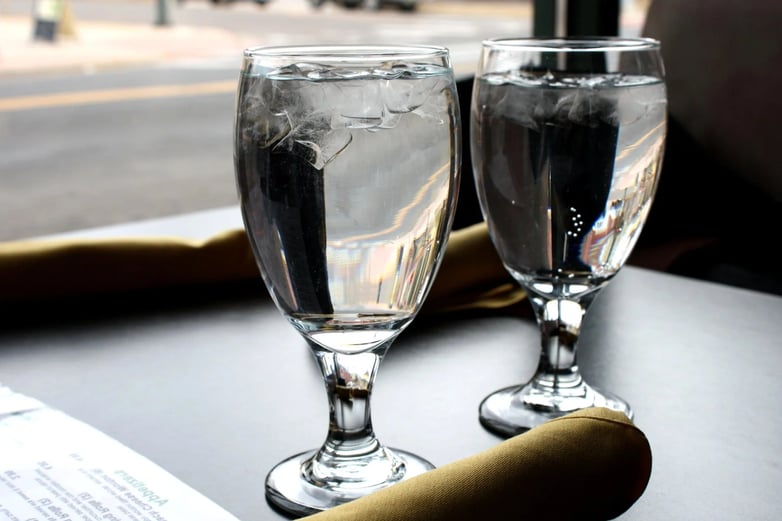 Another thing you could do is try to stand out with your restaurant signs. For example, a sign with a sentence saying "wait to be seated" can be reworded to "please give us a few minutes as our awesome staff prepares your table." Or something more enticing.
>>>Download our free guide on how to build a better experience
3. Leverage guest data to improve customer service
As a restaurant owner, you will often find yourself in a situation where your customer service stagnates. You have undertaken all the "best practices" and have created a good customer service system, but are unsure of how to take it a step further from good to great. Sounds familiar? The good news is that the key to this problem is already in your hands - guest data.
Guest Data is the key element that helps your restaurant's customer service break barriers and reaches new heights. Powerful guest insights help restaurants gain an in-depth insight into and gain a deep understanding of their customers' behavior, enabling them to provide a personalized and tailored guest experience.
There are various elements of data that can help you enhance your service standards, a detailed guest profile database being one of the most important ones. Building in-depth profiles for each guest that includes a plethora of information about their personal details, their allergies, food, drink and seating preferences, etc. can enable your staff to understand the guest's need without even them having to mention it and provide an unmatched personalized experience. If you're managing restaurants at a hotel, you can also leverage your guest data from your PMS by integrating your restaurant management software directly with your reservation or table management system. Not only will this allow you to pass the information mentioned above, but also more detailed data points such as room number, length of stay, check-in and check-out dates and preferences.
Servers must also be encouraged to add special notes about each guest and reservation as and when required and attach customized tags like "VIP", "high-spender" or more to each guest to ensure that their current and upcoming experiences at your restaurant are smooth. The aim should always be to collect as much data as possible and use it to provide the best customer service possible. If you're unsure of how to collect this data, various online reservation systems now come equipped with advanced analytics and reporting features that can help you gather crucial guest data.
One of the most pivotal guest data points is feedback. Listening to what your customers have to say about their experience can help you identify problem areas (or even winning areas) about your service that you are currently unaware of. Use post-dining reviews to gather crucial feedback and analyze it on a daily basis to improve your customer service.
Lastly, guest data can help you not only in providing enhanced service to customers during their dining experience but can also keep them coming back for more through targeted messaging. Advanced CRM systems or restaurant automation platforms can help you segment and target your customers accordingly to make them feel special and keep them coming back for more. Have a few loyal customers? Send them a special discount. These little additions to your service experience will help your restaurant build a loyal list of customers.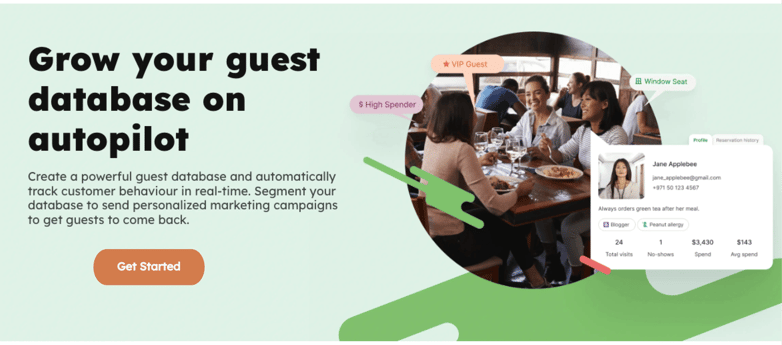 4. Throw in a surprise or two
After the guests sit at their tables, try to delight them by informing them about any special dishes for the day, or ongoing discounts and deals. This can make them feel like they did the right thing by choosing to dine at your restaurant.
A popular way to entice customers is to offer a "plat du jour." For those who aren't familiar, plat du jour is a meal that is offered by a restaurant on a specific day of the week. It includes a main course, a beverage, and an appetizer or dessert all in one price, which enhances the customer experience because of the potential savings.
If they are a repeat customer and often order the same dishes, consider providing them with that dish on the house to show them that you pay attention and care about their every visit.

5. Offer seasonal experiences
One of the easiest ways to improve your customer service is to adapt your business strategy to complement different seasons. For example, you can add a Thanksgiving or Christmas special to your menu during the festive season.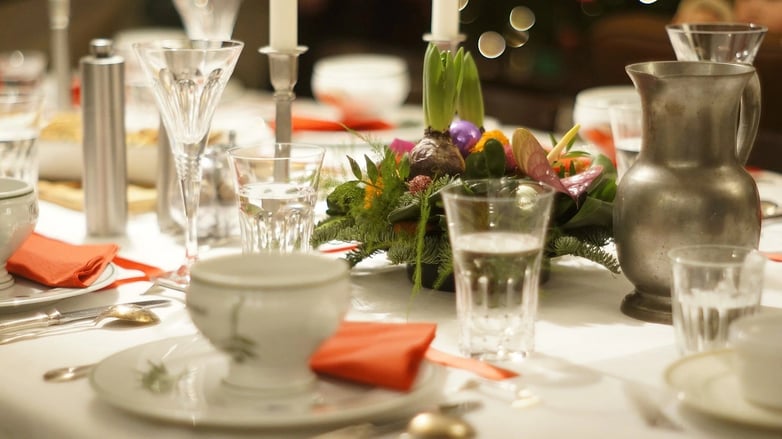 Another idea is to offer alfresco dining during the summer months and enhance customer experience by serving fresh produce. Because long wait times are a leading cause of customer frustration, offering outdoor table service can positively reflect on your bottom line.
6. Implement new payment technologies

Investing in different technologies can significantly enhance the appeal of your restaurant. One option is to get a modern POS solution that acts as a cash register/PC hybrid, with the capability to print receipts, process credit card transactions, function as a server station, and showcase data on a user-friendly
dashboard.
Another is to allow customers to pay via mobile using contactless payments like Apple Pay. For advance bookings, you can leverage payment gateways like Stripe and PayPal.
Also, consider the impact digital reservation systems can have on your staff's ability to provide better customer service. Effective customer service is made much easier if your staff have access to customer information before they meet the guest. This means anything from caller ID, diner histories, and previous spending patterns at your restaurant. Being prepared is often half the battle and reservation systems can help make the difference.
7. Learn to deal with customer complaints & criticism
No matter how thoroughly you train your staff or how hard you work to provide exceptional customer service, mistakes, and complaints are bound to happen. Having proper protocols for dealing with customer complaints and feedback, and training your staff accordingly is necessary to ensure that the customer does not leave your restaurant unsatisfied.
A good tip is to listen to customer feedback & criticism and offer to compensate the customer with a complimentary dish or voucher as an apologetic gesture. This will make the customer feel heard and important and increase their chance of returning to your restaurant in spite of a negative experience.
It's also important to gather as much feedback as possible and respond adequately. Consider setting up an automated post-dining survey to gather feedback from as many diners as possible, analyze the data on a daily basis, and take actionable decisions accordingly.
8. Be attentive and efficient
One of the biggest negative aspects of a restaurant that holds back customers from visiting again is slow service and lack of attention by the staff. If customers have to wait around for their food or have to wave their hands and shout out 2-3 times to get the waiter's attention, then your customer satisfaction levels are definitely in trouble.
Providing a seamless experience to customers from beginning to end is very important to ensure that your customers leave with a smile from your restaurant, this includes paying proper attention to each person that walks in.
Always pre-plan your shift, have a look at the number of upcoming reservations, and look at your restaurant data to identify the busiest periods and make staffing decisions accordingly. You can also set up your table layout in advance to make sure your staff does not have to waste time moving tables after the customers have arrived.
Train your staff to maximize their productivity and have a designated server for each customer and try not to overcrowd servers to ensure that each individual customer gets enough attention - starting from the welcome greetings to bringing in the cheque. The customer should never have to make extra efforts to reach their server.
9. Appreciate & reward loyal customers
For the customers who keep coming back, an added personal touch can make all the difference. Addressing them by their name, remembering their regular order, table preferences, and communicating with them when they stop by will really make your regular customers feel important and keep them coming back.
A reservation CRM system can help make sure your staff has this info on hand when regular customers come back.
Other gestures like a complimentary dessert or a personal greeting by the restaurant owner or manager can also increase customer satisfaction levels and build long-term relationships at barely any cost. Offering loyalty programs to repeat customers is also another great way of maintaining a good relationship and high levels of customer satisfaction.
10. Manage walk-ins better with waitlists
One of the biggest reasons people don't come back to restaurants is long waiting times. If your restaurant receives a lot of walk-ins, it's crucial to set up a waitlist management system that can help you handle crowds efficiently and ensure no one leaves with a negative experience.
Invest in a waitlist management tool that can help you maximize your floor setting and seat as many diners as possible, provide accurate wait-time estimates, and keep guests updated about their table with constant messaging. This way, people are much more likely to wait to dine at your restaurant.
11. The right integrations go a long way
In this article, we've touched upon the importance of guest data to enable your staff to create memorable dining experiences.
---
Increasing revenue with customer service
No matter how perfect everything at your restaurant may be - the food, the ambiance, the atmosphere, it's always the customer service that keeps people coming back. When people feel welcomed and important at your restaurant, that's when they turn from a one-time diner to a regular.
Providing guests with a personalized experience - calling them by their name, being aware of their allergies and preferences, providing them the table they always like to sit on, etc. are the things that win a customer's heart and make them an advocate for your restaurant.

At the end of the day, your restaurant's revenue depends mainly on these loyal customers, that always keep coming back for more. Make sure you're enhancing your guest experience in a way that creates an unforgettable memory for them, and you'll have a winning ticket in your hands.
The role of the restaurant owner in customer service
As the owner of your restaurant, it's your responsibility to ensure that your staff is providing the best possible service to your guests. An occasional look at the reviews of your restaurant can give you a good idea of their performance.
In addition, you can take extra steps to ensure the quality of your restaurant
service keeps improving, some of which would involve solo efforts on your part, as well as investment in technology.
Conclusion

While it's tempting to associate great dining experiences with the selection and quality of food at a restaurant, that's actually seeing less than half the picture.
A successful restaurant is also known for its customer experience, and they find pleasure in ensuring a customer's journey from making a reservation at their eatery to walking out left the individual feeling good.
Improving your restaurant's customer service is the key to leaving guests amazed and satisfied, and the little pieces of advice mentioned above are a great starting point for illustrating the impact of this business function.
What are your thoughts on these restaurant customer service strategies? Were you aware of the importance of proper etiquette? Do let us know in the comments section below.