As a restaurant owner, you're likely to be looking for ways to improve your customer's dining experience and, at the same time, streamline your restaurant's daily operations.
One solution gaining popularity over the past several years is pay-at-table technology. This cutting-edge system allows customers to safely and efficiently pay for their meals right at their tables.
A 2022 study reveals that 81% of restaurant operators have already incorporated some form of mobile payment into their operations. And no wonder: the benefits of pay-at-the-table payment systems are numerous, as you will see in the article below.
What is pay at table?
Pay-at-table technology is a new trendy technology for people to order and pay for their food without having to rely on a waiter. You can use your smartphone to scan a QR code at your table, which will take you to a digital menu where you can place your order and pay before your food even arrives. This means that you don't have to wait for a server to take your order or handle payment, which can save time and reduce the risk of errors.
Restaurants can benefit from this technology in many ways. For one, it can increase efficiency by making the payment process faster and easier. Wait staff can focus on other tasks, such as delivering food or helping customers with questions. Plus, it can help provide a more secure way to pay for your meal. This technology is becoming increasingly popular in the hospitality industry and is a great way to improve the dining experience for everyone involved.
How does pay at table work?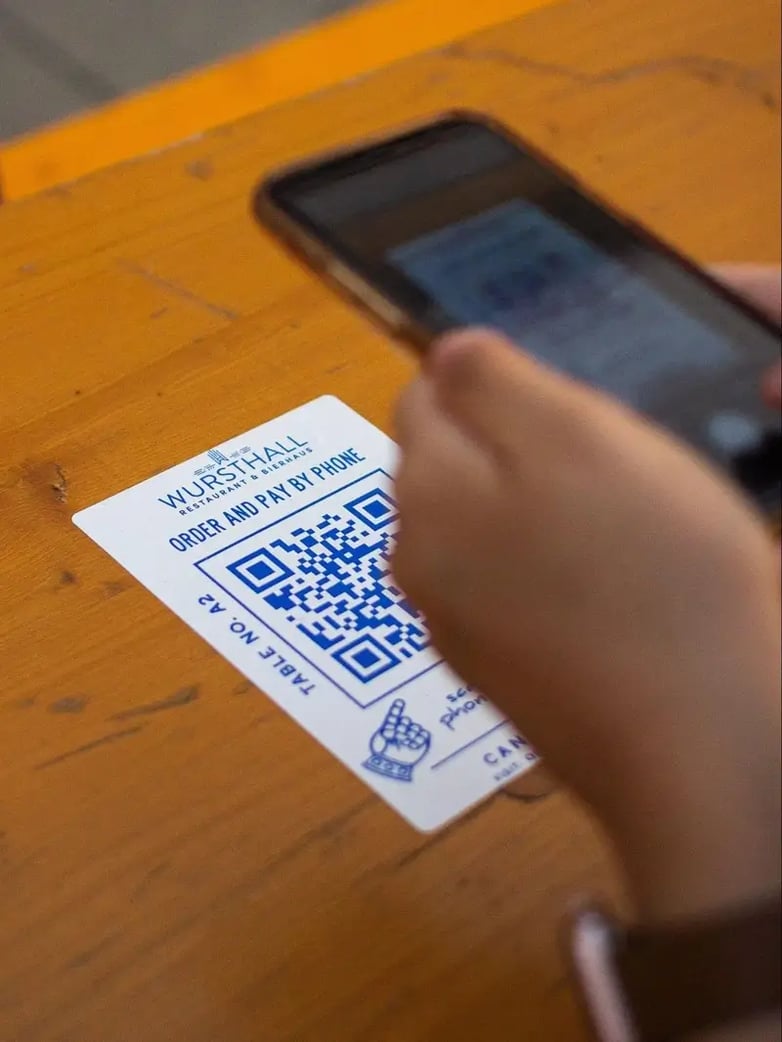 Pay-at-the-table technology simplifies the payment process for restaurant customers by allowing them to pay their bill directly at their table, without the need to wait in line or go to a stationary terminal.
This technology can be utilized in various ways, such as:
through scanning a QR code with a smartphone
or using a handheld point-of-sale device.
Sometimes referred to as order and pay technology, pay-at-table software allows customers to both order and pay directly at their table. Restaurant staff can bring the bill and mobile payment devices to the table, and guests can conveniently pay using their preferred payment method.
What payment methods are accepted?
Pay-at-the-table solutions can accept a variety of payment methods for processing payments, including:
Credit cards
Debit cards
Mobile payments
QR codes
Some devices may also allow customers to split their bills among different payment methods or even among multiple customers.
Additionally, some pay-at-the-table solutions also have an integrated tipping system, allowing customers to add a gratuity directly through the device or through an online app, further streamlining the payment process and reducing the need for additional touchpoints with servers.
Benefits of using pay-at-table technology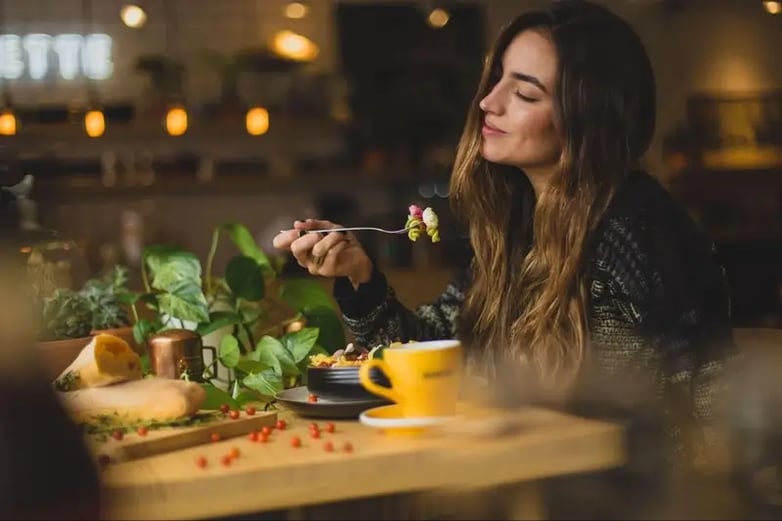 First off, let's talk about the main benefits of Pay at Table for restaurants.
Payment fraud prevention. Traditional payment methods require customers to hand over their cards, which can increase the risk of fraudulent activities. With Pay at Table, customers can keep their payment cards in their possession throughout the payment process, providing an added layer of security for both the restaurant and the customer.
Time-saving. With conventional payment methods, servers need to take the customer's payment card to the central POS, process the payment, and bring back the receipt for the customer to sign. This process can be time-consuming, especially during busy hours when many customers need to pay their bills simultaneously. Pay-at-the-table systems relieve this added workload and free up valuable time for servers.
Faster table turnover. Pay-at-table solutions allow restaurants to serve more customers in a shorter time. This, in turn, can increase customer satisfaction and subsequently revenue. Pay-at-table systems can also help reduce errors and discrepancies in bill calculation, minimizing the time spent resolving customer complaints and refunds.
Now, let's go over the benefits of this restaurant technology for customers.
Added security. One of the biggest advantages of Pay at Table is the added security it provides. Traditional payment methods may worry customers due to the risk of their payment information being compromised. But with Pay at Table, the customer can hold onto their payment card at all times, giving them peace of mind that their information is safe and secure.
Convenience. Another benefit for customers is the convenience and flexibility it provides. With Pay at Table, customers can split their bills and tip through the online app, eliminating the need to wait for the server to come back with the receipt and the payment device. This makes the payment process quick and easy, allowing customers to leave the restaurant when they're ready without any hassle.
Overall customer experience. Pay at Table allows customers to pay at their own pace without feeling rushed or pressured, which can help them feel more relaxed and satisfied with their dining experience. Plus, the added convenience and security of Pay at Table can help customers feel more confident in their decision to dine at a particular restaurant.
Potential drawbacks of pay at table
While Pay at Table technology certainly has its benefits, there are also a few potential drawbacks that restaurant owners should keep in mind.
One of these is the need for staff training. If your servers aren't comfortable using the new technology, it could actually impact the quality of your restaurant's customer service by slowing down the payment process and leading to frustrated customers.
Another factor to consider is the initial cost of investing in this type of technology. Upgrading your payment system can be expensive, and it may take some time to recoup those costs through improved efficiency, building customer loyalty, and customer satisfaction.
It is also worth noting that not all customers may be comfortable with this technology. Some may prefer to pay with cash or may not like using a mobile payment app. This could lead to confusion or even lost sales if they are unable to pay in the way they're used to.
Still, with the right training, detailed employee handbook, and preparation, this technology can be a valuable addition to any establishment.
How to choose the right pay at table system for your restaurant?
Here are 8 factors to consider to help you make the right decision when choosing the right pay-at-table system for your restaurant business:
Payment methods — customers today expect to have multiple options when it comes to paying for their meals, whether it's through credit cards, mobile payments, or other methods. A pay-at-table system should be able to accommodate various payment options by providing an easy-to-use interface that allows customers to select their preferred payment method and add tips if desired.
Integration with your POS — if you already have a POS system in place, you will want to make sure the pay-at-table system you choose can integrate with it seamlessly. This will help ensure that your front-of-house and back-of-house operations are streamlined and that your staff members can easily navigate the new system.
Ease of use — the pay-at-table solution you choose should be easy for both your staff members and customers to navigate. Your staff members should be able to process payments easily using the new system, while your customers should be able to pay their bills quickly and easily without having to jump through too many hoops.
Security — security is a top priority when it comes to payment processing. Make sure that any pay-at-table solution you're considering includes features like encryption, tokenization, and fraud prevention tools to keep your customers' payment information safe.
Splitting checks — customers often request separate checks for group dining, and a pay-at-table system should be able to handle this request seamlessly. The system should be able to split the checks by the number of diners, items ordered, or any other criteria as per the restaurant's policy. This can help avoid confusion and save time for both the customers and the staff.
Customization — a good pay-at-table system should allow for customization to meet the specific needs of your restaurant. For example, you may want to customize the system to include specific menu items, pricing, and tax rates.
Staff training and support — your staff members will need to be trained on how to use the new pay-at-table system, so make sure that the vendor you select offers comprehensive training and support to help your staff get up to speed quickly. Additionally, you should make sure to choose a vendor that offers ongoing support and maintenance so that your system is always up and running smoothly.
Cost — consider the initial investment cost and ongoing fees associated with the system by looking for a pay-at-the-table solution that offers a good balance between affordability and relevant features.
How to maximize efficiency and customer satisfaction?
When it comes to maximizing efficiency and guest satisfaction, Eat App is the perfect complement to a pay-at-the-table system for your restaurant.
Eat App is a top-rated restaurant management platform that enables your customers to make online reservations with no commissions, so restaurants acquire more guests online, increase direct bookings, set up booking channels in minutes, and reduce no-shows.
Eat App automatically collects relevant guest and revenue data, giving you access to guest profiles, trends, and reports — all of which can be accessed across various devices. This includes automatically collecting guests' payment details, analyzing guest spending trends, identifying the highest-paid table, and more. All to help operators improve their relationship with the guests and increase revenue.
And, for ease of use, Eat App collects all your guest data in a centralized CRM system. You're then able to deliver a service that guests remember, send marketing campaigns, and keep track of all your loyal customers in one place.
The Eat App platform is designed to seamlessly integrate with your PMS system, point-of-sale, and other software in order to streamline your restaurant or venue operations and help build customer loyalty and exceptional customer experience.
With zero reservation mistakes, you can fill more seats and collect private guest feedback to improve the guest experience. You can also increase repeat visits with the Eat App ecosystem, which includes the following functionalities:
Table management
Payment gateway
Guest CRM
Online bookings
Marketing automation
In short, Eat App offers one system for the entire guest journey, from reservations to payments. By using our platform in combination with pay-at-table systems, like Spades you can provide an excellent customer experience for your guests, and simultaneously increase your profit margin, customer engagement, and operational efficiency.
Conclusion
Ultimately, pay-at-the-table technology provides a secure, convenient, and efficient payment process that improves the overall dining experience.
By combining pay-at-the-table technology with Eat App's innovative platform, restaurants can take their customers' dining experience to the next level. Sign up now to start enjoying the benefits of a fully integrated hospitality platform.