In the past, hotels and hospitality establishments alike fulfilled a basic human need - providing guests with a place to stay while traveling. However, if you've spent any time in the hospitality sector over the past few years you know how much the role of technology in the hospitality industry has increased.
The hospitality sector is evolving year after year, and with that comes emerging trends. Technology has a growing role to play in everything from streamlining hotel operations to enhancing the guest experience. It is crucial to stay on top of the most recent trends if hotels want to remain profitable in this cutthroat industry. It is now more crucial than ever to hotel operations and the guest experience because the majority of this activity depends directly or indirectly on technology.
Therefore, we're here to share the top technology trends in the hospitality industry right now. We've compiled some of the best hotel technology trends that are aimed at enhancing operations, enhancing guest experience, and boosting bookings.
What is hospitality technology?
Hospitality technology is a term used to refer to the technologies and tools used by the hospitality industry, which includes hotels, resorts, restaurants, and other related businesses. It includes a wide range of technologies and tools, such as online booking platforms, property management systems, mobile apps, in-room amenities, and more. These technologies are used to enhance the guest experience, streamline operations, and improve efficiency.

Some examples of hospitality technology include:
Online booking platforms:

These allow guests to book rooms and make reservations online, either through a hotel's website or through third-party platforms such as Expedia or Booking.com.
Property management systems: These are software systems used by hotels to manage reservations, guest data, and other aspects of their operations.
Mobile apps: Many hotels offer mobile apps that allow guests to access a range of services and information, including booking, room service, and in-room controls.
In-room amenities: These may include technology such as smart TVs, voice-controlled assistants, and automated lighting and temperature control.
Virtual and augmented reality: Some hotels are using virtual and augmented reality to provide guests with immersive experiences, such as virtual tours of a property or city.
Overall, hospitality technology is an important part of the modern hospitality industry, and it is constantly evolving as new technologies and innovations are developed.
Why is hospitality technology vital?
Hospitality technology is essential for companies operating in the hospitality industry for a number of reasons. Some of the main benefits of using hospitality technology include:
Enhancing the guest experience: Technology can be used to provide guests with a range of amenities and services, such as online booking, mobile apps, in-room controls, and more. This can help to improve the overall guest experience and increase customer satisfaction.
Streamlining operations: Hospitality technology can be used to automate and streamline various aspects of a hotel's operations, such as reservations, guest data management, and room service. This can help to improve efficiency and reduce the workload on staff.
Improving communication: Hospitality technology can be used to improve communication between guests and staff, as well as between different departments within a hotel. This can help to ensure that guests receive timely and accurate information and assistance, and can help to improve the overall guest experience.
Increasing revenue: Hospitality technology can be used to optimize pricing and revenue management, as well as to identify trends and opportunities for upselling and cross-selling. This can help to increase revenue for the hotel.
Enhancing security: Hospitality technology can be used to improve security for guests, staff, and the hotel's property. For example, electronic keycard systems can be used to control access to rooms and other areas of the hotel, and commercial security cameras and other surveillance technologies can be used to monitor activity.
The latest trends in hospitality technology
There are a number of trends in hospitality technology that are currently gaining popularity in the industry, we've outlined the top 22 to look out for below.
Localized guest services
Hoteliers can use location-based services to create personalized, localized experiences that are the hallmark of modern travel. Hospitality businesses can provide more logical local recommendations when they can see a guest's location on their smartphone. Visitors can quickly find local information, such as the closest grocery store or the best bar in town, without the help of hotel staff.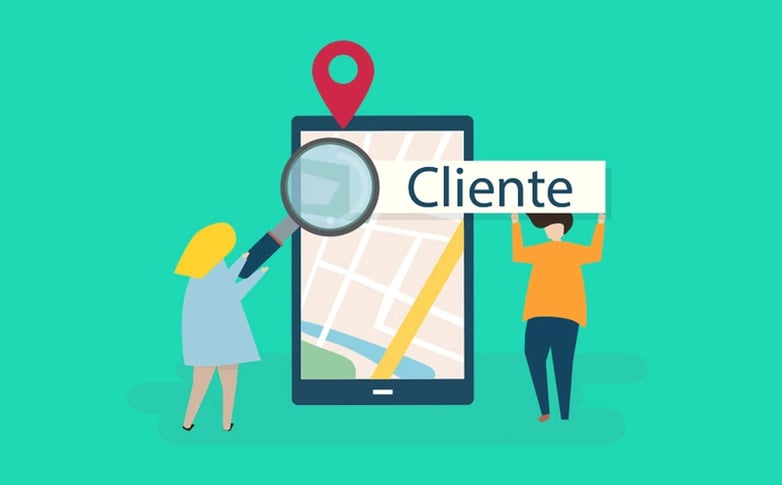 The location of a visitor can additionally help daily marketing and customer service initiatives. For instance, staff members may send special offers to visitors' mobile devices when they are close to the hotel spa or deliver water to a visitor's room after a workout. Knowing staff locations also allows for quicker guest service, such as sending the closest employee to a guest request on the fifth floor.
Internet of Things (IoT)
One of the top emerging technology trends in the hospitality sector is unquestionably IoT (Internet of Things). It enables different devices to connect to the internet and be managed by a single controlling device, like a phone or tablet. Digital key cards, the entirety of a smart hotel room, and even voice-activated customer service are a few examples of IoT applications. IoT makes it simple for visitors to easily control and customize every aspect of their hotel room. They are also helpful in operations, primarily because the Internet of Things (IoT) functions as a smart hotel technology that can use the information to spot problems and fix them before they worsen.
Mobile enabled check-ins
The use of mobile check-in has many benefits for both hotels and their visitors. The availability of mobile check-in via the hotel app does away with the need to maintain a large reception desk. While staff members are free to handle other tasks, hotels can free up space for luggage storage, common areas, and branded merchandise counters. With mobile check-in, guests won't have to wait in line at the front desk, which can be essential for business travelers and families with young children.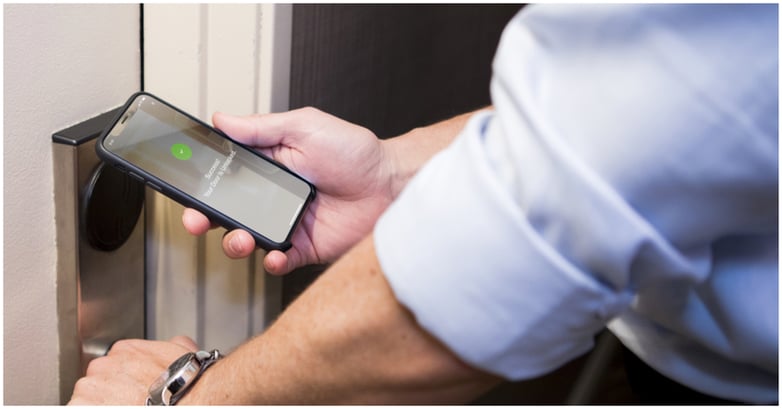 Automated guest messaging
Today, the majority of people no longer answer marketing calls. However, hotels can send exclusive offers to specific customers using apps like Facebook Messenger and WhatsApp. In order for staff to tailor each visitor's stay, hospitality businesses can also send surveys to their clients. Customers can also get in touch with hotels without downloading an app or making phone calls.
Using the right integrated management system at your hotel can enable automatic guest messaging campaigns or allow you to export rich guest data to be used for external marketing.
Contactless payments
Contactless payments are one of the most popular technological trends in the hospitality sector because they have many benefits for hotels, resorts, restaurants, bars, and cafes. Contactless technology facilitates loyalty programs in addition to accelerating payments and enhancing customer satisfaction. Even if customers lose their wallets or credit cards, they can still make mobile contactless payments.
Rich guest data and analytics
A lot of data is produced by hotel systems, including reservations in your PMS, orders in your POS, and email engagement in your CRM system. Reporting functions within your software (or standalone business intelligence tools) can provide the analytical muscle necessary to make sense of this big data, but what do you do with all this data and how can you distill it into actionable insights? For example, you can create a beautiful dashboard from all of your email engagement data that displays which email campaigns have the highest conversion rates.
Cloud PMS
A property management system will always be relevant when discussing technological trends in the hotel sector. It has been the foundation of a flourishing hotel industry from the beginning. The cloud hotel PMS is a piece of software that includes various modules and features to automate every aspect of your hotel's operations.
A PMS handles every aspect of management, including front desk, housekeeping, billing, and reservations. You receive more advantages than just this one. A cloud hotel PMS offers more benefits for hotels by guaranteeing the business's scalability, availability, and security. So, if you're still hesitating, it's time to change your mind and choose a cloud-based property management system.
Note: If you use the right restaurant management software at your hotel properties, your PMS can be integrated to give rich insight into every one of your diners at a glance.
Revenue management system
The foundation of a hotel's pricing strategy is a revenue management system. The main purpose of it is to analyze data, including internal data, market supply, customer demand, etc. to increase sales and inventory. A revenue management system is essential if your hotel wants to improve its revenue management techniques or simply increase overall revenue.
Voice search and control
Voice search is a growing technology trend within hospitality because many guests or customers are turning to voice search to find hotels, restaurants, and cafes. It is worth taking the time to properly capitalize on this. To do so, you must ensure your website and booking engine are structured so the voice search can be used properly.
In some settings, the demand for voice control is also growing. This could include everything from using smart speakers in hotel rooms, allowing for control of the various in-room devices, to automated order-taking in restaurants and cafes, meaning customers will no longer need to wait for waiting staff to take their orders.
Chatbots
Driving direct bookings is just one of the many uses that chatbots can be put to. They can quickly respond to inquiries on your website and are rule-based or AI-powered. Chatbots are a great way to create a live form of communication because they can respond to inquiries 24/7. They advise potential visitors to make direct reservations.
Smart energy management
Occupancy changes can be tracked and handled by smart thermostats and occupancy sensors. The same goes for smart energy management systems, which continuously analyze historical thermodynamics, regional weather patterns, and peak demand loads to optimize energy consumption in real-time, all year long.
Systems for heating, ventilation, and air conditioning are not the only ones that can save energy thanks to the Internet of Things technology. The use of automated energy consumption, real-time occupancy adjustments, and an improved understanding of energy requirements are all made possible by smart lighting technology.
Self-serve meeting spaces
The meeting room of today has changed. Tables, chairs, and fancy serving carts are no longer the only important elements. Technology is used in meetings today. People in business must occasionally conduct simultaneous videoconferences with distant participants and create multimedia presentations. They also want access to services like catering with the fewest possible interruptions during lengthy meetings.
Smart hotels are aware of the importance of making these areas as user-friendly as possible. There is no longer a need for the dedicated engineers-only A/V rooms of the past. Business customers are increasingly requesting advanced technology enablement in ballrooms and event halls, so if you think these kinds of business needs are only relevant to boardroom-style conference spaces, you're missing a key aspect of the picture.
Predictive property analytics
As the saying goes, information is power. The software and devices will generate more and more data about how visitors interact with staff and amenities across the campus as more technology is added to enhance the guest experience. Staff can determine when a guest typically wakes up based on when the lights or TV turn on. Staff can find out how long it takes to get from any room to the lobby thanks to an IoT sensor network and a mobile app on the devices.
These profiles can be saved and followed by visitors as they move between properties, customizing their stay no matter where they stay to be more consistent. The big data era began years ago, but as more industries learn the insights that can be gained by gathering and analyzing data, the small adjustments information can provide can be the difference between a guest thinking all hotels are largely the same, and one flag standing out, one property becoming a preferred place to stay, and one that gets recommended to others.
Robots
Especially for contactless services, robots can be used for a variety of purposes. They can be utilized to welcome visitors and give them important information when they arrive.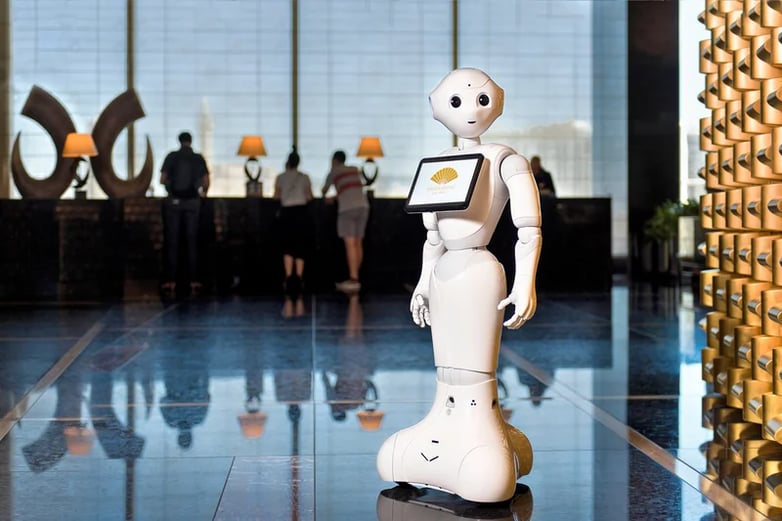 Robots can also be used for housekeeping and room service. Robots can contribute to contactless service that makes visitors feel at ease in a society where social distance is still a major factor.
Booking on mobile devices
Would you be able to survive without your smartphone if you had to make a last-minute hotel reservation in a strange and foreign location? Smartphones have significantly influenced how people interact with the outside world, and in many situations, their popularity surpasses that of desktop computers due to their simplicity and convenience.
Hoteliers must adapt their websites and booking procedures for mobile devices in light of the growing popularity of mobile. More direct bookings can be made using a mobile website that is simple to use, and since people will remember positive experiences, a smooth mobile booking process can even increase customer loyalty. Weary travelers should be able to quickly and easily find your website on their phone and make a booking because last-minute bookings are also largely captured by mobile.
Virtual reality
It can be challenging for travelers to picture their upcoming vacation rental before they depart. How can owners of boutique hotels in Santorini effectively convey to prospective customers the carefully curated charm of their establishment? Virtual reality (VR) technology allows businesses to give prospective customers first-person digital tours of their space.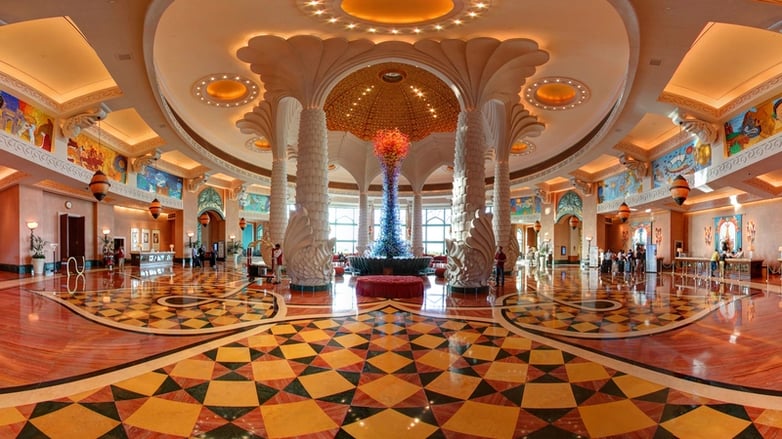 In order to highlight the hotel's key features, Atlantis Dubai for example offers a virtual tour. The advantage: VR encourages potential travelers to daydream about experiencing amenities before they travel. A Tourism Management study found that VR enhances the brand experience by increasing the elaboration of mental imagery and presence in comparison to other virtual tours.
Predictive maintenance
Predictive maintenance enables hoteliers to use sensor data to identify wasteful or hazardous trends and alert maintenance staff before a specific issue escalates into a much more expensive one. So, instead of waiting for a component to malfunction before being repaired or replaced, IoT technologies are enabling engineering staff to anticipate maintenance needs based on system usage, prevent system failures, and lower the costs of maintaining a faulty system.
Smart reserved parking
Nowadays, hotels can use sophisticated sensors and hotel-specific apps to let visitors reserve parking spaces in advance and have those spaces assigned to them when they arrive. By doing this, hotels will avoid paying labor costs associated with manually managing parking inventory, and guests will enjoy a smoother arrival.
Online review management
Online reviews of a hotel not only aid in forecasting future reservations, but also give owners important information about how well a facility met visitors' expectations. Operators will thus keep making investments in software that enables them to keep track of online reviews, manage their online reputation, and use customer feedback to raise the bar for both their operations and the standards of their guests' experiences. Online reviews do have an impact on a property's bottom line in addition to serving as a source of direct guest feedback. Only the beginning can be seen in these ten trends.
Wifi 6
Despite the hype surrounding 5G, WiFi 6 is much more important to property owners. The term "WiFi 6" refers to the newest version of Wifi, a quicker, more effective connection made possible by new technologies. Current WiFi technology is about 30% slower than WiFi 6. At first glance, this might not seem all that impressive, but the speed increase is significant when you consider how many devices are connecting to your WiFi networks.
With WiFi 6, your establishment can take advantage of in-room technology to deliver better service and encourage customer loyalty. With the adoption of WiFi 6 over the next five years, smart locks, smart speakers, and smart thermostats will all operate more effectively.
Gameified travel planning
The world is more desperate than ever for spontaneity because cabin fever is at an all-time high. In order to make travel planning less of a chore and more of a guilty pleasure as people think about their next getaway, hospitality companies can use gamification, which involves incorporating game design elements into non-game contexts. Businesses can tap into the motivation of people by combining gamification mechanics like challenges, chance, and rewards with components like points, quests, and sharing.
Imagine a website for planning trips that gives users puzzles to solve in order to earn points for their upcoming trips, rank higher on a leaderboard, and earn a score. It has been demonstrated that gamification of online advertising increases data collection, customer loyalty, brand awareness, user-generated content, online engagement, and revenue.
Hotel aggregator sites
Sites like Hotels.com, TripAdvisor, Booking.com, and Trivago that compare lodgings all in one location are known as metasearch engines. As more and more travelers turn to metasearch sites for convenience, hotels will want to list their properties and place targeted ads. Adopting some of the newest technology trends in the hotel industry can free staff to provide guests with more individualized attention, even though hospitality tech isn't meant to replace human interaction.
Customers, especially millennials and Gen Z, will occasionally demand the most recent technology. However, a lot of people will still prefer a cozy setting with more interpersonal interaction. Choose a technology that works for your company and, whenever possible, give customers a choice.
Conclusion
In conclusion, hospitality technology is a rapidly growing and evolving field that encompasses a wide range of technologies and tools used by the hospitality industry to enhance the guest experience, streamline operations, and improve efficiency. Some of the key trends in this field include the increasing use of AI and machine learning, mobile technology, VR and AR, and data analytics and reporting tools. However, it is important for hotels to strike a balance between the use of technology and the personal interactions that guests expect.