Today's guests have a few expectations when booking a table.
Not only do they want a seamless experience from the beginning of their reservation to its end with as few interactions as possible, but they also expect real-time waitlists, reviews and recommendations from other patrons, and an option to make their preferences known.
---
Key Takeaways
Online reservations offer convenience for customers and reduce the need for phone calls or walk-ins.
Reservation systems help restaurants manage seating capacity, reduce no-shows, and provide valuable data for decision-making.
Additional features like waitlist management and pre-ordering can streamline operations and enhance the guest experience.
Online reservations can improve customer satisfaction, loyalty, and capture customer data for marketing.
Adopting an online reservation system can provide a competitive advantage by meeting customer expectations for convenience and efficiency.
Proper implementation and training are crucial for successful integration and realization of benefits.



---
Using an online restaurant reservation system gives customers the freedom to make a booking whenever they like without having to call you. Currently, restaurants have a variety of options to choose from.
Here are the best restaurant reservation systems:
People attracted by the ambiance and menu presented on your custom-made restaurant website can make hassle-free bookings and know they'll be immediately notified of any adjustments in seating. Guests can make their own selections and list any preferences through a mobile app, web widget, or website interface.
For your business, restaurant reservations systems represent a huge lifting of responsibilities from staff and significantly improve day-to-day operations.

Floor activity, guest distribution, and dining preferences for each table can all be readily accessed. In addition, you can integrate the saved customer information (birthday, anniversary, etc.) into a guest loyalty program to create a memorable experience for your regular customers.
A quick search on Google reveals there are several restaurant reservation systems in existence. How do you know which one is right for your restaurant? What are some popular options in the restaurant management space?
In this post, we touch upon the considerations you need to make before choosing a restaurant reservation system. Then, to help get you started, we review some of the best online reservation systems based on the listed criteria.
Ready? Here we go.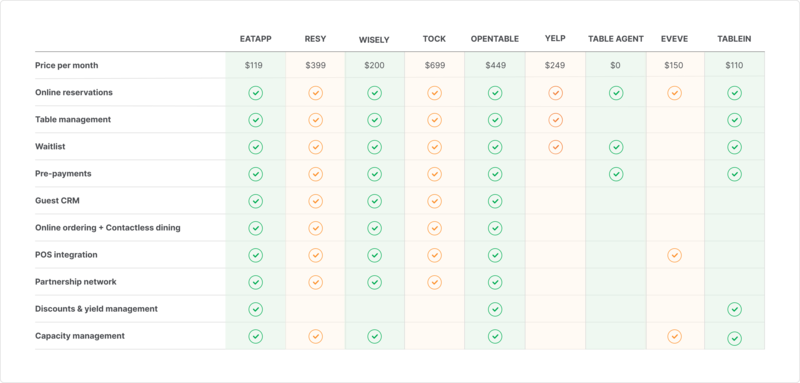 Considerations for Choosing a Restaurant Reservation System
As you do your research, there are some key considerations to look at to ensure that you're getting your dollars' worth.
Features
Is the system intuitive and easy to use? Does it help reduce no-shows through features like SMS notifications, emails, push notifications, and tags for previous no-show guests? Does it offer booking widgets to help increase your online reservations?

Does it help you manage capacity by offering table management, customer service, and waitlisting features?
Cost
While cost shouldn't be the only thing you're considering, you might find that two or three best online restaurant reservation systems are so similar that price will be the defining consideration.
Make sure there are no hidden or exorbitant fees, like installation, setup, or SMS fees. This is especially true for restaurants with high numbers of reservations.
Below, we'll examine these key questions as we review eight of the industry's top restaurant reservation systems
Let's dig in.
Eat App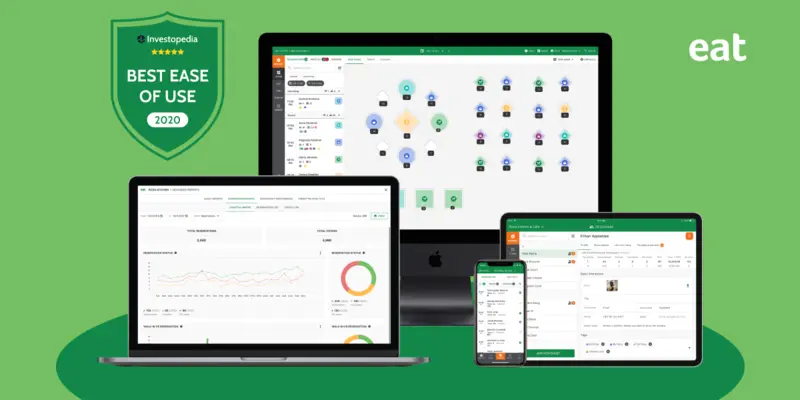 Eat App is a cloud-based, cross-platform (you can use it on iPads, Desktops, and mobile phones), and a simple-to-use restaurant reservation system. It includes powerful table management and guest database and CRM features that help with day-to-day operations, reducing mistakes and improving revenue.

The system enables easy floor plan setup and control over party sizes and availability directly through the app, and also comes with an easy-to-install widget that shows real-time table availability for your guests to book directly from your website or social media profiles.
Eat App also enables your restaurant to access a global reservation network through partners like Instagram, Facebook, Google, Tripadvisor, American Express, and more, helping you cast a wide net and build a direct connection with guests on their platform of choice, increasing covers and overall visibility.
>>>Download our free guest acquisition guide today.
Eat App offers a system that is the easiest way to take online reservations without the headache of expensive software and complicated pricing structures.

This efficient system also helps restaurants with flexible and powerful shift management, credit card hold for reducing no-shows, restaurant automation, iOS and Android manager apps for on-the-fly management, as well as cross-restaurant data sync if you have multiple branches or operate as a group.

Eat App's various integration possibilities including POS, phone and payment integrations take your hospitality and marketing to the next level with guest advanced data, like spend per guest, itemized menu items per guest and voided tickets, and improved customer service.
Through its recently launched online ordering system, Eat App also supports delivery, take away and contactless dining for restaurants.
Simply put, Eat App puts you in control of the data and the reservation experience, allowing you to build direct relationships with your guests.
Pricing
Eat App offers a simple pricing system with the option to add POS integration.
Free Plan - $0/month: Basic table management, access to online booking channels and 50 cover limit.
Starter Plan - $49/month: Full table management, access to online booking channels, automated messaging, 500 cover limit and 100 free SMS monthly.
Basic Plan - $119/month: Full table management, access to online booking channels, simple reports, guest surveys, automated messages, unlimited Covers and 250 free SMS monthly.
Pro Plan - $209/month: Everything in the basic plan, 1000 free SMS monthly, CRM and guest database, reporting and analytics, customizable design and messaging, auto guest tagging and marketing campaigns.

For fully integrated reservation and table management with unlimited covers go for the $119/month plan or if you want more advanced restaurant management with rich analytics and full guest CRM the $209 plan is perfect. Check out the full pricing here.
Click here to book your free Eat App consultation in seconds >>
Resy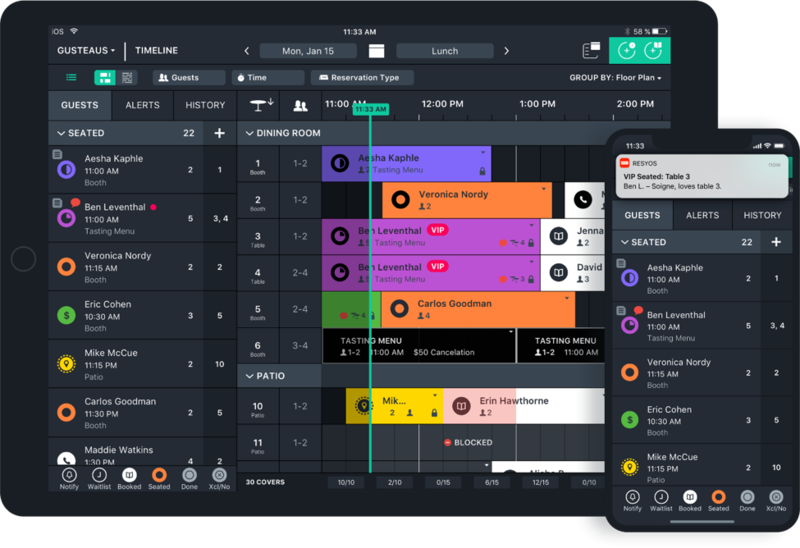 Resy offers a waitlist and restaurant reservation system with mobile booking, POS integration, table management features.

Like other full featured systems, it lets you create a custom floor plan including bar seats, dining room and patio for examples. Guests can cancel or confirm through text and even inform you they're running late.
Upon purchase, the software will also let you share guest notes and preferences across all your restaurants on as many devices as you'd prefer.

Through the Resy mobile app, every guest writes their own details, shares birthdays and indicates food restrictions and allergies – so you don't have to ask. Fully adaptable to your customers, you can also attach notes for additional context.
Resy restaurant booking also directly integrates with Facebook, Trip Advisor, Airbnb and other channels to help people discover and connect with your restaurant.
Pricing
Resy offers three pricing tiers: Platform, Platform 360, and Full Stack.

Starting at $189 per month and POS integration, the Platform tier offers unlimited users, devices, and covers. The Platform 360 tier costs $399 per month and offers extra features for branding and hospitality, including customizable guest messaging and a data and analytics package. The Full Stack starts at $899 per month, offering features like high volume network configuration and API access for restaurants looking for enterprise scale.
For ticketed events, Resy charges a 3% fee from Platform users, which goes down to 2% for those upgrading to or investing in the Platform 360 or Full Stack plan.
Wisely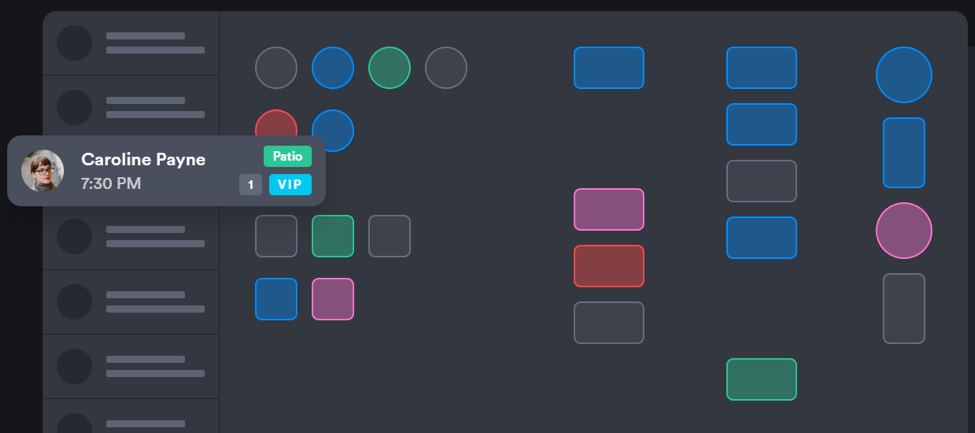 Wisely bills itself as an operations and marketing system that includes reservations, waitlist, marketing features, table management and more.
Like other providers you get a customizable floor plan - all it takes is a glance for your wait staff to know who's seated where, what time did they arrive, and what they like to order.
Like other advanced systems, when it comes to anticipating your guests' needs, Wisely automatically integrates data from your point-of-sale, public reviews, and more.

This lets you see if they have a certain preference for the ambiance, food, serving style, etc. In addition, smart seating and booking algorithms allow you to create custom plans for one-off events, regular tasting experiences, or holidays.
Simply put, Wisely puts you in control of the data and the reservation experience, allowing you to build direct relationships with your guests.
Pricing
Wisely offers two main packages, in addition to custom software and branded apps. The Operations Software package is billed annually at $200 per location, per month. Customers can also pay monthly based on usage: free up to 300 tables, $150 per month for 301-800 tables, and $220 per month for more than 800.
The Growth Software package is billed annually at $215 or monthly at $260 per month. Branded apps range from $40,000 to $50,000. For custom software, customers must contact Wisely for a quote.
Tock
Tock is a table management system that aims at improving restaurant revenue by reducing no-shows through a ticketing system that allows restaurants to take reservation deposits and prepayments.

Automated notifications and waitlists allow you to fill last-minute cancellations with the right customers, and pre-visit questionnaires ensure you're aware of your guests' preferences before they walk through that front door. Also offered is an offline mode that keeps you and your restaurant up and running at all times.
For restaurants aiming to take their customer experience to the next level, Tock offers fully-configurable guest notes, tags, and automatic LinkedIn/Instagram/Facebook profile integration.
In a nutshell, Tock provides you with everything you need to deliver a magical hospitality experience.
Pricing
Tock is available in three plans: Intro, Plus, and Pro. Intro is a free monthly plan with a 3% prepaid fee. It's geared toward pop-ups and prepaid culinary events that don't need table management software.

The Plus plan starts at $199 per month with a 2% prepaid fee. It offers complete table management and reservation system, including prepaid experiences like a chef's counter or tasting menus.
The Pro plan is ideal for high volume or chef-driven restaurants, offering full features and 0% prepaid reservation fees. This plan starts at $699 per month.
OpenTable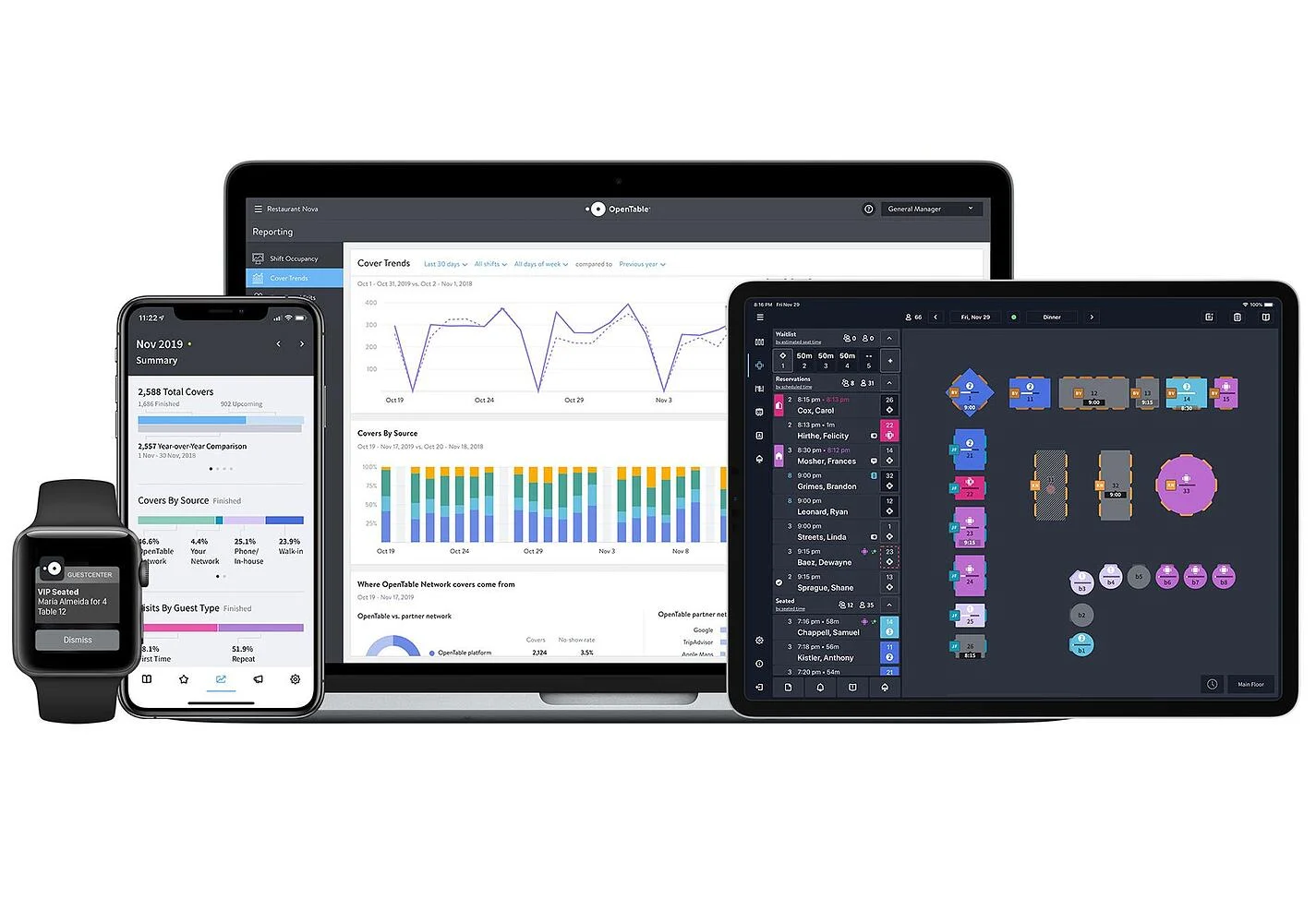 OpenTable offers reservation software that allows you to organize shift summaries, automate reservation reminders, optimize turn times, and more.

Once installed, customers can see real-time availability and book a table through your website. Table categories allow you to get more covers by letting patrons book the patio, bar, and other seating areas.
Like other systems, it also saves useful customer details such as guest history and visit notes to help you and your team deliver personalized service.
Besides all that, OpenTable offers integrations and access to 27m diners via its expensive diner network to help you fill more seats and effectively manage reservations.
Pricing
OpenTable offers a three-tiered system starting with the basic which gives you access to OpenTable's dining network for $39/month and a per-cover charge of $1.50. The Core package offers basic table management and waitlist features for $249 and a per-cover charge of $1.
The full stack, priced at $449/month gives you access to all of OpenTable's extensive table management systems, with a per-cover charge of $1.
Yelp Reservations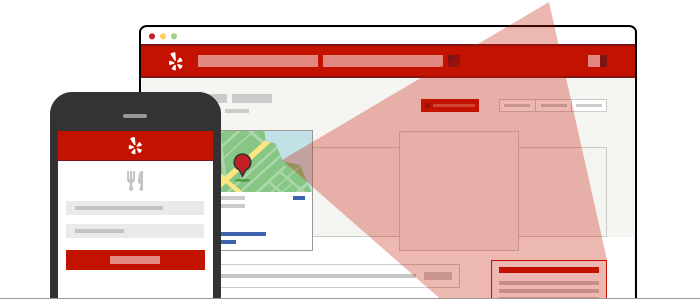 Yelp's reservation software has the standard features you would expect that enable you to reach more diners, give accurate wait times, assign servers, and accept bookings on your Yelp business page.
When it comes to booking, Yelp lets your prospective customers check availability and reserve places in just a couple of taps, directly from your Yelp page.

In addition, you can set up a booking widget to accept reservations from your restaurant website. Special configurations allow you to keep track of your floor and service activity from any device, any place in the world.
If you're already active on Yelp, this reservation system might be just what you need to turn your activity and presence into a profit.
Pricing

Yelp charges a flat rate of $249 per month with no cover fees, setup fees, or web access fees. The iPad is included in the cost. Features include two-way diner messaging, table management, and waitlist management capabilities.
Table Agent
Table Agent aims at helping restaurants save as much money as possible by offering an affordable and easy-to-use reservation system.
As Table Agent's main focus is reducing costs, it offers a rather simple reservation system that can be accessed via the web and has limited updates.
Table Agent follows a slightly different approach to the other reservation management players with a "list" based approach for managing reservations. Think of a traditional reservation record book but in a digital form. Apart from the list system, Table Agent also offers an online booking widget for reservations.
If you're only looking for a simple system to help organize your reservations better, Table Agent can be the right fit for you, however, if you're looking for something more advanced, you might want to consider other options.
Pricing
Table Agent offers a free-of-cost system without any monthly subscription or cover fee for the basic features.
However, for more advanced functionality, you will have to subscribe to add-ons at an added cost. For example, per transaction fee is priced at $1 or $29 for an unlimited per-month package, and SMS packages start at $20.
Eveve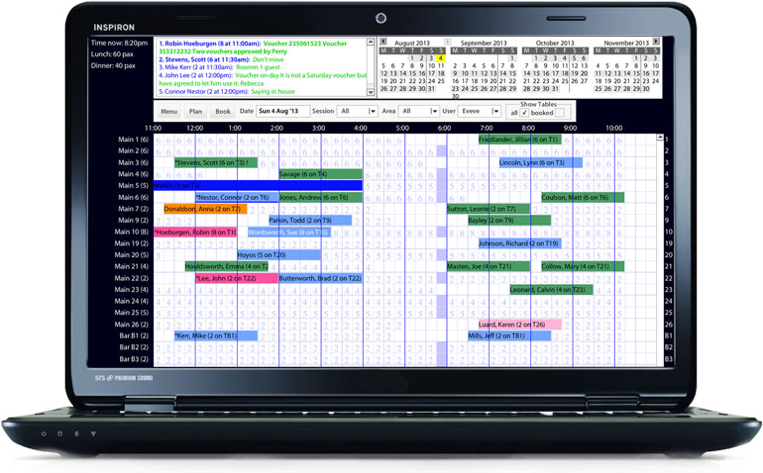 Eveve facilities real-time bookings by combining live online booking pages with real-time availability. Table management and booking pages accommodate instant reservations for guests, which maximizes floor efficiency as reservations are available 24/7.

Another feature, called full availability, lets you offer alternative dates to guests when their desired ones are fully booked. All basic features of a good reservation system.

The customer database is auto-populated based on the day-to-day happenings, giving you insight into your guests' demographics. Furthermore, remote access allows you to monitor the restaurant from any place to make sure it's always operating efficiently.
Pricing

Eveve's website doesn't disclose pricing, but other sources report that this system typically costs between $150-300 per month, with no additional fees per diner. To get a quote, restaurateurs should request a demo from Eveve's website.
Tablein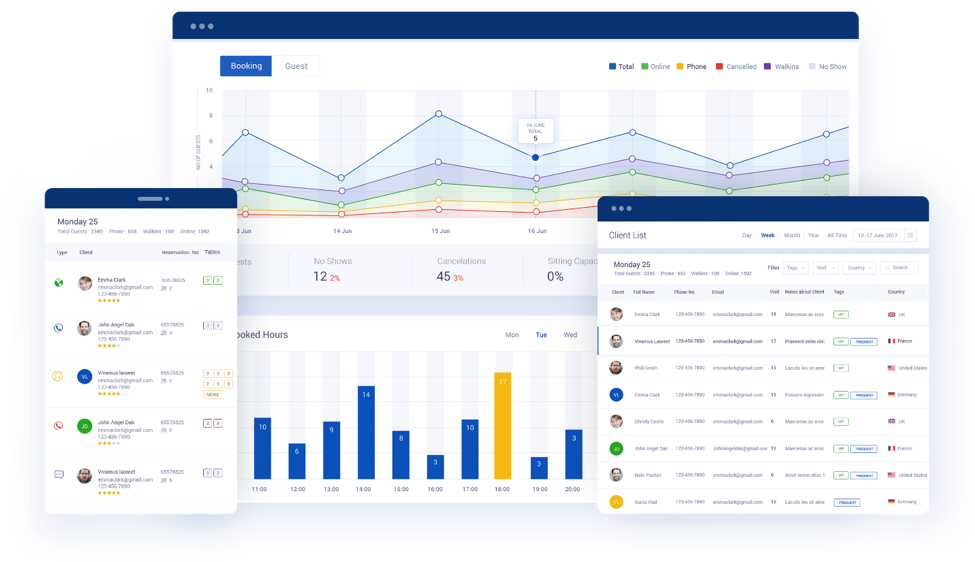 Tablein provides smaller restaurants with modern capabilities to attract customers, optimize guest capacity, control kitchen staff's workload, and more.

Once set up, the software automatically allocates tables and clearly displays all reservations on an interactive calendar or plan. Also, you get the option to remind guests of their upcoming visits, which automatically reduces the number of no-shows.
Plus, you get the added benefit of being able to access marketing features to fill empty hours, list events and increase restaurant sales. If you have a small restaurant, Tablein can help to streamline all reservations with a basic booking tool.

It's important to note that TableIn doesn't offer table management of any kind or advanced features like POS integration and server management. This puts it in a slightly different category from all the other systems in this post.
Pricing

Tablein offers a free trial with free installation and live support, and two pricing plans: Standard & Premium. The Standard plan starts at $75 per month and includes 150 bookings per month, with a $0.25 charge for each additional booking. This plan includes all features, free live support, and free updates.

The Premium plan costs $115 per month and includes unlimited bookings and free installation, live support, and updates.
The Takeaway
There are a lot of restaurant reservation systems out there, catering to the full range of budgets and needs.
Hopefully this lowdown on some of the best online restaurant reservation systems has helped you to identify which ones are within your budget while still offering all the features you're looking for in your shiny new system.
While it may seem costly, these systems can offer much more value than they may seem on the surface.
Ultimately, the right one will pay for itself – and more – by organizing and streamlining your internal operations while creating meaningful customer experiences that consistently keep them coming back for more.