Building strong customer relationships has now become the key to restaurant success. The better your relationship with the guest, the more likely they are to become loyal customers of your brand. Given that just a 5% increase in repeat customers can increase restaurant revenue up to 95%, it's not something that can be ignored any longer.
Let's face it, as a restaurant owner, you already have thousands of tasks on your plate. How, then, would you be able to take the time to individually understand every customer to provide them a personalized experience?
That's where a restaurant CRM system comes into play.
A restaurant customer relationship management (CRM) system provides restaurants with a centralized database of all their guest information and allows them to segment customers based on different factors like gender, age, preferences, etc. It enables restaurants to easily and effectively manage guest data and provide a personalized and tailored guest experience.
With the growing popularity of this software, there are now many options available to choose from. From simple CRM solutions to advanced marketing systems, there is something to suit every restaurant's needs.
Considerations for Choosing a Restaurant CRM System
To choose the best system for your restaurant, you should assess the requirements of your restaurant on different factors and judge every available option accordingly. Here are a few factors to consider while choosing a CRM system for your restaurant.
Features
As we mentioned earlier, every CRM system comes with its own set of features. Some of them come with simple data collection capabilities while others are more advanced with options for guest segmentation, automated guest tagging, and marketing messaging.

Consider the needs of your restaurant to understand which system will be best suited accordingly.
Price
The goal of a CRM system is to help increase your revenue by improving the guest experience. It's important to ensure that the CRM system you choose fits into your restaurant's budget and does not negatively impact revenue instead.

Look out for any hidden charges or fees like setup fees, SMS fees, etc. that might add up to your total cost.
Compatibility
Likely, you are already using one or more digital systems like reservation or table management software at your restaurant. A CRM that can be integrated with your existing software will help you take full advantage of all the guest data available from different sources.

Look into each CRM system's compatibility with your existing systems to make the most out of your investment.

Now, let's look at the top 6 Restaurant CRM systems available in the market right now:
Eat App
Toast
Popmenu
OpenTable
POSist
Upserve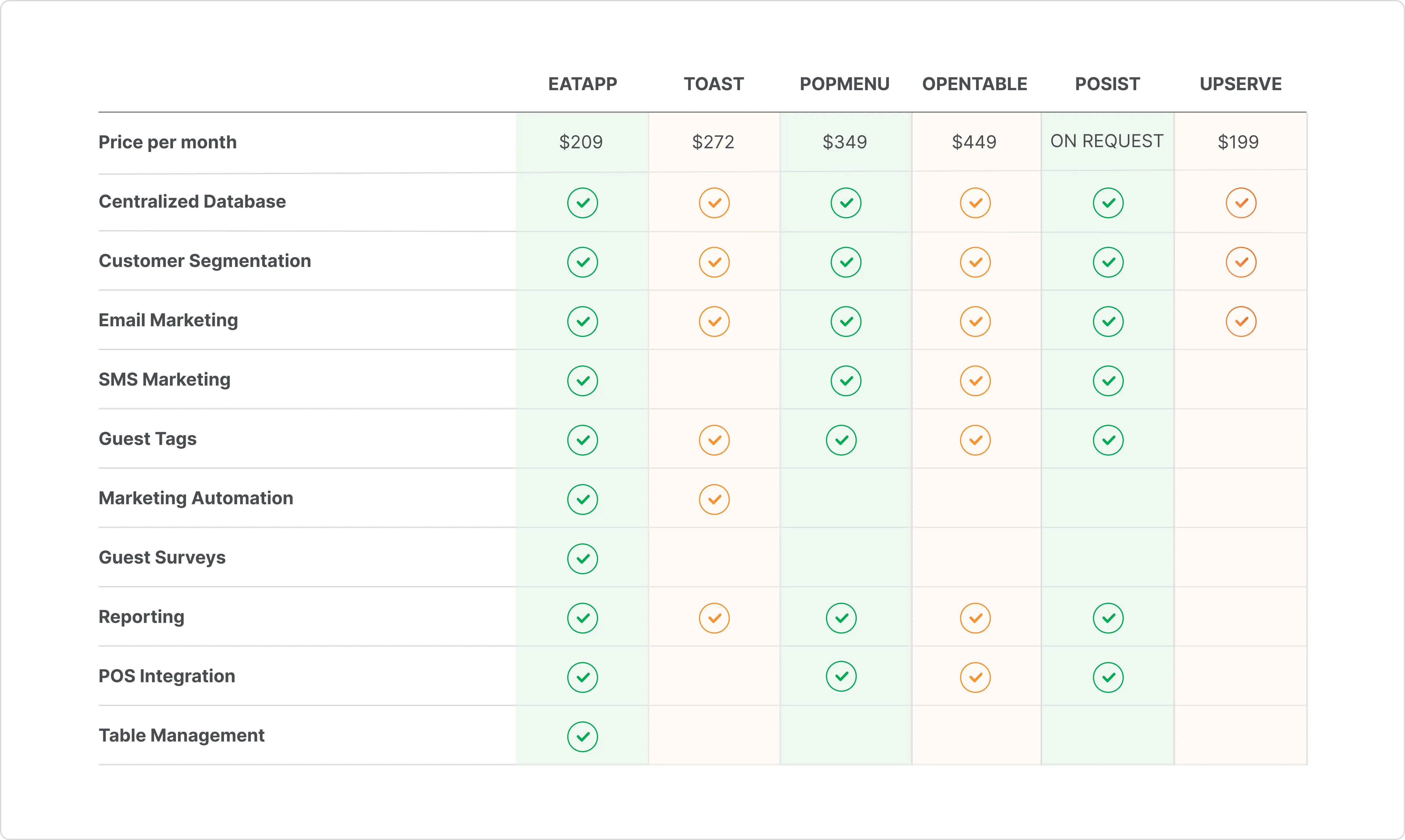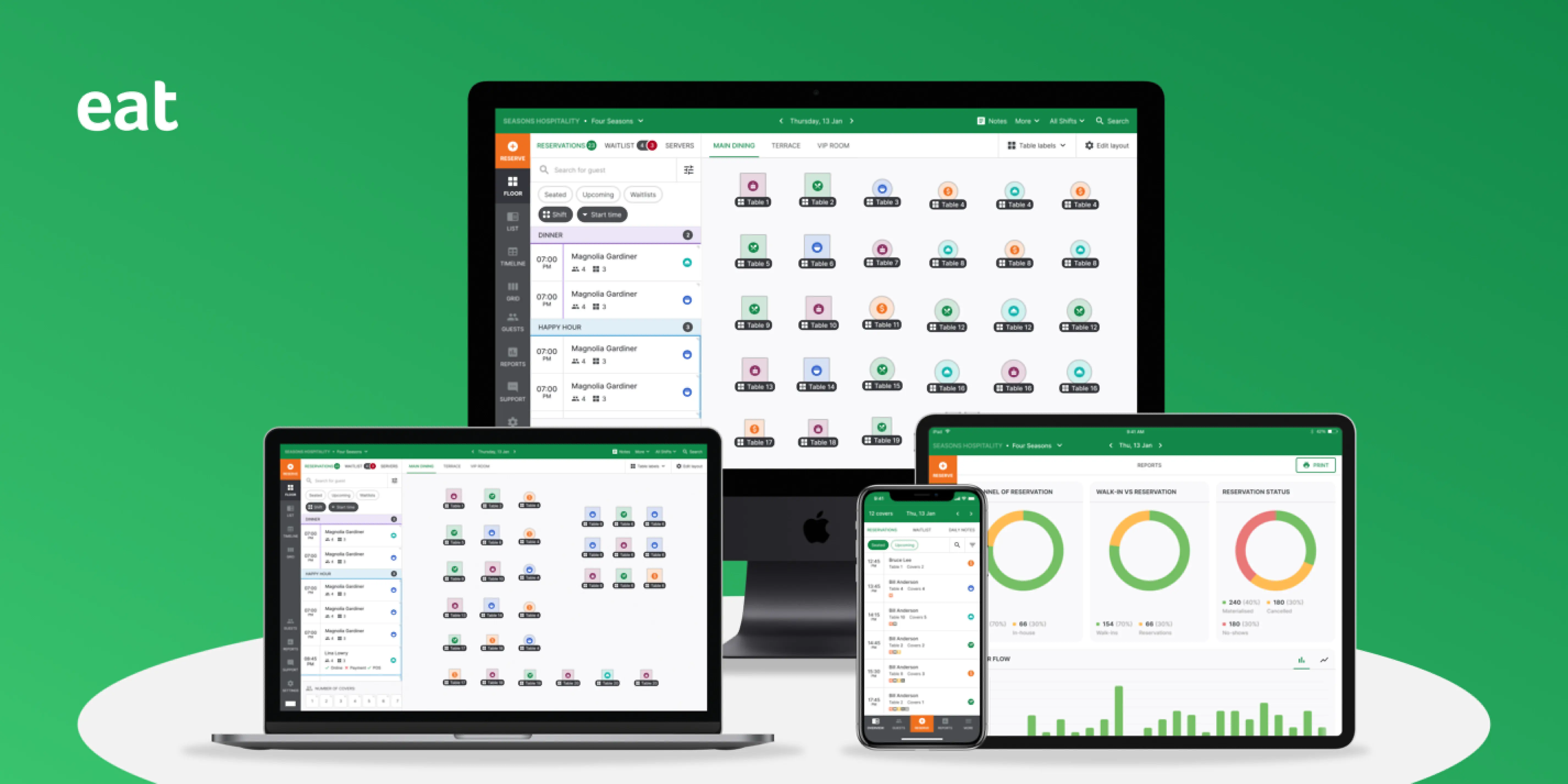 Eat App is a cloud-based, simple to use, all-in-one table management and reservation system for restaurants. It includes an advanced CRM system with features that help restaurant owners provide better customer service and build stronger relationships by combining guest data with targeted marketing campaigns.

This system provides a centralized place for collecting and managing all guest data, whether you run one or multiple restaurants. The guest profiles created by Eat App's CRM system go way beyond the basics and collect rich data like birthdays, special requests, regular orders, allergies, seating preferences, and more. This helps restaurant staff understand their customers better than ever before.

Eat App's CRM system goes one step further by providing segmentation capabilities within the guest database, allowing restaurants to sort, segment, and tag customers based on the information collected. Once segmented, guests can also be sent customized marketing messages from within the database, making the whole process streamlined for restaurant staff. No longer switching between different systems, Eat App allows you to do it all under one roof.

To further improve a restaurant's efficiency, Eat App's advanced automated guest tagging feature allows restaurants to automatically tag their guests as VIPs, regulars, flaky, etc., and send them an email by setting up customizable conditions. All restaurants have to do is set up the conditions for the auto-tags, and the system will do the rest without any manual intervention required.

Learn more about Eat App's automation feature here

Eat App also helps collect guest feedback with its automated survey system that sends guests a review request within 24 hours of their reservation. This allows restaurants to better understand the highs and lows of their operations and take quick actions to rectify issues accordingly.

Pricing
Eat App's all-inclusive system is priced at $209/month.

Compatibility
As mentioned earlier, Eat App comes with built-in table management and reservation system which allows all customer data to be synced into your CRM database. It also includes easy POS and phone integration, allowing restaurants to connect all their systems for a supercharged guest database.
Interested in trying it yourself? Sign-up for your free 14 day trial of Eat App now.
Toast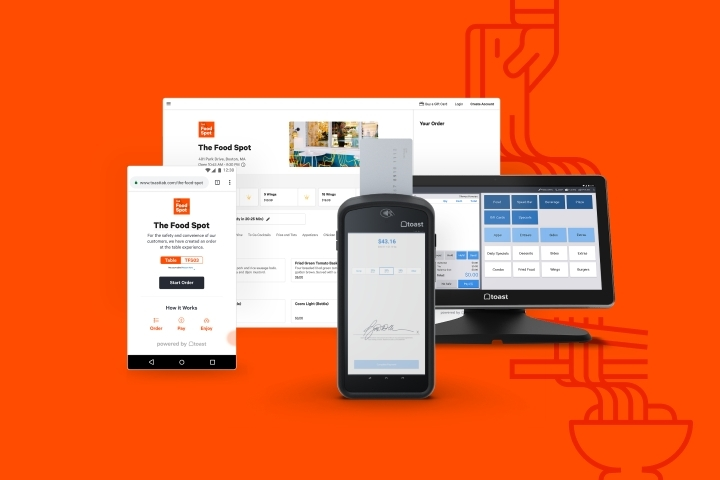 Toast is originally a restaurant POS and management system that comes with an integrated CRM software. With a focus on email marketing, Toast's CRM system helps restaurants collect basic guest information like name and contact details and helps build an extensive email list to help them reach as many customers as possible.

With Toast, restaurants can create segmented email lists based on different factors and send tailored marketing messages to customers. These email campaigns can also be automated and sent based on guest behavior (like a welcome email when someone signs up or a discount email when someone hasn't visited the restaurant in some time), which saves the time and effort of restaurant staff.

Toast's email marketing tool also provides analytical insights about email campaigns and allows restaurants to run A/B tests to improve their overall email marketing strategy.

Pricing
Toast's marketing software is included in their "Growth" package which is priced at $272/month.

Compatibility
Toast comes with a built-in POS and management system which makes the integration with the CRM system straightforward. However, Toast's CRM does not integrate with other table management and reservation systems.
Popmenu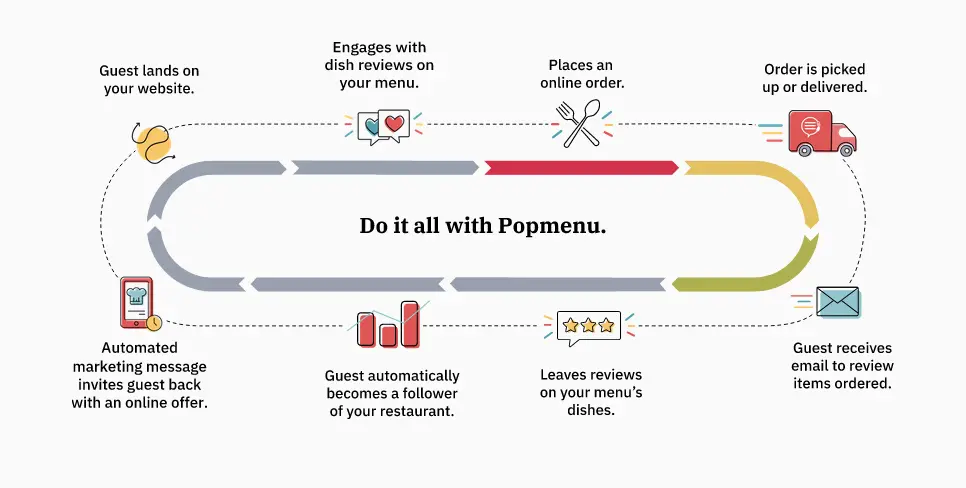 Popmenu is a tool that aims at optimizing a restaurant's overall digital presence and turn first-time diners into regular guests. It provides website hosting and design solutions, menu management, direct ordering and delivery, and restaurant CRM.

Popmenu helps reduce reliance on third-party ordering websites and allows restaurants to own the entire guest experience. Restaurants can collect guest data, segment and tag guests based on behavior, and send automated and personalized messages accordingly.

With its main focus being online ordering, Popmenu offers a streamlined online ordering journey to guests by providing QR codes, digital menus, reputation management, etc., all under one system.

Pricing
Popmenu's starter subscription comes at $149/month. However, the full CRM package is included in the Pro package priced at $349/month.

Compatibility
Popmenu offers integrations with various technology partners for reservations, online payment, and delivery. It also integrates with social platforms like Facebook and Instagram to enable online deliveries through them.
OpenTable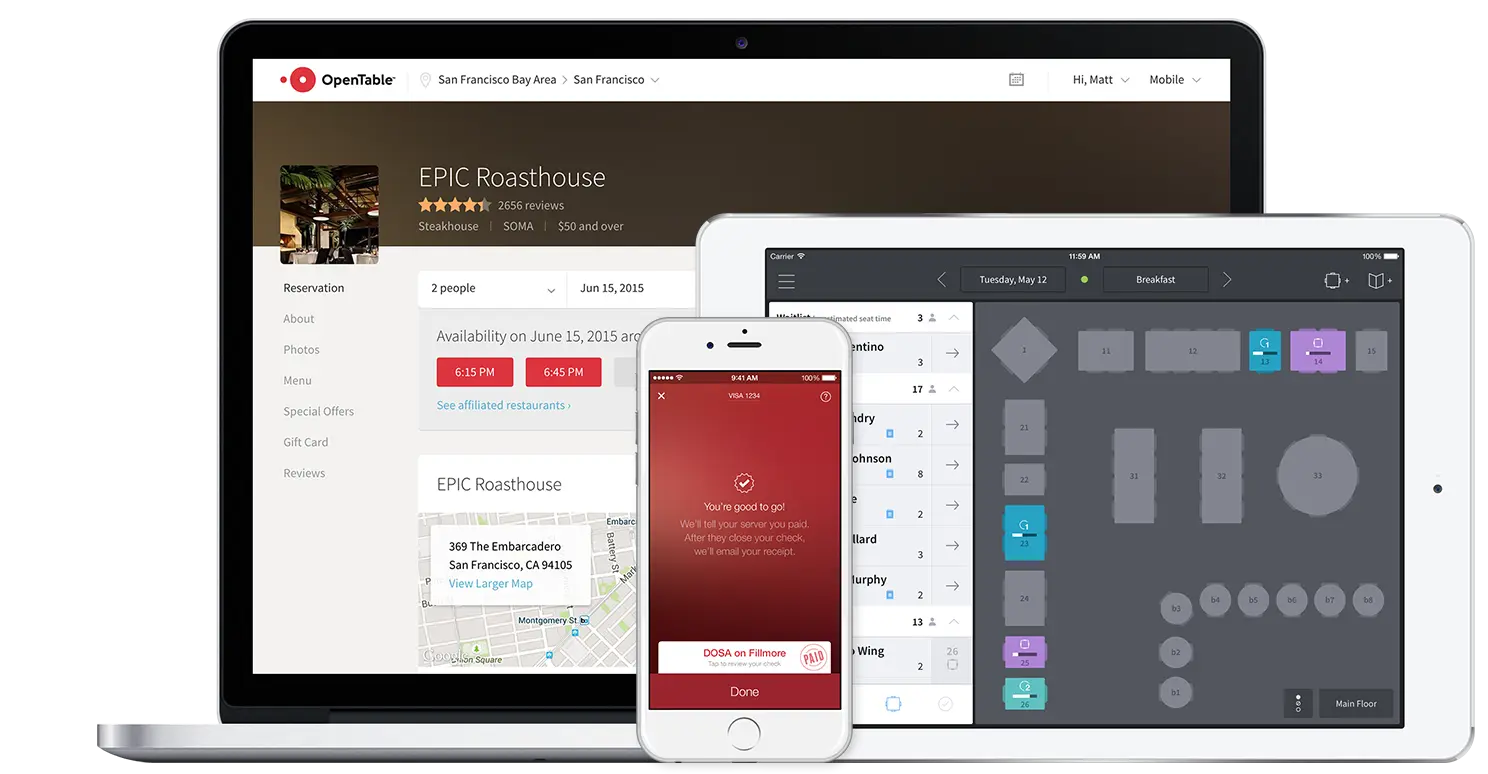 Opentable is another restaurant reservation and table management software that comes with a built-in CRM system focused on building strong relationships.

Like every CRM system, it provides a centralized database to collect all guest information and allows restaurants to segment and email customers based on preferences. OpenTable's email marketing feature also provides deep campaign insights like ROI, revenue, and covers earned from each campaign.

Opentable also allows auto-guest tagging based on preferences which help restaurants keep track of their VIPs and other important guests.

It also comes with a server management feature that provides insights about server performance with data points like servers' ratings, guest feedback, and more to help identify your top-performing employees.

Pricing
OpenTable's basic CRM system starts from $29/month. However, advanced features like table management, waitlist, automated email campaigns, etc. are a part of the Pro package which is priced at $449/month.

Compatibility
OpenTable's CRM system can be integrated with various POS systems and can be used with its own built-in table management and reservation system.
POSist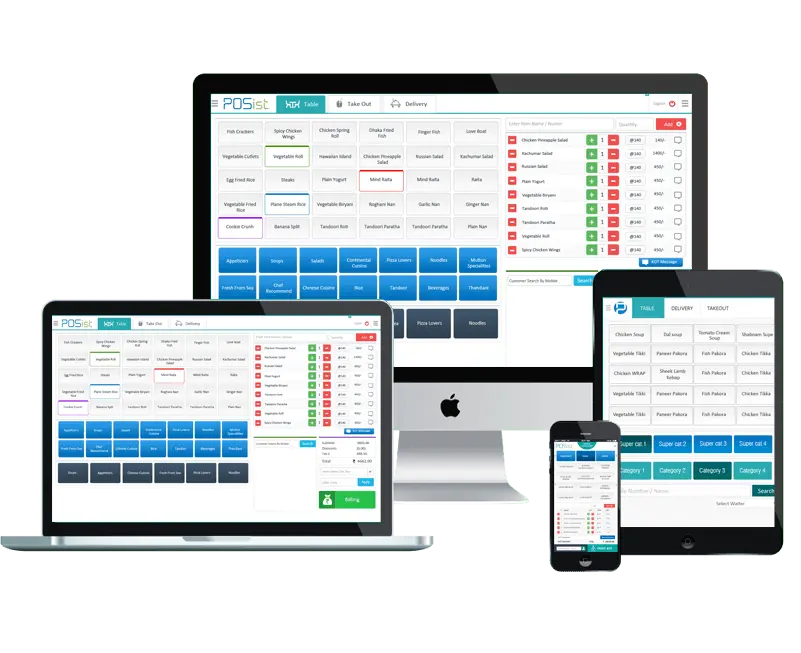 POSist is a cloud-based restaurant management system that offers various products for overall restaurant management, which includes their CRM system. POSist's CRM system provides a centralized customer database for restaurants and shares customer data across multiple outlets.

POSist helps build a rich guest database by collecting guest data from different sources like online ordering, guest feedback, etc. It also comes with segmentation capabilities that allow restaurants to identify and segment customers based on factors like preferences and number of visits.

It also enables targeted email and SMS marketing by helping restaurants send out customized messages to guests based on their behavior. However, these features are not part of the CRM system, but of POSist's restaurant marketing app, which has to be purchased separately.

Pricing
POSist's pricing is tailored to each restaurant's needs, therefore they do not provide any clear pricing package on the website

Compatibility
POSist comes with a wide range of products which include a POS system, online ordering system, delivery app, marketing app, etc. that can be integrated. However, each of these products has to be subscribed to individually. POSist also integrates with selected third-party apps for online delivery, reservations, and loyalty programs. We recommend checking their website to know exactly which integrations they are currently offering.
Upserve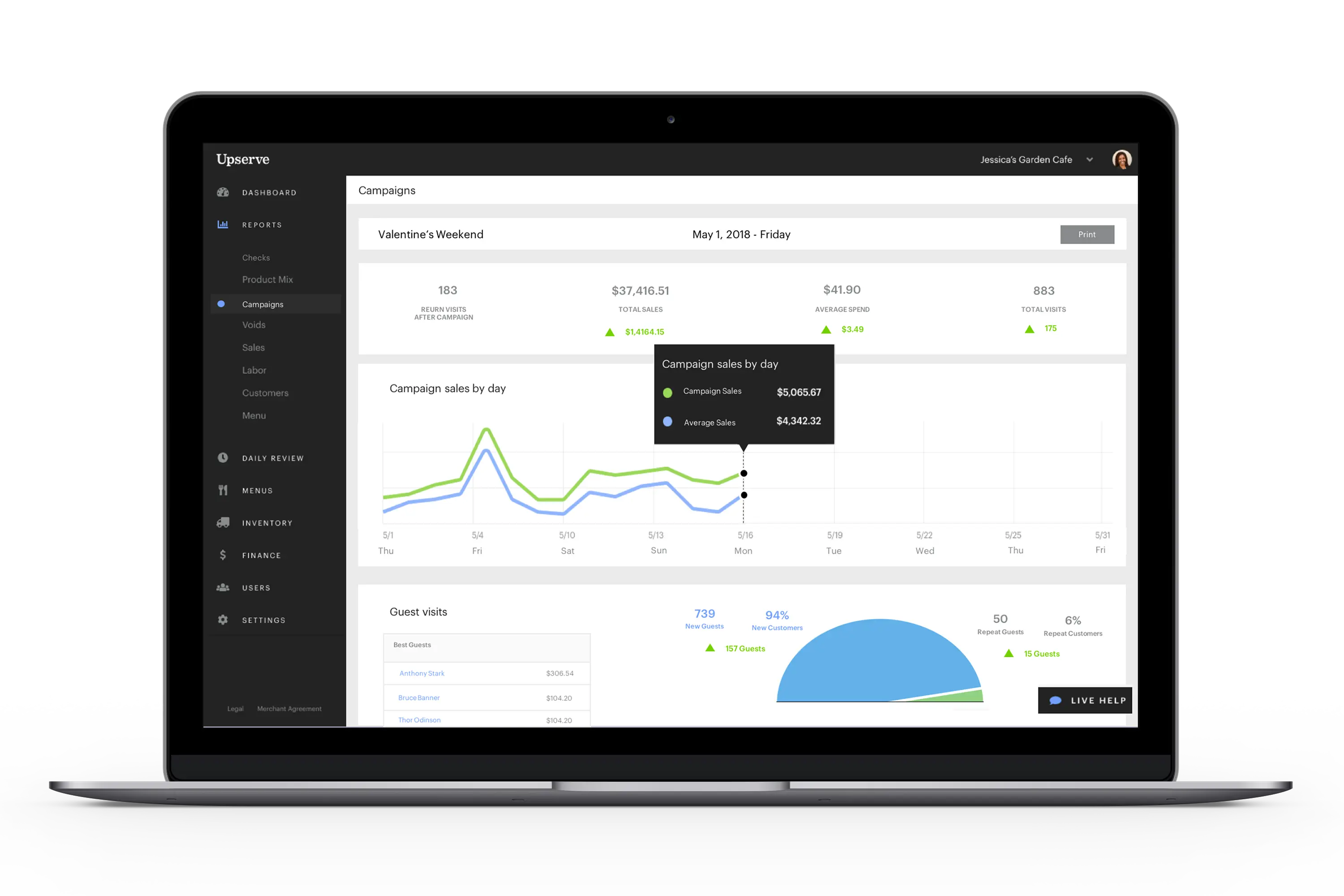 Upserve is an all-in-one restaurant management software with a focus on boosting restaurant profits. Upserve's restaurant marketing CRM focuses on providing in-depth guest details with its analytical features. It allows restaurants to build email marketing campaigns and track their profitability by measuring campaign ROIs to better understand what's working with the guests.

Similar to other CRM systems, Upserve's guest book feature helps build rich guest profiles with various details like food preferences, average spend, etc. to enable a more customized customer experience. Guests can also be segmented based on their behavior to help identify a restaurant's high-value customers.

It also comes with a centralized review feature that combines restaurant reviews from different platforms like Yelp, Google+, OpenTable, and Tripadvisor to help them keep track of their reputation management. This feature also allows restaurants to track the reviews of up to 5 other restaurants to see how they stack up against the competition.

Pricing
Upserve's started subscription is priced at $59/month. However, the CRM system cannot be used without getting their POS system, which is priced at an additional $60. To take advantage of the full CRM system, you would have to opt for the PRO subscription that is priced at $199/month with an additional $50 charge for the POS terminal

Compatibility
As Upserve is primarily a POS system, the CRM cannot be used without it. It does offer other integrations for online ordering, reservations, accounting, inventory management, etc., and is compatible with many popular systems.
The Takeaway
There is a wide range of restaurant CRM systems to choose from, catering to every range of budgets and needs. The right system for you is the one that best suits your requirements within your budget.

While they may seem like a big investment, these systems make your restaurant operations much more efficient and effective and are definitely give value for your money.

Ultimately, the right CRM system will pay for itself, and more, by improving customer satisfaction and relationships and increasing guest loyalty, keeping them coming back for more.