Building strong customer relationships has now become the key to restaurant success, given that repeat customers accounted for 35% of online orders in 2022, up from 29% in 2021 and predicted to grow up to 40% in 2023.
Let's face it, as a restaurant owner, you already have thousands of tasks on your plate. How, then, can you take the time to individually understand every customer to provide them with a personalized experience?
That's where a restaurant CRM system comes into play.
From simple CRM solutions to advanced marketing systems, there is something to suit every restaurant's needs.
"There are too many vendors, and you don't know who is a good company to deal with. We really need to be able to know enough to ask, 'Are they solving my problem? Look for adaptability and flexibility." says the former Chief Marketing and Digital Officer at McDonald's, Dan Gertsacov.
Now, let's look at the 10 best restaurant CRM systems available in the market right now:
Eat App
Toast
Popmenu
OpenTable
POSist
Upserve
Punchh
Quandoo
SugarCRM
SevenRooms
Here's a more in-depth look at these top CRM systems below.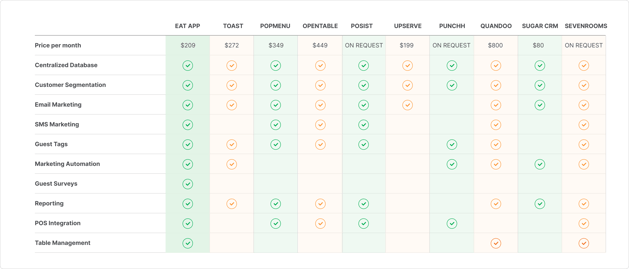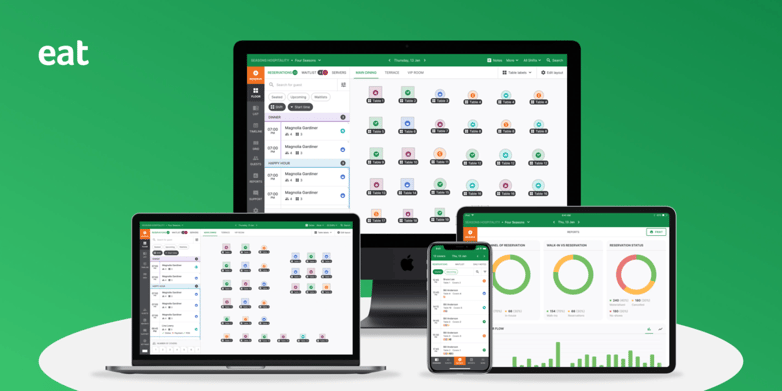 Eat App is a cloud-based, simple-to-use, all-in-one table management and reservation system for restaurants. By leveraging guest data, Eat App's CRM helps restaurant owners personalize every guest experience, leading to better reviews, returning customers, and ROI.
Key features
A

centralized database – Collecting and managing all guest data in one place makes running one or multiple restaurants easier for restaurant managers.


Advanced guest profiles – Eat App's CRM system goes way beyond the basics and collects rich data like birthdays, special requests, regular orders, allergies, and seating preferences, making personalized recommendations more precise.



Customized marketing messages

–

Eat App's CRM

has segmentation capabilities within the guest database, so you can sort, segment, and tag customers based on the information collected. Once segmented, guests can also be sent customized marketing messages from within the database, making the whole process streamlined for your restaurant staff.



An

automated survey system

– Send your guests a review request within 24 hours of their reservation. Better understand the highs and lows of your operations and take quick actions to rectify issues accordingly.
Pricing

Eat App's all-inclusive system is priced at $229/month.

Compatibility

As mentioned earlier, Eat App comes with a built-in table management and reservation system, allowing all customer data to be synced into your CRM database. It also includes easy POS and phone integration, allowing restaurants to connect all their systems for a supercharged guest database.
Stop switching between different systems, Eat App allows you to do it all under one roof with its rich set of features – Learn more about Eat App's automation feature here.
Interested in trying it yourself? Sign-up for a free today.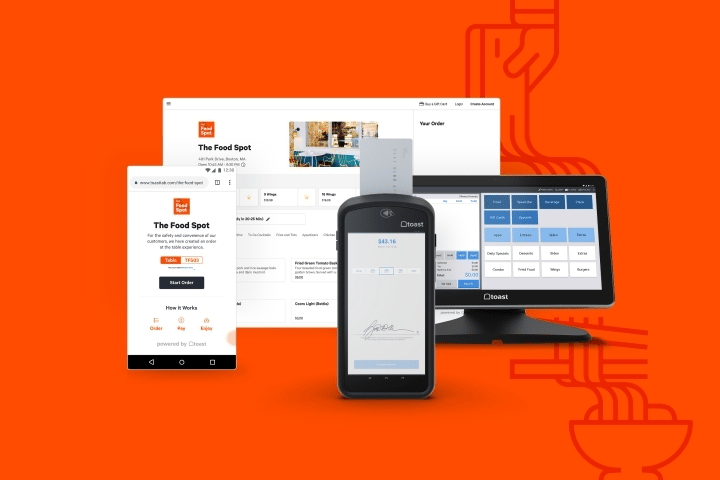 Toast is originally a restaurant POS and management system that comes with integrated CRM software. Toast's CRM for restaurants helps restaurants collect basic guest information like name and contact details and helps build an extensive email list to help them reach as many customers as possible.
Key features
Segmented email lists – You can create them based on different factors and send tailored marketing messages to customers. These email campaigns can also be automated and sent based on guest behavior (like a welcome email when someone signs up or a discount email when someone hasn't visited the restaurant in some time), which saves the time and effort of restaurant staff.


Analytical insights – The reporting features help restaurant managers find and fix issues quickly.


Centralized database – Restaurant owners can find everything they need in one place without juggling multiple software.
Cons
> Not user-friendly – Some users have reported having issues with features such as a complicated drop-down menu during online ordering.
> No advanced guest managing tools - For example, guest surveys aren't available in the Toast CRM.

Pricing

Toast's marketing software is included in their "Growth" package which is priced at $272/month.

Compatibility

Toast comes with a built-in POS and management system which makes the integration with the CRM system straightforward. However, Toast's CRM does not integrate with other table management and reservation systems.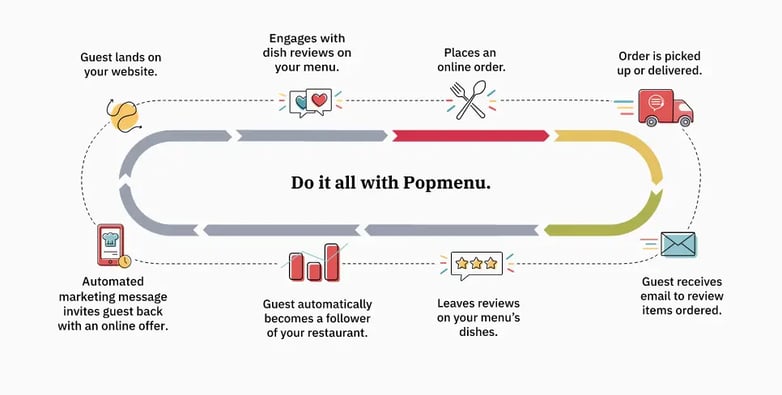 Popmenu is a tool that aims at optimizing a restaurant's overall digital presence and turning first-time diners into regular guests. It provides website hosting and design solutions, menu management, direct ordering and delivery, and restaurant CRM.
Key features
All-in-one tool – Popmenu helps reduce reliance on third-party ordering websites and allows restaurants to own the entire guest experience. Restaurants can collect guest data, segment, and tag guests based on behavior, and send automated and personalized messages accordingly.
Online ordering – With its main focus being online ordering, Popmenu offers a streamlined online ordering journey to guests by providing QR codes, digital menus, reputation management, etc., all under one system.


Marketing feature – SMS marketing and email marketing is streamlined with the help of customer data.
Cons
> No table management feature.
> No marketing automation feature.

Pricing
Popmenu's starter subscription comes at $149/month. However, the full CRM package is included in the Pro package priced at $349/month.

Compatibility
Popmenu offers integrations with various technology partners for reservations, online payment, and delivery. It also integrates with social platforms like Facebook and Instagram to enable online deliveries through them.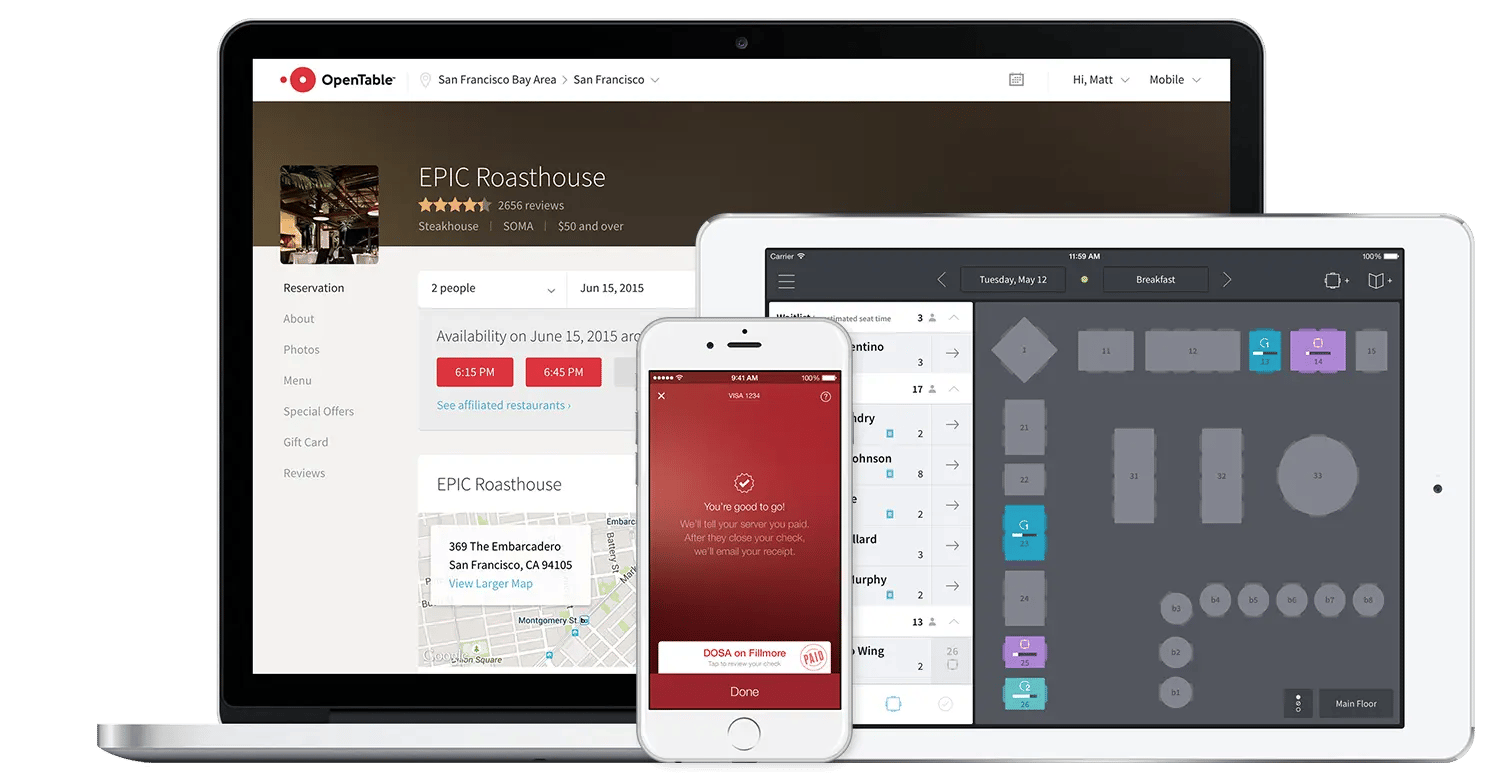 OpenTable is another restaurant reservation and table management software that comes with built-in customer relationship management software focused on building strong relationships.
Key features
A centralized database – Collects all guest information in one place and helps restaurants segment and email customers based on preferences.
Email marketing – OpenTable's email marketing feature also provides deep campaign insights like ROI, revenue, and covers earned from each campaign.


Auto-guest tagging – OpenTable also allows auto-guest tagging based on preferences which help restaurants keep track of their VIPs and other important guests.


Employee management – It also comes with a server management feature that provides insights about server performance with data points like servers' ratings, guest feedback, and more to help identify your top-performing employees.
Cons
> Additional fees per reservation.
> Non-responsive customer support.

Pricing
OpenTable's basic CRM system starts from $29/month. However, advanced features like table management, waitlist, automated email campaigns, etc. are a part of the Pro package which is priced at $449/month.

Compatibility
OpenTable's CRM system can be integrated with various POS systems and can be used with its own built-in table management and reservation system.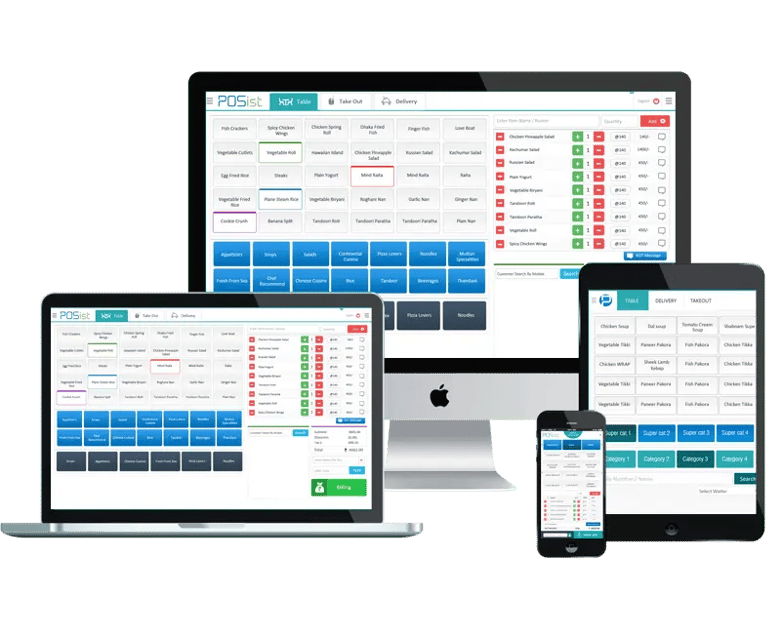 POSist is a cloud-based restaurant management system that offers various products for overall restaurant management, which includes its CRM system.
POSist's CRM system provides a centralized customer database for restaurants and shares customer data across multiple outlets.
Key features
Customer database – POSist helps build a rich guest database by collecting guest data from different sources like online ordering, guest feedback, etc. It also comes with segmentation capabilities that allow restaurants to identify and segment customers based on factors like preferences and number of visits.
Targeted email marketing campaigns – Helping restaurants send out customized messages to guests based on their behavior. However, these features are not part of the CRM system, but of POSist's restaurant marketing app, which has to be purchased separately.


Detailed reporting – Reports are detailed and easy to understand, so restaurant owners don't need to know much about analytics.
Cons
> More advanced features are not part of the CRM system, but of POSist's restaurant marketing app, which has to be purchased separately.
> No table management feature.

Pricing

POSist's pricing is tailored to each restaurant's needs, therefore they do not provide any clear pricing package on the website.

Compatibility

POSist comes with a wide range of products which include a POS system, online ordering system, delivery app, marketing app, etc. that can be integrated.
However, each of these products has to be subscribed to individually. POSist also integrates with selected third-party apps for online delivery, reservations, and loyalty programs.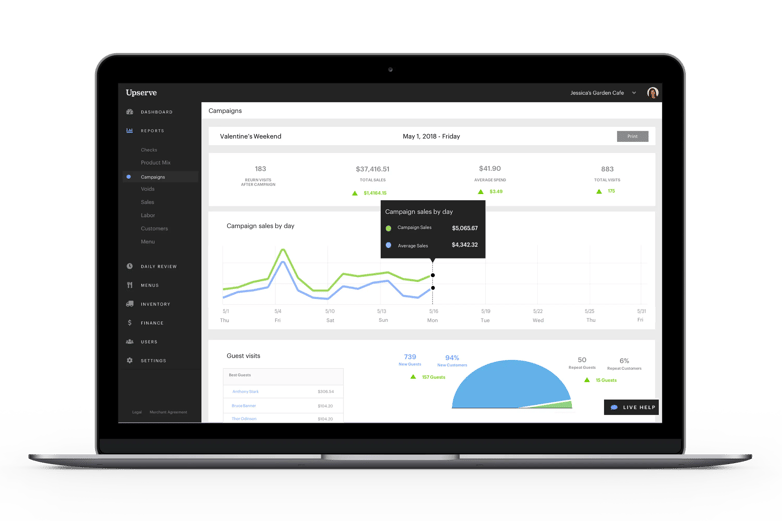 Upserve is an all-in-one restaurant management software focusing on boosting restaurant profits. Upserve's restaurant marketing CRM focuses on providing in-depth guest details with its analytical features.
Key features
Guest book feature – helps build rich guest profiles with various details like food preferences, average spending, etc., to enable a more customized customer experience. You can also segment guests based on their behavior to help identify a restaurant's high-value customers.
A centralized review feature – Combines restaurant reviews from different platforms like Yelp, Google+, OpenTable, and Tripadvisor to help them keep track of their reputation management. This feature also allows restaurants to track the reviews of up to 5 other restaurants to see how they stack up against the competition.


Customer support – Upserve's chatbot is available 24/7 to answer and resolve all questions.
Cons
> No advanced features such as reporting, guest surveys, and marketing automation.

Pricing

Upserve's started subscription is priced at $59/month. However, the CRM system cannot be used without getting their POS system, which is priced at an additional $60. To take advantage of the full CRM system, you would have to opt for the PRO subscription, which is priced at $199/month with an additional $50 charge for the POS terminal.

Compatibility

As Upserve is primarily a POS system, you can't use their CRM without it. As for other integrations, it offers other integrations for online ordering, reservations, accounting, inventory management, etc., and is compatible with many popular systems.
Punchh CRM is a powerful and comprehensive customer relationship management platform designed specifically for the restaurant industry.
With a focus on building lasting customer relationships, Punchh empowers restaurants to create engaging loyalty programs, deliver personalized incentives, and run behavior-driven campaigns that turn first-time guests into lifelong fans.
Key features
Punchh loyalty

–

The Punchh Loyalty feature allows restaurant businesses to create and manage an omnichannel loyalty program integrated across various customer touchpoints, including in-store, online, and through a branded mobile app.





Punchh offers

–

Leveraging customer data insights, the CRM can tailor promotions and rewards to individual customer preferences and behaviors.




Punchh marketing – Automated, behavior-driven campaigns that convert first-time guests into lifelong fans.


Customer data insights – The platform collects and analyzes vast amounts of customer data, such as purchase history, visit frequency, order preferences, and more.
Cons
> No table management feature.
Pricing
Not publicly available.
Compatibility
Punchh integrates with POS systems and online ordering platforms, so restaurant owners don't need to worry about compatibility.
Quandoo is a comprehensive customer relationship management solution designed specifically for the restaurant industry.
Quandoo equips restaurants with powerful CRM tools to optimize operations, drive customer engagement, and increase revenue. With features like advanced analytics, personalized guest management, simplified reservation systems, and guest tags, Quandoo is a good choice for restaurants.
Key features
Advanced analytics –

Gain valuable insights and monitor performance in real-time with an easy-to-understand dashboard. Track reservation and cover performance, calculate the revenue generated from different booking channels, compare data across time periods, and generate up-to-date reports for informed decision-making.




Guest management – Access and own guest data to deliver personalized experiences and build a community of returning diners. View reservation history, assign tags for preferences and allergies, and extract guest data for targeted email and social media campaigns.


Simplified reservation management – Accept, manage, and maximize restaurant reservations efficiently with 24/7 real-time booking capabilities. Receive instant notifications, centralize all reservations in one list, add walk-ins and phone reservations, and log guest requests and notes for a seamless and organized workflow.
Cons
> There is an additional set-up fee.
Pricing
The pricing for the monthly subscription starts at $50, but the set-up fee starts at $750.
Compatibility
Quandoo offers social media integrations as part of its packages.
SugarCRM is a highly flexible, scalable, and extensible platform for marketing, sales, and customer service solutions.
Unlike traditional CRMs that often lead to busy work and manual data management, SugarCRM empowers businesses with a complete picture of each customer's journey, streamlining processes and automating tasks to enhance productivity and customer engagement.
Key features
Comprehensive customer data

–

SugarCRM allows restaurants to improve the quality and accuracy of customer data by automating data maintenance and augmenting it with externally-sourced information. This comprehensive view of customer data enables better decision-making and personalized customer interactions.


Time-aware customer journey – SugarCRM captures a complete historical record of every change event in the customer journey, providing improved situational awareness. This time-aware approach helps restaurants understand customer preferences and behavior over time for more effective marketing and service strategies.


Omnichannel communications – With SugarCRM, restaurants can integrate voice and chat communications directly into the CRM applications. This seamless omnichannel communication enables better customer support and engagement across various touchpoints.


AI-powered predictions

–

SugarCRM leverages artificial intelligence (AI) to provide highly accurate, data-backed predictions about customers and their behavior. This feature assists restaurants in understanding customer preferences, identifying cross-selling opportunities, and optimizing marketing campaigns.
Cons
> Complex for first-time users.
> Sugar CRM is a general-purpose CRM platform designed for various industries, while CRMs like Eat App are explicitly tailored to the specific needs of the restaurant industry.
Pricing
Some features are available at $80 per user/month.
Compatibility
Sugar CRM integrates with multiple tools such as HubSpot, Quickbooks, and Zendesk.
SevenRooms is a powerful all-in-one hospitality management solution. With features like reservation and table management, guest CRM tools, waitlist optimization, and insights-driven analytics, it empowers businesses to create seamless experiences for guests.
Key features
Reservation and table management

–

Easily handle bookings, modifications, and cancellations while optimizing seating arrangements to reduce wait times.




Guest CRM tools

–

Know your guests better by storing preferences, visit history, and special requests, enabling personalized service.


Waitlist optimization

–

Efficiently manage "waiting guests" and automatically notify them when tables become available.


Insights and analytics – Make informed decisions with valuable data on customer behavior, peak hours, and revenue trends.


Marketing automation – Engage guests with targeted campaigns, promotions, and personalized offers to build loyalty.
Cons
> Cluttered user interface.
> No live customer support.
Pricing
Contact for a quote.
Compatibility
SevenRooms offers more than 100 integrations for restaurant owners.
How did we choose these CRM systems?
To assess which CRM tools are best for restaurant operators we chose several criteria based on our experience of speaking to restaurant owners about their needs.
Joseph Boston, Eat App's Product Director, says that "when restaurant owners look for a CRM system they are typically looking for features that allow them to track guest data relevant to their business, rather than just general CRM tools. We are also seeing a lot of operators increasingly looking for tools which are fully integrated out of the box so they can streamline the whole guest management process as well as save on technology costs."
The criteria we used to assess the above systems are:
Relevant Features
There are hundreds of CRM systems on the market but not all will be useful, from a feature perspective, for restaurants. When assessing systems we looked specifically at features useful for restaurants including:
Customer database – A central repository to store and manage customer information, including contact details, preferences, order history, and feedback, so you don't lose the most important customer information.


Guest profiles – Ability to create individual guest profiles with relevant details, such as dietary restrictions, special occasions, and favorite dishes, allowing for personalized service for each customer.


Reservation management – Tools for managing table reservations, waitlists, and seating arrangements, ensuring efficient guest flow and optimized seating capacity.


Integration with POS (Point of Sale) – Seamless integration with the restaurant's POS system to capture and synchronize customer data, ensuring accurate tracking of orders, payments, and loyalty program transactions.
Price
The goal of a CRM system is to help increase your revenue by improving the guest experience. It's important to ensure that the CRM system you choose fits your restaurant's budget and does not negatively impact revenue.
The average price for a CRM system is around $200 per month, but the feature list will influence the cost of the CRM.

When assessing systems we also included hidden charges or setup fees, SMS fees, etc., that might add up to the total cost.
Compatibility
Likely, you are already using one or more digital systems like reservation or table management software at your restaurant. A CRM that is integrated with existing common software, will help take full advantage of all the guest data available from different sources. For this reason, we included compatibility as a key part of the assessment.
Key Takeaways
Overall the best CRM system for a restaurant is Eat App.

The ten best restaurant CRM systems are Eat App, SevenRooms, Toast, Upserve, OpenTable, Popmenu, POSist, Punchh, Quandoo and SugarCRM.

Consider factors such as pricing, ease of use, integration, and support when choosing a system.

Eat App and SevenRooms are focused on restaurants, while Salesforce is a more general CRM system.

Choosing the right CRM system can help build stronger relationships with guests and increase revenue.
FAQs
Frequently Ask Questions
1. What is a restaurant CRM?
A restaurant customer relationship management (CRM) system is a centralized restaurant database of all their guest information. It also enables restaurants to easily and effectively manage guest data and provide a personalized and tailored guest experience.
2. What are the benefits of using a CRM system?
A CRM system in a restaurant improves operational efficiencies by organizing guest profiles and feedback, leading to more efficient service. Enhancing the customer experience through personalized communication and targeted marketing, fostering loyalty, and repeat business is another reason why restaurant owners use a CRM system.
3. Do restaurants use CRMs?
Yes, restaurants use CRMs to personalize guest experiences, optimize reservations and waitlists, and implement targeted marketing campaigns. The best CRM system enables data-driven decision-making, streamlines operations, helps with sales and marketing automation and improves overall service quality.