When it comes to choosing an online restaurant reservation system there are many options to choose from.
To make things easier for you we're going to compare in depth two of the major US reservation system providers OpenTable and Resy with the aim of helping you make an informed decision.

We'll also look at some alternative options you might want to consider.
Many choose based on cost vs benefit, as both system require a substantial financial commitment. For others it about weighing up features that meet the demands of your venue. Choosing the right reservation system depends on understanding the unique position of your business. Only you will be able to weigh the pros and cons of each solution.
So let's get on with the Resy vs OpenTable comparison.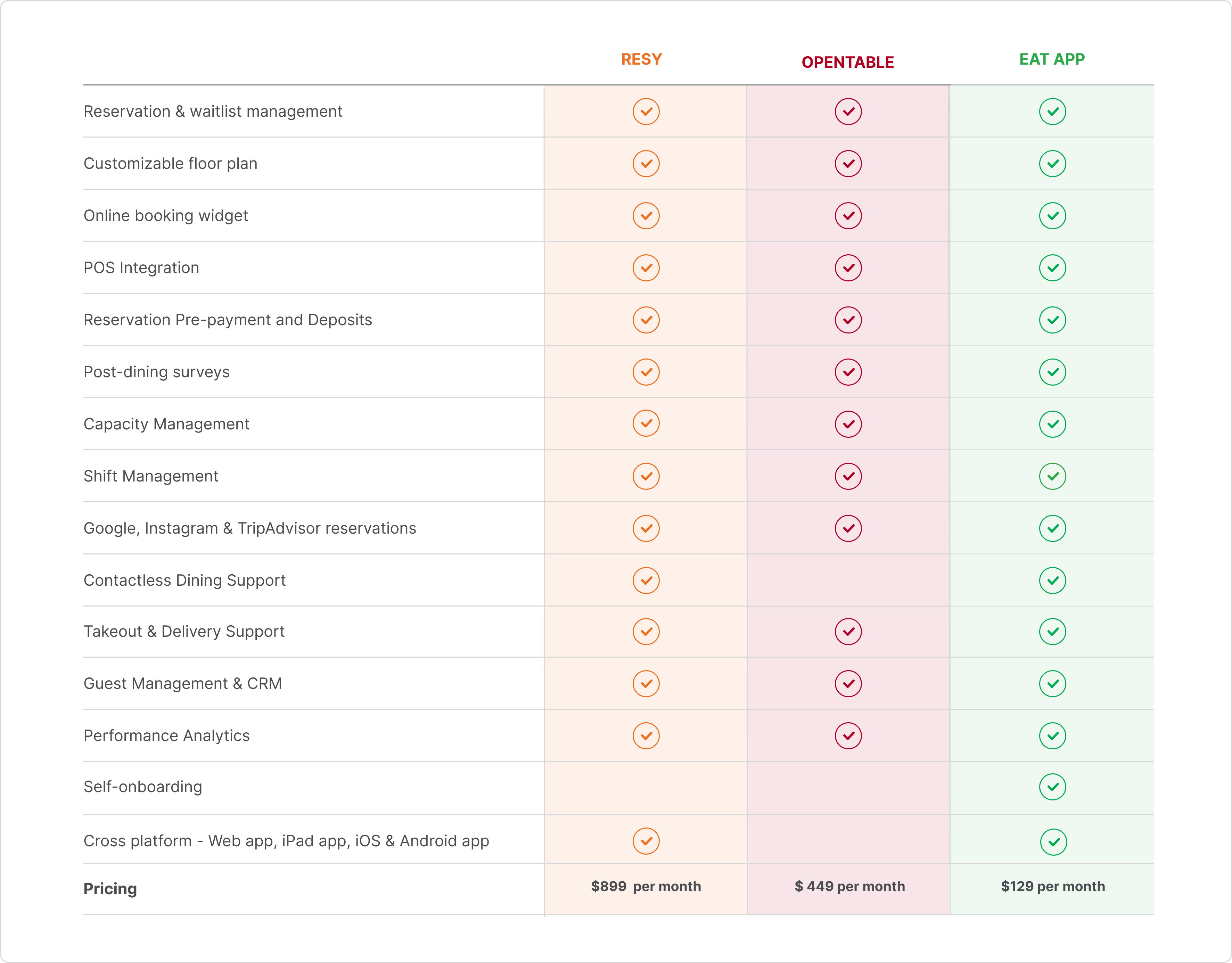 ---
Intro to OpenTable vs Resy
OpenTable and Resy are software companies that sell both reservation and table management systems to restaurants. These types of systems help restaurants manage their reservations, keep track of guests and manage their floor plan during service as guests arrive.

As they deal with reservation management both these companies focus on the full service end of the restaurant market.
---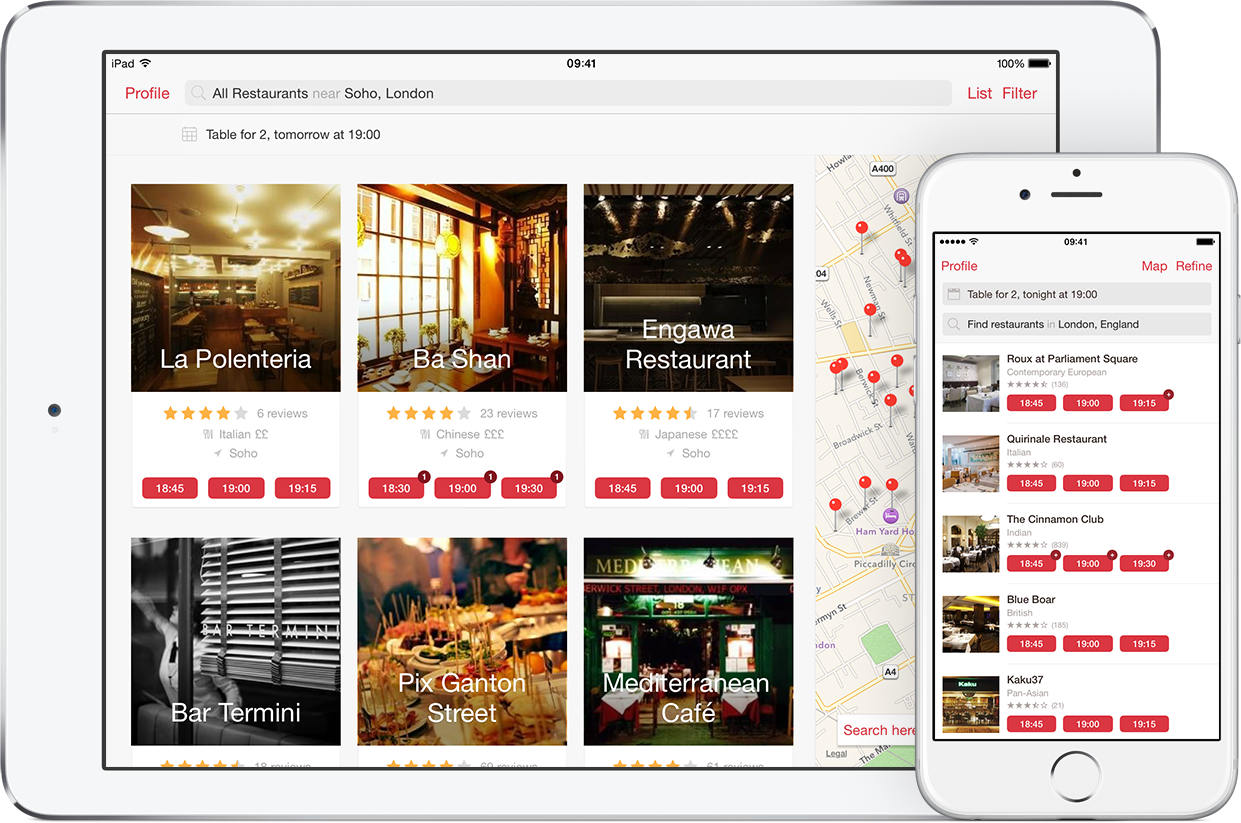 OpenTable
Founded in late 1990's, OpenTable is currently one of largest reservation software providers in the world. According to their website 10 covers are processed on their
network every second. This adds up to around 25 million customers a month.
The OpenTable Approach
OpenTable operates both a consumer reservation platform at opentable.com, and also a table management system for restaurants. The two systems synch together as a central place to manage bookings.

OpenTable's main pitch is as a marketing channel for restaurants. They do this by delivering more 'incremental' bookings for restaurants through their diner network (opentable.com) and charge a large per cover fee to restaurants if they want access to that network.

In some circles this strategy has been controversial as one of main ways the company attracts diners to opentable.com is through what's know as 'click arbitrage' on Google Adwords. Essentially they buy search ads through Google's ad platform using keywords of individual restaurants in any given city. The cost they pay for the clicks on Google is usually much less than the per cover fee they charge restaurants and thus they keep the difference between the two.
On the surface there is nothing wrong with doing this, but detractors of this approach say that OpenTable is stealing the customers who are looking for the restaurant anyway, so the bookings they provide are ultimately not 'incremental'. In addition some restaurants have complained that if OpenTable is providing the booking, restaurants don't get an opportunity to establish a long term relationship with that guest, even though they were already looking for that restaurant online.

On the table management software side, OpenTable was the established company in the US market with very few competitors. This meant that innovation was slow. In the last 5 years however, competitors have sprung up offering better, faster and more portable table management systems. The results is that in last few years OpenTable has started to play catch-up in terms of releasing new features.
Pivot to an Advertising Network
Recently, OpenTable is moving in the direction of transforming opentable.com into a more ad focused restaurant aggregator. OpenTable is owned by Booking Holdings, which operates booking.com and kayak.com amongst others, and opentable.com appears to moving away from the diner network approach towards more of a 'booking.com for restaurants' approach.

In this new opentable.com world restaurants have the opportunity to buy 'promoted' positions in the listings (see below), as well as pay for higher positions in lists of 'featured restaurants'.

This approach will allow restaurants with deep pockets, ie restaurant groups and large established businesses to gain the most visibility on opentable.com and restaurants should expect to pay increasing amount in ad costs in order to continue to use OpenTable as an effective marketing channel.
Products
OpenTable's table management and reservation solutions are available through a three-tiered product starting from a basic package to a full-stack table management system.
What features do restaurants get with OpenTable Guest Center?
Customizable floor plan
Table & Waitlist management
Shift management and reporting
Reservation and guests performance reports
Waitlist management
POS & Payment integration
CRM & Guest Management tools
Takeout support
Online booking widgets
Guest surveys
OpenTable Pricing
The pricing of OpenTable's table management and reservation system comes in three-tiers and includes a monthly subscription fee and a per cover charge which differs based on the source of the booking. OpenTable charges a $1-1.5 per cover fee for bookings made through their network and $0.25 per cover fee for bookings made through the restaurant's widget.
Note: If you link the reservation button on your website to your opentable.com profile you will pay $1.50 per cover. In order to pay $0.25 you must use the OpenTable booking widget. Make sure you are implementing this properly to not be overcharged!
Pricing for OpenTable's table management system
Basic (online reservations through OpenTable's network): $39/month + $1.50/network cover & 0.25/booking widget cover
Core

(Basic table management and waitlist features): $249/month + $1/network cover
Basic

(All basic & core features + relationship management): $449/month + $1/network cover
Advantages of OpenTable
Increased exposure through opentable.com, with access to large pool diners.
Helpful reservation and guest management features for staying organized and managing guests.
Diner loyalty system you can leverage as a marketing channel.
Disadvantages of OpenTable
OpenTable's per cover charges can quickly mount up.

You can estimate how much it'll cost you to run OpenTable by looking at your own reservation numbers. Here is an example of a restaurant that generates just a small amount of covers online.

At 200 web covers and 100 from opentable.com a restaurant would be spending $6500 a year.

For large and/or very busy restaurants that do well on opentable.com we've seen invoices as high $10,000+ per year.
Release of new ad focused opentable.com website will see costs rise even more.
Competitors restaurants have an easy way of advertising against your restaurant.
Potential issue with OpenTable using Google Adwords to take organic clicks away from restaurants.
With OpenTable you do not "own the customer". This means they have control of the customer relationship and use that user data to drive more engagement for themselves.

Owning the customer relationship and building a private customer database that you control is the heart of growing any business. OpenTable doesn't support restaurants in this way.
High competition on their consumer facing app due to the sheer volume of restaurants listed.
---

Resy
Like OpenTable, Resy is a table management and restaurant reservation system with a consumer facing reservation platform. Resy much smaller is however most popular in New York and in other cities on the East Coast.
The Resy Approach
Since its founding, Resy has changed its approach in how it provides reservation technology to restaurants. Originally Resy sought to provide restaurants with a way of selling tables at a premium during peak times - think Uber's surge pricing but for restaurants - by charging diners a fee to book.
This proved to be an unworkable business model so Resy has subsequently moved closer to something resembling OpenTable. Restaurants get access to resy.com, a consumer booking platform, as well as in restaurant software that connects to resy.com to manage bookings.
Some think of resy.com as the 'new OpenTable' but they approach reservation fees in a different way. Unlike OpenTable, Resy pitches itself as having no per cover fees for access to their booking platform. However Resy does offer features that restaurants can pay for that can boost conversion rates within their platform.
What features do restaurants get with Resy?
Reservation and table management system for managing guests and table
Waitlist management
POS Integration
Marketing and communication features
Customizable floor plan
Restaurant analytics and reporting
Takeout & contactless dining support
Guest surveys
Capacity management
Mobile Waitlist
Ticketes events and experiences
Resy Pricing
Resy offers three pricing tiers for restaurants thinking about using their services. Each with access to different feature sets. If you want to get close to the full Resy experience you need to choose the Platform 360 option at $399/month.

Unlike OpenTable, Resy does not charge a per cover fee on any online reservations.

Their 3 tiers are:
Platform: $249/month
Platform 360: $399/month
Full Stack: $899/month
Resy does not offer a free or lite version of their product, meaning that in order to get your restaurant on their network, you need to spend at least $249 a month.
Extra charges of Resy
The base pricing tiers of Resy seem well priced when compared to OpenTable but to get the full benefits of Resy there are optional add on features which come with a fee.

For example, their ticketing feature for events, comes with a transaction fee of up to 3%. POS integration costs and extra $100 month as well. Costs can quickly rise for the Resy system when you use all the features and in then the cost ends up not being that much cheaper than OpenTable.
Advantages of Resy
Flat monthly pricing options
Powerful features additional to reservation and table management software.
Two way sms between you and your guests
Claimed no show rate of 3% when using the system
Disadvantages of Resy
Resy can also be expensive. Whilst their cheapest pricing plan of $189 is much less than OpenTable, to get all the benefits from the system you'll end up spending between $500-$900 a month.
You can't list your restaurant on their booking platform without using their reservation system.
Their diner network is small
Not much marketing support for restaurants
---
Resy vs. OpenTable: So what's the difference?
Both Resy and OpenTable offer a iPad based reservation and table management system for full service restaurants. In that sense they are broadly similar to each other in terms of core functionality. They both help restaurants with online reservations, managing guests and building a customer database.
Difference of Approach
Ultimately the approach of OpenTable and Resy is broadly the same with some subtle but significant differences. Generally, OpenTable is focused more on leveraging their booking platform to generate business for restaurants. Along with this, all the costs are paid by the restaurants. Resy spreads the cost a bit more evenly between diners and restaurants and focuses more on releasing advanced table management features.
Feature differences
Beyond the core functionality, Resy offers more features than OpenTable. They have included features for marketing and guest communication into the product and offer several features that support the main system like customer surveys.

They also boast about 'next generation' features like an Apple Watch app. Whether you would use these on a daily basis is another question.

Using the all the features of Resy would require a fully staffed team, and as such they tend to appeal to large established restaurants and groups. (Union Square uses Resy for example.)
Pricing
Resy has competed with OpenTable by lowering costs for their basic offering. However the costs of both systems remain high. The cheapest you can use Resy for is $189 per month.
Resy doesn't charge per cover fees unlike OpenTable. This is the biggest difference in pricing between the two.
---
Eat App - OpenTable and Resy Alternative
What about alternatives? Eat App offers a different approach to OpenTable and Resy as well as providing restaurants with a cross platform advanced table management solution.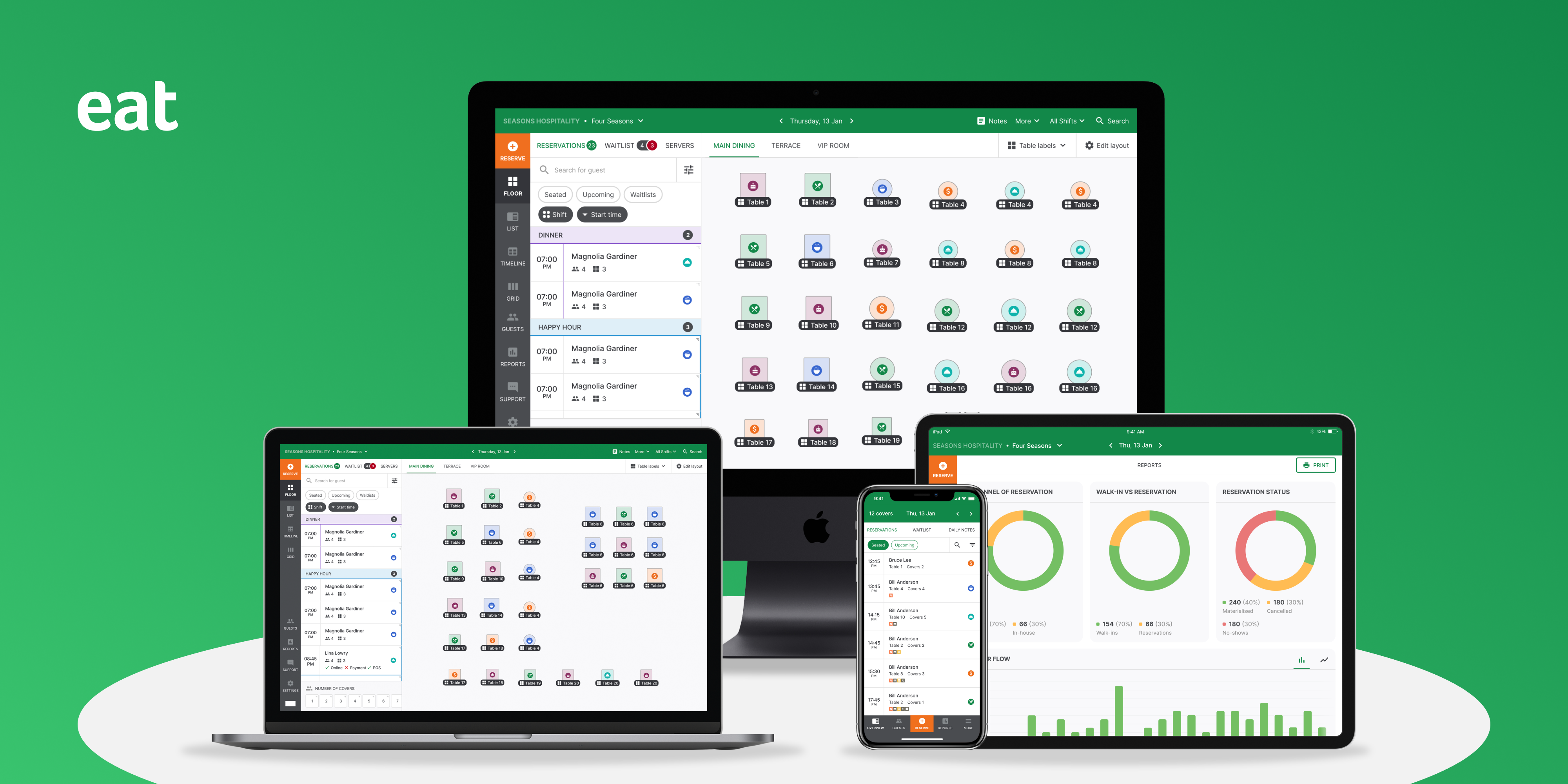 The Eat App Approach
Cost effective access to reservation networks.
With the rise of social media, content and community networks and Google's dominance in search, dedicated booking platforms like OpenTable and Resy are becoming obsolete. Restaurants can focus on Google Business, their social media accounts and other content websites as marketing channels and avoid altogether the high fees of booking platforms.
Simple pricing
Eat focuses on easy to understand pricing, so restaurants don't have to deal confusing ad products, hidden fees, or additional add-ons.
Cross platform technology
Resy and OpenTable require you to buy iPads in order to run their systems. Eat App runs on iPad apps, but also in through web, iOS and Android mobile devices, giving total flexibility to reservation management for restaurants.
Own the Customer
Eat App embraces the idea that restaurants should own the guest experience. This ultimately is the way to provide the best hospitality. Featuring and a strong privacy policy, Eat App won't sell or use restaurant data.
Next Generation POS Integration
POS data sharing with the reservation system is a killer app for restaurants and is changing the way restaurants understand guest, operations and marketing.

Both OpenTable and Resy offer POS integration, but few restaurants know that the type of integration they offer requires staff to manually enter IDs into the POS. This means that countless staff hours are wasted night after night just to maintain the data flow. Eat App has developed a unique, algorithmic based solution that reduces the time spent by 95%, not to mention pairing that with their state of the art restaurant automation suite to kick efficiency into high gear.
DIY Setup
To get started with OpenTable and Resy you need contact them and speak with their sales team before being able to try out the system. This is an antiquated approach suitable for large enterprise clients. Restaurant owners need a solution they can use themselves without getting stuck in back and forth exchanges with sales members.