With the growing demand for better restaurant management, the suite of restaurant reservation systems in increasing every day, and amongst those are Yelp and OpenTable, two large reservation system providers.
With both systems catering to similar needs, it can get confusing to understand which one is more suited to your restaurant. To help you out, we're going to compare Yelp and OpenTable with the aim of helping you make an informed decision, along with a few alternatives to these systems that you can consider.
No matter what your requirements focus on, features, pricing, compatibility or more, this in-depth comparison will help you weigh the similarities and differences of each system against each other and make the right decision.
Let's find out more about Yelp and OpenTable. At core, both reservation and table management solutions aim to help restaurants manage their guests, keep track of reservations, and provide better customer service.
Their approaches, however, are significantly different.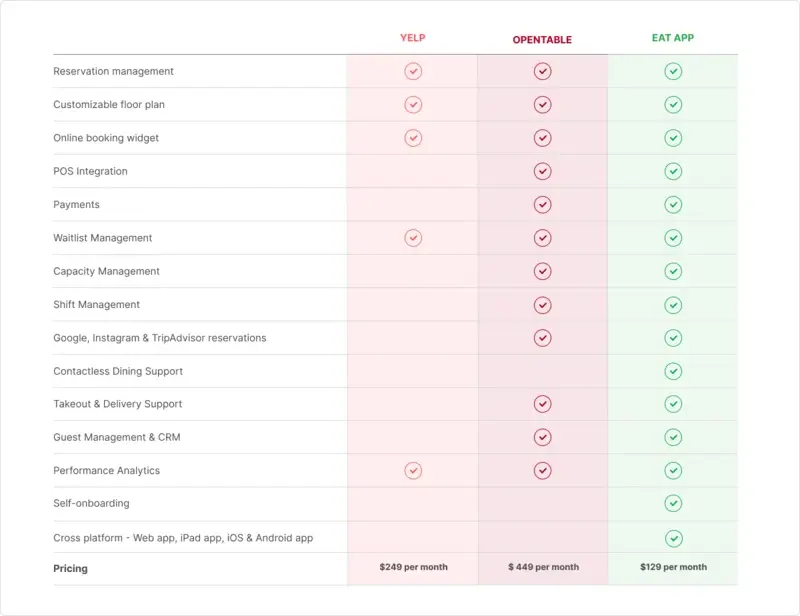 The Yelp approach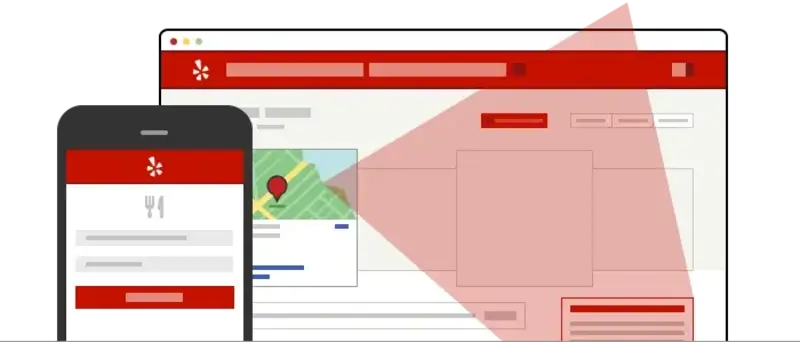 Founded in 2004, Yelp is one of the largest restaurant review platforms in the world, and also offer software for restaurant reservations and table management. Through these systems, Yelp provides restaurants access to their large user network. As per their website, 78% of users search for restaurants on Yelp (3x more than OpenTable).
Yelp provides restaurants with both an online, consumer facing reservation platform and a table management solution for their reservation management needs.
Being one of the biggest restaurant review platforms, Yelp capitalizes on it's large diner network, claiming to give restaurants a better chance of exposure as Yelp is one of the primary platforms for restaurant search and that customers are more likely to make booking at a restaurant after searching for it on yelp.
Yelp claims their systems gives you access a bigger network of diners, a better chance of being found, and a greater chance of getting bookings. Although that sounds great, it may not always be the case. As Yelp claims to be the biggest diner network, it automatically also becomes one of the biggest restaurant network, which might make it difficult for restaurants to stand out in the crowd amongst thousand of restaurants.
On such a densely populated platform, gaining a large amount of exposure, as claimed by Yelp, may not be as simple as it sounds. Add to this the introduction of Yelp Ads, where restaurants with large amounts of cash on their disposal, can buy top search positions through sponsored posts, and the chances of your restaurant gaining access to Yelp's large diner network become marginally low.
Products
Yelp aims to help restaurants better manage guests and build customer relationships through three products: Yelp Reservations & Table Management, Yelp Connect, and Yelp Ads.
Yelp Reservations gives restaurants access to its customer facing reservation platform through yelp.com and provides other management features like waitlist management, table management, and more.
Yelp Connect is a social portal exclusively for restaurants where they can share daily updates about deals, events, and more that will be visible to users on their Yelp app and across other Yelp platforms to enable better marketing and communication with existing and potential customers.
Finally, Yelp Ads enable restaurants to buy top positions on Yelp's search platform for better reach and exposure
Yelp Reservation & Table Management System features:
Online reservations through yelp.com and booking widget
Customizable Floor Plan
Table Management
Waitlist Management
Server Management
2-way diner messaging
Basic reporting and analytics
Yelp Pricing
Yelp Reservations and Table Management
Yelp's reservation and table management system comes at a monthly flat rate of $249/month. This rate includes online reservation, iPad, waitlist management, and all other features included in the system. There is no added setup fee
Yelp does not charge any per cover fee.
Yelp Connect
Yelp's social platform, Yelp Connect, comes at an added price of $199/month.
Advantages of Yelp Table Management
Access to one of the largest diner networks in the world
No per-cover fee
Two-way communication between you and your guest
Disadvantages of Yelp Table Management
High competition on their consumer-facing reservation platform
No POS, phone, or payment integrations
You can't list your restaurant on their booking platform without using their reservation system
Competitors can easily advertise on the platform against your restaurant.
No access to partner reservations like Google, Facebook, Tripadvisor, etc.
Basic feature set compared to other systems.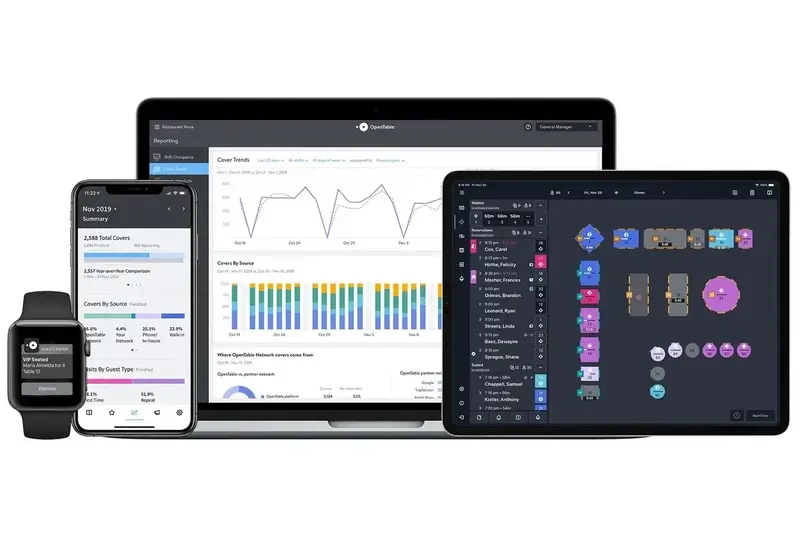 The OpenTable Approach
OpenTable, like Yelp, is also a reservation and table management software. With almost 60k restaurants on its system, OpenTable claims to seat more than 31 million diners via online reservations each month.
OpenTable offers restaurants a solution for both their reservation and table management needs. As a consumer facing reservation platform, OpenTable caters to a large network of diners through their own platform and through 600+ integrations with platforms like Google, Tripadvisor, etc.
OpenTable uses this extensive network of diners to position itself as a marketing channel through which restaurant's can gain access to thousands of customers, but this access comes at a heavy cost.
With growing number of systems like Yelp that offer bookings at no per cover fee, restaurants have started question OpenTable's high per cover charges. Claims of OpenTable taking over potential customers who are already searching for the restaurant outside of OpenTable by buying targeted search ads on search engines also adds to restaurants' growing hesitation towards it.
OpenTable's popularity has also led to an overcrowding of restaurants on the platform, and restaurants are finding it hard to stand out and capitalize on OpenTable's large diner network. The recent introduction of sponsored ads makes it even harder for restaurants with low marketing budgets to gain exposure and justify the high cost of OpenTable.
Although one of the earliest player in the reservation management industry, OpenTable seems to be faltering amongst the growing competitors who are offering better, more advanced systems at a lower price. However, OpenTable has been working towards upping their game with innovative features like the "owner app" that allows you to plan your shifts in advance.
Products
Formerly, OpenTable used to offer two separate products: Guest Centre, the table management system, and Connect, the online reservation system. However, it has now combined both systems into one single platform that offers all services in one place.
OpenTable Features
Customizable floor plan management
Table management
Shift management and reporting
Performance reports & analytics
Waitlist
POS integration
Payment integration
Online reservations and booking widgets
Customizable guest management
Takeout Support
Pre-shift planning with owner's app
Post-diner feedback
OpenTable Pricing
OpenTable offers three pricing tiers for restaurants with access to different features. The full stack of features will cost you $449/month just for the system. Cover charges will be additional.
The cover charges differ based on the source, bookings made through the booking widget are charged at $0.25 & bookings made through the OpenTable network are charged at $1-1.5.
Make sure you link your booking widget to your website and not the reservation button to your opentable profile to not be overcharged!
OpenTable's three pricing tiers are:
Basic (Access to online reservations through the OpenTable network, minimum guest management features): $39/month + $1.50/network cover & 0.25/booking widget cover
Core (Basic table management and waitlist features): $249/month + $1/network cover
Pro (All basic & core features + relationship management): $449/month + $1/network cover
Advantages of OpenTable
Access to a large diner network through opentable.com and partner integrations
Integration with POS for streamlined operations
Possibility of enlisting your restaurant in the OpenTable online reservation platform without investing into the table management system
Disadvantages of OpenTable
Lack of exposure due to high competition on the reservation platform
High per cover costs that lead to a hefty bill at the end of the month
Poor customer relationships with people that book through OpenTable as restaurants are not able to communicate and build relationships with their database
The full stack of features comes at a very heavy price
Yelp vs. OpenTable: what's the difference?
Yelp and OpenTable, at their core, aim at fulfilling the same need with their systems - help restaurants with reservation and table management. Both systems provide restaurants access to large diner networks to help them gain exposure and reach more people.
Difference of Approach
With a significant focus on providing access to a large diner network, both Yelp and Opentable follow very similar approaches. However, there are a few differences worth mentioning. Yelp's approach mainly focuses on their position as one of the biggest restaurant review website, making it one of the primary platforms for restaurant search. On the other hand, OpenTable leverages it's large user network with 600+ partner networks to position itself as a powerful marketing channel for restaurants.
Feature Differences
In terms of functionality, OpenTable offers a more feature rich table management system with advanced features like shift planning, detailed guest history and relationship management, reporting and analytics etc. to help you better manage your restaurant, while Yelp focuses more on the reservation side of things and offers features like 2 way messaging and Yelp connect that help restaurants better reach and connect with their customers, along with basic table management features.
One of the most significant differences amongst the two is that OpenTable offers POS integration while Yelp does not.
Pricing Differences
Both systems come at a high charge. However, OpenTable, priced at $449 with full functionality, is a lot heavier on the pocket than Yelp, which is priced at $249. But, you can gain access to OpenTable's diner network with their basic package for $39 without investing in the table management system, whereas Yelp does not provide this option.
The biggest pricing difference between the two is that Yelp doesn't have any per cover charge as opposed to OpenTable's $1-1.5 per cover charge.
Eat App - Yelp and OpenTable Alternative
Not satisfied with either of these platforms? There are many alternative options you can choose from. Eat App provides a table management solution that meets every restaurant's individual needs and helps restaurants provide improved customer service.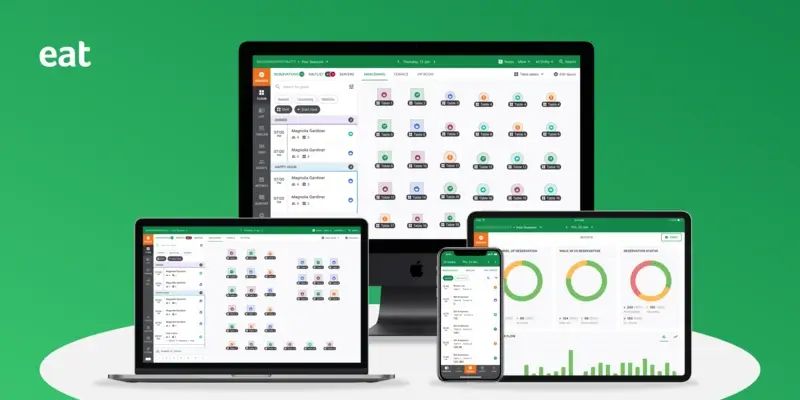 The Eat App Approach
Rich partner network for a low price
While platforms like Yelp and OpenTable give access to only their own diner network, Eat App helps your restaurant tap into the largest global restaurant marketing network and enables online reservations from beyond your website through an extensive partner network including Reserve with Google, Instagram, Facebook, Amex, Zomato, TripAdvisor, and more.
Access from multiple platforms
Eat App can be accessed from the web, iPad, or mobile, providing a flexible system to managers that can be used on the go.
Powerful performance reports
Understanding your restaurant's performance is key to success, and Eat App enables this by providing advanced data and analytics about your restaurant including detailed guest breakdowns (new vs. returning customers, tourist vs. locals), reservation and guest reports, POS reports, and more. These metrics help restaurants measure their restaurant's performance on a daily basis and make informed decisions.
Better customer relationships
Eat App's customer-centric features like advanced CRM, reviews, preference etc. help restaurants understand and serve diners better and maintain long-term relationships with them.
Advanced integrations
Cross technology integrations have become key to better customer service and restaurant performance. Eat App's POS and phone integration allows restaurants to streamline their operations, as opposed to Yelp & OpenTable.
Although OpenTable does provide POS integration, their system requires restaurant staff to manually enter IDs into the POS. Eat App, on the other hand, has developed a unique solution that allows auto matching and reduces the time and effort spent on the system significantly
Contactless dining support
Eat App enables restaurants to receive online orders for contactless dining, pre-ordering, take away and delivery all within one system for streamlined operations.
Better pricing
Eat App offers a simple, cost-effective table management solution to restaurants with a flat monthly fee without any additional, hidden charges. Eat App's full stack comes at a price of $129/month, as opposed to OpenTable's $449 and Yelp's $249.
Easy self setup
OpenTable and Yelp require you to contact their sales team in order to get started with the system, leading to a long series of exchanges before you can even try it out, which is not always convenient for restaurant owners. Eat App provides a solution by allowing restaurants to easily sign up for a 14-day trial and try out the system at their own convenience.
Compare more reservation software: