A great floor plan makes your restaurant look inviting to diners, helps keep your service running smoothly and takes account of all the important logistics and regulations. All things considered, your floor plan has a huge impact on the dining experience and can also be a significant component in determining your set up, and running costs.
What is a restaurant floor plan?
A restaurant floor plan is an important tool for creating a high-quality dining experience and a smooth flow of service. A good restaurant plan includes important logistics and regulations and helps cut down set up and running costs. An effective restaurant floor plan has a significant impact on customers' dining experience and satisfaction and helps attract diners.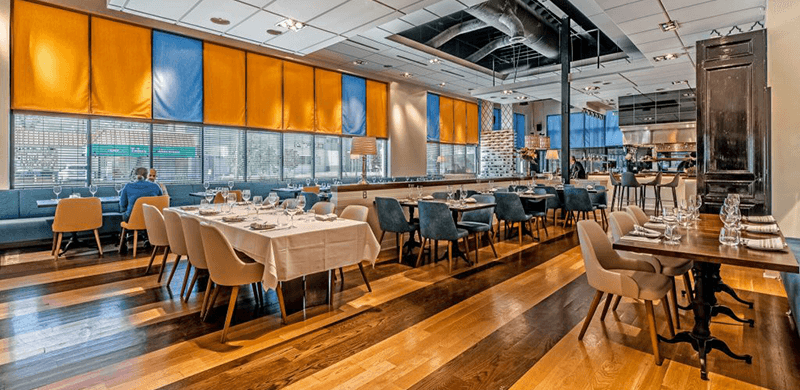 The importance of restaurant floor planning
The very best front-of-house plans are logical and create a convenient layout that allows easy movement of both guests and wait staff.
Depending on the type of restaurant, you'd usually expect a mix of tables aimed at different groups of guests set at a comfortable and maneuverable distance. This should work in tandem with welcoming décor that helps you set the tone for your space. Having a finished floor plan is also required for your restaurant reservation system.
So, how do you make sure you get it right?
We previously talked about creating a restaurant floor plan for service and how to get the best out floor plan management. Here we look at planning a great restaurant floor layout and some of the software that's available to help you.

Floor planning essentials
Just as a quick reminder, some of the things you'll potentially need to factor into your restaurant floor plan are:
A wait area
Bar
Dining area (most likely with tables of different sizes)
Prep areas
Storage
Dishwashing
Restrooms and routes to restrooms
Views from different points e.g. kitchen views or interesting views for the wait area
Compliance with accessibility legislation
To ensure all spaces flow accordingly, you may want to plan the back of house and outdoor spaces along with your restaurant floor. Lighting should also be considered alongside layout since it plays a key role in setting the ambience of your restaurant and helps to make your food look appetizing.
Make the mistake of positioning tables too close to large lights can subject your diners to unwelcome glare. And if there's too little light they may not have an appreciation of just what it is that they're eating.
Total Food Service recommends that you allocate around 60 per cent of your restaurant floor plan to dining. They also suggest you allocate 20 square feet per person for a fine dining restaurant. The trend for gourmet casual dining means we are now seeing the use of booths and benches in higher end restaurants too, which can take a little more consideration.
Top 6 Restaurant Floor Plan Creators
You could start your restaurant planning with paper and pencil and eraser but with software designed for the job, why not save yourself time and effort?
Many restaurant owners leave planning their restaurant floor to architects and designers but if you'd like to have some input by creating a mock up, you want to prepare something ahead of seeking planning permissions or you'd simply prefer to do the job yourself, these restaurant plan creators have been designed to make the process quicker and neater and many of them allow you to factor in your interior design preferences too.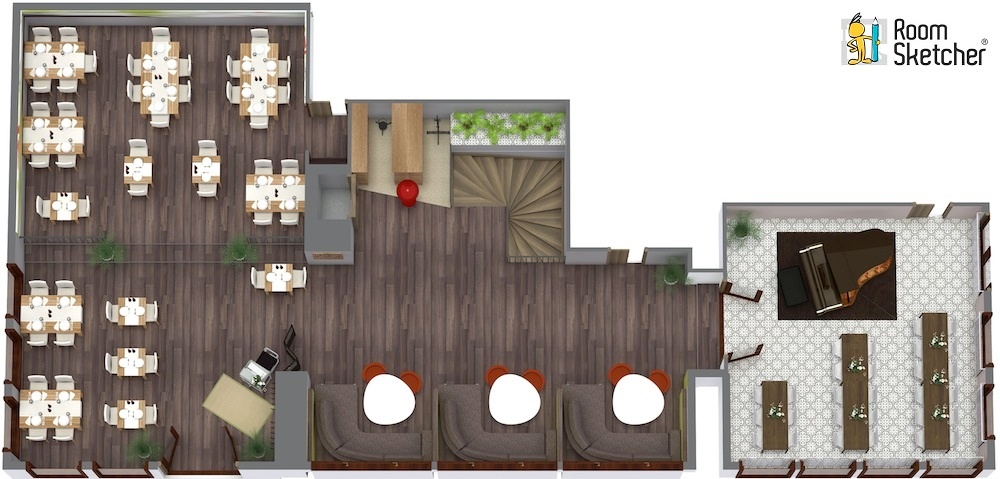 RoomSketcher creates designs and floor plans for a range of projects from home décor though to office layout, so it's designed to be easy to use even for those without professional experience. It can be used on Mac or Windows and there's a downloadable app for tablet use. You can also place an order with the RoomSketcher experts to have a floor plan drawn for you.
Features
The three subscription levels come with different features including:
2D and 3D floor plans with measurements
3D photos
360 views
Printing to scale
Real products for placement
Drawing from blueprint
Customized fixtures, fittings and decor
Price
There is a free option with RoomSketcher but to unlock the 2D and 3D planning features you'll need to upgrade with VIP subscriptions at $49 and Pro $99.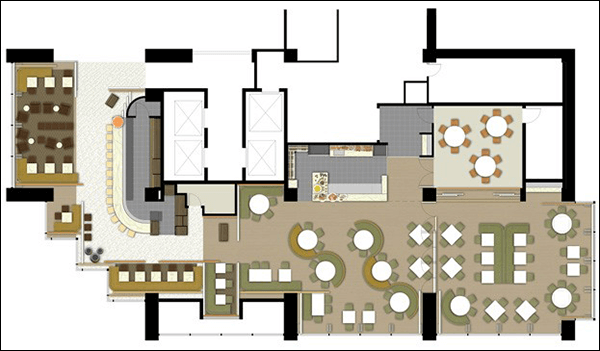 CAD Pro is one of the most popular computer aided design programs with over 2.5million users worldwide. Again, this CAD for Windows is designed for home or commercial space design but it boasts lots of features that allow for beautiful floor plan creation. You'll also find some sample plans on the website to help you get started.
Features
Free restaurant library of readymade symbols
Exportable graphic formats including PDF
Photo tracing and editing software
Dimension tools with precise alignment
Add pop up images, notes or sound to annotate
Price
You can download CAD Pro online for $99.95.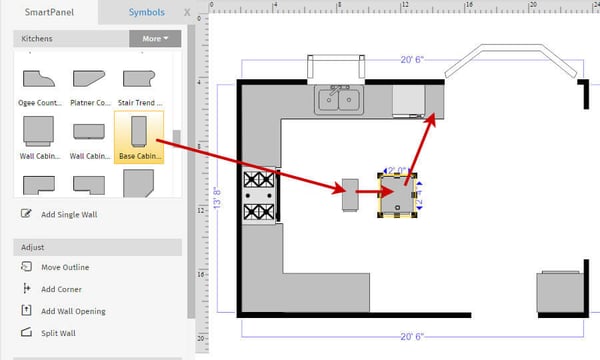 A little less fancy than some of the other creators, SmartDraw describes itself as a 'diagramming app'. It works with Windows and Mac and if you'd like to use it to draw a floor plan, you simply select a template and use symbols to create something simple and functional. It's also good for flowcharts if you need to map out any of your business processes or structures.
Features
Floor plan templates to get you started
Large library of floor plan symbols
Photo tracing and editing software
Print, export to PDF, share across platforms or insert your finished plan into Office Programs
Textures for surfaces
Price
There's an option to try before you buy with a free trial then you pay $9.99 per month ($119.40/year).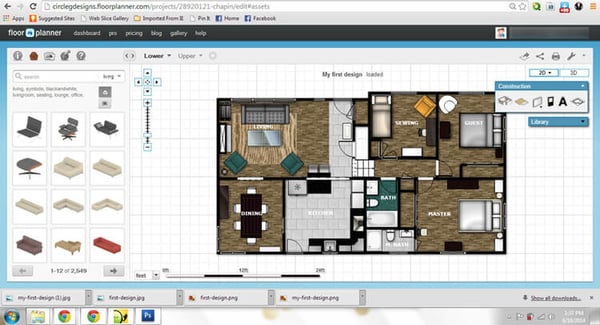 This interactive floor plan creator is really easy to get to grips with, making it simple to create floor plans to scale that can then be exported. It has lots of attractive surfacing options and symbols. Just set the room planner to 'hospitality' and you can define areas for your restaurant, bar, foyer or restroom with one click then choose colors, materials and add and layout fixtures, fittings and most importantly, tables.
Features
Library of symbols surfaces and colors
Exportable as PDF
Incorporates high resolution imagery
Simple click and drag manipulation
2D and 3D view setting options
Price
There's a handy demo option online where you can practice your floor planning skills and get a feel for how easy this tool is to use. The basic package is free but allows you to create one plan only. To incorporate high resolution images, 3D rendering and PDFs to scale you'll need to sign up for the Plus package at $14.95 a year, which includes the creation of up to 5 plans. You can purchase additional plan credits at a cost based on the plan you choose.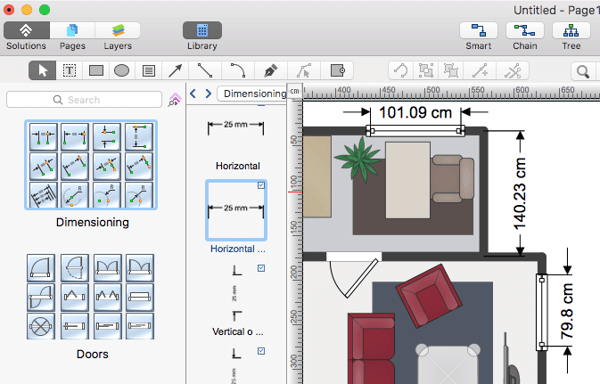 Billed as 'versatile business and diagramming software' this program allows you to make flow diagrams, timelines and mind maps along with floor plans, so it could prove beneficial for your restaurant marketing and admin too. The real seller though is the additional Cafe and Restaurant Plans solution for ConceptDraw Pro aimed specifically at floor planning for hospitality.
Features
Draws diagrams to scale
High quality fixture, furniture, appliance and building clip art symbols
Mac or Windows compatible
Price
You'll need to purchase and download ConceptDraw Pro at a cost of $199 and install the additional Café and Restaurant Solution priced at $25.

Made by NCH Software this floor plan creator is suitable for Mac and Windows use and allows you to plan out all areas of your restaurant, from the plants on your patio through to the appliances in your kitchen and of course, your table plan. You can import existing floor plans to give you a head start.
Features
Mac, Windows and tablet compatible (Kindle/Android)
Import existing floor plans and blueprints
Switch between 3D, 2D and blueprint view
Plan your décor with surface finishes, 3D furniture, fittings and appliances
Price
This software usually retails at $40 but is currently on sale at $19.99.
Next Steps
Once you've finalized your floor plan, it's time to recreate that design in your table management system.
Don't have one? Check out our buyers guide to restaurant reservation software to learn more.