Restaurant reservation systems are all the hype right now. Restaurants are turning to these advanced systems to assist them in better management and customer service.
There are many reservation systems available in the market, and to make sure you are choosing the right one for your restaurant, we have undertaken an in-depth comparison of two well-known reservation systems - Tock & OpenTable, along with a few alternative options you might want to consider.
With so many options available, it is important to understand which system suits your restaurant's needs and requirements best. There is no "one-size-fits-all" approach in choosing a reservation system, which one is best for you depends on your restaurant's unique position.
So let's have a look at Tock and OpenTable. With two very different approaches, both reservation systems aim at assisting restaurants with their operations through guest and reservation management, table management, and more.
Key Takeaways
Tock and OpenTable are reservation systems for restaurants with different features and pricing.

Tock specializes in pre-paid reservations and custom menus, while OpenTable has a larger diner network.

Tock charges a flat monthly fee, while OpenTable charges per-cover and setup fees.

Consider your restaurant's needs, budget, and goals when choosing between the two.

Both systems can improve guest experiences and increase revenue by optimizing reservation management.



---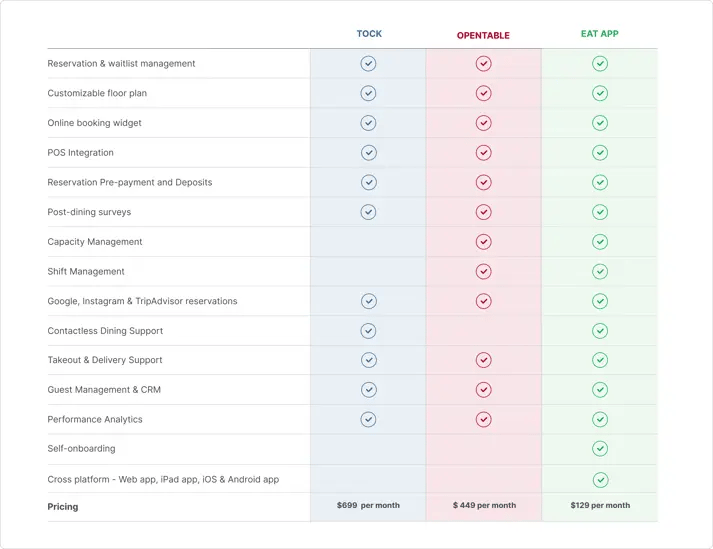 ---
The Tock approach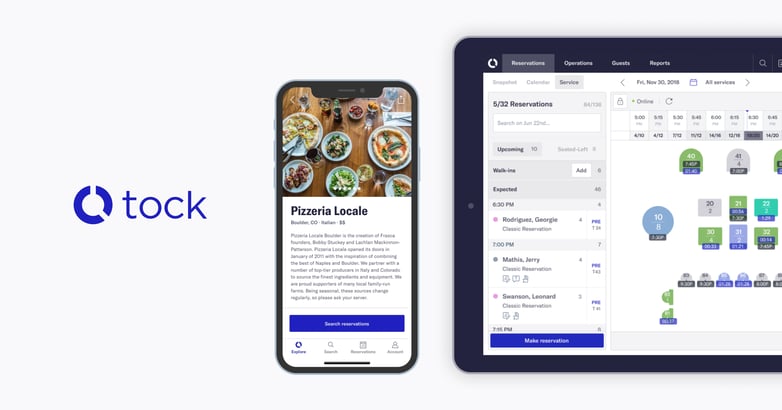 Tock, one of the more recent players, is a reservation system spearheaded by industry experts with the aim to reduce no-shows and provide restaurants with an all-in-one management solution
Tock offers a reservation platform that operates around the idea of selling "tickets" for tables and events at high-end restaurants in order to reduce no-shows. For restaurants where an empty table means a potential loss, Tock offers a solution where each table is attached to a "ticket" or "deposit ticket" (a small deposit fee) that diners have to pay while making a reservation in order to reduce no-shows.
As Tock's main pitch revolves around "selling tickets", it also places a large focus on customized experiences and bookable events at restaurants (think a wine tasting or a set menu experience at a high-end restaurant). Diners can purchase tickets for experiences and customize their preferences.
Tock also claims that building a long-term relationship with customers is one of the most pivotal points for the success of such restaurants, and it enables restaurants to do so through various customer-centric features like integrated guest marketing, detailed guest profiles, and customer segmentation tools.
However, due to Tock's hyper-specific features, it might not be a suitable option for every restaurant. Tock's approach and features are more targeted towards the higher end of the restaurant scale that regular fine-dining and casual restaurants might not have much use for.
Being a newcomer, Tock's user network also does not rack up to its competitors like OpenTable, which claims to seat 31 million diners a month.
Products
Tock offers two products: a complete table management system and a stand-alone event-based system that restaurants can use to enlist their special events on the platform without investing in the table management system.
Features of Tock's table management system
Reservations through the website, widget, and app
Ticketed tours, events, and experiences
Add-ons at the time of booking such as wine pairings and cookbooks
POS integration
CRM & Marketing tools
Detailed operational reporting
Google, Facebook, and Instagram integration
Concierge portal for hotel and reservation partner
Contactless dining and takeaway support
Pricing for Tock
Tock Table Management
Tock's pricing system works with a flat monthly subscription fee plus a fee on prepaid reservations and comes in two packages.
Plus (A complete reservation, table, event, and guest management system with a prepaid reservation fee): $199/month + 2% fee on prepaid reservations
Pro (Everything included in Plus, with 0% prepaid reservation fees): $699/month + 0% fee on prepaid reservations
Tock does not charge any per-cover fee for bookings without prepayment
Events-only
Tock's events-only package does not have a subscription fee but includes a commission and fee per booking.
Essential (

For one-time, general admission events): 2.5%/transaction + $0.49 per ticket

Premium (For businesses with regular events that need reserved seating, special tables, or advanced customer management): 3%/transaction + $0.99 per ticket
Advantages of Tock
Reduces no-shows with the ticketing system
Provides contactless dining support
No cover fee
Disadvantages of Tock
Caters to mostly high-end restaurants.
Tock's "ticketing" approach attracts high-end restaurants, but these features are, more often than not, not suitable for casual fine-dining restaurants.
Can become very expensive.
The plus package, although priced at a relatively reasonable $199, can rack up a hefty bill by the end of the month due to the 2% commission charge, and the commission-free plus package is priced at a whopping $699
Table management and guest profile more basic compared to others.
Relatively small user network for reservations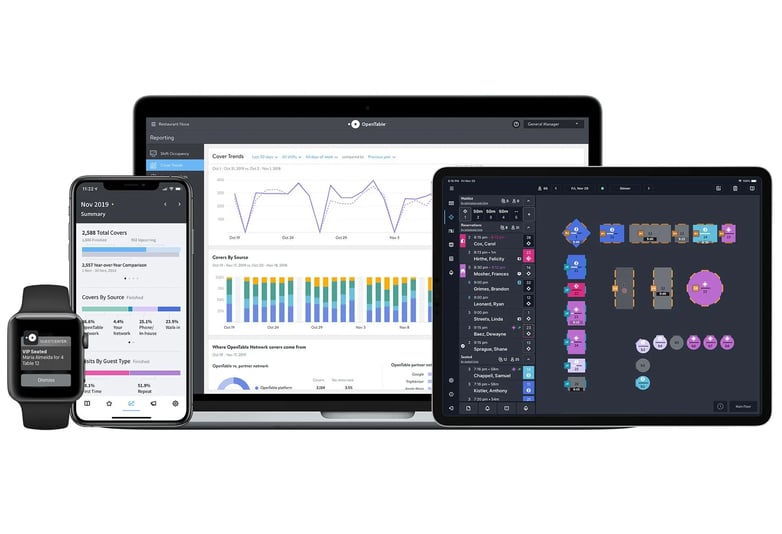 The OpenTable approach
One of the oldest players in the game, OpenTable boasts one of the largest networks of restaurants and diners across the world, with about 31 million diners seated every month via online reservations (as per their website).
OpenTable, through its advanced table management system, aims at enabling restaurants better manage guests, reservations, and tables and uses its large diner network to help restaurants reach more customers.
While Tock focuses more on ensuring tables are never left empty, OpenTable's main pitch revolves around helping restaurants reach as many customers as possible. With the extensive diner network it has managed to build in the last 30 years, OpenTable has positioned its platform as a marketing channel for restaurants to gain maximum exposure to potential customers.
However, access to this marketing channel is not cheap. OpenTable charges a high per cover fee for bookings through it's platforms, apart from it's monthly subscription fee, which might not always fall under your budget
There is also some fallback from restaurants toward OpenTable's "click arbitrage" technique, where they buy search ads for restaurant keywords that position OpenTable links at the top of search results. Simply put, when customers search for these restaurants outside the OpenTable network, OpenTable positions itself at the top of the search through paid ads, making organic customers, who would have booked directly through the restaurant, more likely to book through OpenTable. Restaurants claim that in a way, OpenTable is making them buy back their own customers.
To add to that, OpenTable's almost 60,000 large restaurant network makes it hard for any individual restaurant to stand out in the crowd and gain the advantages of their large diner network. The introduction of sponsored ads where restaurants can buy top search positions on the platform just makes it harder for restaurants with regular marketing budgets to compete for diners against high-budget restaurants.
Being one of the pioneers of the industry, OpenTable does offer a feature-rich table management software but seems to be falling behind as fresh new players take over the reservation and table management space.
Products
OpenTable offers its table management solutions through a single product which is available in three tiers based on your feature needs, starting off with a basic package that includes access to their diner network, but no table management features.
OpenTable features
Table management
Floor plan timeline view
Multiple floor plans
Online reservation & booking widget
Waitlist management
Integrations: POS & Payment
Guest management & CRM
Support for takeaway orders
Guest & reservation reports
Shift management & reporting
Customizable experiences
Post-dining surveys
OpenTable pricing
OpenTable's pricing system includes a monthly subscription fee plus a per-cover charge. Cover charges range from $0.25-$1.5 based on the source of the booking, with widget bookings charged at $0.25 and bookings through the OpenTable network charged at $1-1.5.
If you're an OpenTable customer, make sure you have linked your booking widget on your website and other social platforms and not the OpenTable reservation button to ensure you're charged $0.25 per cover.
OpenTable's three pricing tiers are:
Basic

(Access to the OpenTable network): $39/month + $1.50/network cover & 0.25/booking widget cover
Core

(Basic table management and waitlist features): $249/month + $1/network cover

Pro

(All basic & core features + relationship management): $449/month + $1/network cover
Advantages of OpenTable
Useful management and reporting features for better restaurant performance
Exposure to a large diner network
Disadvantages of OpenTable
High cost - the full stack of features (priced at $449) combined with the high per-cover charges stack up a high bill.
The volume of restaurants on the platform makes it difficult for restaurants to stand out
Sponsored ads make it more expensive and harder to compete against high-budget restaurants
Customers who book through OpenTable are more their customers than the restaurants, making it harder for restaurants to build a strong customer database and maintain long-term relationships
The issue of having to "buy back" your customers due to OpenTable's click arbitrage technique
Tock vs. OpenTable: What's the difference?
Both Tock & OpenTable provide restaurants with reservations and table management solutions with their systems, however with two significantly different approaches. Let's see how they're different
Difference of approaches
At the core, both systems aim at helping restaurants with better management and increasing revenue, but in two different ways. Tock focuses more on reducing no-shows for restaurants with high-value tables, while OpenTable focuses on using it's large diner network to provide customers with increased exposure to customers. Tock's "ticketing" approach for restaurant tables and events makes it more suitable for high-end fine dining restaurants as opposed to OpenTable which caters to a wider range of restaurants.
Feature Differences
Tock and OpenTable are both feature-rich systems that offer various guest management, shift management, and reporting features. Both systems also offer POS and in-app payment integrations for streamlined operations. Tock includes added features to support its event booking system like ticketed tours and booking add-ons.
Tock also provides support for contactless dining, delivery and takeout, while OpenTable includes features to enable only takeout from restaurants.
Pricing Differences
In terms of pricing, both systems fall on the higher end of the line. OpenTable's full stack system is priced at $449, and Tock's is priced at $199. Tock does not charge for covers, as opposed to OpenTable's $0.25-$1.5 cover charge.
However, Tock also charges a commission on all pre-paid reservations.
Eat App - an alternative to Tock and OpenTable
There are other alternatives you can consider, like Eat App. Eat App offers an advanced table management solution to meet every restaurant's needs.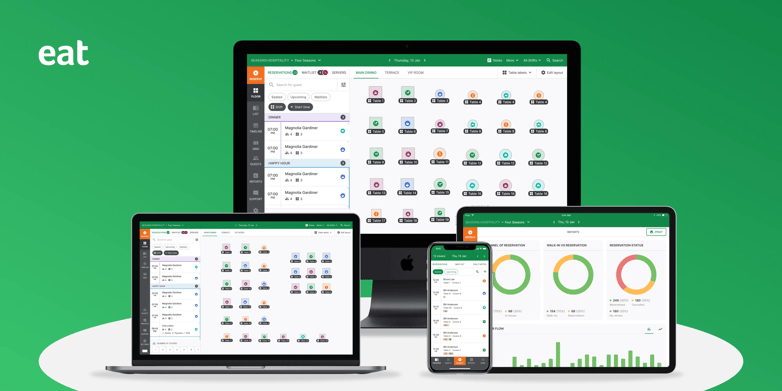 The Eat App approach
Reservations from beyond your website
Eat App provides restaurants access to the largest global restaurant marketing network through partnerships like Reserve with Google, Facebook, Instagram, and more that enable bookings from these platforms.
Contactless, takeaway, and delivery in one place
With its extensive online ordering suite, Eat App enables restaurants to take orders for contactless dining, take away, and delivery all in one place, through one platform instead of relying on different systems.
Reduce no-shows
Eat App's payment integration allows restaurants to set up deposits or payments for certain timings or events (similar to Tock's ticketing system) to help reduce no-shows without any extra charges.
Maintain relationships with your customers
Customers who dine at your restaurant are your customers, no matter where they book from. Eat App enables you to own and control your own database and provides guest management and CRM tools like reviews, customer segmentation through tags, and advanced reports to help you provide excellent customer service.
Advanced integrations for better performance
While both Tock & OpenTable offer POS integration, they require hours of manual work to enter reservation IDs into the POS. However, with Eat App's unique algorithm that allows automated ticket matching, your staff can save several hours and streamline operations
Get started anytime, anywhere
Want to try out Eat App? You can easily get started yourself by signing up to a free 14-day trial without having to get in touch with the sales team which is the case with both Tock & OpenTable. There's no need to wait.
Compare more reservation software: