In recent years, the restaurant industry has dynamically changed the way it works to meet the constantly changing needs of diners. One such change is the gradual shift of restaurants from being primarily walk-in to becoming more reservation-based.
Although walk-ins still include a big chunk of a restaurant's customers, recent reports have shown that over 50% people prefer pre-booking their tables. With the growing trends of dining out, people prefer having guaranteed tables so that they don't have to wait in line for their turn, or worse, be disappointed and have to leave all together. Diners have also started prioritizing good service as one of the most important aspects of a memorable dining experience, and waiting in line is definitely not a part of that.
The introduction of reservations, however, has added another woe to a restaurant manager's job - finding the best way to manage reservations. Should you use a physical pen & paper approach, or invest in a reservation software?
How do you balance your walk-ins with your reservation and ensure maximum revenue? How do you combat issues like no-shows that affect your restaurant's performance? The questions are endless.
Just like everything else, there is no "one-size fits all" approach when it comes to reservations. In this article, we will decode everything you need to know about managing reservations at your restaurant to improve revenue, maximize table turnover, and take your restaurant to the next level.
Key Takeaways
Effective reservation management is crucial for smooth restaurant operations.

Utilize a restaurant reservation management system to streamline the process.

Set reservation policies, such as cancellation policy, seating time, and party size limits.

Train staff on reservation procedures and guest management.

Use reservation data to forecast demand, optimize seating arrangements, and allocate resources.

Communicate with guests and confirm reservations to minimize no-shows.

Manage walk-in guests effectively to maximize seating capacity.

Utilize waitlist management features to accommodate last-minute requests.

Leverage technology, such as online reservations and mobile apps, to enhance the reservation process.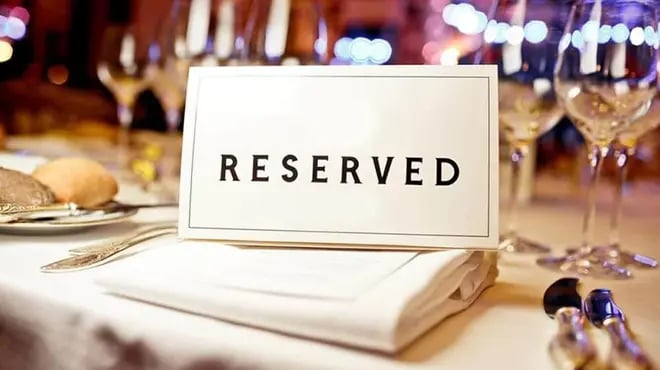 Does your restaurant need reservations?
The first and most obvious question to ask is - does your restaurant actually need reservations? Although there is no simple or straightforward way to answer, a few factors can help you determine whether your restaurant fits the bill for reservations.
1. Style of Restaurant. Is your restaurant more on the casual or formal side? Fancier, fine-dining style restaurants are usually more in need of a reservation system. No one wants to go to a high-end restaurant for a special occasion and end up having to have to wait in line, it's part of the guest experience. On the other hand, guests might not mind waiting for a few minutes when visiting a casual restaurant with a more relaxed environment.
2. Popularity. If your restaurant is a crowd-favorite and always has people queued up outside, you may want to consider putting a reservation system in place, regardless of whether it's a casual or a fine-dining restaurant. Reservations can help you capitalize on the buzz and cater to a wider audience without losing any diners.
3. Size. If your restaurant has many tables and can accommodate a large number of diners at a time, chances are that your table turnover is very quick and you may not need reservations. However, if your restaurant has limited capacity, taking reservations can be pivotal in helping you use your floor to its maximum potential and serving as many guests as possible.
3 Different restaurant reservation channels
For years, restaurant reservations have been limited to phone calls. However, with the rise of the digital era, restaurants now have the opportunity to use online channels to get more bookings. Although phone calls are a great direct source of reservations, supplementing them with online channels can improve your restaurant's discovery and reach significantly. Consider these online reservation channels.
1. Owned or direct reservations. As the name suggests, owned reservations come directly through a restaurant's website. The biggest advantage of this channel is that restaurants have full control over the reservation experience and have to pay little to no commission in return. Prioritizing your direct reservations is a good idea. However, it may not be enough on its own as it limits your restaurant's discovery on popular platforms.
2. Third-party reservation platforms. Online reservation systems are dedicated online booking platforms that enable diners to discover and book at your restaurant for a predetermined per-cover charge. Reservation platforms are a great channel to improve your restaurant's discovery and reach more diners with minimal effort - you can take advantage of their existing user network and increase reservations over time. However, this comes at a cost of commissions and not being able to own your restaurant's entire reservation experience.
3. Discovery platforms. Some of the world's largest discovery platforms like Google, Facebook, and Instagram now can enable transactions (like making a reservation) directly from their platform. This can be a huge driver of reservations for your restaurant, especially if you have an established online presence.
However, most of these discovery platforms enable bookings by partnering with the above-mentioned 3rd party reservation platforms as they do not have their own reservation systems in place. This means that to enable bookings through these platforms and gain access to their traffic, restaurants need to be partnered with a 3rd party booking platform or reservation system that is partnered with their discovery platform of choice.
Every channel has its own pros and cons. At the end of the day, it's about what suits your needs best. Looking back at your current goals and challenges can help you choose which channel (or combination of channels) is best suited for your restaurant.
Pros and cons of taking reservations
Even if taking reservations seems like a no-brainer for your restaurant, it's important to consider the advantages and disadvantages of it before you take the leap.
Advantages of Restaurant Reservations
In simple terms, reservations allow guests to book their table at a restaurant in advance for a chosen time. But for restaurants, reservations can do a lot more.
First up, they you cater to the growing market of diners who prefer having pre-booked tables, making sure you don't miss out on any customers.
Reservations also make it easy for guests to know when they're supposed to arrive, which makes your dinner service run efficiently. If you organize things correctly, your customers will be seated as close to their allotted time as possible, resulting in satisfied patrons that are sure to return.
They're also helpful when you're preparing the floor layout for service (especially when dealing with larger groups). If you're running a restaurant and you know how many people are coming in advance, you can plan your tables accordingly –arrange eight- and fifteen-seat tables for larger parties like a group of eight or more, for instance.
Moreover, knowing how many customers you need to feed can help your kitchen staff, servers and hostesses better plan for their needs. If the reservation schedule indicates that the floors are going to be packed, the chefs and waiters will have a fair warning to be ready for the incoming crowd at a specific hour. Hostesses accommodating walk-in guests will be able to space the seating times so that the regulars don't have to wait in a queue. This not only helps relief the pressure from your staff, but also helps them be better prepared and provide excellent guest experience even during peak times.
Guests are also likely to provide their contact information while making a reservation, which enables restaurants to build a strong guest database that can be used for future marketing and promotions.
All in all, reservations play a vital role in improving your restaurant's overall performance.
Disadvantages of restaurant reservations
Keeping all the advantages in mind, there are still a few critical factors you should be wary about.
If you're new to the reservation game, setting up a whole new system will require some time and money. However, it's a one-time investment and significantly helps improve your restaurant's revenue over time.
Another tricky aspect of taking reservations can be balancing walk-ins and reservations, but most management systems now come equipped with various reports and tools that can help you not only balance but optimize the seating process for walk-in customers so that no one leaves your restaurant disappointed.
High no-show rates can also significantly affect your restaurant's revenue - taking up practices like sending confirmation emails and charging a no-show fee can help tackle this problem.
16 tips for improving your restaurant reservations management
Whether you've been doing this for years or are new to the reservation game, managing reservations at your restaurant can be tricky. Unless you are a nationwide name and a cornerstone in the neighborhood, you need to attain a balance between reservations and walk-ins. Those unmatchable barbeque places that run short of briskets every day come noon? Even they have reservations. So, regardless of the type of restaurant you own, you need to take steps to improve the overall process. Below are some tips.
Organizing your reservations
1. Determine your systems. The most important step to gaining control over your reservations is having a proper system in place. As you are already aware, there is no "one best way" of doing things when it comes to taking reservations, you have to decide what fits your restaurant operations best.
Whether you decide on sticking with the old-school pen & paper technique or want to take it up a notch and build spreadsheets to manage reservations or let a reservation system take care of it all for you, it's important to decide on one and set-up proper processes so that there are no confusions or mismanagement leading to double bookings or empty tables.
2. Delegate reservation duties to specific employees. Restaurants where everyone is allowed to take reservations often experience double bookings and lost reservations. A better approach is to designate the responsibility to a certain employee during each shift. This employee will know the requirements for booking a table and the availability for dinner, brunch, hi-tea, dinner, etc., monitoring what's already been scheduled.
For restaurants that are using an online system for managing reservations, consider providing specific permissions to certain employees based on their duties, like deleting a reservation, blocking hours etc., to create a more controllable and streamlined system.
This can easily be done through Eat App's permissions & preferences feature, which enables managers to define what permission each user type possesses.
Streamlining reservations
3. Research the average dining time per table. It also pays to know how many tables are there in your restaurant, and what is the average dining time per table. Conduct your research before taking any reservations. This will help you determine how far apart should you space your bookings. The mistake most restaurants make is that they leave such things to guesswork. Low averages mean your customers will either need to wait for their tables or feel rushed. Too much dining time and you'll have open tables for too long. None of these will have a positive impact on your bottom line.
4. Have policies in place for large groups. Many restaurants don't take reservations for groups of ten or more during peak times. Policies like these prevent the dining room from getting crammed – if you know your restaurant gets the most walk-ins between 7:00 and 12:00 pm, it's not a good idea to fill your restaurant floor with large parties that usually take longer to serve.
Also, train the person in charge of reservations to book larger groups during off-peak hours, so they can come in early and avoid backing up the waitstaff. In order to make more informed decisions about policies for larger groups, have a look at your restaurant's data and identify key points like the busiest periods, walk-in vs. reservations comparison etc. through advanced analytics software, so that you can better prepare for upcoming shifts accordingly.
Reducing no-shows
5. Call or send reminders to upcoming reservations. No-show diners are a persistent issue for many restaurants. In fact, the average no-show rate is estimated to be 10-20 percent for typical nights. One easy way to bring down your no-show rate is to request confirmation.
An email reminder through an online tool, or a simple call on the day, should work well. A few reservation systems have in-built email capabilities to send out automated reminder emails to your diners about their upcoming reservations.
Another tip is to not take bookings too far in advance; the greater the gap between the booking and the day when patrons are supposed to show up, the greater the possibility that they'll forget about the reservation.
6. Levy a charge. Another effective technique that can be used to reduce no-shows is levying a booking deposit. A booking deposit is a simple fee that is charged by the customer while making a reservation and is subtracted from their total bill upon dine-in.
The purpose of booking deposits is to encourage people to make bookings only when they are entirely sure they will be able to attend or risk losing the deposit amount in case of a no-show. Although this may be a little bit of a turn-off for some people, it protects restaurants from loss of revenue due to empty tables. Make sure to clearly communicate your no-show policy to your guests.
Many online reservation systems like Eat App provide a simple online payment solution to enable restaurants to easily take booking deposits through their reservation platform.
7. Offer incentives. "What do I get for being punctual?" Giving people an incentive to show up (on time) is a great strategy. Offering a free item or discount is something they're going to appreciate. Plus, they're going to talk about it on social media, which can motivate other diners to turn up on schedule. You can offer them a complimentary appetizer, a drink, or a discount on your menu.
Related: 25 Restaurant Promotion Ideas to Consider
Keeping guests happy during the busiest times
8. Maintain and manage waitlists. Another way to optimize reservation management is to use waitlists. This tactic (a blend of walk-ins and conventional reservations) enables diners to book a place on the waitlist as they make their way to the location of the restaurant.
Though this can be managed over the phone, more businesses are using online reservation apps to allow people to book online. Some of these solutions also notify customers about their turns; real-time updates come in handy for those who want to watch their place in the queue.
An advanced management system like Eat App also enable diners to add themselves to the restaurant's waitlist directly through the restaurant's booking widget before arriving through virtual waitlists. This gives guests more booking options and prevents the loss of customers when your restaurant is fully booked.
Apart from keeping the customers updated, these systems also help restaurants better understand their waitlists and provide an enhanced experience through detailed waitlist reports like waitlist average queue time, busiest period, etc.
9. Keep some tables free. Leaving a few tables free during your peak hours can help improve your customer experience. Diners who show up without reservations will be thrilled to get a table. Doing this will also help you accommodate walk-ins and prevent scenarios where three guests show up at the same time, but just two of them were recorded.
If you're using a reservation system, looking at reports like busiest time periods can help you determine your restaurant's peak hours and make strategic decisions about leaving tables open accordingly. You don't want to reject reservations only to have empty tables causing a loss of revenue.
10. Use reservation slotting. You can also try capitalizing on the willingness of some guests to shift their dining times to spread demand and increase the number of shifts you operate at full capacity. The best way to allocate this flexible demand is to distribute diner reservations to later or earlier slots.
Doing so will maximize the booking experience for both the customer and the restaurant, resulting in less wasted space and more seated diners.
Meeting walk-in customers' needs
11. Assign times for walk-in customers. It's also a good idea to set aside time in your reservation schedule for walk-ins. With the help of restaurant analytics software, you can analyze real-time reports that show your daily sales. This will enable you to identify the hours that are less busy for your establishment so you can dedicate more resources towards walk-in customers. Feel free to take it up a notch by advertising walk-in times to the general public.
12. Give them an honest timeline. It becomes challenging to convert walk-ins into regulars if they become frustrated by their initial wait time at your restaurant. That's why it's best to level with them as soon as they arrive at your establishment. Train your staff to say something like, "Bear with us; if you can wait for 20 minutes, we're going to get a table for you."
Also, consider using a waitlist system to better manage walk-ins and keep them updated through real-time SMS updates. You can also use these systems to give them more accurate wait times and provide them with an improved experience by looking at waitlist reports and insights.
13. Assemble a quick service team. Try creating an express service setup that's geared towards your walk-in customers. Why is this important? It makes managing walk-ins and turning tables rather easy. Even devoting a couple of servers to this setup can greatly benefit a restaurant, allowing its front-of-house department to handle the extra demand.
Using technology
14. Use a modern online reservation system. Online reservation systems make it convenient for guests to book a table at the restaurant of their choice, but there's a concern that they can create a psychological separation between reservations and walk-in customers.
Fortunately, Eat and other similar options prevent this by acting as a customer control center. High-speed processing of online, call-ahead, and walk-in reservations in one centralized place is the key to managing your guest flow fast. Plus, knowing how many open tables you have (if any) gives a bit of breathing room to your employees.
15. Use table management software. Table management is a function that allows restaurants to effectively manage walk-ins and reservations throughout the whole dining experience. Modern solutions include shift outlines and table clocks that can be used to streamline table turnover. Some even come with an SMS-powered waitlist that allows restaurant owners to manage high-volume walk-ins as they attempt to match table demand with kitchen capacity.
16. Integrate your POS. An integrated POS solution provides you with up-to-date spend data for all the customers that dine at your restaurant. You can use this data to calculate the revenue share of reservations, call-ahead, and walk-in customers. This can help you decide whether you should take more reservations in the future or shift your focus towards walk-ins.
How using a system can help manage your reservations better
Reservations can still be taken with a pen and paper, however, with the rise of digitalization, most restaurants are opting for an online reservation system due to their extensive suite of features that can help optimize not just your restaurant's reservation processes, but also your overall operations. A few pivotal benefits your restaurant can take advantage of with a reservation system are:
Strong guest database
One of the biggest advantages of an online reservation system is the ability to build a strong guest database.
Reservation systems have become increasingly powerful over the years and now enable restaurants to gather mountains of guest data that helps them provide an enhanced customer experience. The ability to record guest data including contact information, allergy information, food, drink, and seating preferences, etc. provides restaurants a deep insight into guest behavior.
Improved guest experience. Along with providing a tailored and personalized guest experience, features like Eat App's custom reservation and guest tagging allows restaurants to tag guests and reservations with important tags like VIP, high-spender, etc. providing them with a clear picture of their guest and enabling high-class customer service.
You can further optimize your data collection process by enabling auto-tagging based on a set of self-defined criteria through Eat App's built-in automation system to unlock in-depth and precise customer segmentation.
Targeted messaging. A few advanced reservation systems also come with in-built messaging systems that enable you to set up automated confirmation and reminder emails to your guests about their upcoming reservations, reducing the chances of no-shows significantly.
Further to that, systems like Eat App that enable advanced customer segmentation not only help you identify your high-value customers but also allow you to target them with tailored messaging using automated email and SMS marketing features to help improve guest retention and loyalty.
Balancing reservations and walk-ins. With the mountain of data collected in the back-end, reservation systems can significantly assist restaurants in finding the right balance between reservations and walk-ins based on a number of important reports that help identify the busiest time periods, peak reservation and walk-in times, and other data points.
Along with that, reservation systems with integrated waitlist systems help optimize your walk-ins and reservations up a notch by providing details like average waitlist times and busiest time periods and giving people the ability to virtually add themselves to the restaurant's widget without having to actually stand in line, thus improving their overall guest experience.
Guest Feedback. One of the most important factors that help restaurateurs identify how their restaurant is actually doing is guest feedback - knowing what the guests have to say about their experience can help you identify your restaurant's pain points and make strategic decisions to improve them. A few reservation systems also facilitate post-dining guest feedback that can help restaurants gather crucial information about real guest experiences and make informed strategic decisions based on the findings.
Integrations. Reservation systems can also provide an integrated POS solution that opens up a treasure chest of data and provides you with up-to-date spend data for all the customers as they dine at your restaurant.
You can use this data to calculate the revenue share of reservations, call-ahead, and walk-in customers. This can help you decide whether you should take more reservations in the future or shift your focus towards walk-ins.
Manage capacity with reservations. Given the current circumstances, capacity management has become increasingly important for restaurants. Reservation systems with automated capacity management features can help restaurants meet their capacity and social distancing restrictions and enable them to operate safely.
Conclusion
There are several benefits to accepting bookings at your restaurant, but also a few challenges, which, thankfully, can be addressed by optimizing restaurant reservation management. If offering a seamless customer experience to all kinds of guests is what you're aiming to achieve with your business, then make sure to utilize the above-mentioned recommendations to keep patrons satisfied.
Not sure if an online reservation system is right for your restaurant? Give it a test drive with Eat App's free 14-day trial, or learn more by scheduling a demo today.