In the restaurant industry, table reservations are tricky to master; you want to accommodate as many walk-ins as possible, but you don't want to make your loyal customers wait or feel unappreciated.

Prioritize the latter, and you still face the risk of no-shows and latecomers. When reservations are mismanaged, it can throw off the check averages for an entire evening, which is why it's crucial to focus on this aspect of your restaurant.
While there is no magic formula to ensure walk-ins find a table while reservations remain plentiful, you can still aim to make better use of your seating capacity and optimize your restaurant reservation management.

So, in this article, we'll share some strategies that you can implement to maximize table turnover, drive customer loyalty, and keep reservations organized.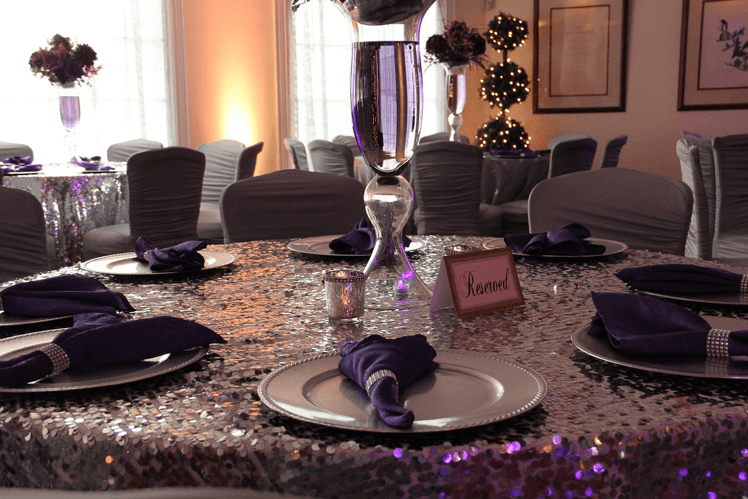 Why Restaurant Reservations Are Important
Reservations are beneficial for both the customer and the restaurant.
They make it easy for guests to know when they're supposed to arrive, which makes your dinner service run efficiently. If you organize things correctly, your customers will be seated as close to their time slot as possible, resulting in satisfied patrons that are sure to return.
They're also helpful when you're preparing the floor layout for service (especially when dealing with larger groups). If you're running a restaurant and you know how many people are coming in advance, you can plan your tables accordingly –arrange eight- and fifteen-seat tables for larger parties like a group of eight or more, for instance.
Moreover, knowing how many customers you need to feed can help your kitchen staff, servers and hostesses better plan for their needs. If the reservation schedule indicates that the floors are going to be packed, the chefs and waiters will have a fair warning to be ready for the incoming crowd at a specific hour. Hostesses accommodating walk-in guests will be able to space the seating times so that the regulars don't have to wait in a queue.

As a result, reservations can help minimize the number of open tables in a restaurant and maximize daily earnings.


Tips for Improving Your Restaurant Reservations Management
Unless you are a nation-wide name and a cornerstone in the neighborhood, you need to attain a balance between reservations and walk-ins. Those unmatchable barbeque places that run short of briskest every day comes noon? Even they have reservations. So, regardless of the type of restaurant you own, you need take steps to improve the overall process. Below are some tips.
Reducing No-Shows
Consider Calling or Sending an Email to Prospective Diners
No-show diners are a persistent issue for many restaurants. In fact, the average rate of no-show is estimated to be 10-20 percent for typical nights. One easy way to bring down your no-show rate is to request a confirmation.

An email reminder through an online tool, or a simple call on the day, should work well. Another tip is to not take bookings too far in advance; the greater the gap between the booking and the day when patrons are supposed to show up, the greater the possibility that they'll forget about the reservation.
Levy a Charge
Like airlines, some restaurants will charge a certain amount for no-shows. This is suitable when you want to tell guests that you have a strict no-show policy. While this option might seem like a turn off for some people, it may be the only way to prevent revenue declines.

So how exactly do you communicate this to your customers? Explain to them before they book a table that rescheduling and last-minute cancellation fees may apply. Also, consider giving them a certain number of hours they can either cancel or reschedule for free, like the Red Bean Restaurant does.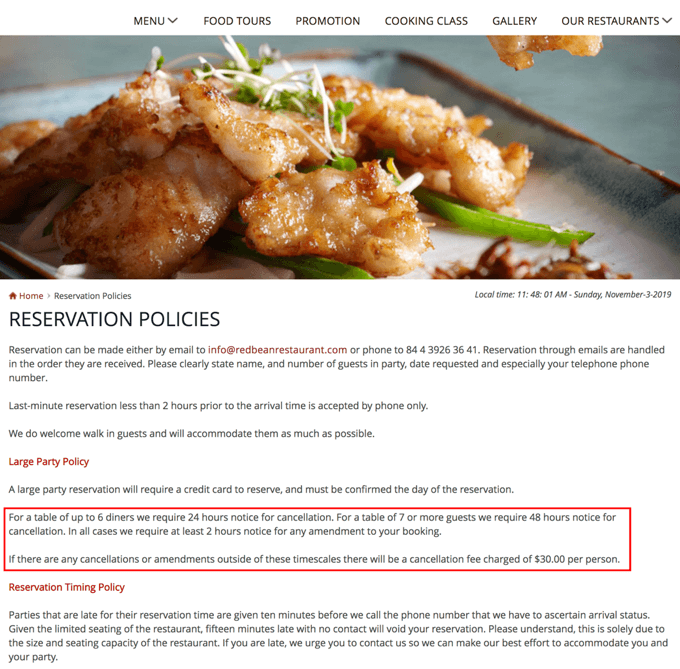 Offer incentives
"What do I get for being punctual?" Giving people an incentive to show up (on time) is a great strategy. Offering a free item or discount is something they're going to appreciate. Plus, they're going to talk about it on social media, which can motivate other diners to turn up on schedule. You can offer them a complementary appetizer, a drink, or a discount on your menu.
Related: 25 Restaurant Promotion Ideas to Consider


Streamlining Reservations
Delegate Reservation Duties to Specific Employees

Restaurants where everyone is allowed to take reservations often experience double bookings and lost reservations. A better approach is to designate the responsibility to a certain employee during each shift. This employee will know the requirements for booking a table and the availability for dinner, brunch, hi-tea, dinner, etc., monitoring what's already been scheduled.
Research The Average Dining Time Per Table
It also pays to know how many tables are there in your restaurant, and what is the average dining time per table. Conduct your research before taking any reservation. This will help you determine how far apart should you space your bookings. The mistake most restaurants make is that they leave such things to guesswork. Low averages mean your customers will either need to wait for their tables or feel rushed. Too much dining time and you'll have open tables for too long. None of these will have a positive impact on your bottom line.
Have Policies in Place for Large Groups
Many restaurants don't take reservations for groups of ten or more during peak times. Policies like these prevent the dining room from getting crammed – if you know your restaurant gets the most walk-ins between 7:00 and 12:00 pm, it's not a good idea to fill your restaurant floor with large parties that usually take longer to serve. Also, train the person in charge of reservations to book larger groups during off-peak hours, so they can come in early and avoid backing up the waitstaff.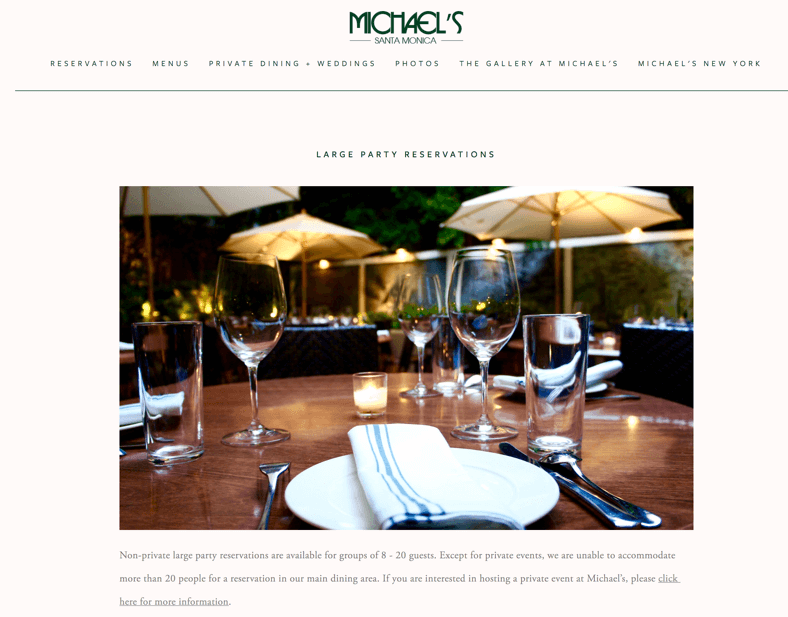 Keeping Guests Happy During Busiest Times
Leverage Call-Ahead Seating
Another way to optimize reservation management is to use call-ahead seating. This tactic (a blend of walk-ins and conventional reservations) enables diners to book a place on the waitlist as they make their way to the location of the restaurant.

Though this can be managed over the phone, more businesses are using apps like Waitlist Me and Yelp Reservations to allow people to book online. Some of these solutions also notify customers about their turns; real-time updates come in handy for those who want to watch their place in the queue.
Keep Some Tables Free
Leaving a few tables free during your peak hours can help improve your customer experience. Diners who show up without reservations will be thrilled to get a table. Doing this will also help you accommodate walk-ins and prevent scenarios where three guests show up at the same time, but just two of them were recorded.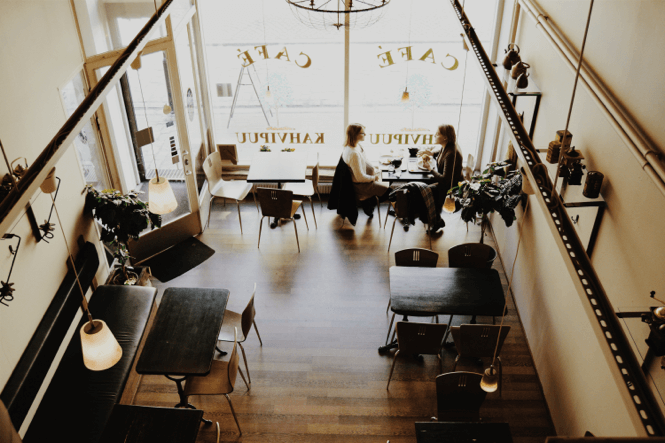 Utilize Reservation Slotting

You can also try capitalizing on the willingness of some guests to shift their dining times to spread demand and increase the number of shifts you operate at full capacity. The best way to allocate this flexible demand is to distribute diner reservations to later or earlier slots.

Doing so will maximize the booking experience for both the customer and the restaurant, resulting in less wasted space and more seated diners.
Meeting Walk-In Customers' Needs
Assign Times for Walk-In Customers
It's also a good idea to set aside time in your reservation schedule for walk-ins. With the help of restaurant analytics software, you can analyze real-time reports that show your daily sales. This will enable you to identify the hours that are less busy for your establishment so you can dedicate more resources towards walk-in customers. Feel free to take it up a notch by advertising walk-in times to the general public.
Give Them an Honest Timeline
It becomes challenging to convert walk-ins into regulars if they become frustrated by their initial wait time at your restaurant. That's why it's best to level with them as soon as they arrive at your establishment. Train your staff to say something like, "Bear with us; if you can wait for 20 minutes, we're going to get a table for you."
Assemble a Quick Service Team
Try creating an express service setup that's geared towards your walk-in customers. Why is this important? It makes managing walk-ins and turning tables rather easy. Even devoting a couple of servers to this setup can greatly benefit a restaurant, allowing its front-of-house department to handle the extra demand.
Using Technology
Use A Modern Online Reservation System
Online reservation systems make it convenient for guests to book a table at the restaurant of their choice, but there's a concern that they can create a psychological separation between reservations and walk-in customers.

Fortunately, Eat and other similar options prevent this by acting as a customer control center. High-speed processing of online, call-ahead, and walk-in reservations in one centralized place is the key to managing your guest flow fast. Plus, knowing how many open tables you have (if any) gives a bit of breathing room to your employees.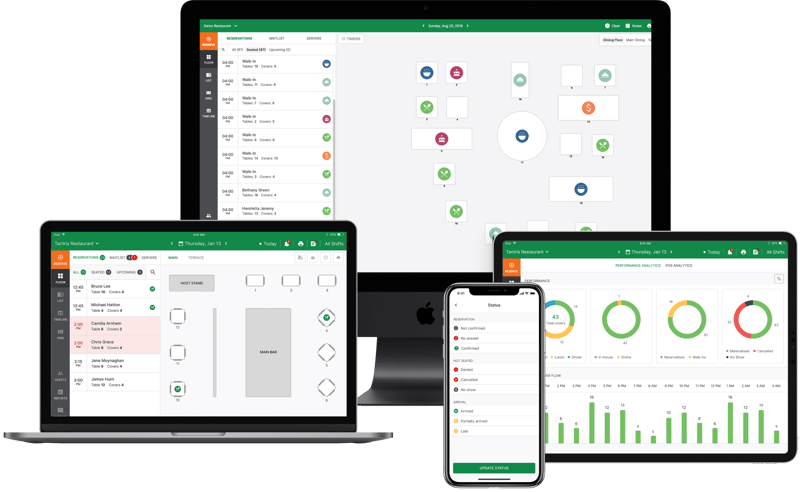 Capitalize On Table Management Software
Table management is a function that allows restaurants to effectively manage walk-ins and reservations throughout the whole dining experience.

Modern solutions include shift outlines and table clocks that can be used to streamline table turn over. Some even come with an SMS-powered waitlist that allow restaurant owners to manage high volume walk-ins as they attempt to match table demand with kitchen capacity.
Integrate POS
An integrated POS solution provides you with up-to-date spend data for all the customers as that dine at your restaurant.

You can use this data to calculate the revenue share of reservations, call-ahead, and walk-in customers. This can help you decide whether you should take more reservations in the future or shift your focus towards walk-ins.
Conclusion
There are several benefits to accepting bookings at your restaurant, but also a few challenges, which, thankfully, can be addressed by optimizing restaurant reservation management. If offering a seamless customer experience to all kinds of guests is what you're aiming to achieve with your business, then make sure to utilize the above-mentioned recommendations to keep patrons satisfied.