We're excited to announce Eat App's latest reservation feature - Virtual Waitlists.
Virtual waitlists are exactly that - virtual. Through Eat App you can now connect your waitlist directly to the reservation widget on your website, where guests can add themselves directly to your waitlist before arriving at your restaurant. Virtual waitlists give guests more booking options and are a highly effective way of keeping more customers and revenue, especially when you're fully booked.
Furthermore, they play a vital role in keeping guests safe during Covid by keeping guest flow smooth and predictable and preventing buildups of walk-ins at your host stand. It's an easy way to keep your social distancing policies enforced.
Virtual waitlists are a great new addition to your online reservations toolbox.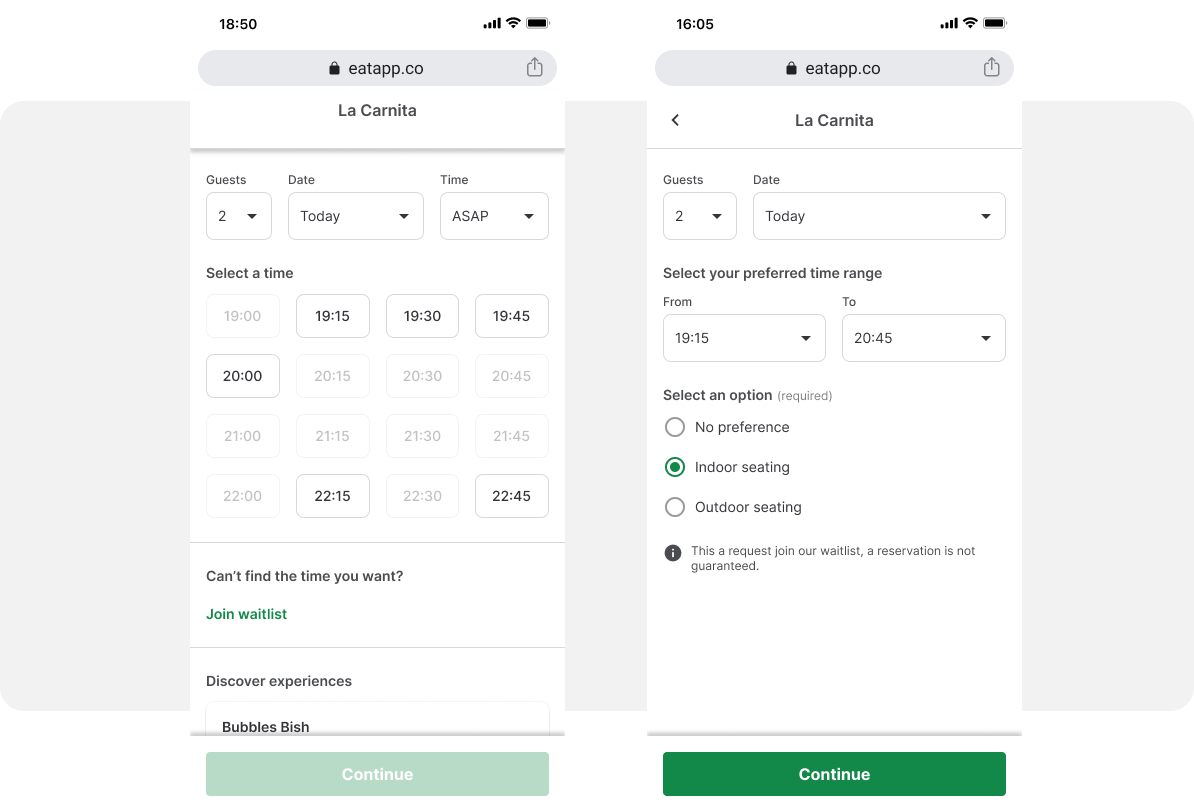 What's unique about Eat App's virtual waitlist?
Most virtual waitlists are stand-alone and end up being complicated to manage along with all the other ways guests start connecting with your restaurant. Eat App's virtual waitlist, by contrast, is fully integrated into your existing booking flow - allowing you to easily give your guests the waitlist option in the same place as they'd make a traditional reservation.
But the real power of the virtual waitlist is that it has smarts too. The waitlist can dynamically check your table management system for real-time availability and only show when your restaurant is fully booked for that time period. This means you don't lose reservations, as the system automatically optimizes your waitlist based on the current availability.
Virtual waitlists are perfect for adding guests to a waitlist only when you need to.
Once your guests add themselves to a waitlist you'll be able to:
Manage the waitlist directly in the table management system
See quote times
Send SMS notifications to guests
Automatically capture guest data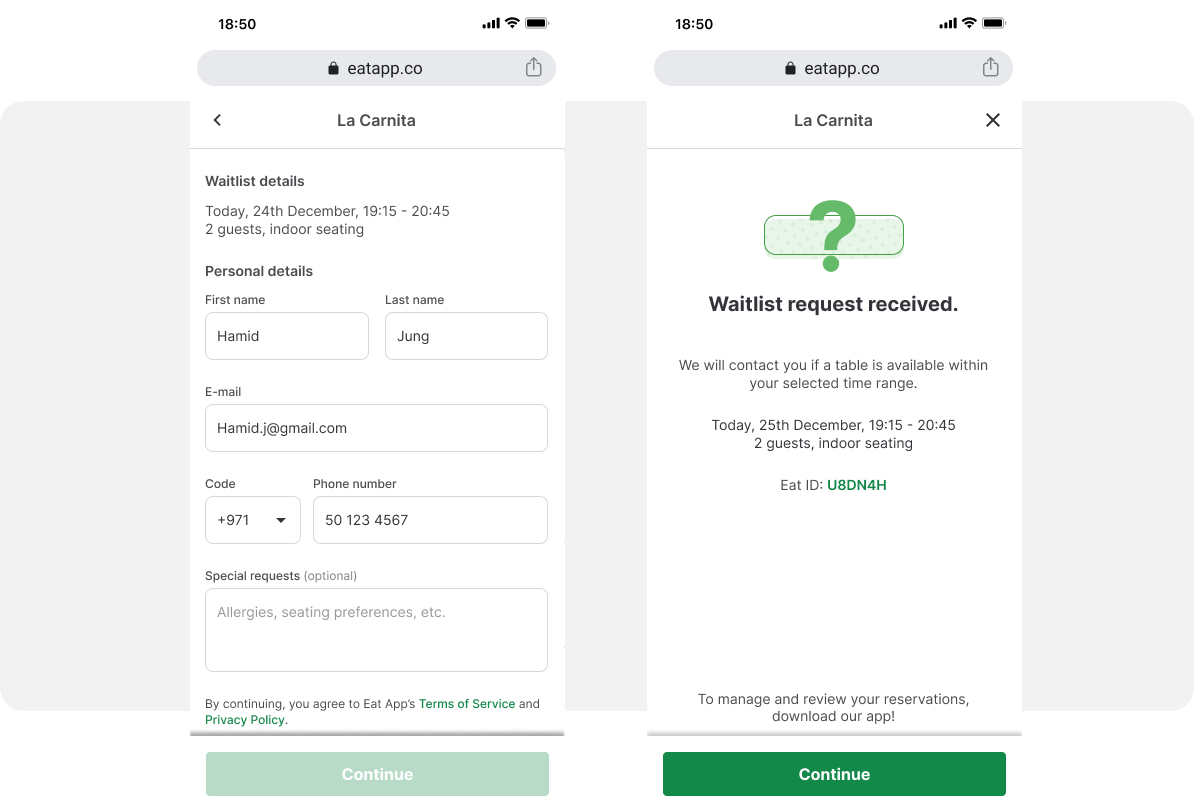 Flexible and easy to use
Eat App's virtual waitlist is designed to be easy to set up and flexible enough to meet varying requirements as they arise. When guests add themselves to a waitlist they'll be able to select their preferred time, party size, and any notes or requirements.
Use it across your website, social media, or anywhere online - in fact, as it's already integrated into the booking widget there is nothing extra to install.
Choose one-off or recurring waitlists - easily make waitlists that repeat on certain days or set it up for one-off events.
Customize time periods - select a date and time range for when your waitlist is available.
Control capacity - set cover limits so you don't overbook
Reservation widgets are now even better
With Eat App you now have the most full-featured reservation widget connected directly to your table and guest management system. Through the Eat App widget, you can offer
Online reservations
Choose dining rooms options (indoor/outdoor etc)
Time-based discounts (yield management)
Reservation deposits and prepayments
Cross-promote sister restaurants
Promote one-off events
You can now add virtual waitlists to the list of options available through the Eat App widget.
Part of delivering a great guest experience is giving diners options, as well as making communication with you as streamlined and hassle-free as possible. Virtual waitlists are another way of achieving this. Check it out today!