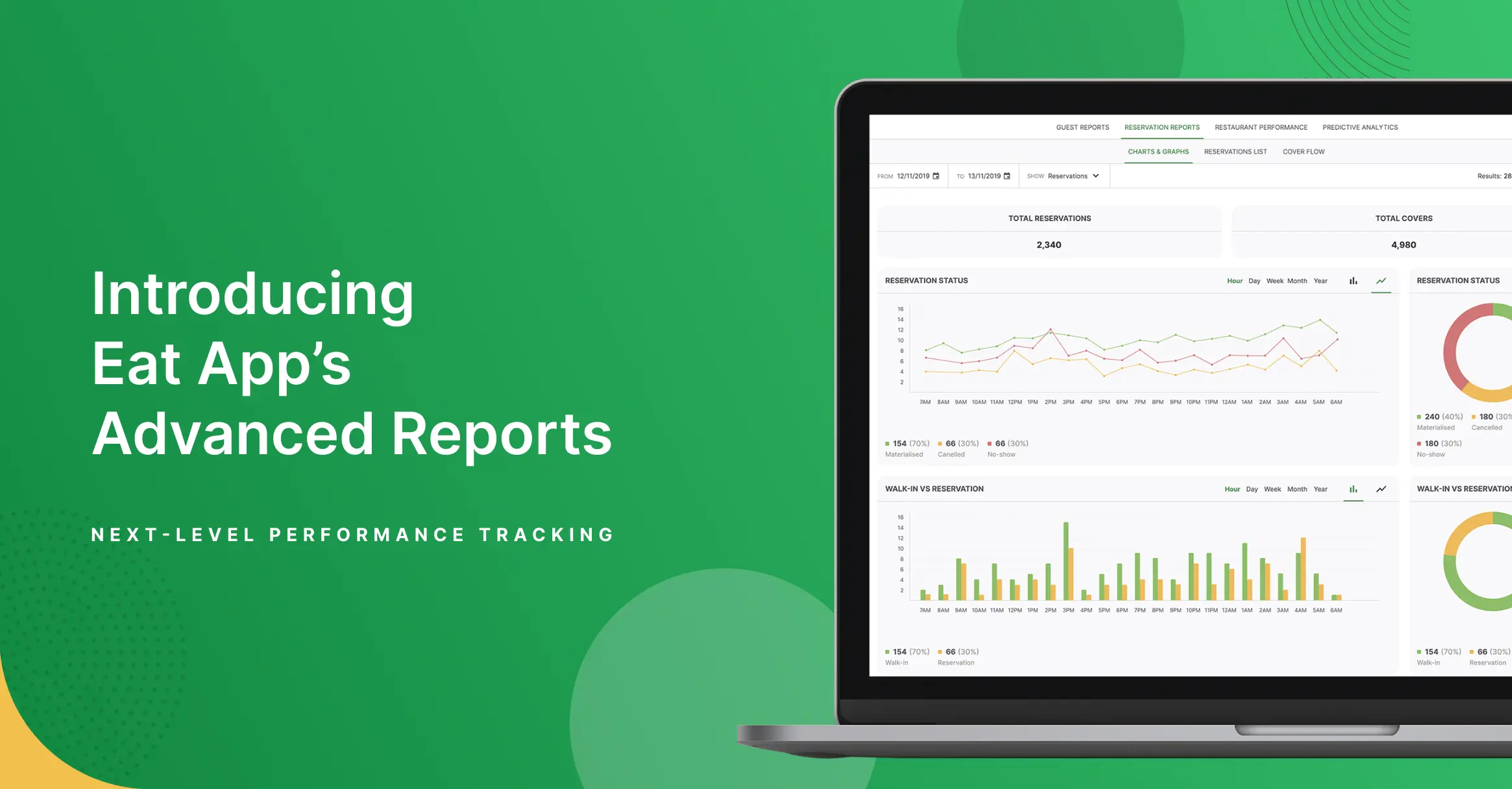 We're excited to announce one of Eat App's latest features for restaurant operators committed to growing their brand.
Eat App has always given restaurants visibility into their day-to-day operations through data, but our new analytics system takes a giant leap forward by helping operators automatically gather in-depth guest and reservation data, including brand new metrics, that enable the next level of restaurant performance tracking.

Know exactly what's happening at your restaurant at all times with fully customizable reports that can be broken down by time range, shifts, spend, and various other factors. It's the most customizable reporting suite available in a reservation system.

Contained in a dedicated location in the platform, Eat App's single dashboard reporting system makes it easier to compare data, and share it with your team through exportable graphs and charts.
With your advanced analytics reports, you'll be able to:
View in-depth guest and reservation reports
Breakdown reports on a daily, weekly, monthly, or yearly basis
View reports for a custom time range
Breakdown reports on the basis of reservations or covers
Export csv reports or graphs from any chosen time period
What makes Eat App's advanced analytics better?
We've worked with many of our customer across the globe to uncover the data points operators wished they had access to but were currently unavailable in any system in the market. These include customer retention charts, granular cover reporting by the hour and in-depth customer segmentation tools.
Eat App's advanced analytics is designed to help you identify pain points that need resolution and to uncover actionable guest trends that can be used to improve the guest experience and for marketing.
Some of the highlights include: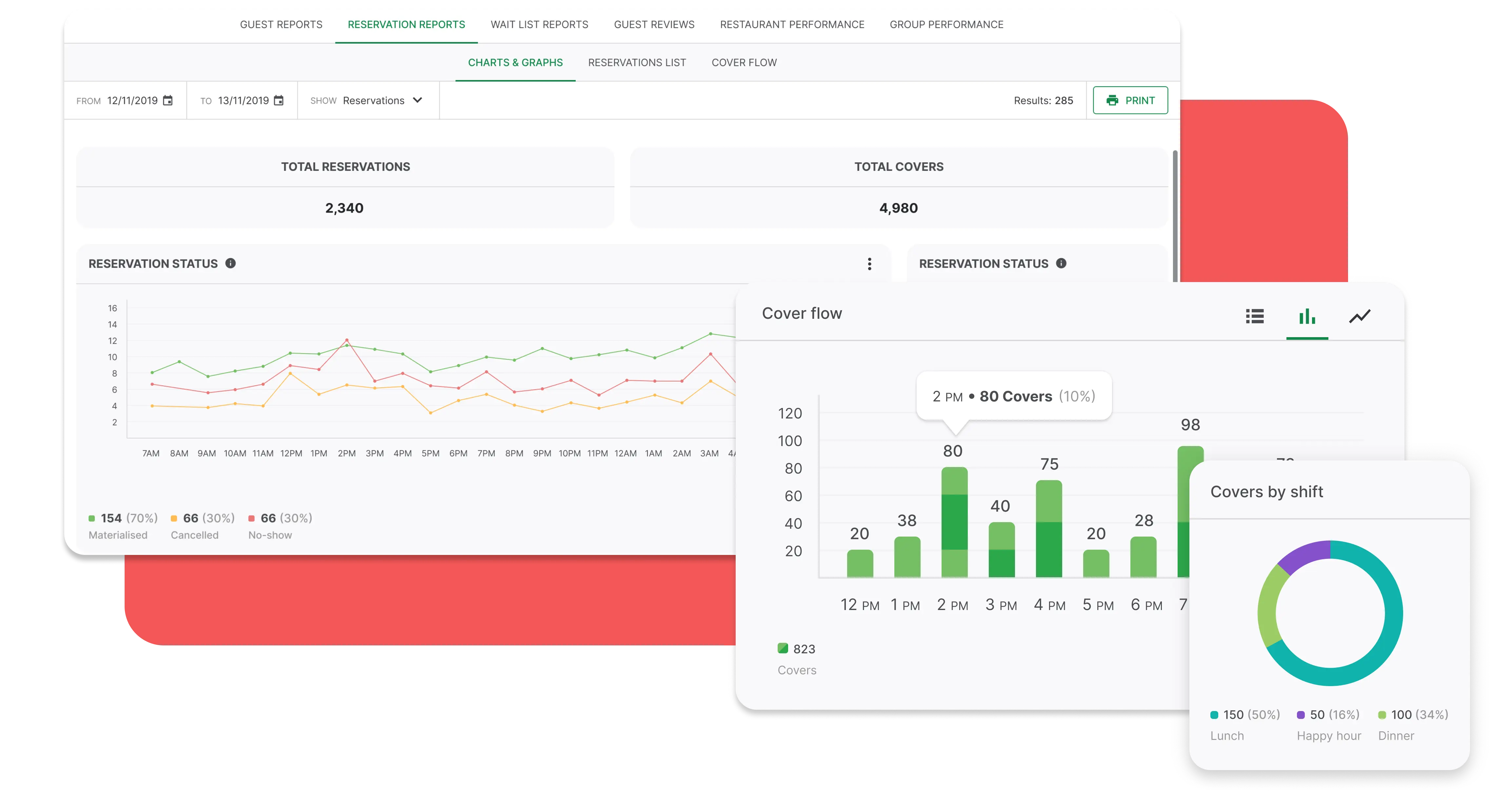 Track Daily, Weekly, and Monthly Performance
Track key aspects of your restaurant's performance, from guests to reservations and waitlists, POS, and more with unique, in-depth, and customizable reports that help you identify pain points and easily share results and trends. Track your performance with reports like:
Cover flow: View an hourly breakdown of the number of covers at your restaurant for any given day to get the most granular way of looking at your daily cover trends.
No-show trends: Have a no-show reduction strategy? See the impact with no-show analysis.
Busiest period: View aggregated data over a time range to understand your restaurant's busiest time like the busiest hour of the day, day of the week, week of the month, the month of the year, or over years with this unique report.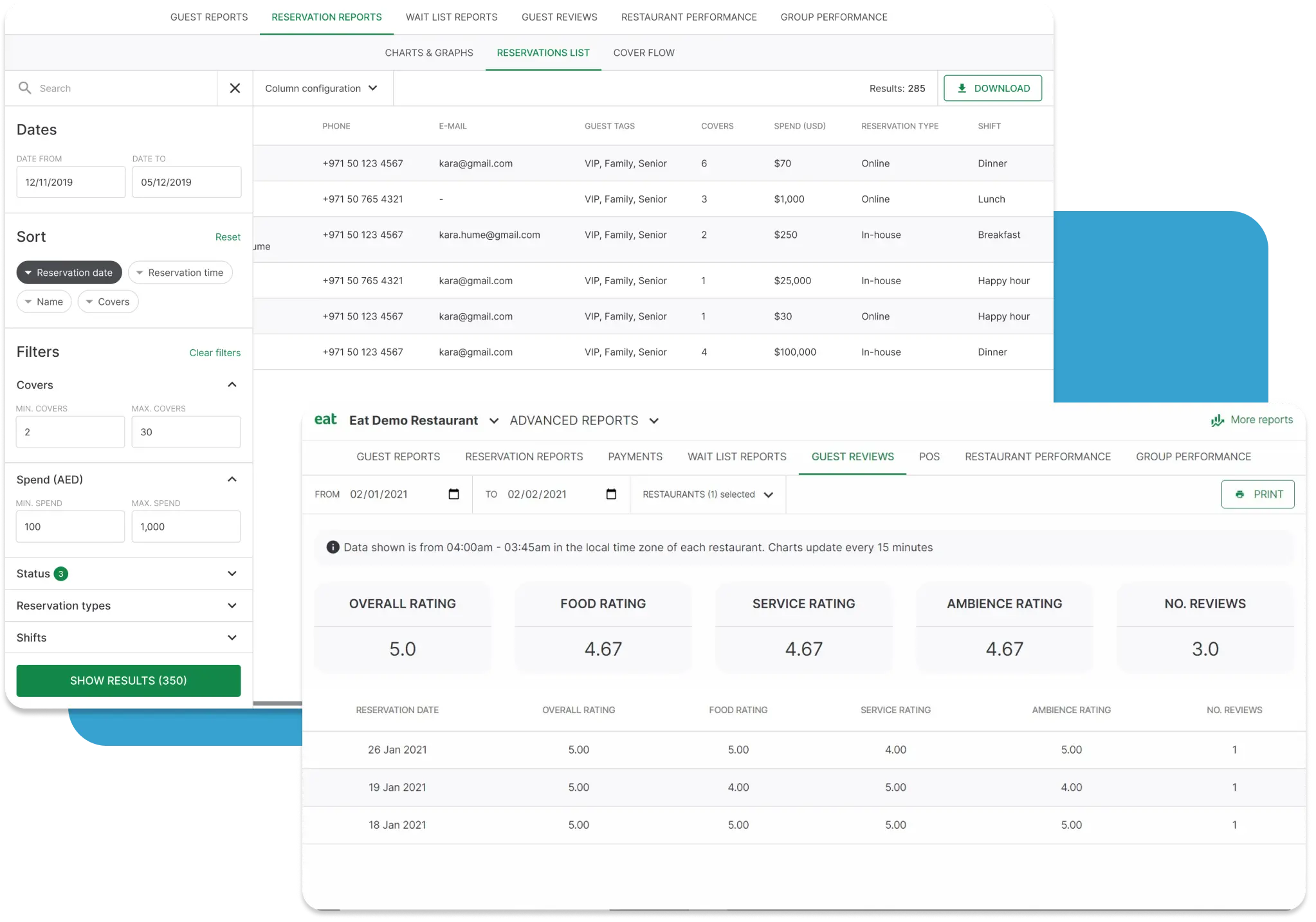 Next-level customer insights and retention
If you're serious about the guest experience you're also serious about increasing the repeat visit rate at your restaurant.
By helping you identify trends in behavior, Eat App's analytics system enables you to segment your customers by crucial data points like guest spend, last visit, number of visits, etc. and custom-create marketing campaigns and promotions to target customers in a personalized way to improve loyalty and build a strong relationship and in turn, improve customer retention.
Use our guest reporting tool to segment your database across multiple data points. Everything is totally customizable by you.
Total Visits: Identify your regular and loyal customer base by filtering your reports on the basis of the total number of visits and improve retention with personalized messaging
Latest Reservation: Resurrect and retain potentially lost customers by segmenting guests on the basis of the number of days since their last reservation.
Guest Spend: Find and highlight trends and customers in different spend categories like total spend or spend per cover. Use this data as the basis for customer service levels and easily offer your best guests the most premium experience.
Ordered Items: With POS integration you can now filter your guests by what they ordered and build custom lists around different cuisine or dish type.
Guest Feedback Reporting: When you run post-dining guest surveys through Eat App you also now get access to aggregated guest feedback reports. These reports give you a daily, weekly or monthly trend of review scores so you can track continuously how guests are responding to the changes you have made.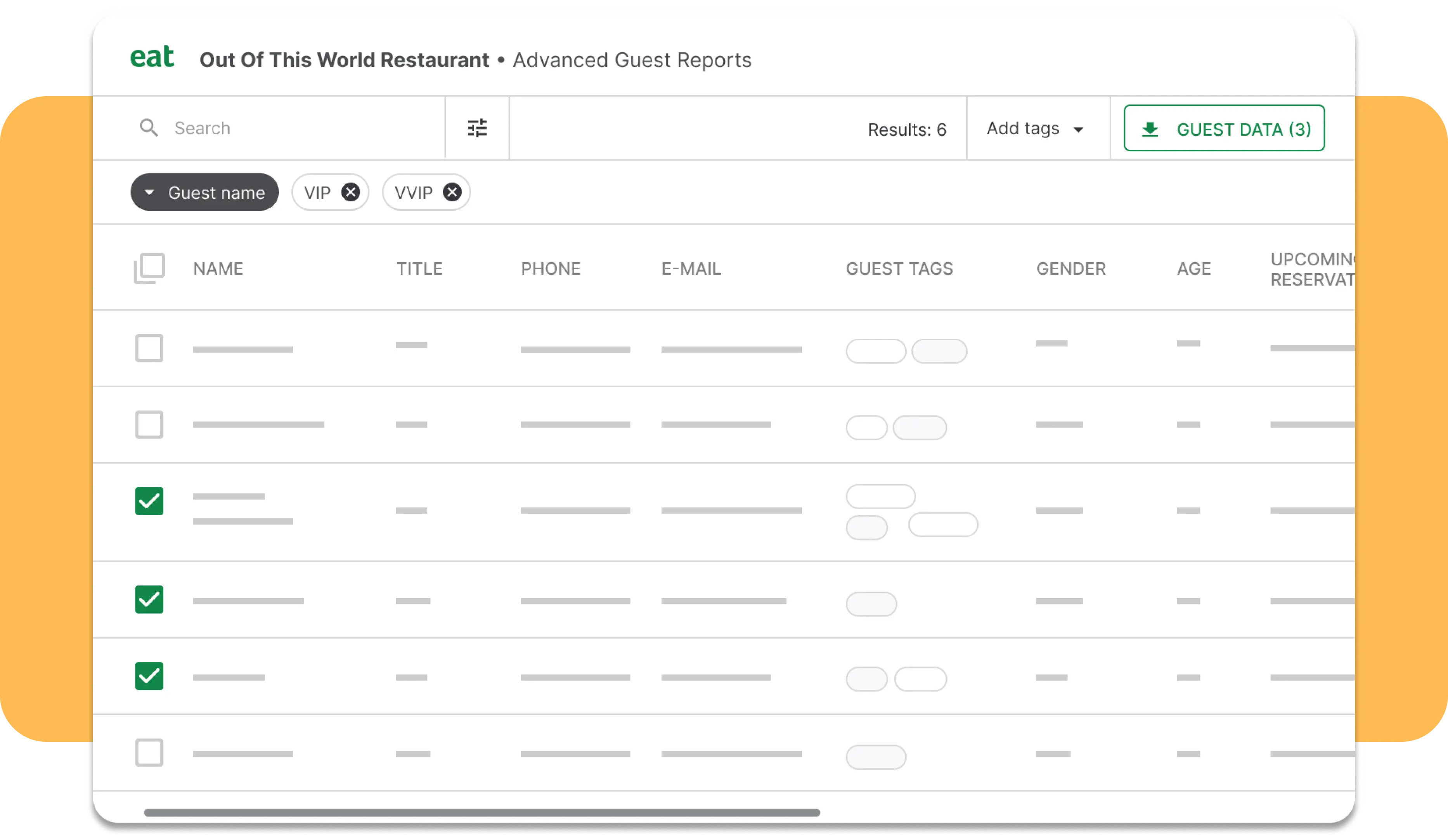 Tracking performance across your group is easier and more powerful than ever
If you run more than one restaurant, knowing how each restaurant is performing individually and also relatively compared to each other is crucial while making strategic decisions. Eat App's guest performance reports allow you to review and compare high-level performance across all the restaurants under your belt and provides you a holistic view of your restaurants' overall performance.
From 2 to 2000 restaurants, all our key reports are now also available across your entire group helping you maintain a competitive advantage.
Eat App helps you deliver outstanding guest experiences
Advanced analytics and reporting are just one of the ways we support the future of the guest experience and is part of our full suite of guest experience tools including:
Restaurant CRM and guest data tracking
Automated tagging
Advanced segmentation
Personalized marketing and messaging
Automated guest reviews
The addition of advanced analytics to Eat App's suite connects all the dots and provides you with data that helps make a real impact in improving performance in a smart, efficient manner.