Restaurant surveys are an important tool for improving customer satisfaction. Many restaurants are incorporating surveys into their strategy to harvest valuable data points and feedback that can be used to make impactful decisions across customer service, menu design, and operations.
Regularly surveying guests is one of the most powerful ways to set in motion a process of continual ongoing improvement as well as keeping up with new trends and staying ahead of the competition.
However, asking the right questions in the right way is the key to a successful survey strategy. Are your questions relevant to the guest? What beneficial insight are they providing the management? Are there too many questions, or perhaps too few?
Before we look at the best questions you can ask in a restaurant survey, let's take a deeper look at how they work.
---
Key Takeaways

Surveys provide valuable feedback for restaurants to improve their service and offerings.
Focus on overall customer satisfaction, specific details, and customer preferences.
Ask about pricing, convenience, dietary needs, and demographics.
Keep surveys short, simple, and easy to understand.
Act upon feedback and communicate changes to customers for continuous improvement.

Remember to read the entire blog for more detailed information and context.
---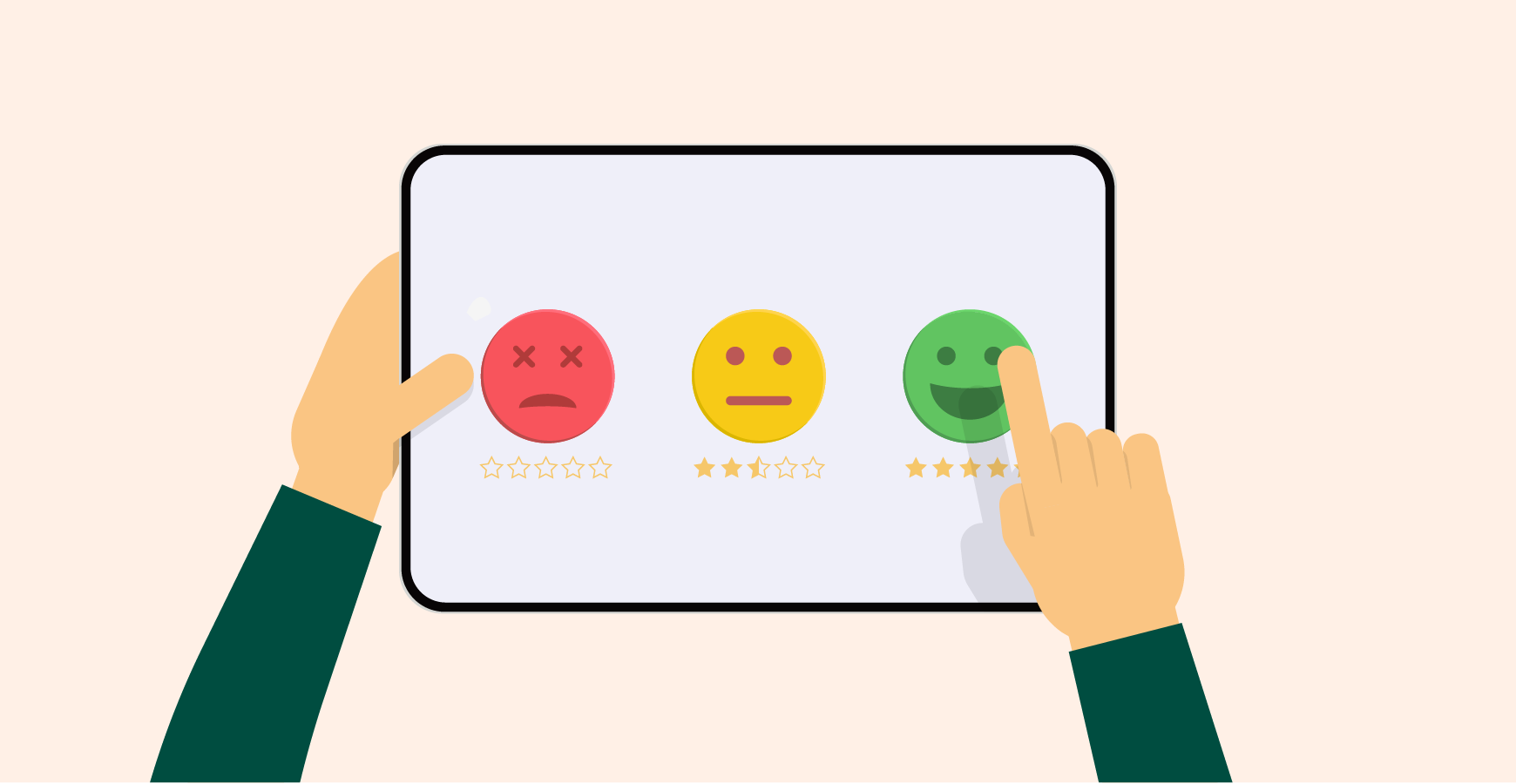 The old way of running restaurant surveys
When it comes to restaurant surveys, many of us may remember being handed out a feedback card at the end of our meals, asking us to rate our dining experience.
However, with the rise of the digital era, online surveys have started taking over. Even though paper surveys have been the norm for decades, there are a few issues that are making them increasingly undesirable:
1. High Costs:
Paper surveys can become very costly very quickly. They include not just the cost for printing out 100s of surveys, but also the time & resources you allocate for gathering & analyzing the data once it has been collected.
2. Time-consuming:
Gathering useful results from a traditional paper survey includes various manual tasks like printing out physical copies and data entry, making it a long process.
3. Tedious:
Since almost the entire process of gathering data through paper surveys is performed manually, the task can become very tedious and inefficient.
4. Low Response rate:
Many customers may not want to fill out a feedback form right after they finish their meal. They might find it annoying and inconvenient due to which the response rate for these surveys is usually low.
Given these disadvantages, restaurants have started adopting a new, modern way of conducting restaurant surveys - online surveys.
The new way of running restaurant surveys
Online surveys are an easy & convenient alternative to old-school paper surveys that create a better experience for the customers and gather significantly better data for restaurants.
Online restaurant survey platforms, like Eat App, enable restaurants to gather important insights and automated reviews from customers in an easy & efficient way, taking away all the hassle & manual work of traditional paper surveys.
Eat App's online restaurant survey platform helps restaurants gather important insights from customers through a simple rate & review survey. The survey is integrated with Eat App's table management & reservation system, which enables it to be sent out to customers within 12 hours of their dining experience.
Advantages of Using an Online Restaurant Survey like Eat App
Cost-effective:

Using online restaurant surveys is a lot cheaper than using traditional ones. You can send out the survey to 1000s of diners' customers at no extra cost and don't have to allocate any resources to manually gather the information into a database.



Quick & Easy:

Because the whole process is automated, online surveys help gather data from customers very quickly as compared to paper surveys. Through Eat App, diners are automatically sent a request to review email within 12 hours of their reservation and the results are instantly recorded into your system, taking away all the hassle of paper surveys and significantly cutting down the time taken to gather important customer feedback.



High response rate:

As opposed to on-site paper surveys, online surveys don't rush customers to fill them out right after their meal. These surveys allow people to respond in their own time & comfort zone, leading to a higher response rate.



Better customer insights:

As customers can fill out online surveys in their comfort zone, they are more likely to give honest and elaborate responses about their experience, leading to higher-quality insights.



Easy to use:

Online surveys are very easy to use both for customers and managers. Customers can simply fill a form online to share their experience and managers can easily gather and analyze the data, all with a few clicks. For restaurants using Eat App's online review system, customers can respond to the survey through a simple email, and managers can download their daily review reports to quickly analyze the results.



Highly Accurate:

As all the data is automatically recorded into the system without any manual interference, the margin for error in online surveys is very minimum, leading to a highly accurate analysis of customer insights & feedback.
11 example restaurant survey questions you should ask your diners
How often do you dine at our restaurant?

This is a good question to begin your online survey with as it will allow you to categorize customers into different groups - first-timer, infrequent diner, or a loyal customer, which will help you gain a deeper insight into customer feedback & behavior



What did you think about our food?

As a restaurant, food is the most important aspect of your business. Regardless of how good your service or ambiance maybe, if your food isn't up to mark, you will not be able to retain customers, which makes this one of the most important questions to ask your diners. Understanding what they think about your food can help you refine and develop your menu according to customer taste & preferences.



Did you find anything missing from the menu?

This is a great way to learn more about what your customers are looking for, as well as making them feel like their opinion matters. Plus, you also end up with new ideas for future menu items!



How would you rate our service?


Service is a crucial part of a dining experience, therefore it's important to know whether your staff is performing up to the standards of the restaurant. Based on this question, you can take important staffing decisions like training your staff further or hiring more people to create a better customer experience.



How would you rate the reservation process?

Your restaurant's reservation process is usually the first touchpoint for your customer, so it's important to pay attention to it, gather feedback, and ensure that the process is as smooth & streamlined as possible. Using online reservation systems like Eat App helps in providing customers with the best reservation experience possible.



Did our restaurant meet your standard of cleanliness and hygiene?

Sanitation & hygiene has become a top priority for diners, so it's necessary to ask their opinion about the level of cleanliness at your restaurant to ensure that you're meeting customer standards & expectations.



What do you think about our restaurant's environment?

You may have a certain image of your restaurant in mind, for example, you might be marketing your restaurant as family-friendly, but is it really family-friendly? Asking this question will help you understand whether your customers are perceiving your restaurant as you want them to. If they're not, you can work towards action items to improve your restaurant's image.



How did you find out about us?

Gain a better understanding of what leads customers to your restaurant - is it your effective social media strategy, or maybe the ad you ran last week? This will help you realize which of your marketing strategies you need to be dedicating your time and money on.



Would you recommend us to family & friends?

Asking whether your diners would recommend your restaurant to others will help you gain a sense of understanding about its overall appeal. People are highly unlikely to recommend any place they did not enjoy themselves to others, so if you're seeing a lot of negative responses, you should know that customers aren't really happy and it's time to make a change.



How could we serve you better in the future?

This question will really help you gather feedback beyond your usual aspects of food, ambiance, service, etc. Customers will be impressed with your openness towards becoming better, and you will be able to uncover problems or issues at your restaurant that you were not aware of.



Ask for a star rating instead of a question

You can also consider star ratings instead of questions. A star rating from 1-5 is a format most people are familiar with and makes it super easy for guests to leave feedback. Star ratings also allow you to track changes and progression over time in a way that regular questions do. It's something to strongly consider when setting up your surveys.
How Restaurants Optimize Online Surveys to Capitalize on Customer Feedback
With online surveys, restaurants can generate sufficient data to build a continuous daily feedback system that feeds customer insights to the team every day.
Most optimized restaurants will have a system that looks like this:
Step 1: Send online surveys to your guests (you can automate this process through Eat App and have surveys sent out to diners within 12 hours of their reservation)
Step 2: Overview of all the survey responses that are recorded in a single dashboard on your Eat App table management system
Step 3: Easily access and print out your daily response report that includes all the information about reviews that were received the previous day
Step 4: Use your printed report in daily meetings and review yesterday's feedback with the team. Identify immediate issues and assign tasks to action them as required.
With a set-up like this, changes to service can be made in real-time and customer service issues can be actioned extremely quickly.