We're excited to announce Eat App's latest CRM feature - Guest Reviews

Surveys that don't need any extra work - Eat App's new guest review feature enables you to collect important feedback from diners by connecting your surveys directly to your reservation system. This automated guest review system sends diners a quick survey email encouraging them to rate their experience at your restaurant within 12 hours of their reservation completion. It's is a highly effective way of improving your guest experience and tracking your restaurant's performance without the added hassle of pen and paper surveys.

Furthermore, these post-dining reviews do not interrupt the customer's dining experience at the restaurant - making it easier for diners to fill it out in their own time. Automated Guest Reviews are a great new addition to your CRM toolbox.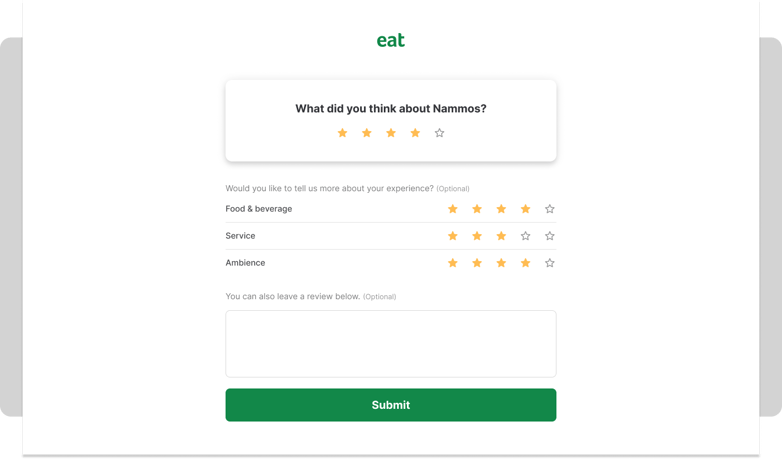 What makes Eat App's guest reviews better?
Guest surveys are mostly available through third-party software and are not connected to a restaurant reservation system, making it difficult for restaurants to connect and keep a record of the data. Eat App' guest surveys, however, come integrated within our reservation and table management platform, helping you automatically collect feedback from your guests after their dining experience. This means you don't lose any important data, as the system automatically gathers all the reviews in one place without you having to lift a finger.
To top that, the system's extensive reporting capabilities help you keep track of your restaurant's performance and make data-backed decisions to improve customer experience with various dynamic reports ranging from daily review digest emails to advanced reports that help you understand your guests better by taking an in-depth look into what they have to say about their dining experience.
Automated guest reviews are perfect for understanding your guests' needs better.
Once you set up your automated guest reviews, you'll be able to
Gather feedback through an automated email requesting your guests to rate and review their experience
Access & edit the survey questions
Receive daily review emails
View every review attached to a customer under their guest profile
Review overall ratings through advanced review reports
Stay informed at all times
Eat App's review system is designed to help you keep track of your restaurant's performance at all times so that nothing slips through the cracks.
Review individual guest reviews to ensure every guest has a good experience and reach out to unsatisfied customers to build a strong customer relationship
Use the daily review report email to track your restaurant's daily performance and take actionable decisions in your daily team meetings
Track your restaurant's performance through the review section in advanced guest reports
Share and highlight positive feedback with your staff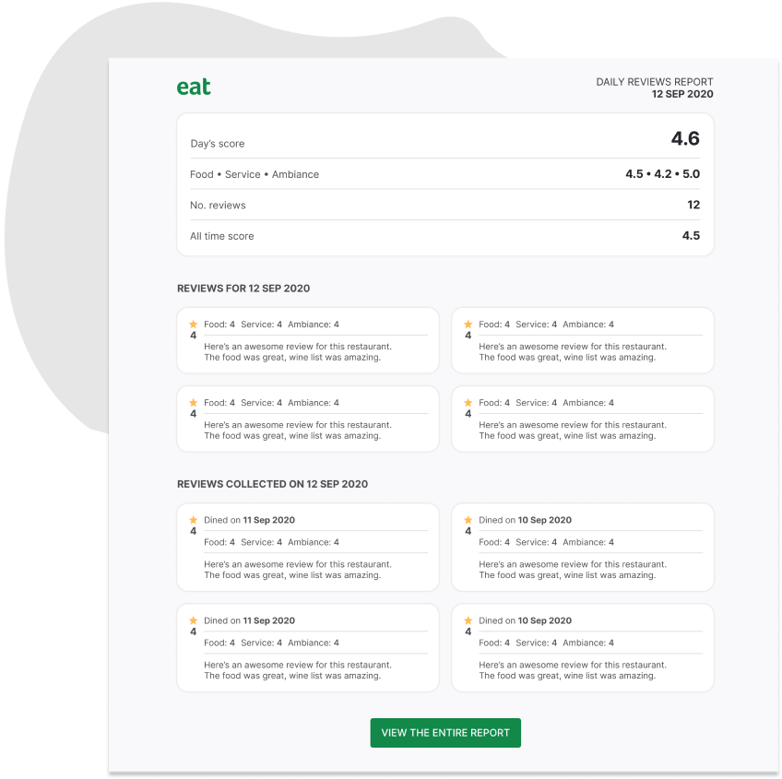 Guest management is now even better with Eat App
Your restaurant's guest management is now in better hands with Eat App's extensive CRM suite connected directly to your table and reservation management system that offers you:
Rich guest profiles
Advanced customer segmentation
Automated tagging
Personalized guest messaging
Phone integration
With automated guest reviews added to the list helping you gather crucial guest data, Eat App's guest management tools enable you to understand your diners better and provide them with a great guest experience in an effective and efficient manner.