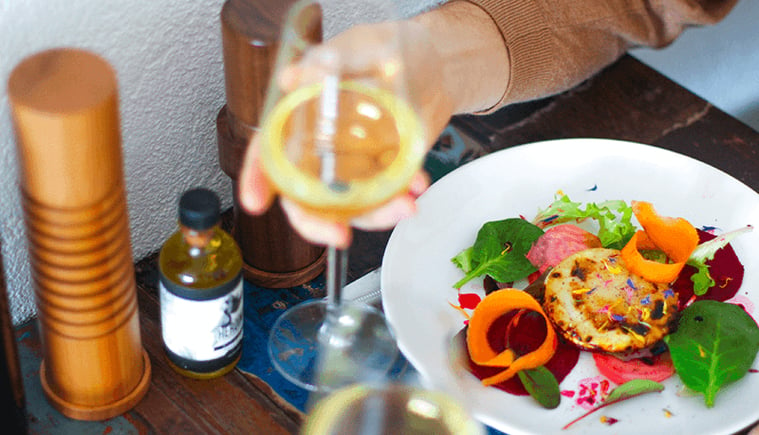 The best restaurant managers know this - when a guest is in the house…Nothing Else Matters!
All too often restaurateurs focus on the mechanics of the restaurant: is the table set properly, are the glasses sparkling clear, the flatware polished and in place, the tablecloths properly draped, the condiments in perfect alignment…All these are important, but none of it really matters unless you have a steady flow of regular and new guests frequenting your restaurant.
When it comes to managing a restaurant, the cycle of service is key.
So, let's define the "Cycle of Service" as it relates to managing a restaurant.
Service is defined as: the occupation or duties of a servant. The act or means of serving. To be of assistance to. To meet a need, to satisfy. To give homage to, honor or respect.
The cycle of service is the entire process of the dining experience. It relates to every single opportunity you have as the manager to interact and create the guest experience. It is perhaps the single most important aspect in learning how to manage a restaurant.
The cycle of service deals with how you interact and "touch" each and every guest. When we say touch, we mean verbal, non-verbal, and experiential touches - not physically touching your guests.
8 Simple ways to "touch" your guests
Verbal; r

egular checking of the guest's situation and status.
Specific checking on their food, beverage, service, and experience.
Non-verbal touches; noticing the host of the party, letting him or her know you're there to take care of any needs with a nod, a smile, or simply checking on their table with a quick scan.
Smiles: a simple smile lets them know you're looking after them.
Nods: a nod is a touch in its basic simplicity.
Waves: a subtle wave to let the guest know you've got things covered.
Body language: confidence in how you move through your restaurant.
Facial expressions: using your eyes, and your expressions to give them the confidence that you are taking good care of them.

When we refer to the cycle of service, we focus on the times where and when you can manage and enhance the dining experience for the maximum enjoyment and benefit of your guests, which ultimately benefits your restaurant.
We are not referring here to the physical elements mentioned earlier, the 'mis en place' if you will, but to the hidden and oftentimes invisible service that creates the experience your guests, want, need, crave, desire, and expect from you. This is what ultimately will separate you from your competition.
You can easily begin mastering the guest experience cycle of service by crafting a unique way to confirm a guest's reservation. Rather than a simple, "We have you down for a party of 4 this Saturday, June 7th at 9 p.m.," what could you do to enhance that script, that email, that text message, that auto-responder, that would immediately create a unique experience even before the guest arrives? What could you do to make them think, "This is going to be a unique and different dining experience."
You might add to that confirmation verbiage:
"We're really looking forward to hosting you"
"Wait until you taste the chef's new appetizer"
"Make sure you save room for our delicious new dessert"
"We're featuring a one-of-a-kind cocktail," etc.
Be creative, Be unique, Be original, Be different…Be memorable.
Your role in managing your restaurant is to ensure that each and every guest is being 'touched' at least 5 times during their dining experience, not just when they arrive and depart. Those touches are what will stand out in their mind. People may not necessarily remember what they ate at your restaurant months and years down the road, but they will remember how you made them feel. When you master this skill, you become a much more valuable asset and your restaurant becomes more in demand.
Focus on every opportunity to 'touch' your guests and orchestrate those touches, like a play. Think about ways to prepare your guests for their dining experience and choreograph their experience from when they:
Arrive at your hotel or restaurant
Valet or self-park
Enter your property
Enter the restaurant
9 Guest interaction opportunities in the cycle of service
Ensure that you or one of your management team is 'touching' your guests at these crucial interaction opportunities:
When they are seated
When they receive their beverages
After they have ordered
Minutes after food delivery
During their meal
After their meals are cleared
During dessert
As they enjoy after-dinner beverages
Once the check is presented
Any time food or beverage is served is an opportunity in the cycle of service to touch your guests and deepen their overall experience. A touch can be as simple as the "7 Simple Ways" mentioned earlier, a quick glance, a smile, a wave, a nod, refilling a beverage, clearing a plate or glass, or some brief verbal interaction.
Quickly become interested in your guests
It is easy to become genuinely interested in your guests, establish relationships and create loyalty, by asking them simple questions. You have the opportunity to do this at any time by simply asking:
How they heard about your restaurant
Why did they decide to dine with you?
What do they like most about your restaurant?
What are their favorite items they have enjoyed?
What do they like most about the food or beverage they are enjoying?
By discovering this information, you begin to interact with them at a different level, asking their opinions and making them feel important.
10 Suggestions to master the guest experience
Offer instant appetizers, amuse bouche, some kind of surprise, unexpected treat, or delicacy you can provide quickly to enhance the experience.

Script and train your staff to enhance the guest experience with fun, warm, entertaining greetings, and interactions, rather than just training them to perform the mechanics of their job.

Leverage

restaurant technology

that gives you the power to create customized communication between you and your guests over SMS and email.

Ensure each of your servers has his/her own unique version of a greeting that brings guests deeper into the cycle of service.

Each time you and your staff engage with the guest, educate them about your offerings, and guide their experience.

Craft each and every part of the cycle of service so you amaze, wow, and deepen the caring guest experience.

Train your staff to tell and sell the guest on how they can best enjoy their dining experience.

Practice looking at your guests and at a quick glance, determine if they need anything and are they enjoying themselves.

Lead by example. Inspire and challenge yourself and your team to master the guest experience and enhance the overall cycle of service.



At every guest, interaction opportunity ensures you are presenting the "next sell." When should they return, why should they return, or what's happening next. Carefully script and craft these interactions so you master the guest experience in the cycle of service.
Create a unique, memorable, thank you. It's the last interaction with your guests. Give them a final warm and caring experience.
Remember, when you focus on mastering the guest experience cycle of service, you create positive memories in the guest's mind. When they think about where to dine, they will have a deep wonderful feeling that your restaurant is a great place to dine and that you truly know how to manage a restaurant. We challenge you to examine and engage in every opportunity to interact with the guest in the cycle of service