When searching for an online reservation or table management system, there is no denying the sheer volume of options to choose from. You might be tempted to compare systems purely based on the features they offer compared to the features you need or maybe your primary concern is how much it's going to cost you - because let's face it, some of your options will definitely break the bank.
Whatever your approach is, only you can evaluate what system is right for you. In an effort to make that process just a little bit easier, we're going to take a look at two of the most popular restaurant management software providers - Eat App and TableIn - with the hope that it will help you make a more informed decision.
Read on to learn which of these two system might be right for you.
---
Eat App vs. TableIn
Both Eat App and TableIn are software providers for restaurants that primarily offer reservation and table management solutions. Systems like Eat App and TableIn give restaurant operators an all-in-one platform to manage reservations, assess restaurant performance end even manage tables efficiently.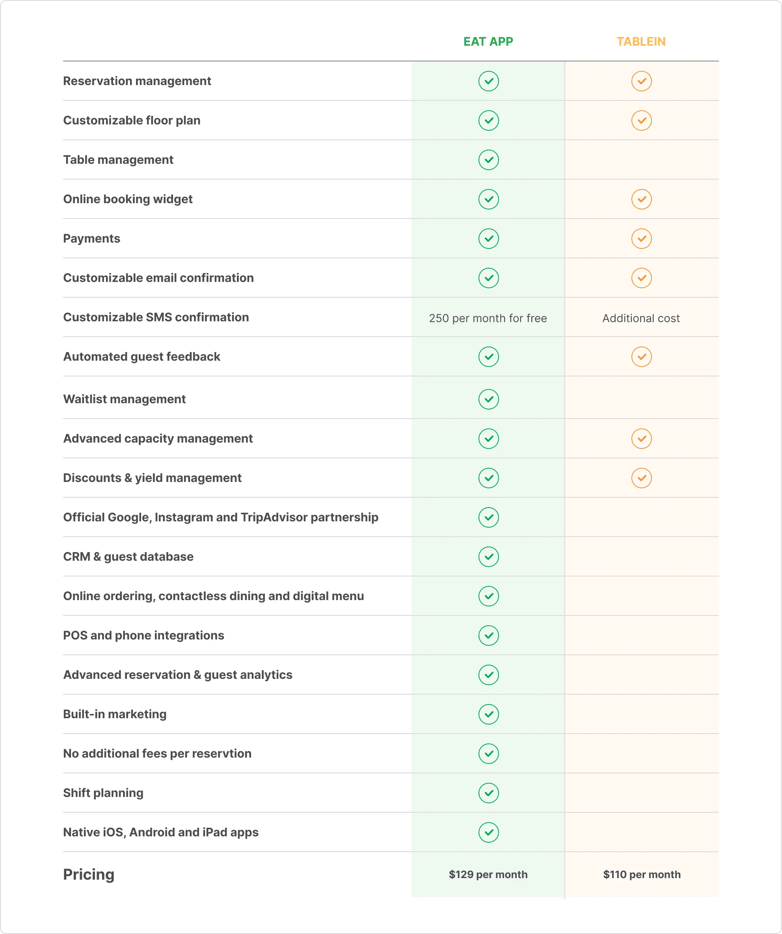 Eat App
Founded in 2015, Eat App is global reservation software company that drives hundreds of thousands of reservations per month to their restaurant partners. Along with the rich partnership network that helps drive these reservations, Eat App provides restaurants with an all-in-one reservation and table management system that runs on web, iOS, Android and iPad.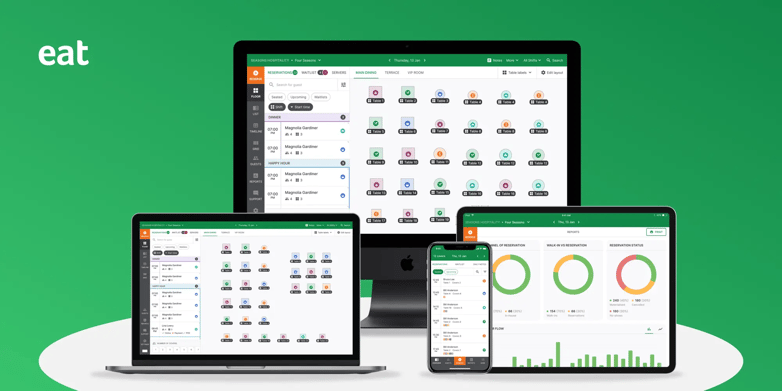 The Eat App Approach
Fundamentally, Eat App is a guest data platform that ties into a full featured table management and reservation system that powers restaurant operations, marketing, analytics and customer feedback. Eat App aims to help restaurants leverage guest data to grow their business, whether that be through generating more covers, increasing customer loyalty and retention or optimizing operations.
Their low cost approach to restaurant management helps yield high returns for restaurants when you compare their revenue focused feature set to other competitors. These features include reservation and waitlist management, rich analytics, automated messaging, advanced tagging and guest CRM, and shift management. These features are accessible natively on their iOS, Android and iPad apps or directly on the web.
The system itself is built around your restaurant. Your floor plan, guests and reservations are front and center when you need them most. Alternatively, you're able to manage your restaurant through a calendar, timeline or grid view.
Products
Eat App provides its restaurant partners with two ways to use their software - Eat App Pro or Eat App Enterprise. The pro tier of Eat App is perfect for independent restaurants or small restaurant groups while the enterprise tier is geared towards larger hotel and hospitality groups. Regardless of the product you choose, Eat App is available on iOS, Android, iPad and Web and will sync in real time across all your devices.
What features do restaurants get with Eat App?
Fully customizable floor plan
Reservation and table management
Fully customizable online booking widget
Advanced shift and capacity management
Official partnerships with Google, TripAdvisor and Instagram
Automated guest reviews and messaging
Restaurant reports
Waitlist management
POS and phone integration
Advanced payments and ticketing
Eat App's Pricing
Eat App's pro tier will set you back $129 per month when billed annually and $159 per month if you want to pay monthly. Part of your subscription with Eat App includes a monthly quota of SMS that is more than enough for the average restaurant.
The pricing for Eat App's enterprise tier on the other hand is is custom tailored to your specific restaurant needs.
Anyone can try Eat App for 14 days absolutely free of charge with no credit cards required.
Advantages of Eat App
14-day free trial with no credit card required or waiting for account setup.
Fixed pricing with no hidden costs, you get what you pay for.
Low costs yield high ROI for your restaurant
Access to Eat App's robust partnership network including official Google, TripAdvisor, Instagram and Zomato integrations.
Rich restaurant reports and analytics that drive actionable decision making. This includes a multitude of detailed reservation and guest reports so you can deep dive into what is working and what isn't at your restaurant.
Guest, reservation and table management features that help you run your restaurant efficiently and drive personal guest experiences.
---
TableIn
TableIn is a table management and restaurant reservation system with emphasis on providing an affordable solution for smaller restaurants.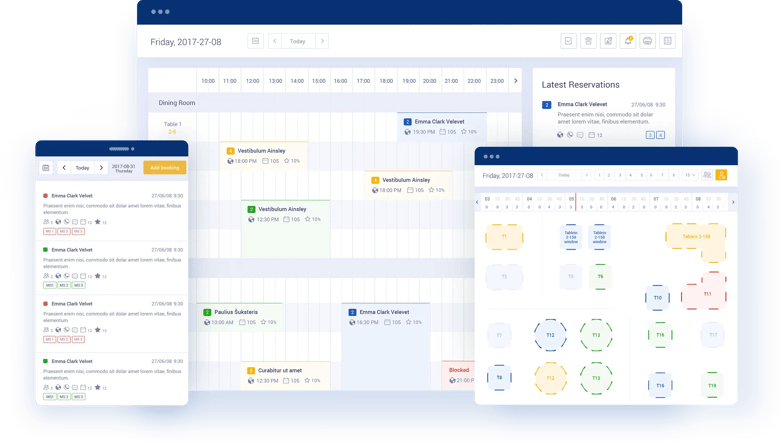 The TableIn Approach
TableIn's main approach is catering their software to relatively small restaurants by helping them manage their reservations easily. This means that their feature set is primarily focused on empowering restaurants that may not already be using a reservation system to enter the digital age.
TableIn provide their restaurants with a simple booking widget in addition to a basic reservation system that can help manage the bookings that come in from the web. The reservation system, unlike more advanced systems, utilizes a "Calendar" based approach to managing reservations. Moving from using pen and paper to manage your reservations to TableIn would be a huge step up, but some restaurant operators might find it difficult to move down from more advanced systems to TableIn.
Products
TableIn provides customers with one way to use their system that may differ in price based on your requirements. To use TableIn, you will need to have access to a web browser at your restaurant as their software is only available on desktops.
What features do restaurants get with TableIn?
Reservation management with basic table management functionality
Customizable online booking widget
Automatic confirmation messaging
Multiple language support
Marketing integrations
TableIn pricing
TableIn offers two pricing tiers for restaurants thinking about using their software. The pricing tiers offer the same feature set and differ only in one way - cover quotas. Their standard plan offers you 150 reservations for free per month and then charges a premium for every booking after that while their premium plan gives you unlimited bookings. The one caveat to this is that regardless of what plan you choose, SMS are not included and will be charged per message. Their two tiers are:
Standard: $75 per month
Premium: $115 per month
TableIn also offers a free trial of the software but you cannot sign up and use it instantly, your account needs to be approved by their team before you can even access and try out their service (this can take upwards of a week).
Advantages of TableIn
Slight more affordable than Eat App at face value
Their widget supports multiple languages
Marketing integration
Easy to use, great for first time reservation management users
Disadvantages of TableIn
Base price of TableIn is great value but when you factor in additional booking costs on the standard plan or sms costs across both plans you are quickly looking at a monthly bill of $200+
This system is mainly geared towards reservation management, their table management and guest data functionality and is more basic.
User interface can be a bit confusing when trying to use it during a busy shift
Non existent consumer facing app/website or partner network to generate demand
Only available on desktop
---
Eat App vs. TableIn: What's the difference?
Zooming out and looking at both products, they both appear to offer very similar table management and reservation features. TableIn is mainly geared towards casual independent restaurants while Eat App has fleshed out its feature suite to cater to restaurants small and big. They both help restaurants manage their daily operations and nurture their guests even though they achieve them in different ways which may be more suitable for some restaurants over others.
In terms of supported platforms, Eat App is available natively on iOS, Android and iPad devices in addition to on the web, while TableIn only offers their software through a web based platform. This can be a bit cumbersome for a busy restaurant with many stations and employees.
Difference of Approach
Ultimately, both companies aim to offer the same experience to their customers but have subtle differences between the two that could make or break your decision. TableIn lacks the more advanced feature that restaurants are looking for such as advanced table management capabilities and certain integrations. Eat App on the other hand is built around providing everything a restaurant needs for reservation, table and guest management.
Another key difference is how these two companies approach usability. TableIn at its core is built around a timeline. Your views in the product are all anchored in time and this makes it very confusing as a user to visualize how their restaurant is doing. They do have a very basic floor view but this shows you little to no information that can be useful to you during a busy shift.
Eat App on the other hand features a robust floor view that gives you a second by second representation of your restaurant. If you want to view your restaurant according to a timeline - thats its own view and not the main method of managing your restaurant.
Feature differences
Moving past the core functionality of the two, Eat App offers more features than TableIn - no questions asked. Eat App allows you to create customer segments and tag guests in a way that is unique to you and your restaurant needs. Then use those segments to send email marketing and sms to customers that make sense. Eat App also features a host of integrations including payments, phone and POS.
Taking a step back and looking at how these two restaurants aim to help you generate demand, Eat App features a rich partner network including Google, Tripadvisor, Instagram and Zomato. This means that your restaurant can accept bookings natively from these websites - something that is lacking in TableIn.
Pricing
TableIn on the surface appears to be slightly cheaper than Eat App. With TableIn's cheapest package starting at $75 per month and Eat App at $129 per month. What this pricing doesn't shed light on is that with TableIn you are restricted to 150 free reservations before you are charged a fee for every additional booking.
Eat App also provides every user with 250 free SMS per month whereas TableIn will charge you for every SMS right off the bat. This means that a decently performing restaurant on TableIn will be expected to pay at least $200 per month when factoring in SMS and booking costs.
Compare more reservation software
---