In today's restaurant industry, guests don't expect much from restaurants when booking a table and dining - they are mainly after simplicity.
Your guests are looking for a seamless experience from start to finish with as little friction as possible along the way, but they've also come to expect certain features that are table stakes among most modern reservation systems.
They want to be able to book a table in as few clicks as possible, if a table is not available join the waitlist or search for alternatives, receive a personalized guest experience and when all is said and done, have their voices heard in the form of feedback.
OpenTable, one of the world's largest reservation and table management providers, offers just that and more to both its restaurant partners and their guests. Unfortunately, this comes at a great cost when you factor in the subscription price and cost per diner.
All hope is not lost though, where there is demand there are companies looking to fill the gap and provide an experience that makes up for what OpenTable has fallen short of providing - often times at a much better price point.
In this article, we will look at some of the considerations you need to make when looking for an OpenTable alternative as well as providing you with some of the best alternatives you can start using today.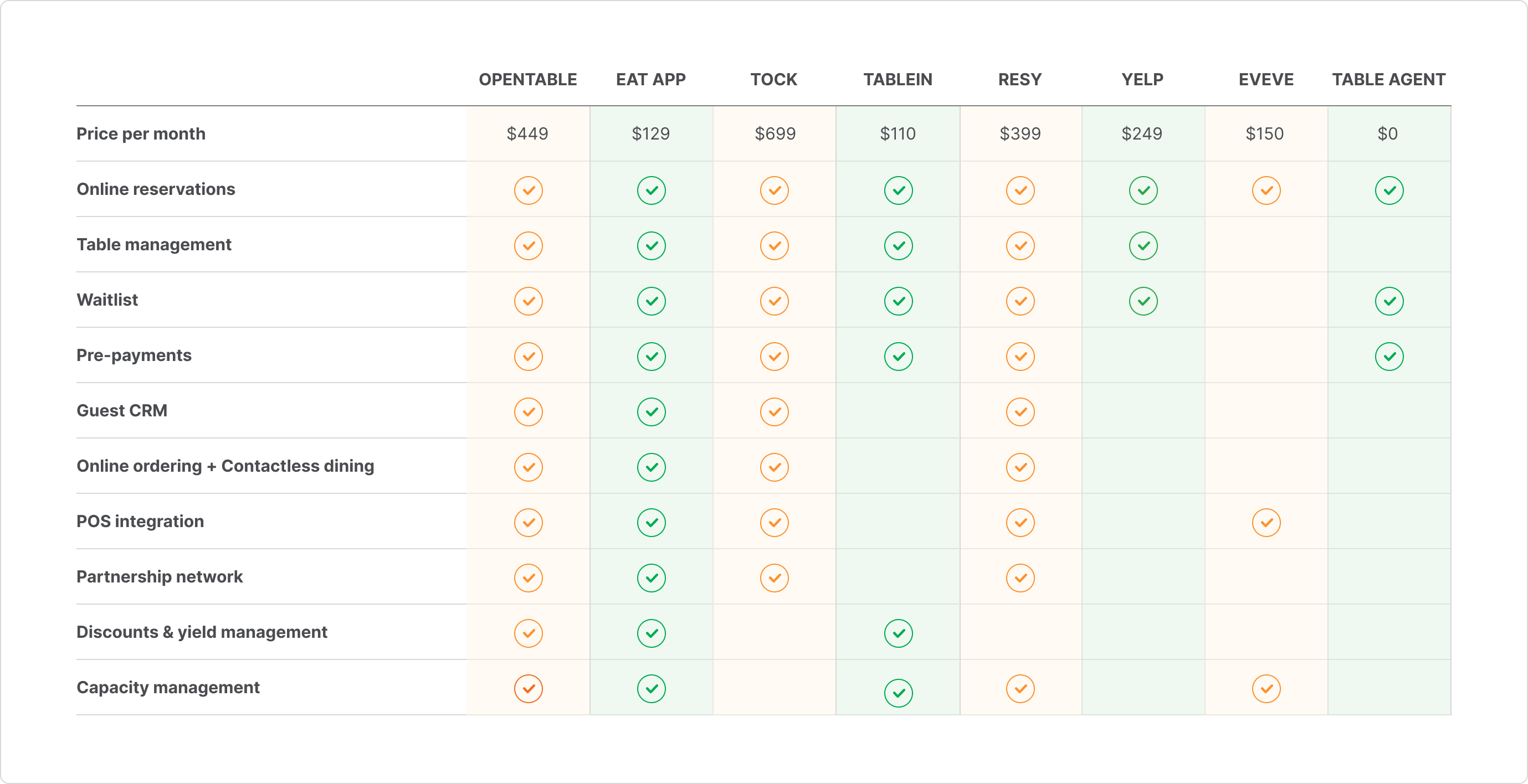 Considerations when looking for an OpenTable alternative
As you start your search for an OpenTable alternative, there are few key elements to take into consideration to make sure you are making the right decision.
Features
There's no denying that OpenTable offers its customers a feature rich reservation and table management system. The first thing you need to take into consideration is whether or not you are leaving any functionality behind when switching from OpenTable.
A few feature specific questions you should be asking yourself are:
Is this system easy to use?
Does it allow me to generate online reservations in the same way OpenTable does?
Will it help me manage my tables and reservations in a way that is easy to use and makes sense for my staff?
Can it function in the same advanced ways I am used to? for example: waitlist, capacity management, marketing, customer segmentation and integrations
Cost
If you're reading this article odds are this is the main factor on your mind. There is no hiding how expensive OpenTable can be for your restaurant. We don't recommend looking for an alternative system purely based on cost alone, but when looking for an OpenTable alternative you'll be surprised to find just how many systems offer the features you're used to at a fraction of the cost. And most importantly - with no hidden fees.
Portability
One of the main advantages of OpenTable is their portability, which you've probably gotten used to and are having trouble letting go of - which is fair. So when looking for an alternative system you should also take this into consideration because it makes a huge difference.
Below, we will examine these considerations as we deep dive into 9 of the best OpenTable alternatives you can start using today.
---
Eat App
Fundamentally, Eat App is a guest data platform that ties into a full featured table management and reservation system that powers restaurant operations, marketing, analytics and customer feedback. Eat App aims to help restaurants leverage everything at their disposal to grow their business, whether that be through generating demand, increasing customer loyalty and retention or optimizing operations.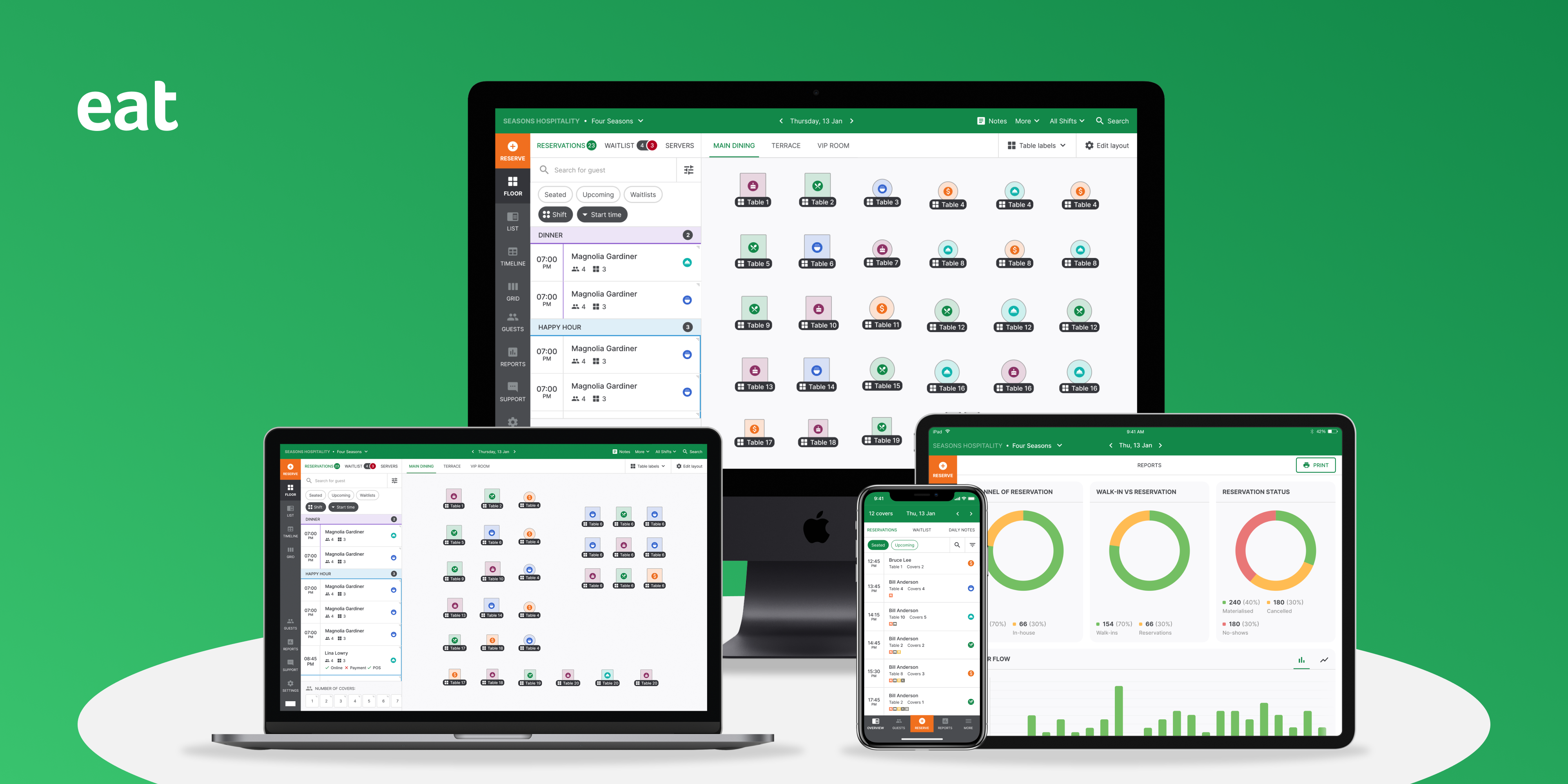 Their low cost approach to restaurant management helps yield high returns for restaurants when you compare their revenue focused feature set to other competitors. These features include reservation and waitlist management, rich analytics, automated messaging, advanced tagging and guest CRM, and shift management. These features are accessible natively on their iOS, Android and iPad apps or directly on the web.
The system itself is built around your restaurant. Your floor plan, guests and reservations are front and center when you need them most. Alternatively, you're able to manage your restaurant through a calendar, timeline or grid view.
Pricing
Eat App offers two pricing tiers starting at $129 per month for their pro subscription plan and then a custom pricing plan based on your restaurant's needs with the enterprise option. In addition to the base pricing, Eat App offers additional integrations at an affordable price which include payments, POS and phone integrations that will help you make even more use of your system without breaking the bank.
Tock
Tock's main premise is helping restaurants make the most of their tables and decrease no-shows through selling seats. Every empty table at your restaurant is a missed revenue opportunity and by defining what each of those tables cost your restaurant, Tock can start to help you make up for lost revenue.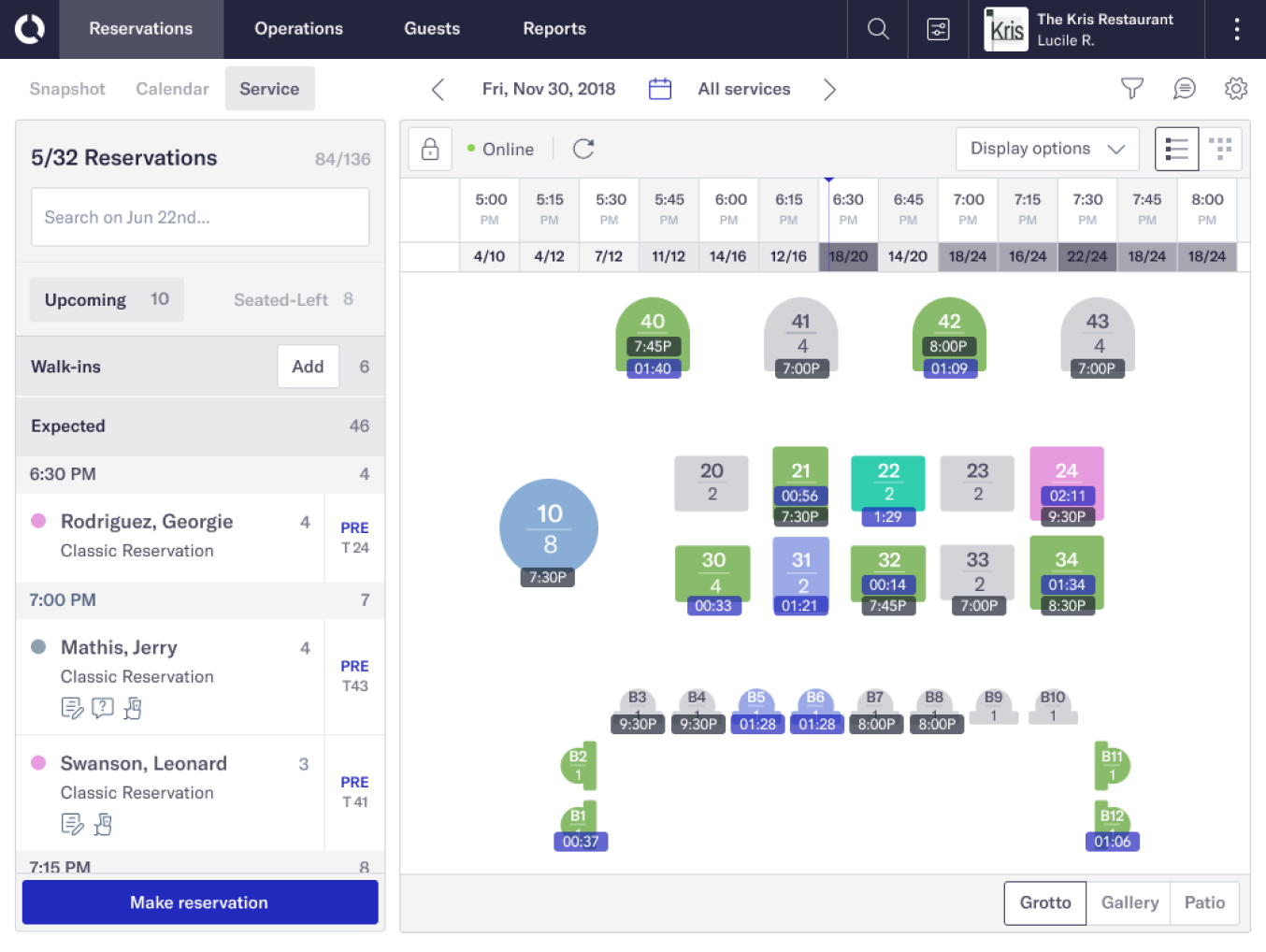 Through automated notifications and pre-visit questionnaires, Tock helps you also better understand the wants and needs of your customers to help provide a personal experience they are sure to remember.
Pricing
Tock offers two standard packages with a fixed monthly fee with the addition of a percentage paid on top of every prepaid reservation
Tock Plus: $199 per month + 2% fee on prepaid reservations
Tock Pro: $699 per month + 0% fee on prepaid reservations
Tock does not charge any per cover fee for bookings without prepayment
For restaurants wanting to use Tock solely for events, they do not charge a subscription fee but rather a fixed percentage on every transaction.
Tock Essential: 2.5 per transaction + $0.49 per ticket
Tock Premium: 3% per transaction + $0.99 per ticket
Resy
Like most other full feature table management systems, Resy offers waitlist management, reservation management, table management and POS integration. Your day to day operations with Resy are powered through a fully customizable floor plan that feeds into your online booking widget to provide availability to guests. Guests can then confirm, cancel and make modifications to their bookings through text and even let you know when they are running a bit late.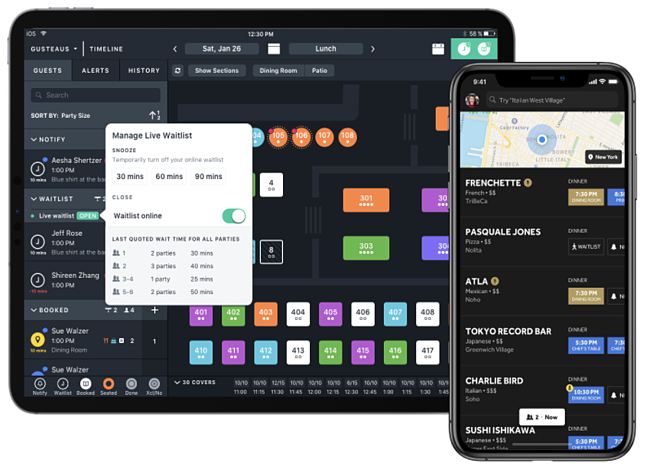 Your customers that use the Resy mobile app will have already entered their personal details including their birthday, preferences, allergies and anniversaries so that this is all provided to you when they make a reservation. This streamlines the reservation and guest management process.
Pricing
Resy's pricing comes in three tiers:
Platform: $189 per month
Platform 360: $399 per month
Full Stack: $899 per month
Their lowest tier includes gives your restaurant access to unlimited users and devices in addition to unlimited covers. As you move up their pricing, you'll get more features including branding, customizable messaging, analytics and even API access.
Ticketed events start at 3% per transaction for the Platform package and decrease to 2% with the Platform 360 and Full Stack plans.
Yelp Reservations
Like OpenTable, Yelp Reservation boasts not only a reservation and table management system but also a massive consumer network that helps drive reservations to your restaurant. In terms of table management, Yelp Reservations has most of the standard features you've come to expect from a system of its caliber including waitlist, basic server management and reservation management.
If your restaurant is already listed on Yelp, this restaurant management system might help you convert your listing views into revenue driving reservations.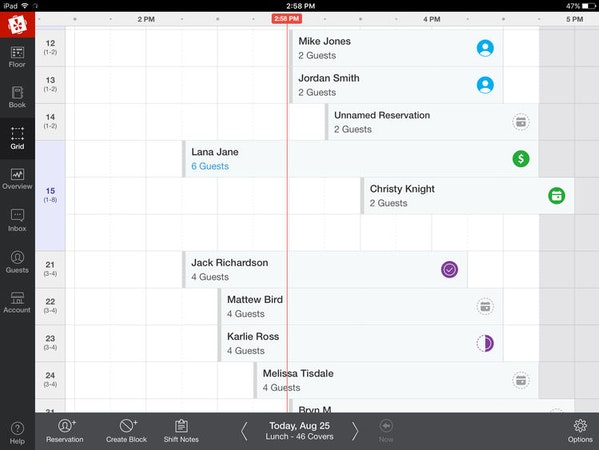 Pricing
Accessing Yelp Reservations will set you back a fixed $249 per month, but you are not required to pay any additional cover or set up fees. Your subscription also provides you with a free iPad to use at your restaurant
If you are interested in listing your restaurant on the Yelp Connect network that will cost an additional $199 per month.
TableIn
While OpenTable is catered towards restaurants of all sizes, TableIn might be the right fit for you if you're in charge of operations at a smaller business looking to generate online covers without too much in terms of table management. TableIn's restaurant management system is an affordable web based solution that helps streamline your reservations through a basic calendar view.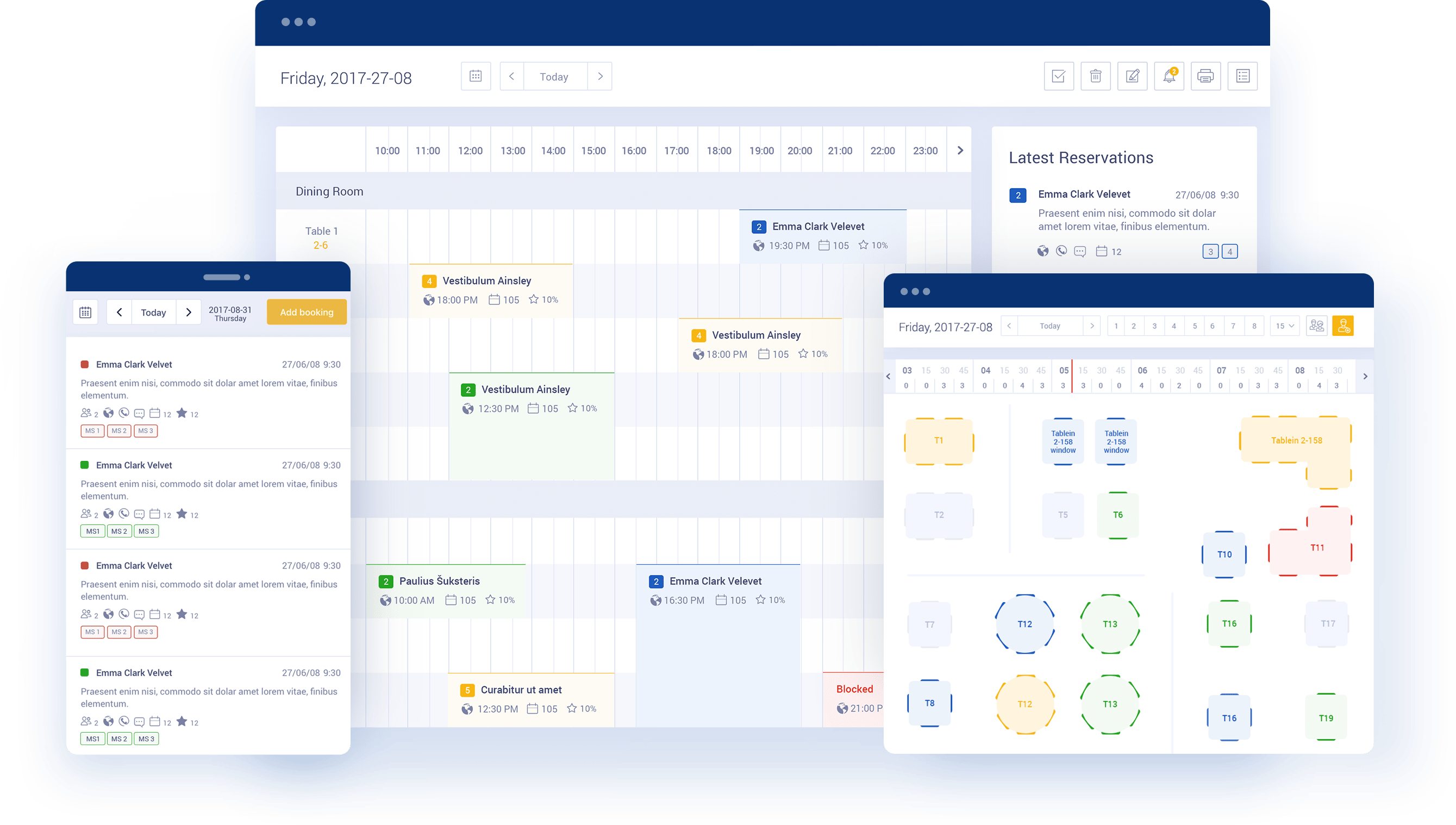 TableIn doesn't offer much in terms of table management or integrations which makes it a unique entry to this list, but nonetheless a great OpenTable alternative for those looking for a specific set of features and can make do with TableIn.
Pricing
TableIn offers two pricing tiers for restaurants thinking about using their software. Their standard plan offers you 150 reservations for free per month and then charges a premium for every booking after that while their premium plan gives you unlimited bookings. The one caveat to this is that regardless of what plan you choose, SMS are not included and will be charged per message. Their two tiers are:
Standard: $75 per month
Premium: $115 per month
Eveve
Eveve leverages your real time availability combined with your online booking pages to provide your customers with a real-time booking experience. One of their key features is preventing you from ever turning away guests when your restaurant is full, this is facilitated through "Full Availability" - a feature which offers alternative dates to your guests when their request is fully booked.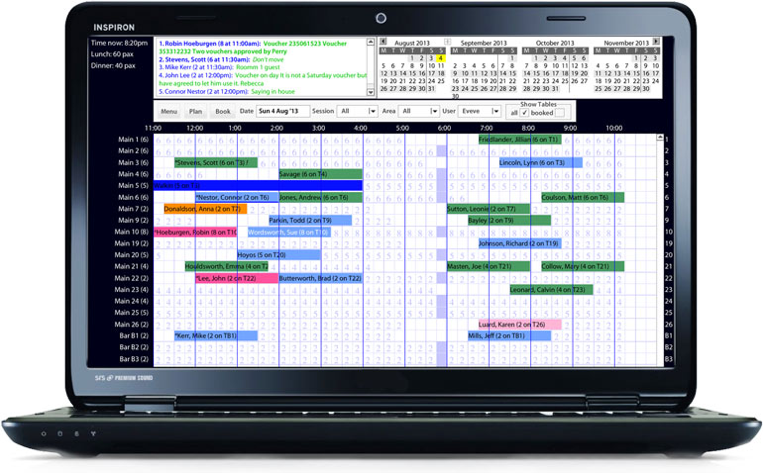 Pricing
Eveve's website makes no mention of how much their restaurant management system will cost you, but sources online estimate it to be about $150-$300 per month depending on your requirements. This includes free covers.
Table Agent
The main aim of Table Agent is to provide restaurants with an easy to use and affordable reservation system with the goal of saving restaurants as much money as possible - often times Table Agent is completely free of charge.
In an effort to keep their pricing as close to zero as possible, Table Agent offers a simple reservation system on the web that isn't regularly updated.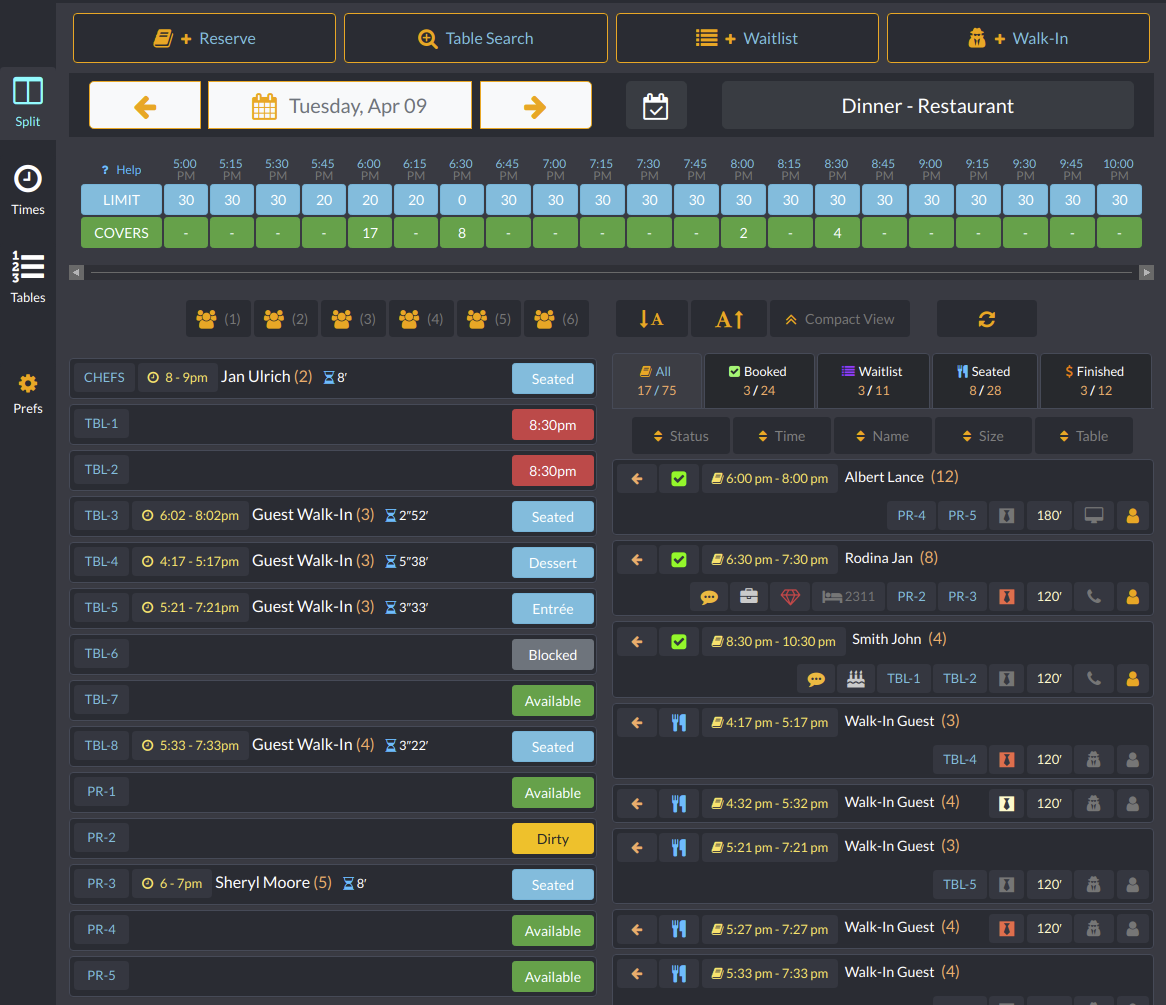 Unlike OpenTable and some of the other reservation management providers on this list, Table Agent utilizes a "List" based approach to managing reservations. This will make using Table Agent feel like a digital version of your traditional reservation book with the exception that it's connected to an online booking widget.
If you're coming from OpenTable and are used to managing your reservations through a calendar or floor plan, switching to Table Agent will definitely be a different experience.
Pricing
Table Agent is free to use for any restaurant and you will not be charged a monthly subscription fee or per cover fee. Although restaurants wanting to achieve more through Table Agent do have a couple of add-ons that will come at an extra cost.
Payments for example has two pricing options. You can either go for the fixed $1 per transaction or switch over to the unlimited payment plan at $29 per month. If you're interested in SMS support, that will set you back $20 per month.
Unique to Table Agent is the fact that all restaurants will automatically be listed on their consumer facing website. If you don't want to be on their consumer facing website you will be required to pay $30 per month for an "unlisted" account.
The Takeaway
If you are thinking about switching from OpenTable and are looking for the best alternatives, you'll quickly notice how many systems exist that achieve more or less what your restaurant requires at a much better price point.
We hope that this article sheds light on some of these OpenTable alternatives and helps you make an informed decision about what's right for your restaurant.