Picture this scenario: a guest arrives at a restaurant. His name is John, he reserved a table for his wife and two more people at 1:30 pm through the website.
John has, in fact, VIP status at that establishment. He reserved for the first time six months ago, and this is his sixth visit since then. He never brings less than two guests with him. What makes him a VIP, though, is that with his previous reservations he and the rest of his party spend $1,387 in total, $73 per cover on average
How is it possible for a restaurant to know a customer so well?
The answer is data integration.
In few years, the restaurant industry went from being wary of digitalization to embracing technology. Restaurants now have tools to help them manage all aspects of front and back of house: reservations, staff, inventory, loyalty programs, take-out and delivery to name a few.
While this allows them to do more with less, it also created situations where they have four or five independent technology solutions operating separately.
However, when two applications share data between each other, you can connect the dots and have access to a much wider picture.
In John's example, it's thanks to the integration of POS data with the reservation management system that the restaurant knows so many fine details about his past visits.
Indeed, these two tools complement each other perfectly.
Traditionally, the POS system has always been used to monitor restaurant revenue performance, find popular menu items for menu engineering, and accounting purposes. But because POS systems use tickets to store data, they won't know who the guests behind them are. That's, in fact, territory of the reservation management system and CRM.
As a restaurant operator, the idea of sharing POS data with a reservation management system may not be something usually on your mind.
But it should be. Because when integration happens, you can connect the dots and gain insight into:
Guest revenue totals by month
Server revenue totals by month
Average guest spend per month
Spend on the individual guest level
Guest spend trends over the week
Average lifetime value of guests
Average spend per booking of regular customers.
Potential revenue of winning back regular customers who haven't visited for a while.
How does POS integration work?
When POS is integrated with other systems, data flows from the POS terminals to a centralized POS server and then, through custom integration software, to a cloud-based data warehouse, to the system where the data is being shared.
The example below assumes the POS is sharing data with a restaurant reservation system. POS data flows only one way to the connected devices and all data is encrypted along the way making it a totally closed and secure system.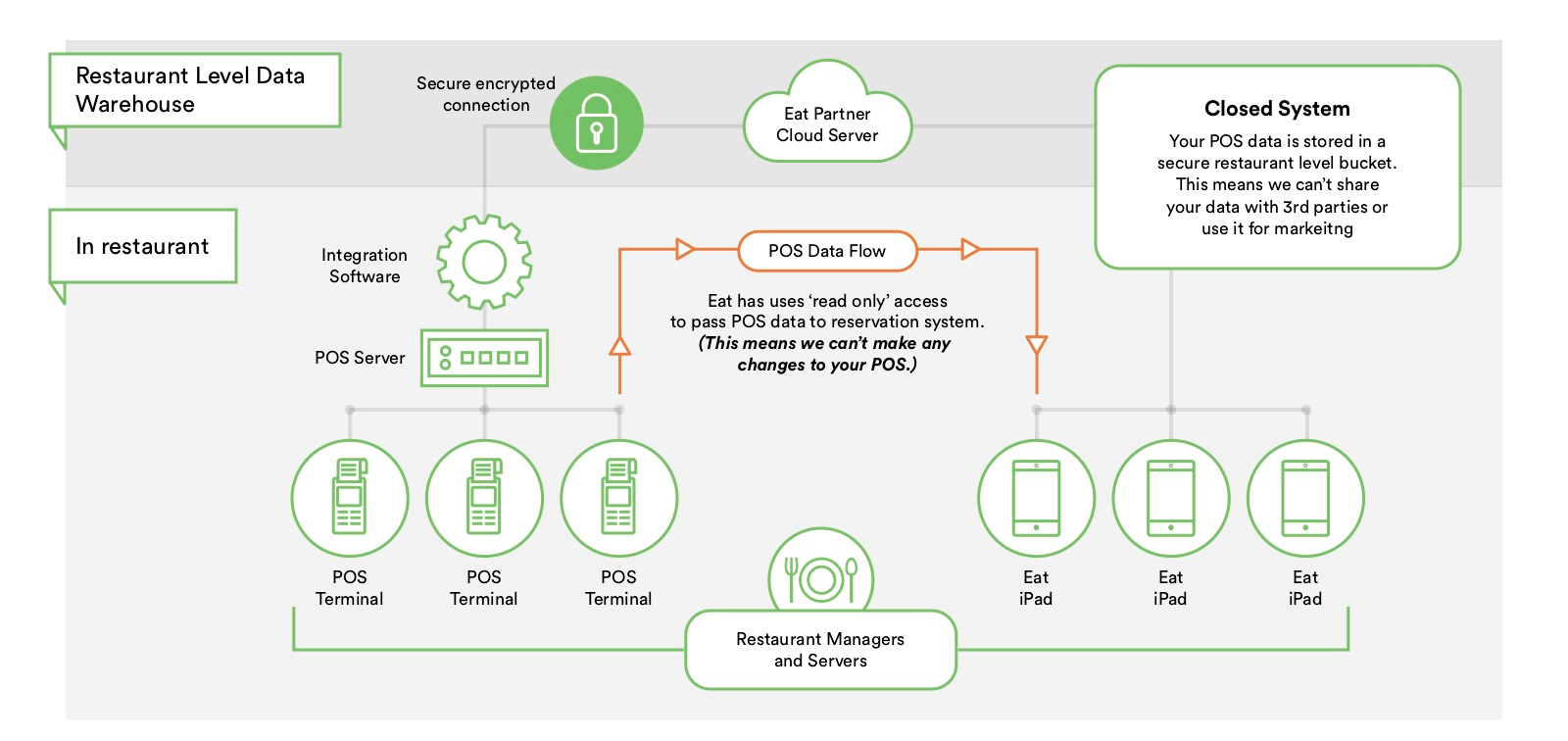 Learn more about how to setup POS integration at your restaurant.
3 reasons why POS integration is a big deal
Connecting the POS ans reservations management systems will return great benefits in three important areas.
1. Personalized service. John's example illustrates the first one quite well: personalization. Through POS integration, managers can see what guests spend money on and comp them previously ordered items, or to simply ask the right questions.

The goal of these activities is customer retention, which is particularly important with high spenders. It's not just that VIPs like John bring a lot of cash through the door. They can be the best ambassadors for your restaurant and fuel word-of-mouth.
A great way to identify them is through realized revenue rather than number of visits or guesswork. If you know that 10% of your guests spend a certain amount in a quarter or a year you can easily decide who is a VIP and who is not.
POS integration doesn't have to be the only way you track VIPs, but it adds another way of understanding your guests and which ones are likely to become strong supporters of your restaurant.
2. Segmented marketing strategies. With data integration, you can get new ideas for targeted messaging based on food preferences or allergies, preferred dining times, and popular dishes. You can then group guests into relevant 'buckets' (or what marketers call 'customer segmentation') and tailor your message based on these common characteristics.
Here are a few examples of how restaurants can increase marketing engagement and ultimately boost retention.
Birthdays

. If you have a 'happy birthday promotion', customers will gladly provide their birth date when they sign up with your reservation system. However, if you also know their dining habits, you can make your promotion more personalized.
Customize win-back offers

. When you have regular customers – especially the VIP ones – that you haven't seen at your restaurant for a while, you can send them a 'come back offer' based on past food choices.

Rewards and perks. If customer Kate has lunch regularly at your restaurant with the whole family every other Sunday, you want to give her good reason to keep coming with perks and discounts based on their preferred items.
Promote special events strategically

. Vegetarian customers won't be much interested in an email about your upcoming Argentinian BBQ night. However, if your segmentation exercise shows you that plant-based diners are a significant part of your regular customer base, you can consider organizing vegetarian food events.

Promote dishes to specific customers

. Once you know your customers' past food choices, you can be even more granular with your marketing, directly promoting items they order regularly, or different ones.
In a way, restaurant marketing should be the prosecution of personalized attention with different means. Without these insights you would simply have a long mass list of undifferentiated guests where the only plausible marketing activity is the classic email blast with the same message and offer. The exact opposite of personalized attention.
This report on different email campaigns from Eat App's system shows how efficient targeted marketing can be.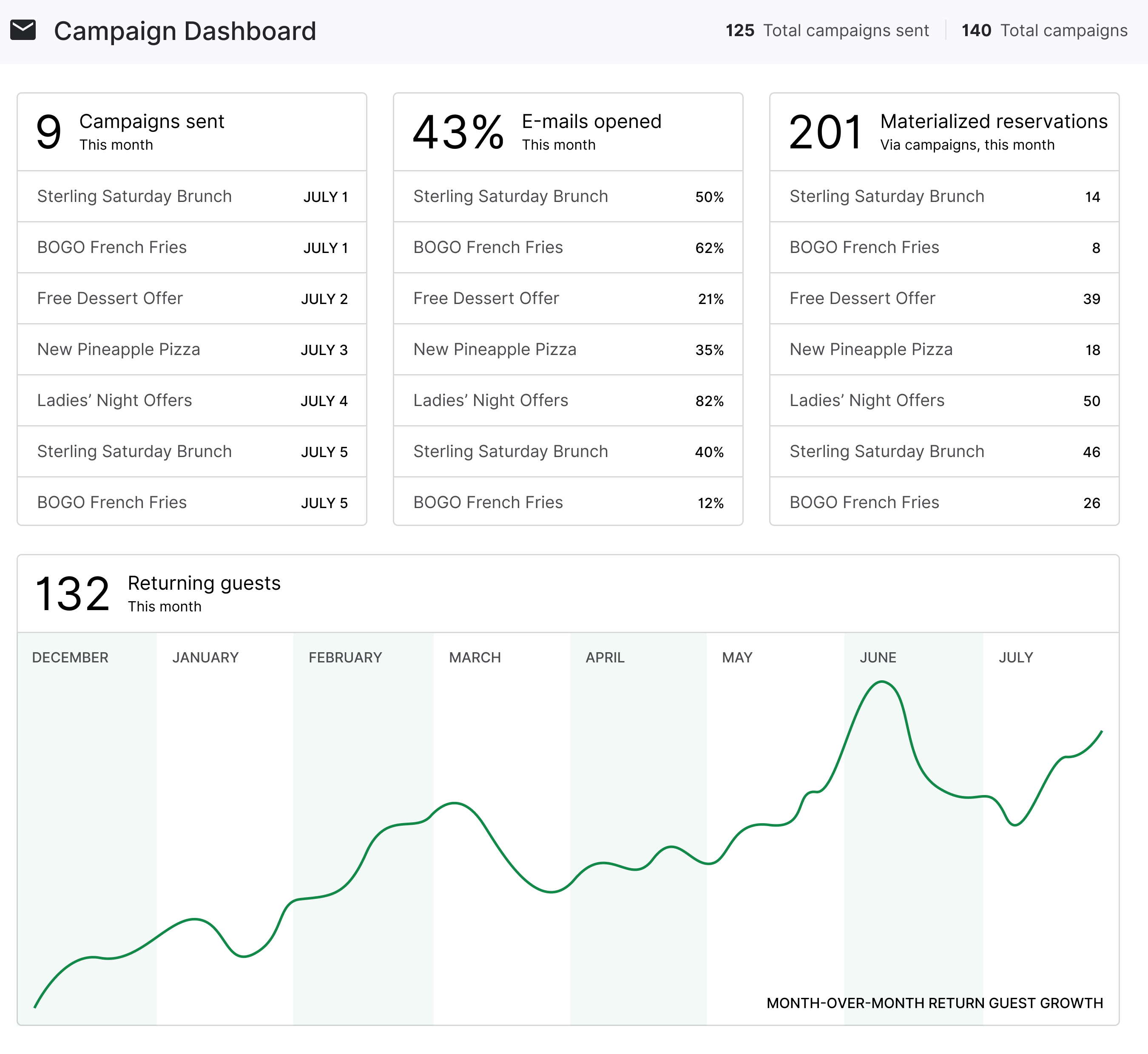 3. Improve customer service. If a customer sent back an item or complained about the slowness of service, the best thing is to reach out to them as quickly as possible, before that becomes a negative review.
However, if you have a full picture of their past visits, you can add more context and be more effective when you try to make it up to them for what happened.
These are just a few examples of what you could do when you integrate POS, guest and reservation systems, but it doesn't stop here. Once you start to see new patterns, it won't be hard to come up with other ways to promote your business and grow your bottom line.
Must-haves of a POS integration solution
When you decide to invest in an integration solution, there are three important things to look for.
Flexibility. The solution you choose should be able to work not only with your POS systems, but also with most other providers, in case you switch to a different one in the future.
Data security. When you connect your POS system and customer database, you're creating a new set of data which is twice as sensitive, as it includes sales and customers' personal information. The integration provider should therefore have a solid cloud-based infrastructure.
Privacy protection. Finally, the integration solution will need to take data protection very seriously, without even contemplating the option of selling or sharing customers' data with other parties.
Learn more about how to setup POS integration at your restaurant.