Your restaurant may have the best ambiance or serve the most delicious appetizers in your locality.
But if you don't keep tabs on its strengths and weaknesses or identify the opportunities and threats facing your business, your profitability may suffer.
That is where conducting a restaurant SWOT analysis can be your best defense against losing ground to your competitors.
What is a SWOT Analysis?
A SWOT analysis allows restaurant owners to evaluate their position in a specific market. The letters S.W.O.T stand for strengths, weaknesses, opportunities, and threats.
The first two of these – strengths and weaknesses – take into account all the things you as a business owner can reasonably control.
Opportunities and threats, on the other hand, refer to the things that you don't have control over but which can impact your business for better or worse.
Both categories come together to provide you with a holistic view of where you stand in the competitive landscape.
A cool aspect of restaurant SWOT analysis is that it's flexible. It can be applied to a new restaurant to assess its current positioning and identify a strategy to move forward. You can also use it to asses restaurant suppliers.
Established restaurants can also use a SWOT analysis to analyze a changing landscape and respond proactively.
Moreover, you can do a restaurant competitor SWOT to see what others do well and if there are any gaps in the market they primarily serve.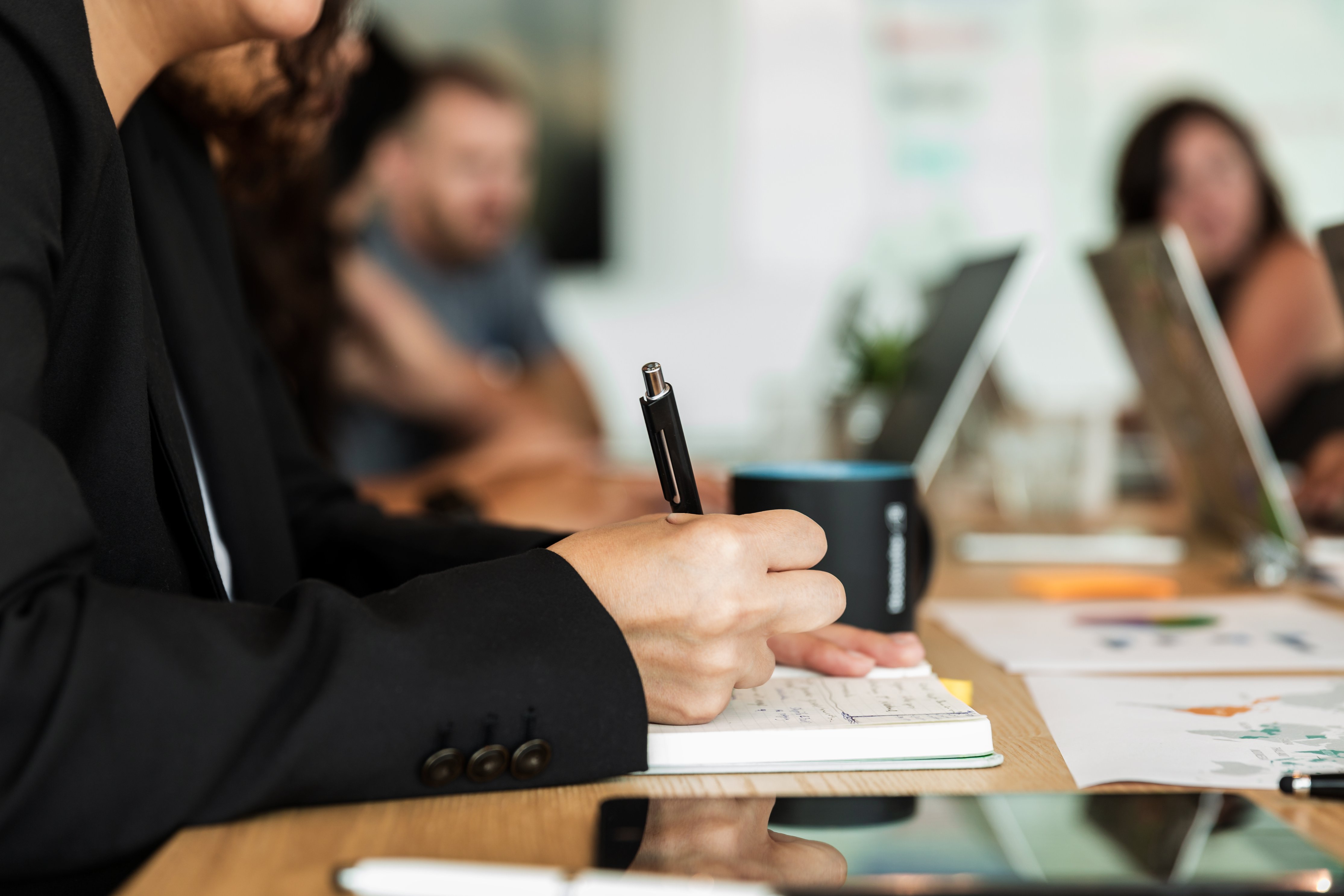 How to Carry Out a Restaurant SWOT Analysis
Many restaurants hire outside consultants when doing a SWOT analysis but if you're new in the industry or your business only has limited cash flow, it's something you should be able to manage on your own.
So let's take a look at the key steps involved, and ways to undertake those steps correctly.
Create a SWOT table
A SWOT analysis is usually done on a four-square, grid style table, with a bulleted list presented for each of its section.
You can use Canva or another similar graphic-design tool to create one for your restaurant. Alternatively, you can grab and customize one of the many pre-existing templates from the web.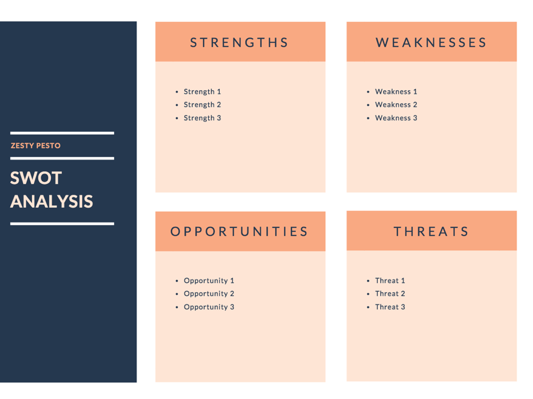 Perform the analysis
Once you have set up the table, map out the list of things you'll write in each section. Look at your strengths and weaknesses first as they're the factors you have control over, and then move onto opportunities and threats.
Brainstorming strengths and weaknesses
Start by assessing all the strong points of your restaurant. What makes people choose YOU over others?
Is it the exquisite tapas lined up by your staff? The creative seating arrangement? Your weekend special? Things that make your restaurant stand out from others qualify as your strengths.
Other strengths might include how the menu is crafted, the variety of cuisines you offer, and your ability to attract a crowd with experiential marketing during those slow times.
The next step is to see what areas of your restaurant are in need of improvement.
If you're serving a dessert that isn't getting great feedback or your chef isn't very effective at managing his/her time, these are areas that need your attention. Employee turnover also has the potential to stunt a restaurant's expansion.
Zeroing in on your negatives isn't going to be a pleasant experience (no one likes to acknowledge their flaws), but getting those weak points out in the open is the only way to accept and overcome them.
Recognizing opportunities and threat
The opportunities part is where you think about all the external factors that can increase your sales revenue.
Maybe it's high time you introduced a separate menu for patrons who've adopted a vegetarian lifestyle or participate in a culinary event to reach new audiences.
Another thing you can do is think of ways to expand or grow your existing presence. This could be something as simple as being active on Instagram or offering a deal or two during happy hours. These could be some opportunities you can capitalize on early to increase foot traffic to your restaurant.
Finally, yet importantly, in the SWOT you need the identify all possible threats to your restaurant.
An example might be that new cuisine scheduled to be introduced by a restaurant in your neighborhood.
Even if you're catering to the taste of a specific group of diners, this restaurant threatens your sales by giving everyone a new option come lunchtime.
There can be other potential threats as well, such as an increase in the price of the ingredients you regularly source, or an increase in the social media following of your closest competitor.
The more you stay vigilant about what could dampen your restaurant's profitability, the better equipped you will be to put out the fire before it catches you off guard.
Here's an example of a SWOT analysis done for an Asian style seafood restaurant: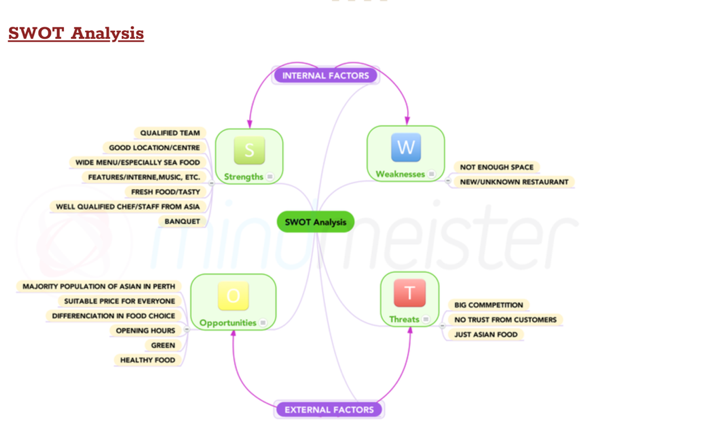 It is easy to see that most of the things are more or less similar to what we've discussed in the strengths, weakness, opportunities and threats sections.
Apart from a standard SWOT analysis, you could do a restaurant competitor SWOT to identify where others may be surpassing you as well as what leverage they have over your restaurant.
How to conduct a restaurant competitor SWOT
Part of your energy should be geared towards analyzing restaurants who're offering the same kind of food and prices as you are.
With a restaurant competitor SWOT, you can get actionable insights into what your competition is strong at and where you could do better.
Ask yourself where your target audience would prefer to eat, and then analyze the strengths, weaknesses, opportunities and threats to get a realistic picture of the competitive landscape.
For example, if your main competitor is a French restaurant located within a 5-mile radius of your location, the SWOT analysis can be done in a manner like this:
Strengths: Why do people dine at this restaurant instead of other French restaurants in the city? It could be because of the authentic taste of its meals, or its ability to keep guests entertained.
Reading a couple of reviews on TripAdvisor is a great way to know why patrons love visiting a specific restaurant.
Weaknesses: Where does this restaurant struggle in comparison to others? It might be that its menu has just one option for vegetarians. Or perhaps it's failing to engage millennial diners with a badly-executed Snapchat campaign.
Again, social media analysis and customer feedback are great resources to help you identify competitors' weaknesses (which may highlight a new strength or two for your own restaurant).
Opportunities: What measures do you think this restaurant can undertake to improve its branding, widen its target market, and/or improve its operations? Maybe it just needs to revamp its menu to include a few more appetizers.
Whatever opportunities you uncover through a competitor SWOT can be incorporated into your restaurant marketing strategy to enhance your strengths in related to your competitors.
Threats: These refer to the external factors that are beyond the control of your competitor and could place their profitability and turnover at risk.
For example, an economic downturn may have caused people to look for affordable French restaurant alternatives.
Threats are essential to keep tabs on because what's threatening your competitor's business could very well threaten yours as well.
Here's what a restaurant competitor SWOT would probably look like if your main competitor were a Thai restaurant: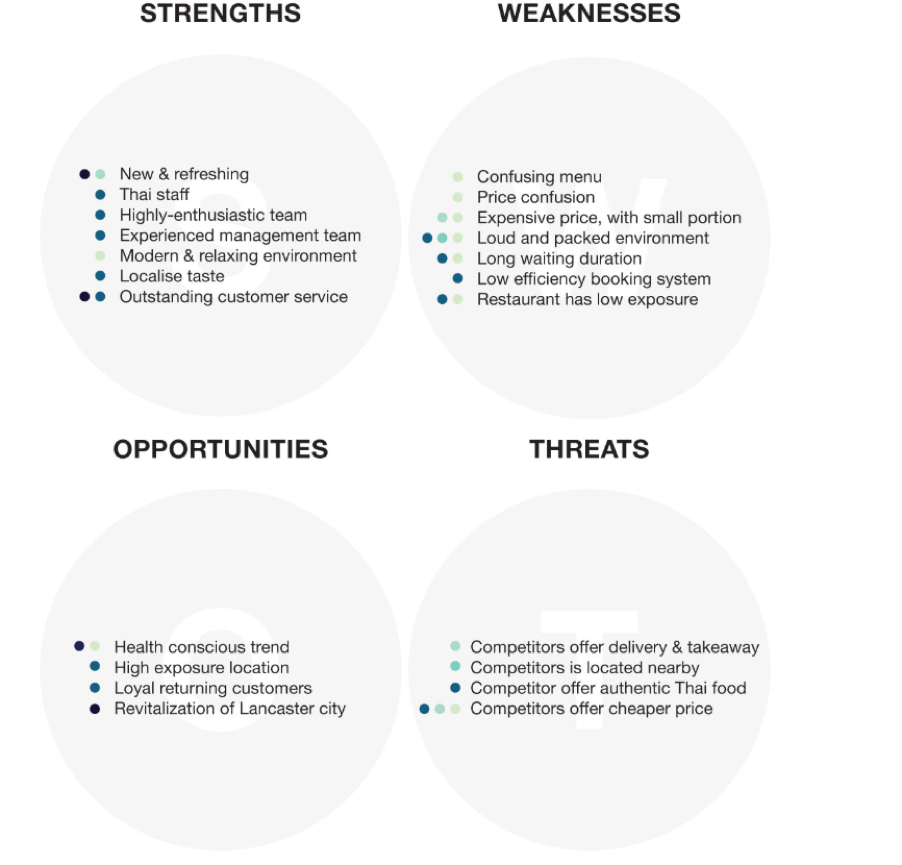 Project the restaurant competitor SWOT against your own SWOT table to see what needs to be changed and what you can do to boost your business ahead.
Final Verdict
A restaurant SWOT analysis can help you get a firmer hold on where you excel and which areas of your restaurant need attention.
It may lead you to a previously untapped market or help you identify roadblocks that could hinder your productivity. As you reaffirm your industry positioning, use it to build a solid foundation and let the rest fall into place.