Restaurant marketing has become much more complicated in the past few years.
Those in charge of promotions and generating new business at restaurants face both tough and interesting challenges. People looking to fill their stomachs now have a dizzying array of possible options, and restaurants must compete for customer attention beyond location.
To help you navigate this new marketing reality we put together an up-to-date list of 30 restaurant marketing strategies and tactics.
Unlike the majority of the posts on restaurant marketing currently at the top of Google, this one gives you up-to-date ideas and information for your next promotional initiative!
Key Takeaways
Develop a comprehensive marketing plan with online and offline strategies.

Develop a comprehensive marketing plan with online and offline strategies.
Utilize social media, email marketing, promotions, and collaborations to enhance online presence and engage with customers.
Optimize website, menu, and online ordering for a seamless customer experience.
Utilize targeted advertising, SEO, and local search strategies to drive traffic.
Offer unique dining experiences and foster positive customer relationships.
Monitor and analyze marketing efforts for continuous improvement.
Do refer to the original blog for a more detailed understanding of the discussed strategies.
But first, from the list below, here are the ideas we think have the most impact:
Top restaurant marketing strategies
Add reservation links to Google Business
Work on the presentation of dishes so they are "Instagrammable"
Improve local discovery online aka SEO
Use the restaurant marketing framework
Send email marketing that works
Focus on loyalty
Collect and use guest data
Now, before we start with the list above let's take a look at what a restaurant marketing strategy is and why it's important.
What is a restaurant marketing strategy?
How would you describe a restaurant's marketing strategy?
A restaurant marketing strategy is a plan that helps restaurant owners to increase their sales and profits. The goal of a restaurant marketing strategy is to attract guests who will then choose to dine at your restaurant.
Restaurant marketing strategies include advertising, promotions, events, focusing on guest loyalty, customer service, menu design, pricing, and location. These are some of the ways that restaurants can promote themselves.
Why is a restaurant marketing strategy important?
A restaurant marketing strategy is essential to ensure success. If you want to attract guests, you need to promote your restaurant. The good thing is that you don't have to spend a fortune to start advertising your restaurant. In fact, there are several ways to promote your restaurant without spending too much money.
Restaurant marketing strategies include social media marketing, SEO, and email marketing. These methods are affordable and effective.
Let's continue to view the full list of restaurant marketing ideas below.
---
The 32 best restaurant marketing strategies
1. Add reservation links to Google Business
Are you still obsessing over your Yelp reviews? The reality is that Yelp is becoming increasingly irrelevant as Google dominates online food searches more and more. Google's domination of local restaurant discovery was one of Skift's Megatrends.
Unless you've been living under a rock, you probably already have a Google Business account that shows your location, some pictures, website link, etc. For restaurants, this is Google Business 101. Once you've done this, and started taking advantage of Google's Open Graph and local discovery, you want to start thinking about how GMB can start bringing in more revenue.
>>> Download your free guide on how to set up your Google Reservations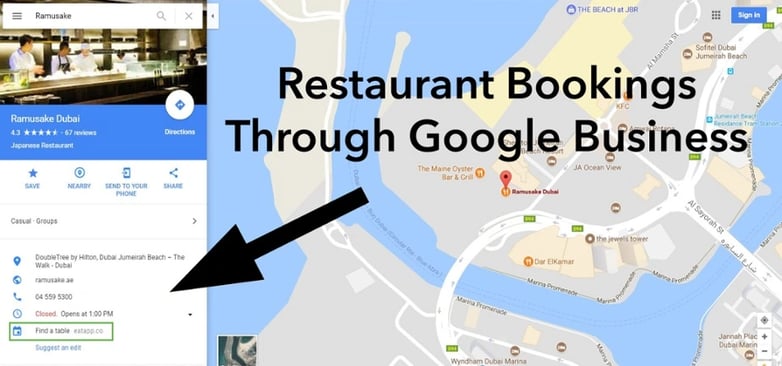 One of the ways of doing this is by taking reservations directly from your GMB page. Google now gives you the option to add a link in a field called 'reservations' that adds a link to your website or reservation system on your profile.
This link gives you a frictionless way for people to place a reservation with you from your Google profile. Some restaurants see a 20% increase in online reservations when they do this simple technique.
Interested in adding a "Reserve a Table" button to your restaurant's Google profile? Click here to sign-up for to Eat App for free and instantly activate your button.
2. Send email marketing that works (ie. personalized and automated)
Almost all articles about restaurant marketing suggest sending an 'email newsletter' as a way to get more customers. But as email marketing is used by pretty much every company under the sun, just sending out a general email once a month will usually have no impact.
Email is still a great marketing channel if you know how to use it - just remember you are competing with almost all of the biggest brands in the world for attention in people's inboxes.

So how do stand out from the crowd? By sending an email that is targeted to the recipient based on their history with your restaurant.
What would you send to someone who has only dined with you once in the past 3 months compared to someone who has come in once a week?
By using your customer data and combining it with email marketing automation you can create email marketing that is relevant to customers rather than just 'spraying and praying'

To get started with upgrading your email marketing, start by researching CRM for restaurants as well as restaurant automation solutions like those provided by Eat App.
3. Send birthday reminder emails
Related to the tactic above but this one deserves its own section. It's that important!
Birthday's the single most important dining day for most people in the year. Restaurants want to capture these diners as usually, the party size is large and the total spend is high.
Smart restaurants focus on these guests as a fundamental marketing strategy.
Record your guest's birthdays You can ask them over the phone, run survey's or ask them when they are making an online booking.
Store and manage the information in a customer database or CRM
Send them a personalized email 2 or 3 weeks out from their big day explaining why you have the best venue for their event. You could also consider adding in a special discount to sweeten the deal.
4. Connect your front-of-house to your website with live chat
Have you ever been on a website and seen a little live chat pop up from the corner of your screen?
Recent advances in live chat tech mean that it is fast becoming the go-to way of communicating with customers online. After all, you love texting your friends, so why not do the same with businesses?

Having your live chat operated by your host stand or reservation staff gives people direct access to your restaurant as well as a human touch. Potential diners can ask questions and you can grab those all-important bookings directly from the chat box.
It's another way to get diners interacting with you, and something your competitors probably aren't doing. So use it to stand out.

There are loads of options to get started for free - Google Free Live Chat for Website.
5. Try the online reservation platforms
Online booking platforms are pretty much a requirement for fine dining restaurant marketing. They give you access to millions of diners looking for places to eat each month.
In the US, OpenTable used to be the only player but in the past few years, diners now have plenty of other options like Resy and Reserve. (It depends on which country and city you are located in.)
These types of online platforms provide websites and apps that give customers tools to book online. People find the convenience and ease of reservation discovery platforms irresistible so consider tapping them as part of your strategy.
Most upscale restaurants add the cost of these services as part of their yearly marketing budget. But you should work out if these platforms are cost-effective for you as you may benefit from a free reservation system instead, like Eat App.
>>> Download our free guest acquisition strategy eBook
6. Work on the presentation of dishes so they are "Instagrammable"
'Instagrammable dessert' is a relatively new phrase in the world of restaurant marketing. The basic idea is that the plating and presentation of a dish encourage people to take photos and share them online - especially on Instagram where hashtags like #foodporn are extremely popular. (We're talking millions of pictures.)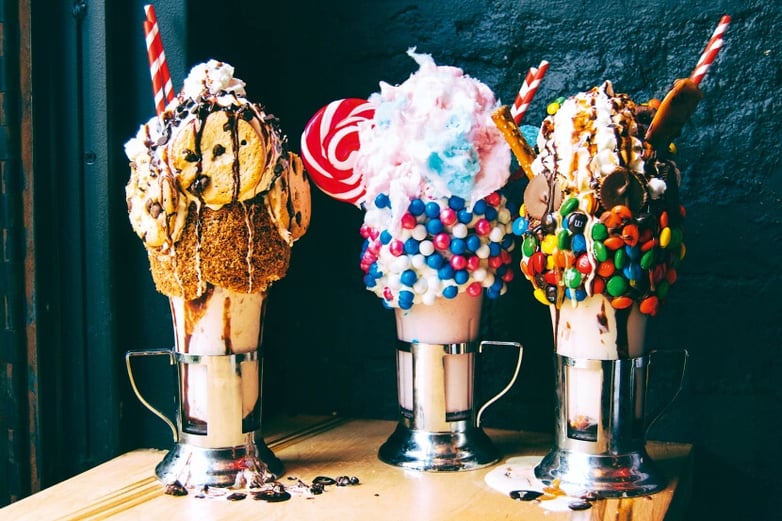 Creating Instagrammable dishes is a super powerful promotion tactic because it leverages user-generated content to spread the word about your restaurant rather than spending ad dollars.
You can create the same dish over and over again and each time it is potentially spread to a whole new audience through social media for free. Mastering this technique involves coming up with a unique idea that isn't twee or traditional.
Get it right and you can create a viral effect online for your restaurant. When it takes off this could be the highest impact strategy of all.
8 ways to make "Instagrammable" food
Consider using ingredients with matching colors
Create an experience and a spectacle to be video recorded
Create dishes that match each other when photographed together
Make the dishes bright colors
Use restaurant lighting that shows dishes in a flattering light
Make sure plates are as clean as possible
Consider not just the plate but also the table surrounding it
Add other decorative elements in the dining that people want to take pictures of
More Instagram post ideas for restaurants.
7. Run coupon and discount campaigns
Coupons and discounts are always an option to get people through the door. Offer free dishes, 10% discounts, or the ultimate of all restaurant discounts - the buy one get one free offer.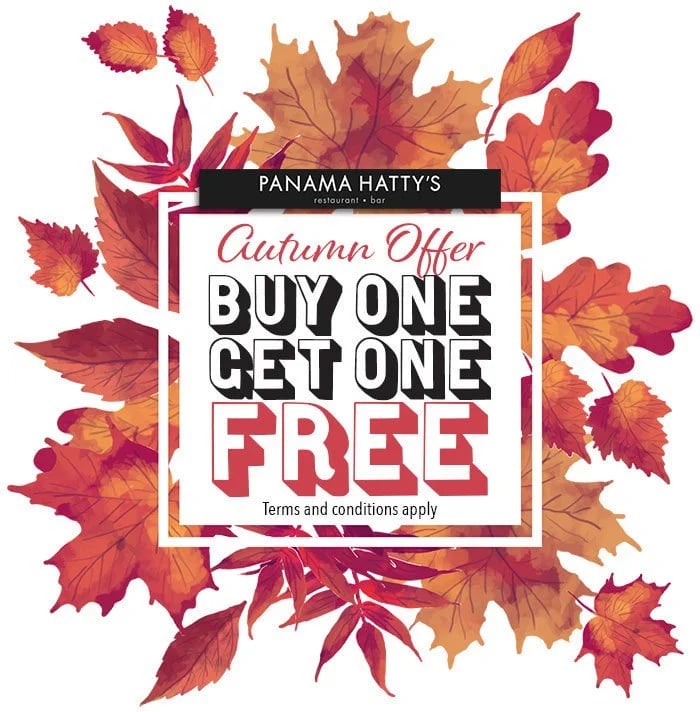 BOGOF offers are usually the best performing because offering something for free motivates people more than % discounts.
For higher-end restaurants, discounts can often lower the tone of the brand. Do them too much and customers can begin to expect them from you.
Learn more about the types of offers restaurants can use for marketing.
8. Focus on customer loyalty
Loyalty - getting customers to come back again and again should always be one of the main parts of restaurant marketing.
Loyal customers cost the least in marketing to get them to come back and are also more likely to tell their friends. ie. They are great for word-of-mouth.
Loyalty often results from simply having an awesome dining experience - great food, enjoyable interior, perception of value from the customer, etc.
But you can also actively encourage loyalty through loyalty programs and reward schemes for repeat customers. You can administer the whole thing in-house or team up with an app provider that deals specifically with loyalty.
Upscale restaurants can focus on free upgrades to the dining experience like free champagne or dessert. More casual restaurants might want to just straight up offer a discount to loyal guests.
9. Local online ads
Unless your restaurant is based on a remote island, the vast majority of your customers will be local. This of course means you want to direct your marketing spend to your local neighborhood.
Online ad platforms give you the ability to 'geo-target your advertising. In the ad platform, you simply use your city or zip code and tell the system to only target people in your nearby location.
For most restaurants, geo-targeted online ads are essential if you are going to run advertising at all. All the major ad networks like Google Ads, Facebook, Snapchat, etc offer geo-targeting so make sure it's up and running if you are running ads online.
10. Improve local discovery online aka Restaurant SEO
Every day people search for things like 'Italian restaurants near me' thousands of times.
Fun fact: Did you know that across the globe people search the terms 'restaurants near me' 20 million times every month? Astonishing.
A modern restaurant marketing plan needs to consider how your restaurant will be found for these types of local searches online. This is a huge topic for restaurants looking to dominate in SEO.
Get started by looking at the following:
Claimed and updated Google Business profile.
Accurate location info on your website. The so-called NAP.
Reviews on Google
Location keywords in your website URL structure
Optimized website pages for SEO.
11. Have an awesome online menu
Your menu is the most looked at the thing on your website and it should be part of your marketing strategy. Having an easy-to-read and well-designed online menu helps people pull the trigger and make a reservation.

A few tips for online menus. Don't bury the menu on a subpage put it on your home page. Make sure it's mobile-optimized so people can easily read it on their phones. And use a font that people can easily read online. (No crazy cursive text styling!)
12. Retargeting ads
What are retargeting ads? In a nutshell, retargeting is an ad system to show advertising to people who have visited your website but have not made a transaction. For restaurants, this is usually an online booking or a phone call.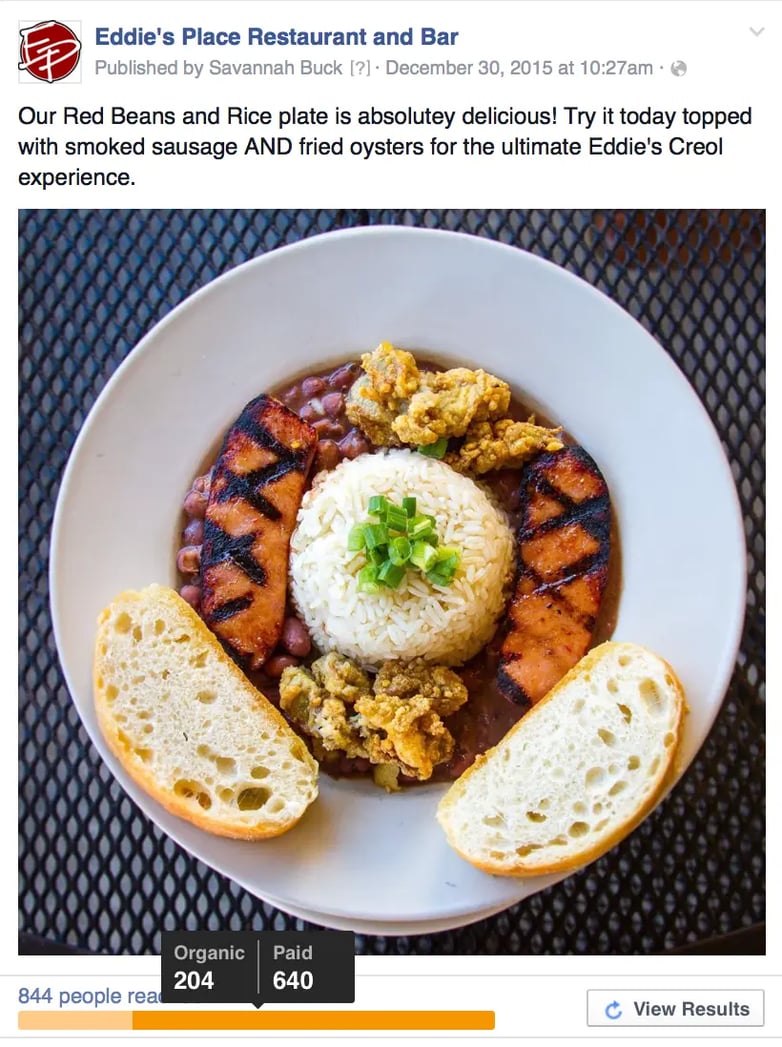 90% of website visitors never make a purchase, and retargeting is a way of following up with those people who don't convert.
Retargeting is available on all the major platforms. It requires a little bit of setup but once set up it is a very powerful ad channel. Perhaps the best.
13. Build an Unstoppable Brand
Your restaurant's brand identity has a very direct impact on customer loyalty. When you have a strong brand this is an effective promotional tool in itself and building a brand can happen in the restaurant but also on your social media and other marketing channels.
Strong restaurant brands are based on a firm grasp of your restaurant's target market. Are they health food freaks? Are they obsessed with outrageous desserts? Are you targeting people looking for an exceptional first-time date?
Your brand should be built around your target market and appeal to their design tastes and aspirations. Consistency is very important and your promotional material should represent your restaurant brand everywhere - especially on social media.

Learn how to find your restaurant's target market
14. Collect and use guest data
Guest data has the power to unlock your restaurant marketing strategy.
Keeping track of how often guests visit you, what their preferences are, and when they celebrate key events like birthdays (see above) gives you the power to send your customers targeted marketing that has a much higher chance of success than just blasting them with random messaging.
The name of the game here is personalized restaurant marketing and customers are increasingly expecting this next level of service and hospitality.
Collecting data requires a restaurant CRM.
15. SMS marketing
Can SMS marketing work for your restaurant? That depends on whether you get the target market and messaging right. SMS tends to have a very high open rate which is great news but on the flip side, it also has a low click-through rate.
This means getting the content of the SMS message right is very important.
A great place to begin is with a discount offer likely to get people excited to visit. Another option is to focus on local events and encourage people to stop by after they've been to the event.
16. Show off your ingredients
On the more upscale side of things, diners are increasingly excited about ingredients.
This means highlighting the provenance of your food. Is it locally sourced, grown organically, from specific farms, or grown specially? Often the key is to show people what you offer can't be eaten anywhere else.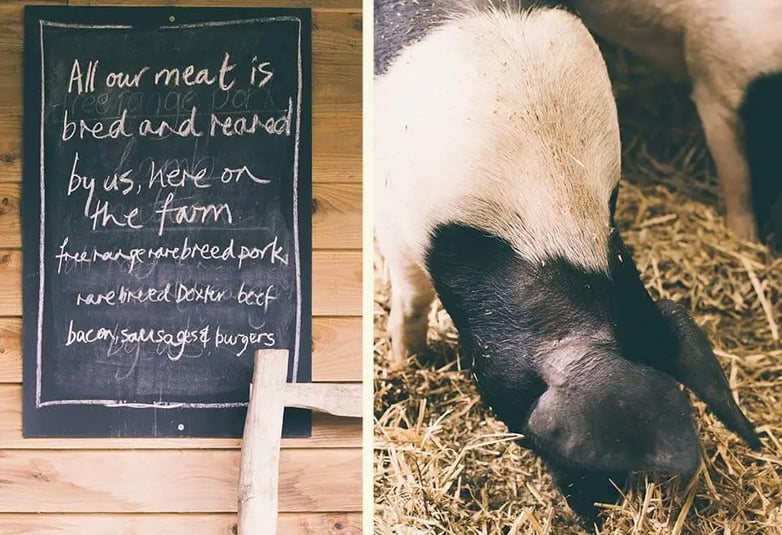 Potential diners are likely to want to dine with you more if you can establish the quality of the ingredients. The best places to show off your food are front and center on your website and as part of your social media marketing.
17. Start offering online delivery
Online food delivery is maybe the biggest thing to hit the industry in the last few years. And for good reason - customers love it!

Don't believe us? Look at this staggering graph from McKinsey.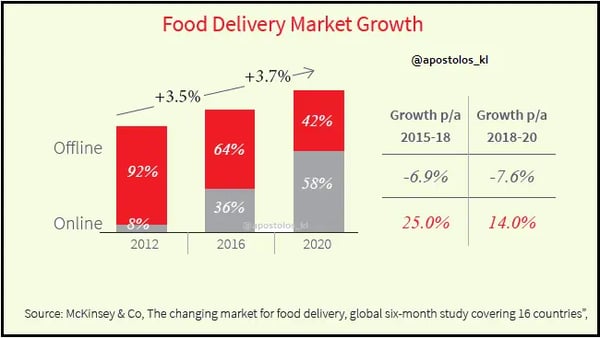 Food delivery apps deal with logistics as well as offer friendly user experiences for consumers. These apps are delivering up to 1000s of local customers to restaurants every month. Potentially a huge marketing win for restaurants.
Different apps operate in different locations so see which ones serve you. The big apps in the US are:
Seamless (iOS/Android)
Grubhub (iOS/Android)
Doordash (iOS/Android)
UberEats (iOS/Android)
Postmates (iOS/Android)
delivery.com (iOS/Android)
Yelp Eat 24 (iOS/Android)
Foodler (iOS/Android)
18. Get people engaged with live social media stories
Stories are a newish social media format pioneered by Snapchat. Usually, a portrait-sized image or video disappears after 24hrs. Across Snapchat, Facebook, and Instagram hundreds of millions of people engage with social media stories every month.
Whilst your regular social media feeds show the best, most perfect side of your restaurant, with stories you can focus more on the day-to-day vibes at your restaurants such as sharing videos of interesting kitchen prep or quick interviews with the head chef.
More about generating restaurant revenue with social media.
Schedule and plan your social media account ahead of time, with tools like Hootsuite.
19. Get serious about high-quality social media images
Food pictures are huge on Instagram and one of the best ways to get people interested in your restaurant is by posting pictures that make your food look irresistible.
High-quality visual content is a very important part of today's restaurant marketing. Food pictures entice diners like nothing else.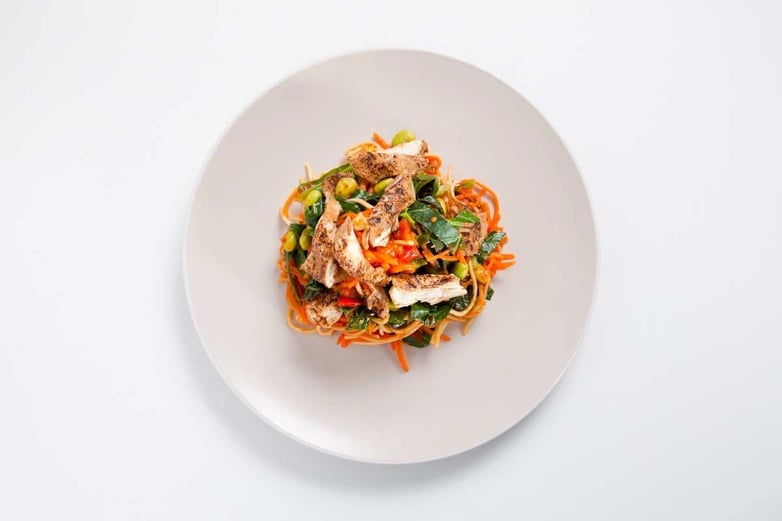 How to improve restaurant social media pictures?
Taking great pictures of food is not easy. Hiring pro photographers is one option that shouldn't be overlooked, even though it is expensive.
If you are going to take them yourself that's cool too, but seek out some training on how to use lighting and angles to make your food shine. We have a guide on taking better food photos but you can also consider taking specialized courses both online and offline.
20. Amplify PR
Write-ups and reviews from trusted media sources send all the right signals to customers. But don't rely just on getting a review published.
You can also amplify any PR you get across your social media and website. If it's a great bit of PR you can also use it in advertising.
21. Encourage and/or incentivize online reviews
For many, online reviews are the most important thing when choosing a restaurant. Having thousands of 5* reviews online makes it very easy for people searching online for restaurants to choose your place over the competition.

Try simply asking people to review you if they have had a great experience, or go one step further and just incentivize people to leave positive reviews.
22. Respond to online reviews
Online reviews are either a boon or a bust. Getting negative reviews will have a negative impact on business. Managing and replying to online reviews, especially if they are bad is, therefore, an essential marketing strategy.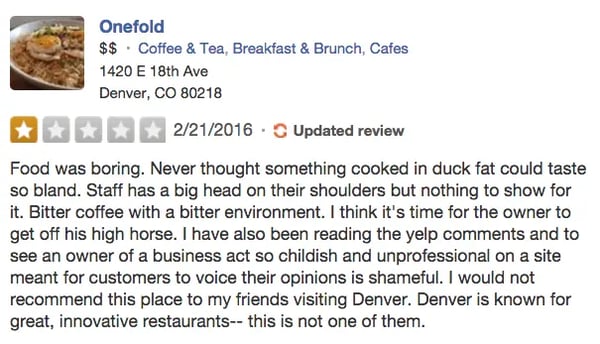 How to turn negative online reviews into a marketing opportunity?
You can approach a negative review with a positive attitude and use it to your advantage. Start with the EASE framework for managing reviews.
Empathize: See it from the guest's point of view and emphasize their viewpoint.
Acknowledge: Let people know you accept the problem and that you are listening.
Solve: Take action and resolve the problem for them
Evaluate: Consider how this can be avoided in the future
When replying to negative reviews:
Don't reply with copy/paste text: Don't sound automated
Don't ask them to contact you directly: This will offend them.
Don't just say you'll 'look into the problem': No one believes phrases like this
Don't just message them privately: Take full responsibility and solve the problem publicly.
Need more advice on online reviews? Take a deep dive with our online review management guide.
23. Get started with blogging
For the creative-minded, a blog can be a great outlet to promote your restaurant. Blogging can also be a great place to build your brand.
You don't need to write 2000 words every week, but keeping people who visit your website updated with content from your restaurant can engage and encourage them to visit.
Don't feel like writing? Consider focusing on visual content in your blog and use just a small amount of text for context.
24. Get Influencers to post on social media
Influencers are social media accounts that have a large following either in your industry or in your city.

The name of the game with influencer marketing is to invite an influencer to your restaurant, give them a free dining experience, and in exchange, they will share that experience with all their engaged followers.
The best place to start with influencers is with local Instagram users with a large following. Do some research to find people with large followings, ideally over 10,000 followers, and also who fit in with the brand of your restaurants.
An example is fitness influencers for a natural ingredient-focused restaurant.
Once you've found some good targets reach out to them in a private message and see if they would be interested.
Restaurants that win at influencer marketing often go the extra mile and provide the Influencer with an outstanding experience that gets people buzzing online.

More marketing ideas for restaurants on social media.
25. Use the restaurant marketing framework
Marketing strategies and tactics don't exist in silos. Combining your efforts into multiple, connected strategies often results in more than the sum of its parts. Holistically approaching your restaurant marketing plan is a great idea and that's where marketing frameworks come in.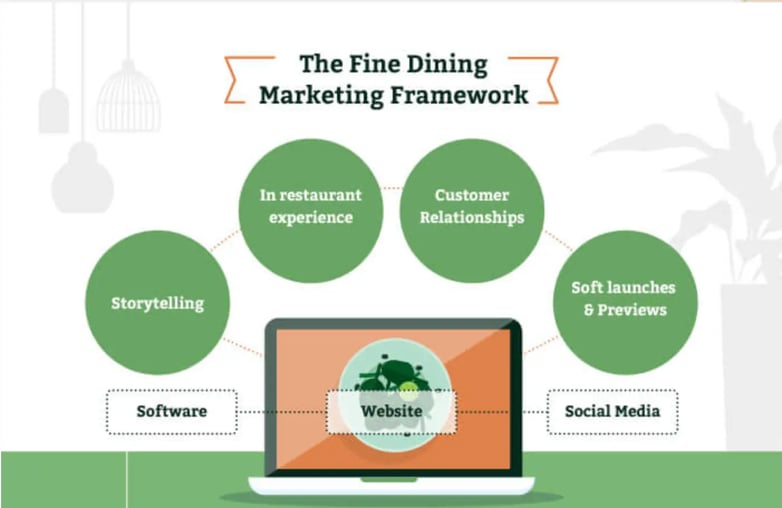 A framework is a system you can use to structure multiple aspects of your marketing efforts and break them down into manageable pieces.
An example is the Fine Dine Restaurant Marketing Framework that we built to help restaurants. (It's aimed at fine dining but applies to almost everyone).
In this framework restaurants focus on storytelling, the in-restaurant experience, customer relationship management (CRM), customer journey, and soft launches as the basis for their marketing. These topics are then spread through various channels with a strong technology marketing stack.
Read more about the framework and see the infographic.
26. Google ads, Facebook ads, Instagram ads
Most restaurants have at least considered running digital ads to promote their business.
Online ads have a low barrier to entry - they are easy to set up and you can start with a very small budget just to test the water.
We recommend Facebook ads, Instagram ads, and Google Ads when getting started with restaurant advertising.

Each ad platform has its own unique features which you will become familiar with over time. But be warned - in mature markets like the US and UK - digital ads are not so cheap anymore, so monitor the performance closely and turn them off if not performing.
With digital ads, you must master the basics to get good ROI. These are:
Targeting
Showing your ads to the right people is the most important predictor of success. Read up on how to effectively target people by both location and interest categories.
Creative
Having great-looking ads that appeal to your customers is a must. Consider images, copy, and theme of ads. Are you promoting discounts or just the restaurant in general?
Analytics and testing
Monitoring the performance of your ads and continually testing new combinations of creatives and targeting is also a must.
27. Build and promote your tribe on social media
Reposting your customer's content on social media shows you appreciate and celebrate them. This is a simple little restaurant marketing hack that gets customers engaged as well as creating a two-way guest relationship. Spread the love!
More ways to promote your restaurant.
28. Upgrade your website
Menu, opening hours, and location - these are the main pieces of information customers look for from restaurant websites. How easy is it for customers to get this info from your website, especially on their phones? Can it be better?
After you've got the basics covered, how easy is it for people to make online bookings? Is the reservations button clear and easy to find? Is the process seamless and real-time?
Next, consider how your website represents your brand and how it gives them an experience of your restaurant before they've even dined with you. How can this be improved?
29. Don't forget about Yelp!
The truth is that Yelp is a much less important marketing channel for restaurants than it was in the past. Other websites, and especially Google, are now overtaking it in importance for discovery. Restaurant owners are also finding it increasingly tiresome to deal with the reviews and the general perception is that the quality of reviews is dropping.

Nevertheless, Yelp still has a lot of users and drives a significant amount of new customers to restaurants. The need to keep a properly optimized Yelp profile hasn't suddenly gone away!

Indeed, Yelp now processes millions of reservations every month for restaurants in the US.
According to this study - people use online customer reviews 77% of the time to make decisions. This means Yelp is still very much in the restaurant marketing game.
30. Use restaurant surveys
You can't make good decisions without knowing what your customers think about you.
If you survey your customers regularly this will give you an indication of not just where you can improve but also how what people care about.
With Eat App's feedback and survey feature, restaurant owners can get real-time guest feedback directly delivered to their inbox, as well as live reports that will essentially help staff members improve the overall guest experience.
Download your free guide on guest feedback here.
Addressing these concerns in your marketing as well as promoting what diners say they already liked means you are more likely to impact people's decision-making.

Learn more about surveying customers at your restaurant.
31. Give back to the community
If you're a local restaurant, it's important to focus on marketing strategies that will help you win over the community. You can do this by showing your support towards a cause close to your heart.
Show your guests just how much you care for their community, by adding an item on your menu where a portion of the profits is donated to the particular cause. This could either be part of a limited or yearly campaign that's in line with an awareness month or day.
You also have the option to donate your venue for an event and help a charity from the community raise funds on the evening.
32. Define your restaurant brand
This is probably one of the most overlooked marketing strategies, yet it's one of the most effective ways to help a restaurant succeed. Why? If you want a guest to remember you long after they left your restaurant, they need to know and understand your restaurant's brand identity.
Luckily, with a little bit of creativity and a few easy steps, you will be able to define your restaurant's brand identity:
Step 1 - Start by developing your restaurant mission statement that puts together your restaurant's goal and why it exists. To help, we've put together a free mission statement template.
Step 2 - Determine your restaurant's personality by developing a brand voice and design style. This refers to the way to speak and communicate with your guests as well as the designs you use on social media.
Step 3 - It's important to position your restaurant within the market. With that being said, you need to determine what your price is, what promotions you do, and what products you sell to your guests. You can also view how this compares with other restaurants in your area.
Summary
Here's the restaurant marketing ideas list in full for easy reference!
1. Add reservation links to Google Business
2. Send email marketing that works
3. Send birthday reminder emails
4. Connect your front-of-house to your website with live chat
5. Try the online reservation platforms
6. Work on the presentation of dishes so they are "Instagrammable"
7. Run coupon and discount campaigns
8. Focus on customer loyalty
9. Local online ads
10. Improve local discovery online aka Restaurant SEO
11. Have an awesome online menu
12. Restaurant Retargeting ads
13. Build an Unstoppable Brand
14. Collect and use guest data
15. SMS marketing
16. Show off your ingredients
17. Start offering online delivery
18. Get people engaged with live social media stories
19. Get serious about high-quality social media images
20. Amplify PR
21. Encourage and/or incentivize online reviews
22. Respond to online reviews
23. Get started with blogging
24. Get Influencers to post on social media
25. Use the restaurant marketing framework
26. Google ads, Facebook ads, Instagram ads
27. Build and promote your tribe on social media
28. Upgrade your website
29. Don't forget about Yelp!
30. Use restaurant surveys
31. Give back to the community
32. Define your brand
Sign up for your free Eat App account and start putting some of these strategies into action today with a suite of features that enable seamless restaurant marketing.