Email marketing is a hot topic across different industries, and marketers swear it makes a difference in almost every niche.
Restaurant email marketing presents an engaging and cost-effective way to establish solid relationships with your customers.
"As a busy restaurant owner, I can see the benefit of building an email list of diners that I can regularly contact.", says Pascal Arnoux, owner of The Old Vicarage Restaurant in Burton on Trent.
Statistics claim that the average open rate of email campaigns is 20%, while the click rate for restaurants is less than 2%. Then, why do we do it?
"The more my clients spend on paid advertising, the more they appreciate email marketing. Usually, email marketing is the last thing they'll try.
But, that is the channel where they get the most impressive results." says Stef Simon, email marketing expert, highlighting that over 60% of online sales are made with email marketing.
Even though 20% and 2% seem small and ineffective, when given a large email list of diners this percentage can boost your bookings and help build meaningful relationships with your guests.
Is restaurant email marketing successful?
Restaurant email marketing is one of the most efficient ways to connect with your guests, welcome new customers, and promote special offers to reward loyal customers.
As we've mentioned before, 60% of consumers have made a purchase from a marketing email, while only a meager 12.5% of them even consider social media's "buy button" a purchasing driver.
However, not every email marketing strategy is going to be as effective. Read on for the best practices for making an amazing email marketing campaign that inspires your customers to return.
Key Takeaways
Email marketing is way more efficient than social media marketing and advertising.
Email is the best digital marketing channel to maintain healthy two-way communication with restaurant guests.
Personalized and targeted campaigns can go a long way in ensuring customer loyalty.
There are different types of restaurant emails you can send out depending on the current relationship with your subscriber.
Best practices on how to create a killer email marketing strategy
Restaurant email marketing is slightly different from any other email marketing. First of all, the relationships established with your guests are made through live experiences and include the delicious food, service, ambiance, and other factors that make a great restaurant.
Email marketing best practices include understanding and catering to your subscribers as well as you would your guests while maintaining the restaurant's branding in every direct mail you send out.
Here are the best practices you can implement in your email marketing for restaurants.
Collect important dates
Creating deep interpersonal relationships with your guests starts with getting to know them better, aka collecting customer data. You can collect customer data through surveys, Google accounts, booking accounts, Wi-Fi logins in the restaurant, QR menu scanners, etc.
Customer data such as their names, ages, and birthdays allow you to personalize email campaigns and target each customer's preferences.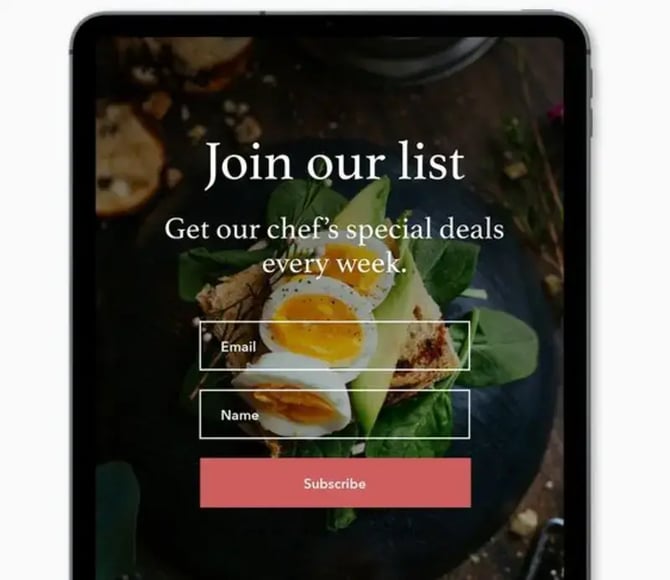 Personalize email campaigns
The direct connection between guests and restaurants and the ability to create hyper-targeted, personalized messages through segmentation is what makes emails so effective. Personalization means that your restaurant emails address the guests by name, but it is far more than that.
For example, you can segment your email list by age. You can then invite the younger audience to your events that might be interesting to them while creating fine dining offers for couples or families.
Start with a powerful welcome email
Welcome emails are the first touchpoint after which your guests will decide whether to unsubscribe or remain on your list. They should be simple: "Thank you for coming, we hope to see you again!"
You can also include a link for their feedback and review, as well as other useful links such as the menu and event calendar.
Keep the welcome email light, with no overwhelming information, just let the customers know their presence is appreciated.
Be creative with the subject line
Email subject lines are ultimately what makes us open an email in the first place. To make the subject line effective, use the following elements: Restaurant name, Customer name, and Call-to-action.
Whenever you have the opportunity to spice things up with a current trend in your community, use it to distinguish your email from a bunch of other promotions.
Here are some examples you can use for inspiration:
Save Your Spot Now! Bookings at [Restaurant Name] are now open!
Hey [Customer Name], thank you for joining us at [Event Name]!
How did you like our [Items Ordered], [Customer Name]?
We loved seeing your face, [Customer Name]! Grab your discount for your next dessert, it's on us!
New On The Menu: Something's cooking in [Restaurant Name]'s kitchen
Happy birthday, [Customer Name]! We got you a little something.
Looking for the perfect date spot? We've got the table just for you.
Avoid "spamming" your guests
When creating a restaurant email marketing strategy, it is vital to space out the emails in order for the readers not to get overwhelmed.
If you are using an app such as Eat App to stay in touch with your guests, read into the campaign results to check in if the receivers are at all interested in your offers.
You can automate new emails in regards to the open rate and send the updates more frequently to regular customers while giving the less interested readers more space.
Monitor your open rate
Monitoring a restaurant email marketing campaign starts with checking in with the open rate of the emails. This is the best way to determine if your subject lines are effective and which ones work best.
Moreover, you can further segment your email list based on the criteria of who opens your emails the most.
Your most loyal customers are more likely to be interested in events and promotions, while the subscribers who rarely open your newsletter need to be enticed in a more creative way.
Include tasty images
Powerful visuals are the core of email marketing for restaurants. Digital scrollers are visual content consumers, and featuring delicious images of your menu items can significantly support your marketing efforts.
Nothing inspires a potential guest to make a reservation as a newsletter that makes them hungry and craving the special sauce you make.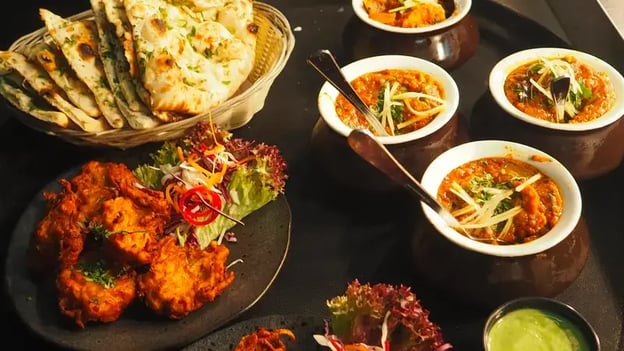 Create a variety of different mailers
Different mailers can be effective with different customer types. For example, if you have yet to attract new customers, a catalog featuring your best menu items can be a way to inspire interest.
Another type of mailer you can design is a brochure - an overview of your restaurant or a special event/promotion you are preparing.
A brochure would include a restaurant website link, reservation CTA button, and link to other marketing channels such as your social media where you maintain constant contact with the audience.
Share important updates
A solid restaurant email marketing strategy includes sharing news and updates regarding your business. Here are some of the email subject lines you can use for updates:
New on the menu! Try [Restaurant Name]'s exotic garlic shrimp flavors!
We just arrived in your neighborhood! Check out [Restaurant Name]'s new locations in your town.
Special offer on all our deliveries in your area, [Customer Name]!
Don't forget to include details about your updates and instructions for booking/ordering, to make it easy for subscribers to interact with you.
Stay in the game for the holiday season
Every important holiday brings high potential for fully booked restaurants. Advertising your offers, promotions, and vouchers can be a great way to kick off your restaurant marketing strategy.
Prepare for the holidays in advance, by designing original customer experiences for New Year's Eve, Valentine's Day, Women's Day, as well as Black Friday for takeout platforms.
For example, create the Menu Of The Day for two, for special occasions such as romantic holidays. Introduce it to your guests through email marketing and wait for the next table to be booked online.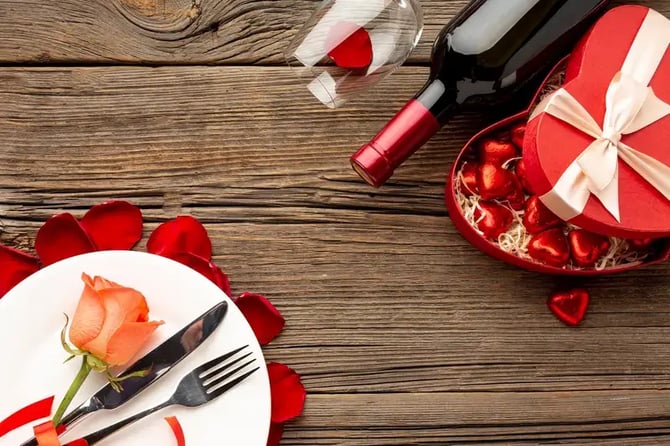 Test and measure performance
Every email marketing, including restaurant email marketing, depends on piloting and testing, and finding the sweet spot for your own audience.
Track metrics such as open rate, click rate, and number of reservations made, to gain deeper insight into customer behavior and tailor better email campaigns in the future.
Different customer types require a slightly different and strategic approach. For example, a lost regular customer needs to be approached with an invitation to revisit, but also a question of what you could have done better to maintain that relationship.
A special offer + request for feedback can help revive lost customers or at least help you get feedback about why they don't visit your restaurant anymore.
Monitor email marketing campaign results
Monitoring the results of your restaurant email marketing campaign is a smart way to improve your strategy and fix potential slips promptly.
With Eat App, you can see comprehensive insights on open rates and click rates within welcome emails, follow-up emails, and reminders you send out to your guests.
There is no perfect recipe for designing the ultimate restaurant email marketing strategy - the success of each campaign highly depends on your specific target audience and its preferences. This is why it is crucial to converse with your guests and read into the performance analytics.
Send emails that fit your target audience
As we've highlighted before, each customer type requires a personalized approach. This implies getting into whether they are:
Regular customers
First-time customers
Lost regular customers
But also understanding the demographics and motives behind their dining decisions. A fine-dining restaurant targets a certain type of clientele and cannot launch the same email marketing campaign as a fast food downtown bar for after-party folks.
For example, fine diners might be interested in promotions they can get for their special occasions and celebrations. On the other hand, a fast food restaurant can promote Friday night meals and combos, as well as deliveries to different hot spots. 10 Best restaurant email examples
10 Best restaurant email examples
Without further ado, here are the 10 restaurant email marketing examples you can use in your next campaign.
#1 Simple promotion for first orders
Whenever you are in doubt about how to design your first email - minimalism is a good way to go.
Start off with a simple discount promotion for first-time orders and first-time reservations. Vouchers are a safe way to attract customers and then amaze them with your awesome food.
Good Eggs did a great job with their Welcome email – check it out!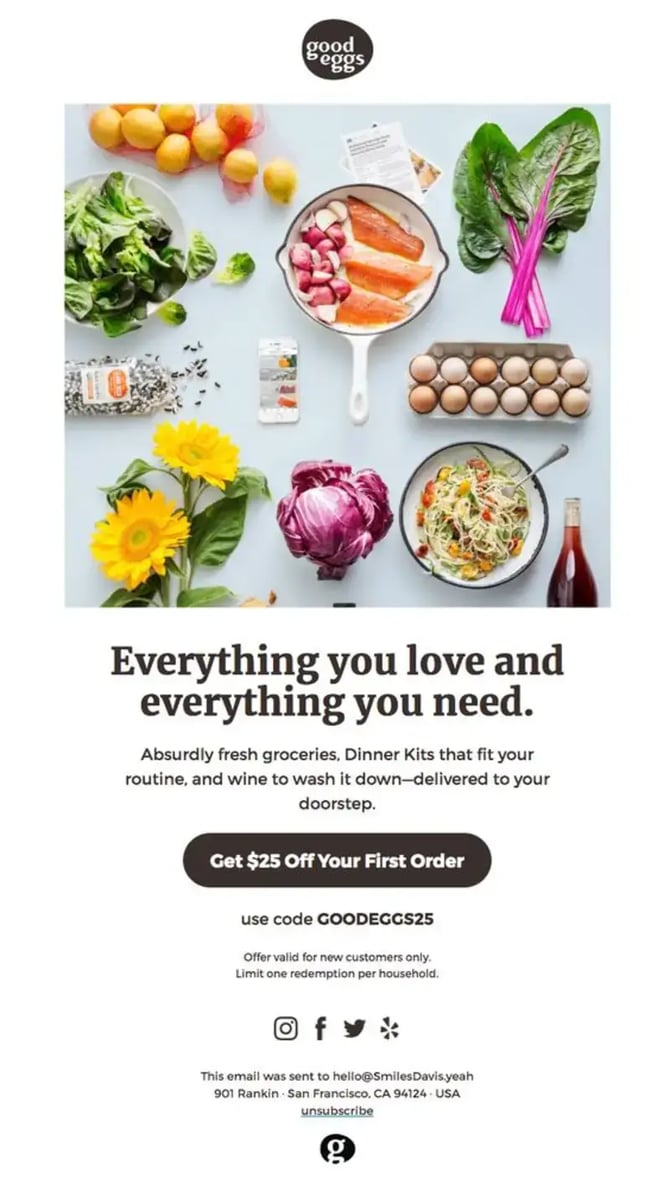 #2 Best on the menu newsletter
Use email newsletters to remind customers what your specialties are and why they should miss eating at your place. Specific customers are taking care of their diet, so some marketing emails you send out can include the number of calories each portion contains. Check out the email sent by Esther's Kitchen to feature the Payday offer.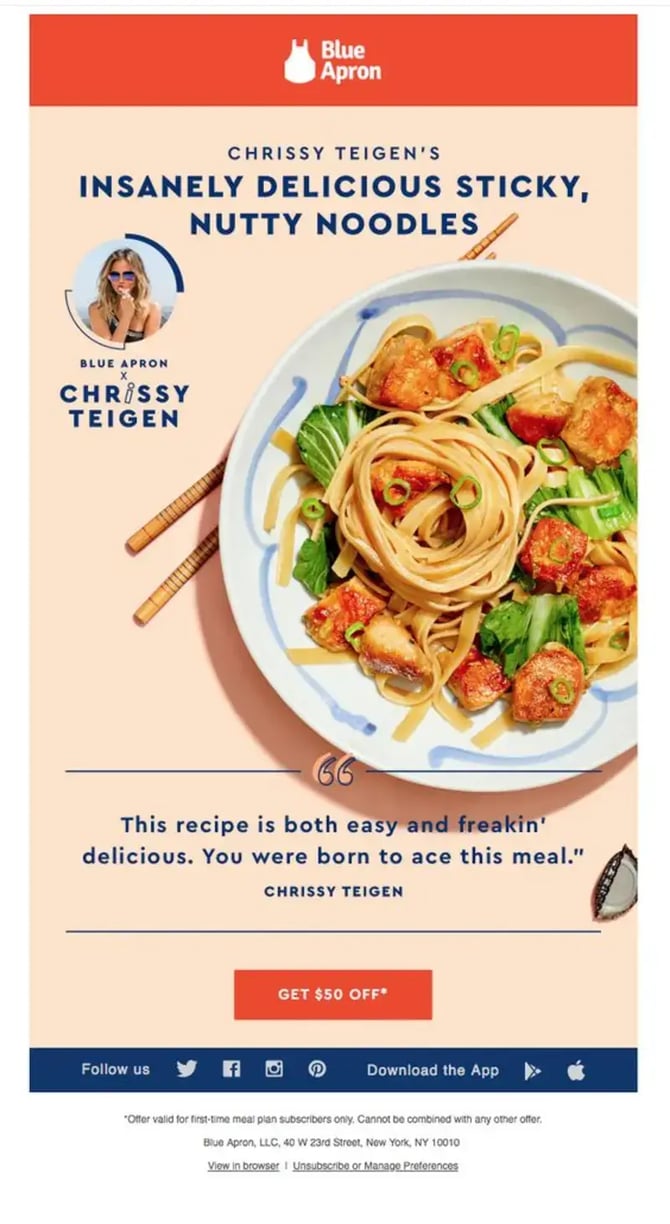 #3 Weekend sale template
Right next to holidays, weekends are the perfect opportunity to send marketing emails and introduce a loyalty program for diners and takeaway customers.
The email subject line that goes well with this example from HealthyFood: "Anything planned for the weekend, [Customer Name]? [Restaurant Name] has just the stuff for you!"
​​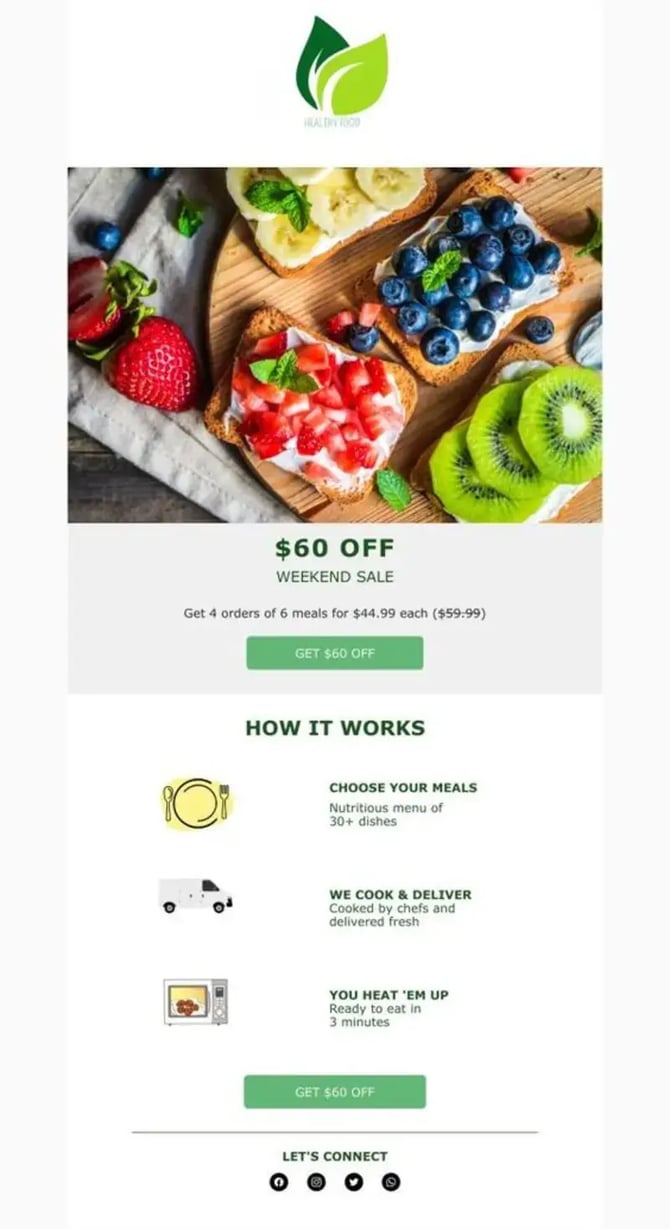 #4 Featuring your best meal
What is your signature dish that leaves every guest speechless? Remind your visitors of what they enjoy the most about your kitchen within your restaurant newsletter.
Combined with the tasty pictures and simple design, this example from Blue Apron brings reservation clicks your way.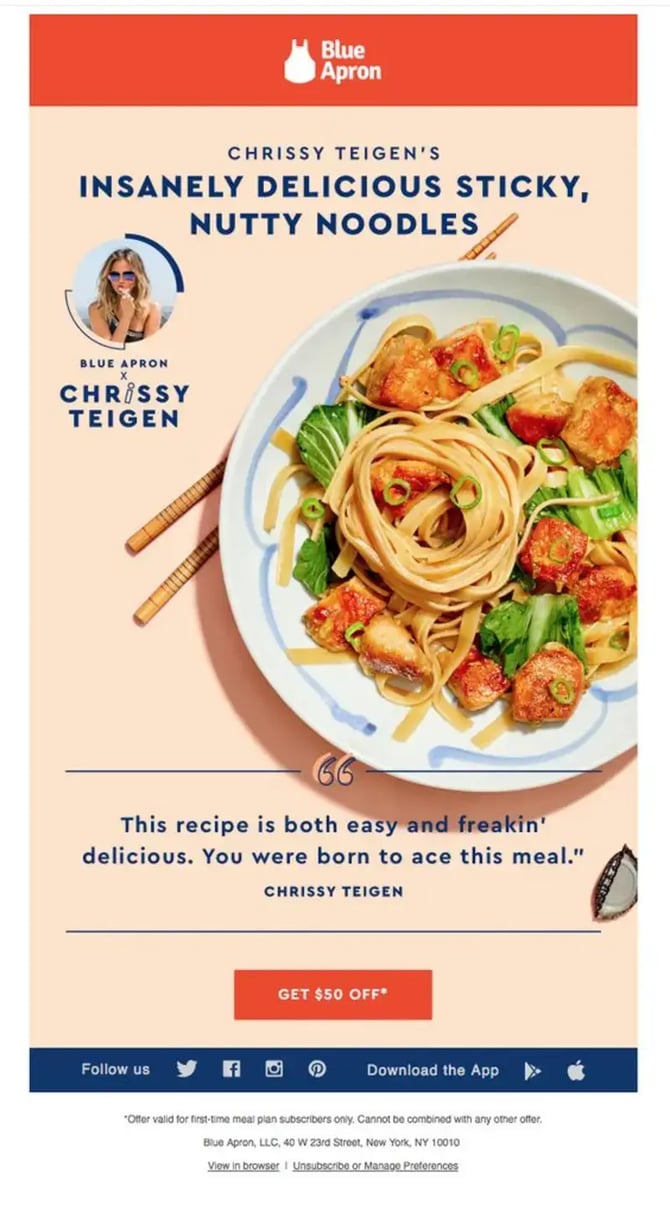 #5 Daily specials email template
This example from Maple is designed for true gourmets. Share your food philosophy and passion behind crafting the perfect plate for your guests and their fine-dining experience.
Introduce colorful images of dishes and use plain black and white for the background to make the ingredients stand out.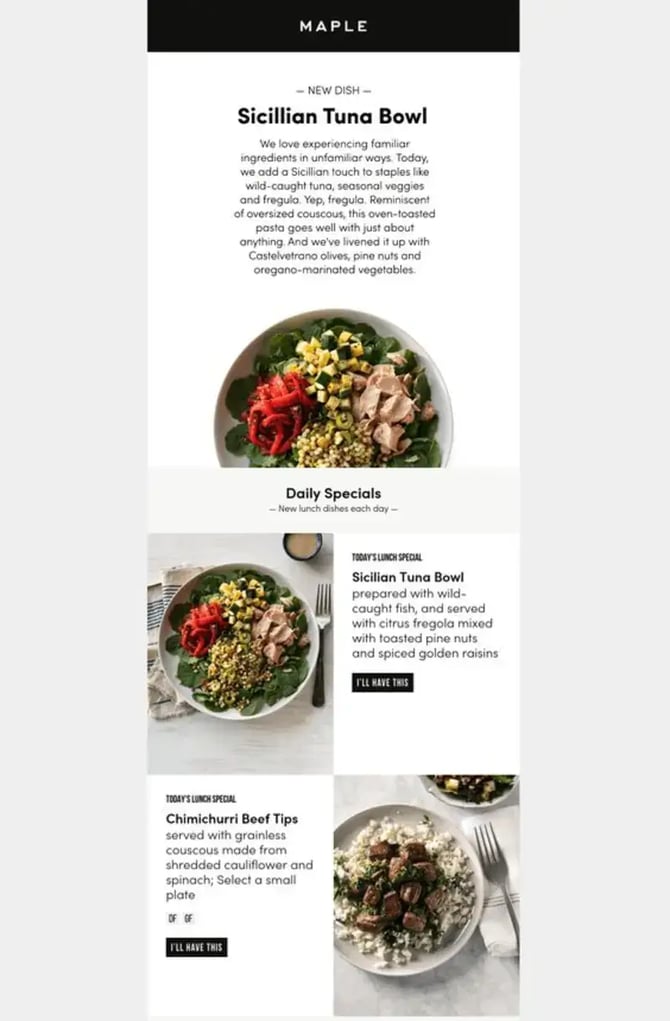 #6 New on the menu - creative template
A good wordplay in a subject line is what will inspire those open rates to jump. Simple marketing emails with short descriptions of the meal invite potential customers to click the online ordering button.
Check out this example from SweetGreen to see what we're talking about.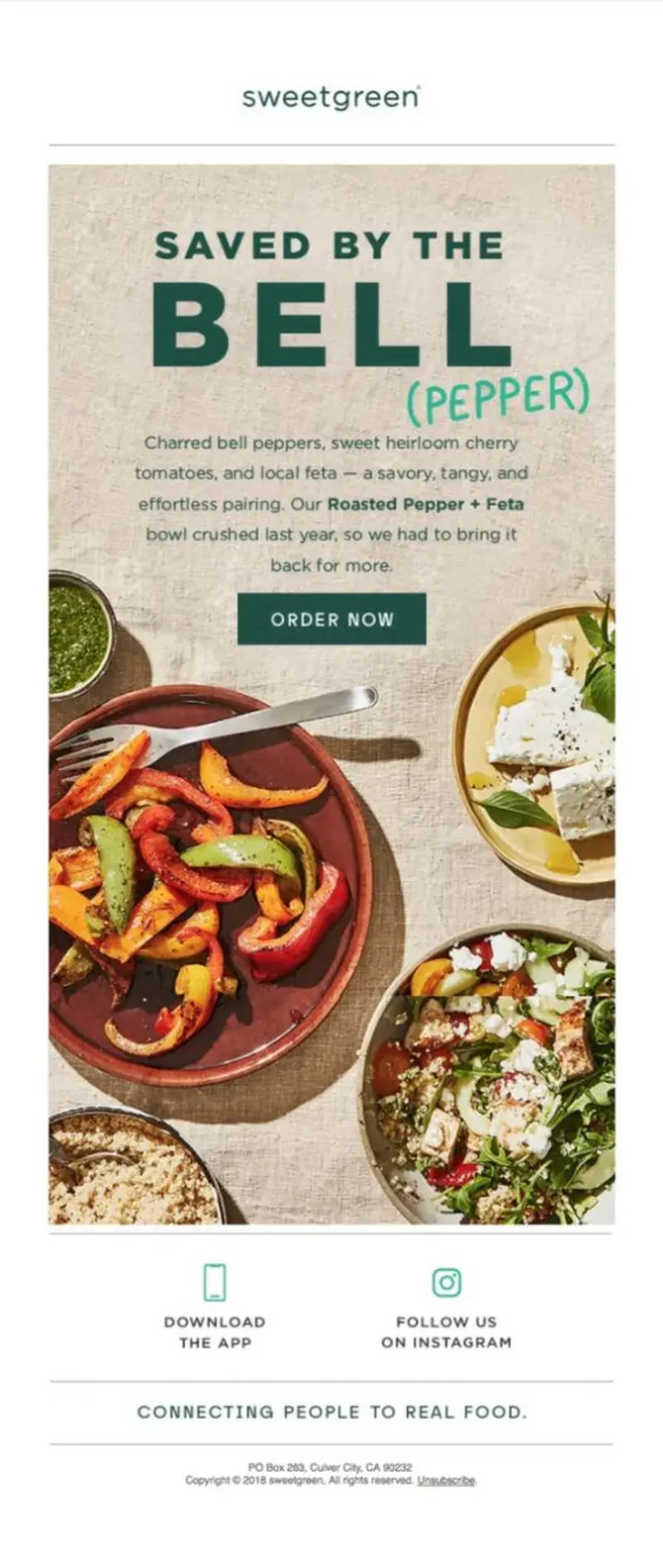 #7 Promo events restaurant email template
Invite your guests to the upcoming events and inspire customer engagement on another level of participation. Celebrate special events with your local community by offering discounts, promo drinks, or free delivery on that day.
Bear in mind that even when you design visuals that match the theme of the event, you still need to respect your restaurant branding.

#8 Special offers restaurant email
Special offers should be a part of your email strategy and a regular restaurant newsletter (e.g. once a month).
Creating special offers and sharing them via email creates a sense of urgency - "Use this offer by the end of this week!", and inspire the guests to make the order/reservation instantly.
Check out this email example from Gourmet Burger: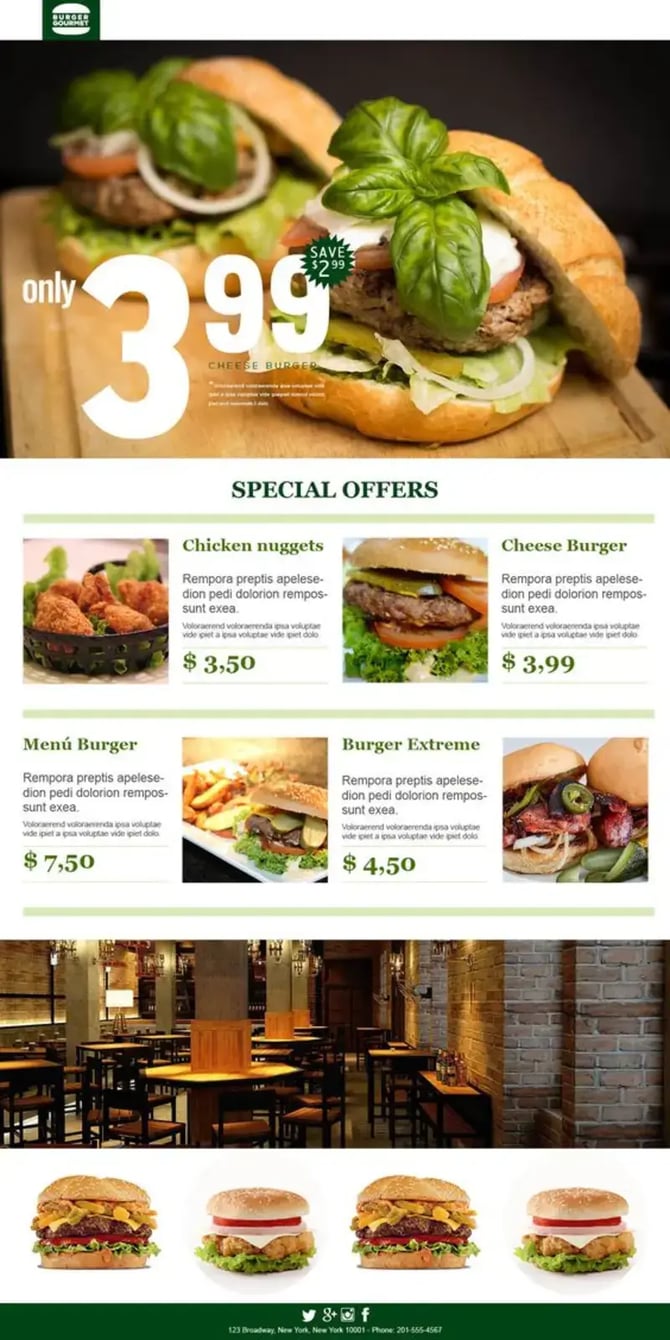 #9 Seasonal offer promo email
Unlike social media, marketing email has the potential to tell an exclusive story for subscribers only.
Tailor a seasonal menu that intrigues your guests to make your restaurant their go-to place for the summer. Introduce a monthly newsletter with highlights of the menu items they will love in the days to come.

#10 Delicious visuals in the promotion email
Here is a great example from Nick and Joe's of using food images to make an authentic marketing email and make new subscribers hungry for more.
Use professional photographs of the beautifully designed meals you prepare and invite your readers to try your perfect steaks right away.

Conclusion
The main focus of your restaurant business is making excellent food and providing exquisite service for all your guests. However, marketing campaigns are sometimes required to promote your brand, contact your guests, and gather feedback to keep growing.
Email marketing campaigns can be very useful to engage your customers and remind them of the great dine-in experience you provide. A well-prepared email campaign can not only increase reservations but also inspire customer loyalty and strengthen your brand reputation.
With Eat App, you can easily gather customer information, and create an organic and personalized flow of email communication. Unlike many email marketing tools, Eat App is designed specifically to help restaurants interact with their guests with no sweat.
Do you want to find out what the Eat App email marketing solution can do for your restaurant? Sign up for a 14-day free trial today!
FAQs
Frequently Ask Questions