Email marketing has always been a hot topic in the restaurant industry. A lot of restaurateurs believe that it's only effective for industries like tech and is not worth investing time and effort into. Due to this, only 26% of businesses selling to consumers end up using email marketing.
If you're one of these people, it's time to rethink your strategy. As per litmus's research, email marketing has one of the highest ROIs, with an average return of $42 per invested dollar. The hospitality industry tops the chart with an estimated return of $53 per invested dollar. Combine that with this study that states that 77% of people prefer getting permission-based promotional messages via email as opposed to text, phone, or social media, it's evident that email marketing is definitely worth investing in.
Why is Email Marketing Important for Restaurants?
Nowadays, restaurants dedicate most of their marketing efforts towards social media while missing out on a low-hanging fruit - email marketing. Social media marketing is a great tool to reach more customers, but when it comes to generating sales, its effectiveness doesn't come close to email marketing. According to this study, 60% of consumers have made a purchase from a marketing email, while only a meager 12.5% of them even consider social media's buy button a purchasing driver.
More often than not, people are using impersonal, generic, email blasts that end up in the customer's trash folder. However, that style of email marketing is old news. The secret behind an effective strategy here is one - personalization. Customers are no longer happy with nonspecific emails that may or may not be applicable to them. They're looking for promotional messaging that caters specifically to their interests.
The direct connection between guests and restaurants and the ability to create hyper-targeted, personalized messages through segmentation is what makes emails so effective. People who have subscribed to your list are aware of your restaurant and are wilfully choosing to receive promotional messaging from you. This improves the likelihood of them returning after receiving a targeted promotional email compared to a generic campaign that is marketed to a wide audience.
If you're worried about the reach of email marketing and think it may not be as wide as other channels, emails are used by over 4 billion people worldwide, and that number is just growing.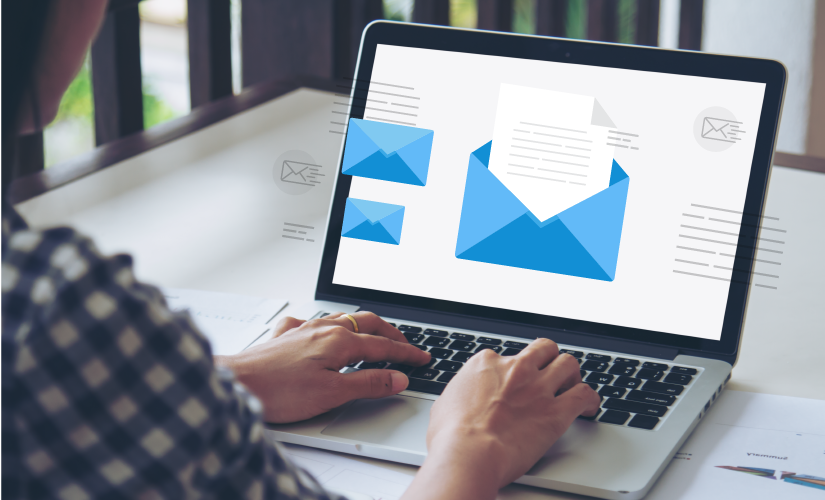 The Two Main Email Marketing Objectives for Restaurants
Retain diners

Existing customers are a restaurant's bread and butter. As per a Harvard Business Review study, just a 5% increase in return customers could boost revenue by 25-125%. And with its targeted approach, email marketing is an excellent channel for staying in constant direct contact with them and lure them back with tailored offers and discounts



Turn subscribers into customers

For subscribers who are on your email list but haven't turned into customers yet, emails are a great tool to increase brand retention and attract them to your dining room. By adding relevant content and book now buttons to emails, restaurants can provide these potential diners an easy way to reach out and book their tables whenever they want to. The fact that your restaurant is in their inbox and just a click away increases the likelihood of them turning into real guests.
How to Build a Successful Email Marketing Strategy
Build Your Database
An email marketing strategy without an established email database is pointless. If you're putting so much time and effort into creating a campaign, you want to make sure that it's reaching as many people as possible. Make sure your staff is always collecting emails from customers that walk in or make reservations. You can even create lead magnets to get more contacts by offering free wifi, discount offers



Identify your customers and create custom segments
Before you begin, it's important to recognize who your email marketing strategy is for. CRM systems can help you gain an in-depth insight into your customers and identify behavior patterns. This enables you to recognize and segment your guests into different categories and target them better with tailored marketing content. A good strategy should focus on 3 types of customers:


Regulars/ VIPs. These are your top-tier guests, the ones that know your restaurant well and hold a certain level of loyalty. Emails can play an important role in nurturing that relationship and keep them coming back for more.

First-time guests. These are customers that have dined only once or are yet to dine at your restaurant. A good email strategy can turn them into regulars by attracting them with tailored offers and discounts.

Lost Regular. Guests that were once regulars but haven't dined with you lately can be revived using an effective email strategy.

Once you've identified your customers, further segment them on different factors like gender, age, preferences, etc to create highly tailored and effective email marketing campaigns.

Related: How CRM Can Help Restaurants Provide a Better Guest Experience



Choose your email service provider
There are hundreds of ESPs to choose from, but not all of them are made equal. Determine your goals and budget, weigh the options on different aspects like price and features, and choose one that best aligns with your objectives.

Some table management and CRM systems, like Eat App, come with an integrated email marketing feature. It's a good idea to check if your system supports the same so that you don't have to spend the extra bucks on an ESP.



Combine your email strategy with other platforms
Any marketing effort performs better when combined with other strategies, email marketing is no different. Collaborating your social media and other marketing efforts with your email strategy will help create a more successful and effective campaign. Use social media to drive traffic to your website and collect more contacts so that you can convert them into customers through emails.



Measure results
Email marketing does not have a one-size-fits-all approach. It's crucial to revisit and analyze your campaigns to better understand what's working and not working for your restaurant. Keep track of the open rates and click-through rates of your emails and make changes to your campaigns accordingly.
Using a CRM System to Improve your Email Marketing Strategy
We've said it before, and we'll say it again - personalization is the future of email marketing. It's all about creating custom-tailored campaigns that specifically target relevant customers. Wondering how you can find these segments? That's where Customer Relationship Management (CRM) systems come in. These systems allow you to collect rich data about your customers including name, contact information, guest preferences, order history, and a lot more, which enables you to divide them into segments according to different aspects.
With advanced CRM software like Eat App, you can store data, filter guests according to different elements and send them a marketing email all within one system. No need to spend extra time and money on a separate email marketing provider, Eat App does it all.
You can go one step further and filter guests on the basis of an item they ordered previously (let's say shrimps), create a segment called "shrimp lovers" and send them a marketing email about your next all-you-can-eat shrimp event, all through one system.
Along with that, you can also set up automated marketing campaigns that automatically send marketing emails to customers when they meet certain criteria. For instance, sending a special birthday wish and discount to guests on their birthday, sending guests a "thank you" message when they dine at your restaurant for the 100th time, the possibilities are endless.
Find out more about Eat App's automation feature


Elements of a Restaurant Marketing Email
Every good email is made of four elements that act like its building blocks and help create a sensible and attractive message for readers. These are -
An update. Information about new items, new events, new activities, etc. at your restaurant
A special offer. Any exclusive deal or discount that is currently valid at your restaurant
Thank you. Showing your gratitude towards diners on different occasions like on their first visit, when they fill out feedback, etc.
Request for feedback. Asking diners to drop a comment or fill out a survey about your restaurant.
Keep in mind that this is not a copy-paste template to be followed, each of these elements should be mixed and matched based on the segment being targeted. The only one that applies to every segment and can be kept generic is a restaurant update, as you want your entire customer base to be aware of those.
Here are a few ways of using these elements to create effective emails for specific segments:
Regular/VIP: An email with a thank you note for their repeated visit + a special offer will help your regulars feel acknowledged and improve their loyalty towards your restaurant.
First-time guest: A "thank you for dining with us" message + request for feedback is a great way to build your relationship with first-time visitors.
Lost-regular: A special offer + request for feedback can help revive lost customers or at least help you get feedback about why they don't visit your restaurant anymore.
Factors to Keep in Mind While Writing an Email
Subject lines are important.

They give the first impression of your email. A well-written subject line can be the difference between a good open rate and a bad one. Convince&Convert

found that 35% of email recipients open emails based on the subject line. So make sure to pay close attention to them.
It's not just about the offers. Many restaurants make the mistake of focusing all their emails on current, limited-time deals. While these are useful, make sure to also mix them with messages that represent your brand and tell your stories. This will help guests connect with your brand and remember you the next time they dine out. With the "here and now" offers, you're ignoring customers who may not be able to visit you right now (even if they want to) due to reasons like travel, work, financial limitations, etc.
Keep it brief. The aim of your email is to quickly grab the customer's attention without taking up too much of their time. Make sure your email is short and to the point.
Be consistent. Send out regular messages, at least once a month, to ensure that you are able to build a connection with your readers.
Be aware of privacy and spam regulations. Always make sure your emails are up to the regulatory standards and don't attain contacts through illegal sources. Only message people who have wilfully given you permission to contact them.
5 Email Marketing Ideas for your Restaurant
Welcome emails
An engaging email sets the right tone for your brand and is the best way to introduce new subscribers. A good welcome email must include a thank you note and give readers an idea of what to expect from future emails. Here are a few examples of welcome emails done right.



Festive emails


The holiday season is the time to bring out your creativity and send out wishes to your customers while informing them about any special festive events that are taking place at your restaurant. Make sure to always add a booking link to enable readers to make bookings directly through email.




Thank you emails
Show your gratitude to your customers through tailored thank you emails. These can be used on different occasions - when a customer becomes a regular by dining at your restaurant the 10th time, when a customer turns to a VIP by dining at your restaurant the 100th time, when a customer shares feedback, and so on. Adding an exclusive discount can help reemphasize your appreciation towards them.



Birthday emails
Make your subscribers feel special on their birthdays by sending them birthday wishes along with an exclusive discount at your restaurant. This will make them feel important, and might even convince them to visit your restaurant for their birthday dinner. If you're using a CRM system with automation like Eat App, you won't have to manually check if any guest's birthday is coming up. You can simply set up automated birthday emails to be triggered on each customer's recorded birthday.



Invitation to special events
If your restaurant is having a special event, emails are the best way to get the word out. Create tailored segments based on customer preferences that match the event, then send out an exclusive pass with a special discount to encourage them to join. For example, "The Feast of the Seven Fishes" email by Lincoln Ristorante (see image below) would be highly effective if sent to customers that have previously ordered seafood dishes at the restaurant.