A picture is worth 1,000 words, right? At least that's the main theory behind the wildly popular social media platform, Instagram.
With over 2.3 billion active monthly users on the photo-sharing app, it's obvious that this business model is working for them.
The real challenge though is figuring out how to make it work for you and make it part of your marketing plan.
These days, posting pictures, sharing stories, and optimizing your Instagram feed, aren't just creative ways to use Instagram, but rather your ticket to a much broader audience than you've ever been able to reach in the past.
With all the options to choose from, you might be having trouble wrapping your head on using the service to drive customers to your restaurant.
Unfortunately, there isn't a miracle formula to follow that will help. What there is though, is a number of proven marketing strategies that will not only help keep the posts flowing but also increase engagement on your social media pages.
15 Restaurant Instagram Post Ideas
Partner with other restaurant brands
Create competitions using hashtags
Post high-quality images
Run Instagram stories & polls
Show your restaurant staff some love
Let your followers know where they can make reservations
Create influencer content
Plan to go behind the scenes
Set up Instagram giveaways
Take your food outside the restaurant
Share positive guest testimonials
Promote upcoming restaurant events
Post how-to cooking tutorials
Re-share user-generated content

Create a food photography challenge
In this article, we discuss 15 creative Instagram post ideas for your restaurant to help take your Instagram game and social media ideas to the next level.
---
1. Experiment with videos
We all know a picture speaks a thousand words, that must mean a video speaks millions.
Break away from tradition and post interesting videos about your restaurant or other local businesses to your Instagram page instead of the conventional photos.
Sometimes a video does a much better job than a picture ever could.
Does your restaurant serve a delicious dessert that is prepared table-side? Great, take a video of the process. You are more likely to get engagement with restaurant customers with a video than with a picture.


Using video to connect with a prospect is so much more than a cold call. It humanizes the selling process.
Social specialist, Jill Rowley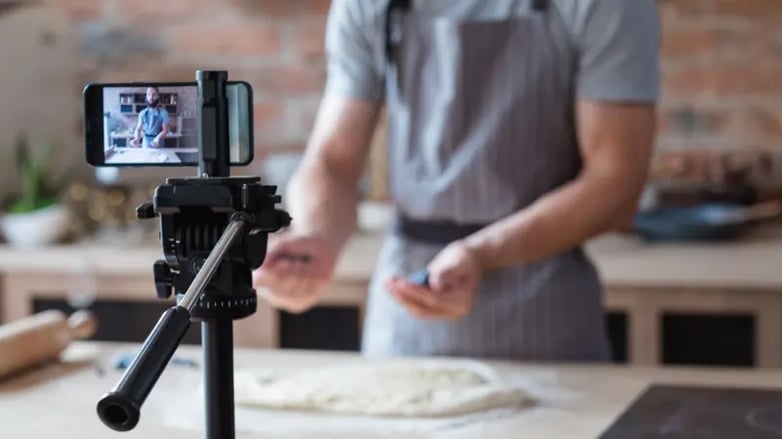 2. Partner with other brands
Try to partner up with a brand that your restaurant shares a common market with on Instagram.
This is a simple method to expand your restaurant's social media posts outreach to followers you previously didn't have before.
Pick a brand that resonates with your restaurant's image or your fans will have trouble relating to the posts.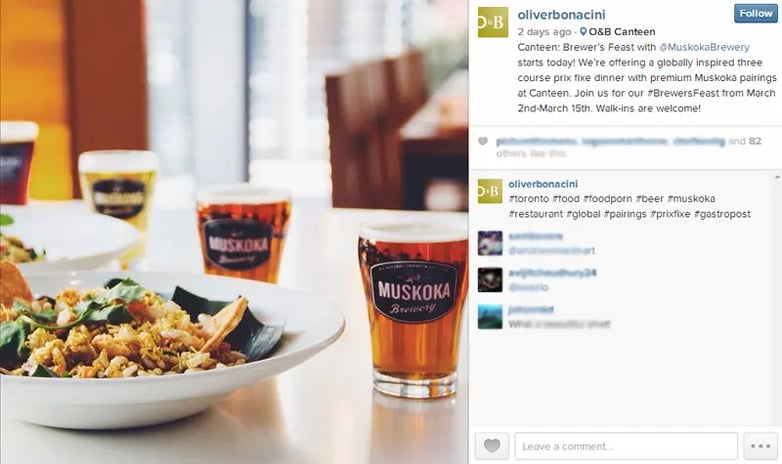 3. Create competitions using hashtags
People love having the chance to win free stuff.
Running Instagram competitions using hashtags is a great way to not only get your name out there but to also increase engagement from your followers.
Come up with a custom hashtag for the competition and ask that your followers post pictures using that hashtag.
With the right promotion and execution, you'll have a decent number of your followers posting using your hashtag and increase the likelihood that users will visit your page to learn more about your restaurant.

4. Post high-quality images
If you are posting low-quality photos on your restaurant's Instagram page, it is time to start rethinking your social media strategy again.
Social media is all about posting the highest quality photos to pique your follower's interest.
If you are looking to improve your photos you can invest in a better camera, invite social media influencers, or even hire a freelance photographer to help out.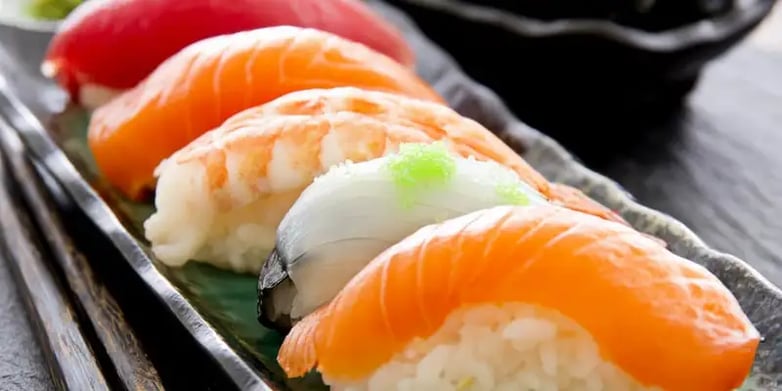 5. Run Instagram stories & polls
Instagram recently rolled out a new feature for stories allowing you to add polls to your posts.
People love to feel involved, and adding polls asking about their favorite cuisine or preferences to Instagram stories is a great way to achieve this.
When a vote is cast it shows live results, giving the user an idea of what other people think.
Here are some expert tips to help you create engaging and effective Instagram story polls:
1.1 Ask clear and concise questions.
Your question should be easy to understand and answer within a few seconds. Avoid asking open-ended questions that could lead to long, rambling responses.
1.2 Keep your poll options limited.
Two to four options are usually a good number. Too many options can be overwhelming and make it difficult for users to decide.
1.3 Use emojis and visuals to make your polls more engaging.
Emojis can add personality and make your polls more fun, while visuals can help capture attention and make your polls more visually appealing.
1.4 Place your poll strategically.
Position your poll in an eye-catching spot on your story. You can also try using a poll sticker as a call to action, encouraging users to swipe up to learn more or visit a link.
1.5 Share the results of your polls.
Let your followers know how their votes have influenced your decisions. This can help to build trust and loyalty with your audience.
Here are some additional tips for using Instagram story polls to achieve specific goals:
To increase engagement:
Ask questions that are relevant to your audience's interests.
Use polls to gather feedback on your content or products.
Run contests or giveaways using polls.
To generate leads:
Ask questions that require users to provide their email addresses.
Offer exclusive content or discounts to poll participants.
Use polls to promote a new product or service.
To boost sales:
Ask questions about product preferences or purchase intent.
Offer discounts or promo codes to poll participants.
Use polls to direct traffic to your product page or checkout.
Remember, the key to successful Instagram story polls is to be creative, have fun, and engage with your audience.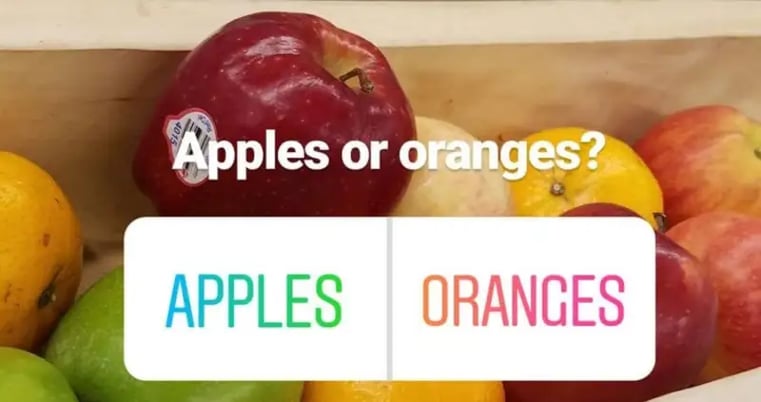 6. Show your staff some love
Whether it be posting a picture of your employee of the month or a coworker's birthday celebration, your social media followers love to have a reason to be happy for your brand.
It shows your followers that there are real, like-minded people behind the social media account, and makes you a more approachable brand.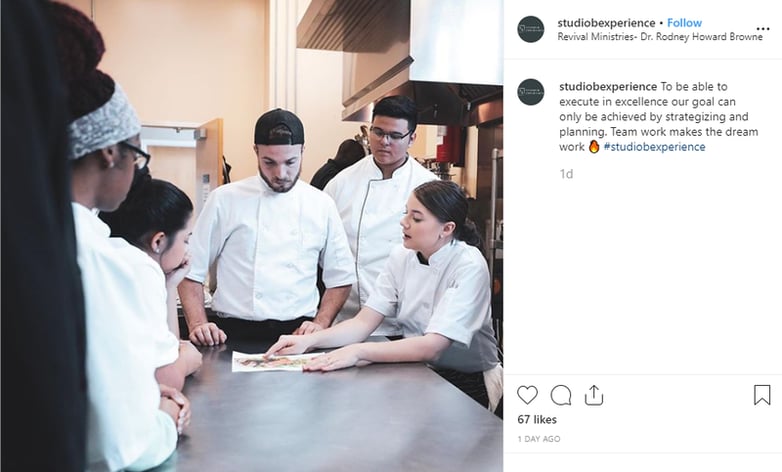 7. Let your followers know where they can make reservations
Does your restaurant accept online reservations? Let your followers know. Posting a reminder every couple of weeks is a great way to keep your followers in the loop.
When the time comes for them to pay your restaurant a visit, they won't need to figure out the best way to book a table.
This is especially important when you have a booking widget link in your restaurant's Instagram bio.
Meaning that your followers, when interested, can instantly book a table at your restaurant in seconds directly from Instagram.
>>> Download our complete guest acquisition guide.
You can increase direct reservations by including a "Reserve" button on your Instagram profile.
All you have to do is collaborate with a third-party booking site. For example, Eat App and Instagram have a partnership that enables in-app reservations.

As a result, if you're an Eat App client, you can add the "Reserve" button, which will take users directly to the Eat App reservation page so they can book without leaving Instagram.

Make Instagram posts or Stories to highlight this function and nudge users to book directly through Instagram. It is quick, simple, and practical.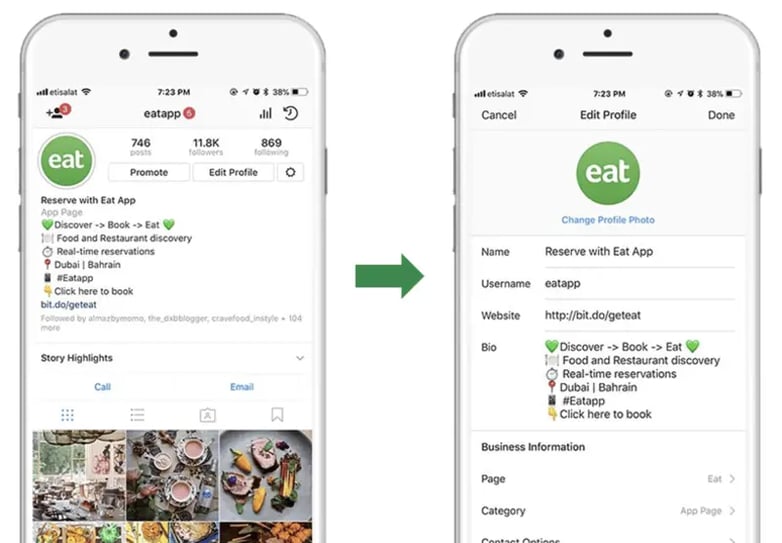 8. Create influencer content
The quickest way to get the word out to the public about your restaurant is by inviting influencers and creating a social media presence.
Social media influencers, often including bloggers, are people who have garnered thousands and thousands of online followers.
One picture or tweet across their social media accounts can result in hundreds of people wanting to visit.
By inviting a large number of local influencers, you are helping thousands of unaware online users discover your restaurant.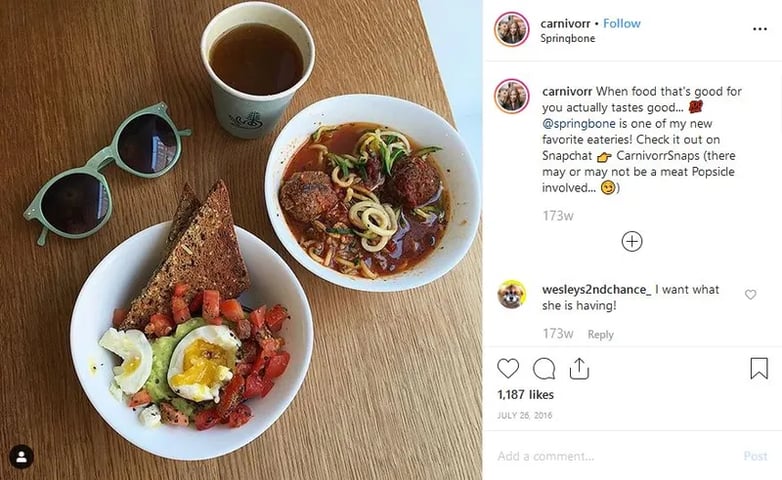 9. Plan to go behind the scenes
Social media for your restaurant is about personality.
Your followers and potential customers want to see that there is more to your restaurant than just the food.


Behind-the-scenes content is a great way to build trust and rapport with your audience. It shows them that you're a real person with a real team, and it gives them a sense of being part of the process. This can lead to increased engagement, loyalty, and even sales.
Ann Handley, Marketing Consultant
Posting behind-the-scenes shots from your restaurant on social media is a direct way to add a human element to your page that is otherwise lacking among the myriad of food photos.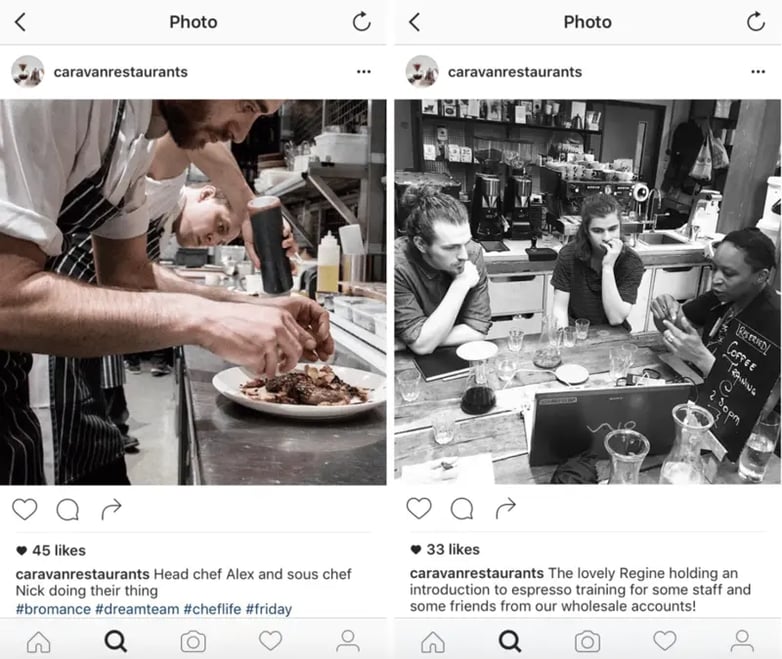 10. Set up Instagram giveaways
Instead of running a hashtag competition, or any competition for that matter, try running a simple giveaway.
The rules should be straightforward enough to get as many followers as possible to participate.
An idea is to ask your followers to tag their friends in the comments and make sure both of them are following your restaurant's Instagram profile page.
This gives your social media profile a larger audience while also increasing your followers.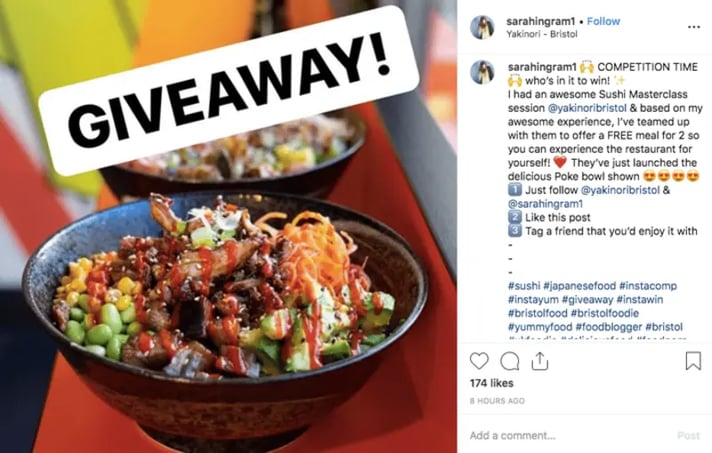 11. Take your food outside the restaurant
Even though you are representing the restaurant industry, your followers still want to see how you can incorporate yourself into their daily lives.
Post pictures of your food outside the restaurant.
If one of your most popular dishes is spaghetti, take it out to the park and set up a picnic scene to show that your food is also great for take-out.
There is no way for your followers to know what you offer if you don't show them.
Here are some expert tips to help you take your food outside the restaurant and incorporate yourself into your followers' daily lives:
1.1 Post pictures of your food in different settings.
This will show your followers that your food is not just for dining in. You can post pictures of your food at the park, the beach, or even just in your backyard.
1.2 Use props to make your photos more visually appealing.
A picnic basket, a blanket, or even just a plate and a napkin can make your photos more inviting.
1.3 Tag your location in your posts.
This will help people find your restaurant if they are looking for a place to eat nearby.
1.4 Use relevant hashtags to reach a wider audience.
Some good hashtags to use include #food, #foodie, #instafood, #takeout, and #picnic.
1.5 Encourage customers to share their photos of your food outside the restaurant.
This is a great way to get free advertising and reach even more people.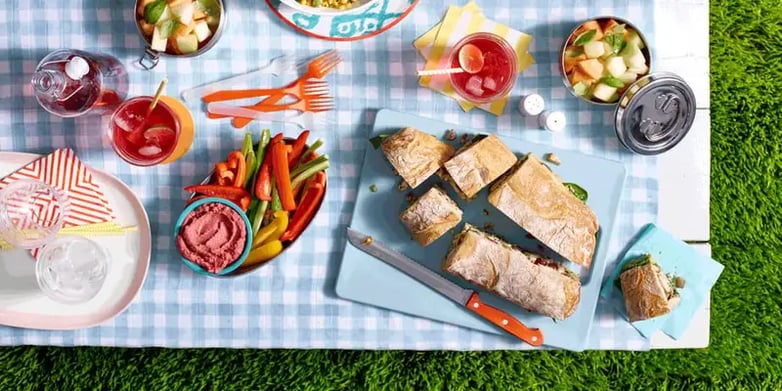 12. Share positive guest testimonials
87% of diners in the UK acknowledge that online reviews impact their dining choices.

Why not use your Instagram account to spread those client testimonials and draw in as many viewers as you can?

Create and share testimonials from review sites and third-party systems, like Google My Business, and others. To save time, you can make a template. In this method, all you'll need to do to share a favorable review is add it to the template.
Pro tip: Encourage customers to leave a positive review after they've had a great experience.
Learn more about running restaurant surveys.

Sharing the love you receive is another method to let your audience know that you value their feedback and are paying attention to what they have to say.
For accessibility, add all your testimonials or reviews to your "highlights" section on Instagram. This way, potential customers will easily be able to view all the positive feedback from other guests.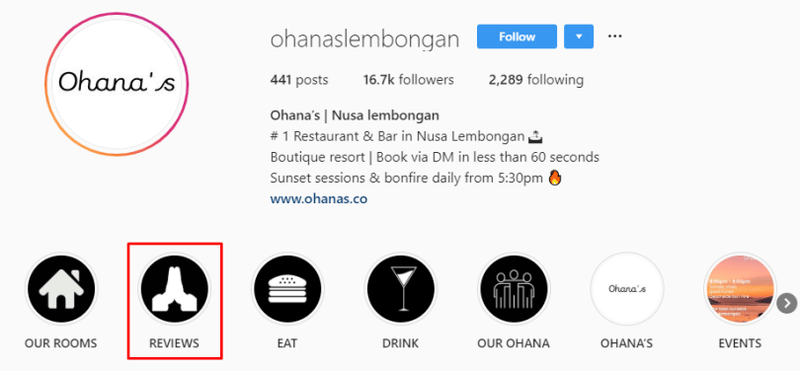 13. Promote upcoming restaurant events
Instead of trying to read your follower's minds, post on a restaurant's social media account about what you're sure they are already thinking about.
Posting pics related to current events is usually better received because the topic is already on everyone's mind.
This includes posting about holidays, conventions, popular shows and movies, and even social media holidays such as National Taco Day or other events you are running.
14. Post how-to cooking tutorials
Did you know that the most popular type of Instagram video content is how-to tutorials?

Consider asking your head chef to provide your followers with brief culinary instructions, advice, and hacks. Simple things like learning how to use a knife, marinate seafood, or frost cupcakes can do the trick.

To present practical cooking lessons that are sure to keep people interested in what you have to offer, you can make enjoyable one-minute videos.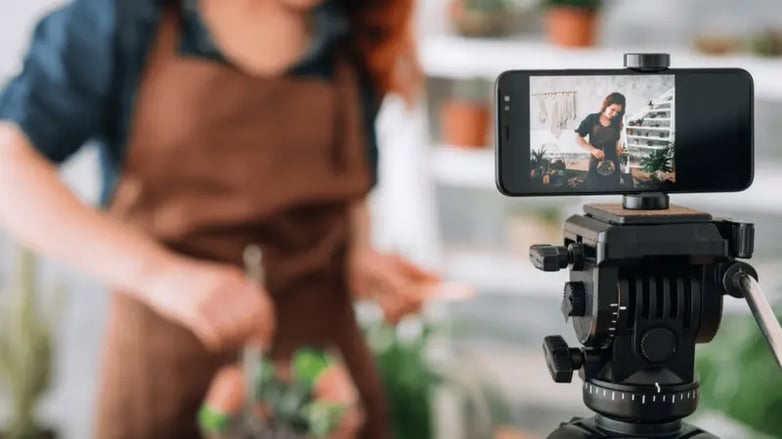 15. Re-share user-generated content
If you find yourself struggling to churn out enough content to update your profile regularly, you can easily tap into user-generated content.
Thanks to the Instagram hype, your guests will probably spend the first 20 minutes of their meal taking pictures. These guest posts are probably located in your profile's 'Tagged' section.

Such content lends credibility to your restaurant's Instagram account and helps prospective buyers see how it is perceived when you share it with your Instagram audience. Use this to your advantage by reposting their content.
This will not only build a better relationship with your followers but also keep your page fresh and up-to-date.

Make sure you have the user's consent before sharing someone else's post on your platform by leaving a remark on it or sending them a direct Instagram message.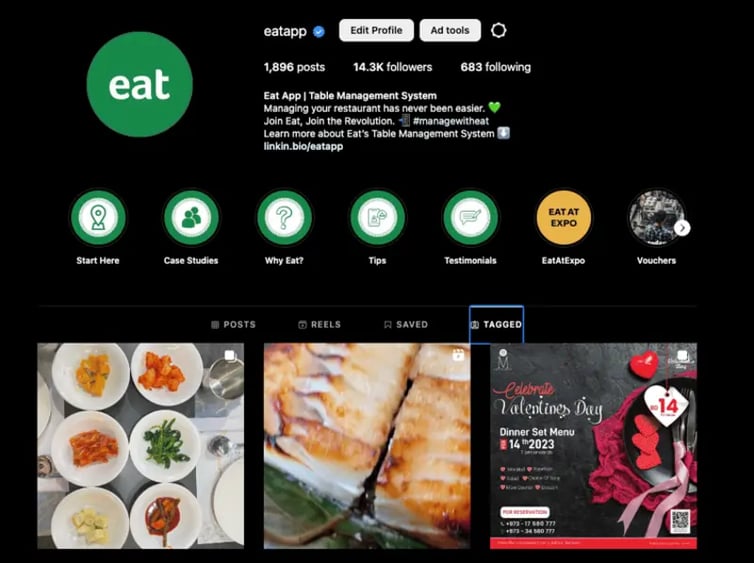 16. Create a food photography challenge
Encourage your followers to get creative with their food photography skills by hosting a food photography challenge.
Ask them to post their best photos of your food using a specific hashtag.
You can then feature some of the best submissions on your social media pages.
Takeaways
Instagram is a dynamic platform that thrives on two-way communication.
Actively engaging with your audience by responding to comments and fostering meaningful interactions is crucial for fostering a thriving community.
Harness the power of Instagram's diverse features, from captivating posts and Stories and engaging Reels, to cultivate genuine connections with your audience.
Craft a social media content calendar to meticulously plan your posts, ensuring consistency and keeping your audience engaged.
Further reading
A guide to social media marketing for restaurants
Facebook marketing ideas for restaurants
How to work with restaurant influencers
Email marketing strategies for restaurants
Article Sources
View sources