In the modern age of digital marketing, Facebook marketing and ads have become one of the most popular methods for restaurants to promote their businesses and find more interested customers online.
In fact, research shows that 3 out of 4 customers (72% of them) have used Facebook to decide on a restaurant to dine at.
It is easy to see why Facebook ads have become such an important tool for restaurants to reach their target audiences, boost their restaurant reputation, and drive sales.
In this article, we will explain how your restaurant can go from clicks to customers with restaurant Facebook ads.
Why are restaurant Facebook ads important?
To start off, with over 2.9 billion monthly active users, Facebook is the world's largest social media platform. This makes it an ideal place for all sorts of brands, including those in the food service industry, to effectively reach their target audiences in huge numbers.
One of the most significant advantages of Facebook's ad manager platform for restaurants is the ability to target specific demographics. This means that restaurants can choose to show ads to their target audience, i.e., potential customers, based on age, gender, location, interests, and online behaviors.
How is this useful in practice? Well, if you own a vegan restaurant, for example, you can set up an ad campaign on Facebook to target people who have expressed an interest in veganism, are a part of vegan groups, and/or follow vegan influencers on the platform.
Crafting your ads for users who are most likely to dine at your restaurant can greatly maximize the effectiveness of your Facebook marketing efforts.
Another reason why Facebook Ads are essential for restaurants is the ability to showcase your menu and promotions in a visually appealing way. People eat with their eyes first, which is why high-quality images and videos of your offer can entice potential customers to visit or order from your establishment.
Lastly, running Facebook Ads can be quite cost-effective, making them an excellent option for restaurants that don't want to break the bank on their ad spend. All you need to do is set whatever budget you're comfortable with for ads, and Facebook will maximize your reach accordingly in order to get the most out of ad investment.
Types of Facebook ads
Facebook ads come in lots of different shapes and sizes (so to speak), and they can be tweaked and adjusted to suit your digital marketing goals in many ways. We have listed some of the most popular types of ads you can run on Facebook below.
Video ads
Video ads are short, engaging video clips that can be used to create a powerful first impression on restaurantgoers. In the restaurant industry, video ads are commonly used to showcase certain features that set establishments apart from the competition.
A great example of a restaurant video ad is one that shows the preparation of a signature dish or a behind-the-scenes look at the kitchen staff in action. This type of ad gives customers an idea of the quality of the food at the restaurant and the level of care that goes into its preparation. It also has the added benefit of forming a more authentic, human bond with the audience who may not often have the opportunity to see how their food is being professionally made.
Another great way to use a video ad is to showcase the atmosphere and dining experience at your restaurant. When filming video material for the ad, focus on showing off things like the outdoor seating, cozy interior, and live music performances — or anything else that you find particularly appealing about your own establishment.
Instagram ads
Instagram is a highly visual platform, and the use of beautiful, mouth-watering images can create a strong emotional connection with viewers. That is why restaurants see the most benefit from Instagram ads that display their menu items and promote specials to potential customers.
An example of an Instagram ad for a restaurant might be a high-quality photo of a signature dish or a seasonal special accompanied by a call to action to make a reservation. You can play around with this approach by using carousel ads that showcase several dishes or specials in a single post with multiple images.
You can also use your Instagram account to create a sense of urgency by promoting limited-time specials or exclusive menu items. Ads like this are particularly effective when used during holidays or other special/seasonal events when people are looking to splash out on memorable dining experiences.
Additionally, Instagram ads can be used to highlight any awards or recognition that your restaurant has received, e.g. Top-Rated Brunch in the City or Michelin Star Recipient.
Store visits
Store visits or store traffic ads are a kind of Facebook ad "objective" — a type of criterion you can set for a specific advertisement that uses location-based targeting to reach potential customers who are within a specific distance of your restaurant's location.
These ads are designed to encourage more foot traffic and boost sales at your physical restaurant (as opposed to, say, promoting online ordering).
An example of a store visits ad for a restaurant might be a promotional message about a new menu item. Think of limited-time burgers or seasonal desserts. Thanks to location-based targeting, the ad will only be shown to potential customers who are within a reasonable distance of your restaurant's zip code.
In addition to location-based targeting, store traffic ads can also use other targeting options, such as user demographics or interests, to segment customers who are most likely to visit your restaurant location.
Dynamic ads
Dynamic ads are a type of Facebook ad that uses data from your restaurant's website or mobile app to automatically promote relevant products or services to potential customers. Dynamic ads use intent signals from customer interactions with websites and apps to match the appropriate products with the relevant individuals.
A restaurant might use dynamic ads to promote a loyalty program that rewards customers with discounts or free items after a certain number of visits. The ad could feature a personalized message that thanks the customer for their loyalty and encourages them to visit the restaurant again soon.
The ad could also include a call-to-action button that directs customers to the restaurant's website or mobile app to sign up for the loyalty program.
In addition to promoting discounts and loyalty programs, dynamic ads can also be used to promote other offers, such as special events or limited-time offers.
Dynamic ads are best used for highly personalized, highly targeted digital advertising. Data from your website or mobile app can be used to create ads that are relevant to each customer's individual interests and behavior.
Personalized ads like this are used to increase customer loyalty and drive repeat business, which can be particularly important for restaurants that rely on retaining customers.
App install
The "app installs advertising" objective is another sort of add-on that you can set for your Facebook ads if you wish to promote your restaurant's mobile app and get more people to download and install it.
A restaurant might use app install ads to promote its mobile app so that customers can place orders and make reservations more easily, as well as access special deals or promotions. The ad could feature a CTA that helps Facebook users access the app store where they can download the app, and also include a brief description of the app's features and benefits.
App install ads are best used for promoting online ordering. Generally speaking, you would run an ad campaign like this because you'd want to simplify the ordering process and increase customer satisfaction.
Promoting your mobile app through app install ads will have the goal of getting customers to place more orders online, which can help increase your overall revenue and improve operational efficiency.
Tips to boost your Facebook ads
Let's say you already have the basics covered when it comes to setting up an ad campaign on Facebook. Below are some ways you can boost the effectiveness of your ads.
Targeting current customers (regulars)
One effective way for restaurants to get clicks to customers with Facebook ads is to target their current customers, particularly their regulars, in order to further encourage repeat visits.
Targeting current customers can be a highly effective strategy because these users are already familiar with your restaurant and have shown an interest in its offerings. Specifically, targeting this pool of people with Facebook ads can increase their likelihood of returning to your restaurant and placing more orders.
There are several ways that restaurants can target their existing customers with Facebook ads. For example, restaurants can use customer lists to create custom audiences and target ads to specific individuals who have previously visited or made a purchase at their establishment. This approach can be particularly useful for restaurant owners looking to promote specials or new menu items to their most loyal customers.
Another way to target current customers is by using lookalike audiences. Facebook lookalike audiences are created by Facebook based on the characteristics of a restaurant's existing customer base, and can help the restaurant get more business by reaching new customers who are likely to be interested in its offerings. This is an effective Facebook advertising feature for restaurants that are trying to expand their customer base by reaching new audiences.
Facebook ads are also frequently used to encourage current customers to become or continue to be repeat customers through loyalty programs and special deals to those who place multiple orders or visit the restaurant frequently. In this way, you demonstrate that you appreciate their repeat business and would like to keep nurturing it, and true regulars are incentivized to continue placing orders and visiting your establishment.
Finding your warm audience
In addition to targeting their current customers, restaurants can also use Facebook ads to reach their so-called warm audience, which includes people who have interacted with the restaurant but haven't yet visited. These individuals may have engaged with your restaurant on social media or viewed your website but have yet to place an order or actually dine at your establishment.
One way to target your warm audience is to create a custom audience based on people who have engaged with your restaurant's Facebook page or Instagram profile. This audience can then be specifically targeted with ads promoting your offerings (e.g., your menu, specials, or ambiance). You will find that this approach is an easy one to take if you already have a strong social media marketing presence and regularly post engaging content that users tend to interact with.
Another way to target your warm audience is by using Facebook's retargeting ads. Ads like this are designed to target individuals who have previously interacted with your restaurant online, e.g. by visiting its website or placing an order through a delivery app using their mobile devices but have not yet visited in person. Retargeting ads can be highly successful at encouraging these individuals to take the next step and visit the restaurant sooner than later.
Restaurants can also use Facebook's lookalike audience feature to target individuals who are similar to their warm audience.
Advertising to new customers
If you've recently started your restaurant business, or you simply want to focus on growing your customer base and subsequently increasing revenue, you should devote a portion of your restaurant marketing framework to advertising to new customers online.
There are many different ways to reach completely new people with your ads. An obvious one would be to target potential guests who live or work in the area around your restaurant. This can easily be done by using Facebook's location targeting feature. It is important to make clever use of this functionality by pushing ads that highlight the restaurant's brunch or lunch offerings, which are typically important to people whose office is located close to your establishment, as they may be encouraged to spend their lunch breaks there.
We've also talked about how restaurants can use Facebook's interest targeting feature to show ads to people who are likely to be interested in their offerings due to certain dietary preferences or restrictions. For example, a restaurant that specializes in vegetarian cuisine could target potential new customers who have expressed an interest in vegetarianism or healthy eating.
Facebook also offers a feature called lead generation ads, designed to capture the contact information of people who are interested in what your restaurant has to offer. This is as simple as offering a free appetizer or discount in exchange for a customer's email address or phone number. Once your restaurant has this information, you can use email marketing or text messaging to further promote your offerings and encourage these individuals to visit.
Remember that reaching new customers will always take a certain amount of time and effort before you start seeing actual numbers increase. Facebook ads can only contribute to this effort by increasing your restaurant's visibility and working to attract new business through more clicks and engagement.
Targeting people visiting the area
Using Facebook ads to target tourists currently visiting the area is an excellent way for restaurants to increase their revenue. This is especially true if they are located in areas with high tourism activity.
Tourists represent a special segment of potential customers because they are typically looking for authentic dining experiences in the area that they are visiting. That is why restaurants should focus on highlighting the things that make their offer unique and creating ads that capture the attention of these potential customers.
This is another example in which Facebook's location targeting feature comes in handy. Restaurants can create ads that specifically target people who are staying in nearby hotels or vacation rentals. These ads can promote the restaurant's offerings through messaging that emphasizes that the establishment is a real hot spot that tourists should not miss out on.
If your restaurant specializes in local cuisine, you can use Facebook's interest targeting feature to show ads to tourists who have expressed an interest in getting a taste of the local culture and national dishes. Similarly, if your restaurant offers outdoor seating or scenic views of the area, you can target tourists who have shown an interest in outdoor activities or nature.
Another effective way to target tourists is by using Facebook's behavior targeting feature. The "behavior" in this instance would be traveling. The feature allows restaurants to run ads to people who are currently traveling or have recently traveled to your area. This is an effective way for your restaurant to increase its chances of attracting tourists who are looking for new dining experiences during their trip.
Using different ads
So far, we have mentioned several types of Facebook ad features and use cases in passing. However, if you would like to create a well-rounded digital marketing campaign, it is useful to have an overview of the different types of ads that you should include in it.
Here are some examples of different types of ads that restaurants can use to promote their businesses and reach their target audience:
Personalized ads. Personalized ads use data collected from a customer's past interactions with a business to create an ad that is tailored specifically to their interests and online behaviors. In the context of a restaurant, for example, if a customer frequently orders a certain menu item, the restaurant can create an ad that features that specific item and offers a promotion or discount to get the customer to come back.
Geo-targeting. Geo-targeting allows restaurants to target customers in specific geographic locations, such as within a certain radius of the restaurant. As previously explained, this type of ad can be effective for promoting seasonal specials or events or for targeting tourists.
Occasional ads. Occasional ads are designed to promote special occasions or events, such as holidays or seasonal promotions. A good example of an occasional ad for a restaurant would be one that is designed to promote a special Valentine's Day menu or a Halloween-themed event.
Retargeting ads. We've mentioned these in previous sections, but it doesn't hurt to reiterate that retargeting ads are designed to target customers who have previously interacted with your business, such as by visiting your website to read a blog post or following your social media page. Retargeting ads are essentially used to remind customers about a restaurant they previously visited in order to encourage them to come back for more.
Lead generation ads. If your goal is to create a comprehensive customer database or mailing list, lead-generation ads can be used to collect customer information. A lead generation ad usually features an offer (e.g., a free appetizer or discount) that a customer can collect in exchange for leaving their email address or contact information. This information can then be used for future marketing efforts.
Event promotion ads. As the name suggests, event promotion ads are designed to promote upcoming events, such as live music or trivia nights, at a restaurant.
Brand awareness ads. Brand awareness ads are designed to increase awareness of a restaurant's brand among potential customers. These ads normally feature professional images of the restaurant's interior or exterior, or they tend to highlight the restaurant's unique offers — ones that have become synonymous with the restaurant's brand.
Using a variety of ad types in your advertising campaigns also helps restaurant owners test and monitor their performance to determine which types are most effective for reaching the desired audience and achieving business goals.
How Eat helps you go from clicks to guests
Eat App is a cutting-edge restaurant management tool designed to help you go from clicks to customers. With its powerful set of features, restaurant businesses can improve their targeting, increase the effectiveness of their Facebook ads, and ultimately drive more bookings and revenue.
Here are just some of Eat App's key benefits:
Guest CRM. With this feature, restaurants can create personalized Facebook ads based on the data they have collected from their guests. By understanding your guests' number of visits, personal preferences, and other custom

guest tags

, such as lifestyle and purchase behavior, you can efficiently target your ads to the right audience and drive more conversions.
Direct reservations from Facebook. Guests can easily reserve a table as soon as they see your ad through Eat App's

online booking widget

, making the booking process fast and convenient. This feature can do wonders to increase conversion rates and drive more bookings from Facebook for your restaurant.

Restaurant analytics

. With Eat App's analytics and reporting features for the highest-performing channels, you can track and analyze your Facebook bookings and those from other social media platforms. This information helps optimize your ad campaigns and focus on the channels that are most effective in driving results.
Overall, Eat App is a powerful tool that can help restaurants make successful Facebook ads. With its intuitive interface and advanced features, it is the perfect solution for restaurant owners looking to take their digital marketing plan to the next level.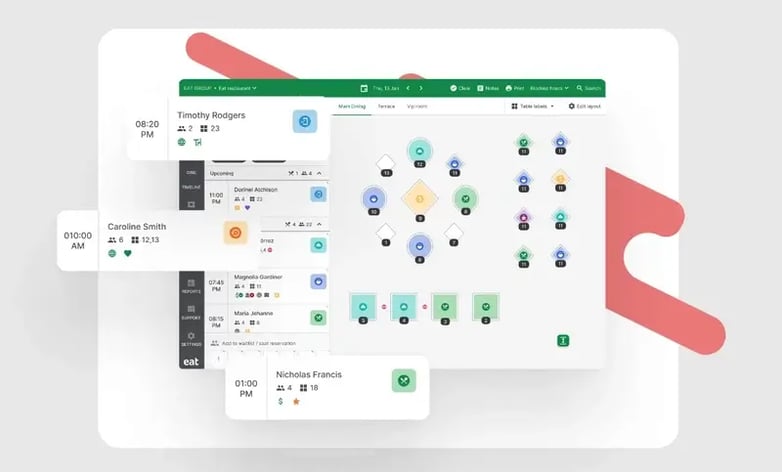 Conclusion
Facebook ads have been a powerful tool for restaurants to increase their customer base and boost their revenue for years. With the use of different types of ads and targeting the right audience, restaurant owners can effectively convert more customers into regulars.
If you're a restaurant owner looking to boost the effects of your digital marketing, sign up for Eat App today. With its intuitive interface, robust features, and excellent customer support, Eat App is the perfect partner for any restaurant looking to succeed in today's competitive digital environment.