With a whopping 4.33 Billion active users, social media is slowly taking over the world. To put it into perspective, that constitutes 91% of the total internet users across the globe. Given that this number has gone up by 13% in the last year, it's safe to say that social media marketing is here to stay.
What makes social media such a popular platform? It's the wide reach and connectivity. Your social media presence helps you stay connected with others across the world in the easiest way possible - at the touch of your fingertips. It's simple, accessible, and free to use.
Even beyond personal connections and business pages, social media has become a primary source of information about brands and products. Oberlo's research found that 54% of social media users in browsers use it to research products before purchasing them. Think about it, how did you find out about the product you bought last? Chances are a lot of you have answered "Facebook" or "Instagram."
The numbers have made it clear - social media marketing can no longer be ignored by businesses, especially restaurants. Social Media Today found that 30% of millennial diners actively avoid restaurants with a weak Instagram presence. So if you're not paying attention to your restaurant's social media accounts, you're most definitely missing out on new customers.
Why is a social media presence important for restaurants?
1. Widespread reach
Compared to traditional marketing channels like TV ads, billboards, brochures, etc. a good social media strategy allows restaurants to market their brand to a much wider audience with minimum effort. If done correctly, a single post on a social media platform can reach thousands of potential customers and create widespread brand awareness.
2. Engaging platform
The fact that a social media page makes two-way communication simple with direct messages is one of the most crucial justifications for restaurants to have profiles on them. This is a cost-free way to meet millennial and Gen Z customers where they are, allowing them to ask any questions they have about your offering and allowing you to respond in a timely manner. In an age where many millennial and Gen Z customers would rather send an instant message or email than pick up the phone. Through this connection, you may improve your customer relationships and cultivate client loyalty.
3. Cost-effectiveness
As we mentioned before, creating an account on any social media platform is completely free. As you move ahead, there will be additional costs like hiring a manager, creating content, and running ads. However, the initial investment is zero. This makes social media the perfect platform for restaurants that may not have a very high marketing budget and want to make the most out of their resources.
4. Attract more customers
With over 4 billion users, a huge chunk of your target audience is likely on social media. By not being an active part of it, your restaurant is missing out on the market share of people that use social media as a source of information before making dining decisions.
This is especially applicable when your target audience consists of millennials and gen z customers, as they make up the majority of social media users.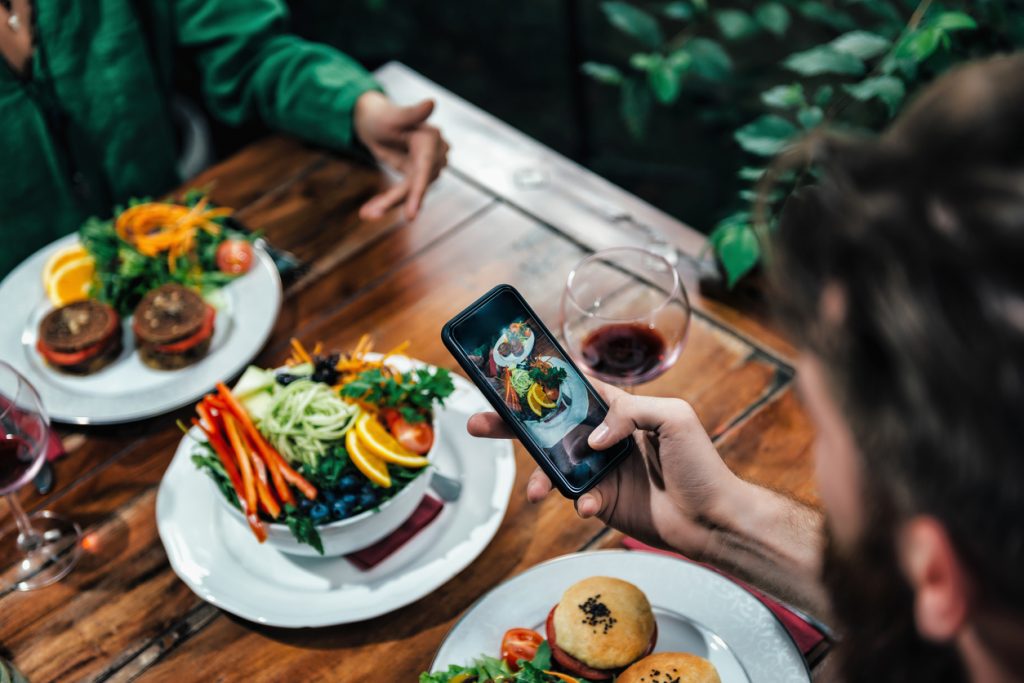 Which social media channel should you use for your restaurant?
It can be tempting to want to hop on to every social media channel possible. However, that's not always the right strategy. Instead of spreading your resources thin across multiple social media posts and platforms, choose a couple that suit your business and allow you to reach your target audience. This will enable you to dedicate ample time and effort to the right channels and get results.
There's no "one-size-fits-all" approach when it comes to picking social media platforms for your restaurant. It's a case-by-case situation, what works for someone else might not work for you. Here are a few factors you should consider before choosing a restaurant social media marketing and management platform:
The type of restaurant. Are you running a fast-casual restaurant or a fine-dining one? The former is more suited to more casual platforms like Instagram and Tiktok, while the latter may do better with platforms like Facebook and Twitter. This is because the majority of Instagram and TikTok's users fall between the 18-34 age range, while Facebook and Twitter are more popular with people above the age of 24.
Once you've done your research, you can pick the restaurant's social media profiles that best align with your business goals.
All data mentioned below has been derived from the Digital 2021 Global Overview Report
Facebook
One of the oldest players in the game, Facebook is an all-rounder social media platform for businesses. It's also one of the most popular social media sites, with over 2 billion active users as of April 2021, with 56% of male users and 44% of female users. Facebook includes many business-friendly tools that help in generating sales, like Facebook ads, Facebook shopping, direct booking, etc. that make it a good choice for restaurants.
Instagram
Based entirely on visual content, Instagram is one of the most popular platforms for restaurants as it allows them to display delicious menu items in all their glory. As they say, "you eat with your eyes first". Instagram is one of the fastest-growing social media channels and has gained 66 million users within the last quarter.

Widely popular with the younger crowd, the majority of Instagram's users range between 18-34 years old. In recent times, Instagram has transformed from a photo-sharing app to a great marketing tool that allows businesses to display their products, set up a digital storefront, allow direct bookings, and share important information with their users all through one platform.
TikTok
One of the latest players in the market, Tiktok has shaken the social scene with its video-based approach and has attracted 732 million users in a short period of time. Like Instagram, it's most popular with the younger generation. The visual approach makes it a great platform for restaurants to share their story with users. Tiktok is slowly catching up to other platforms in terms of its business use. More and more restaurants are jumping on the bandwagon and using it to connect with their users, like Chipotle and Dunkin Donuts.
What makes a great restaurant social media marketing post?
To start off, it's important to clarify that there is no such thing as the perfect restaurant social media post. However, a great restaurant's social media post usually consists of a good quality or at least engaging image, along with specific trending hashtags (#) to help represent the restaurant. Then, it's also important to tag the image. This will help to give your customers more insight into your restaurant, as well as give your business account and establishment free and valuable publicity. In addition, make sure your posts have:
Branding

A Call-to-action

Selection of relevant hashtags

Engaging content
Read on to discover more great tips & novel ideas on how you can create the ultimate restaurant social media posts:
Tips for building a successful social media presence strategy for your restaurant
1. Identify your target customers for different social media platforms
As we mentioned before, the social media platforms local businesses use and the type of content it creates is significantly dependent on the people it wants to reach. Know your customers well enough and find out what they are looking for when searching for a brand on social media and develop your strategy accordingly.
Digging deep into your CRM system is a great way of understanding your customers better and creating a clearer picture of your target audience. Data points like age, gender, breakdown of new vs repeat customers, and customer order history are just some of the factors from your CRM that can help you identify your restaurant's top customers.
2. Create high-quality content
Your posts on your social media page or business page represent your brand and are often the first encounter potential customers have with your restaurant. This makes the quality of your content one of the most important factors for social media marketing success. These platforms are overcrowded with brands - fun, engaging, and excellent content is what can help you stand out from your competition.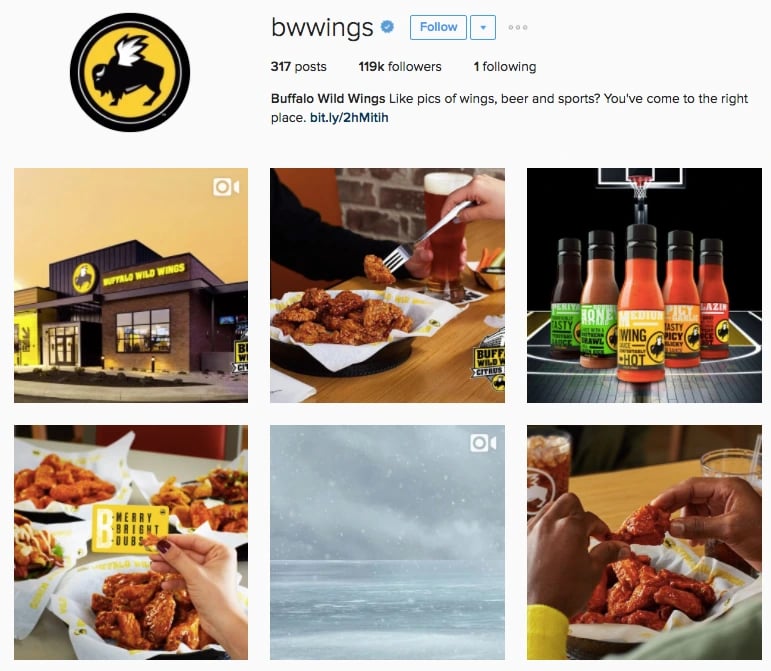 3. Be consistent
Diners tend to follow hundreds of brands on social media, and the way to catch their attention is by repeatedly reminding them about your brand by posting consistently. Use every style of content possible, like Instagram stories, reels, Facebook stories, etc. to make sure that you are able to reach as many people as possible. To add to that, social media algorithms favor accounts that are active over those that aren't. This means that consistent posting increases your chances of being visible to your customers. So be sure to include consistency in your marketing plan.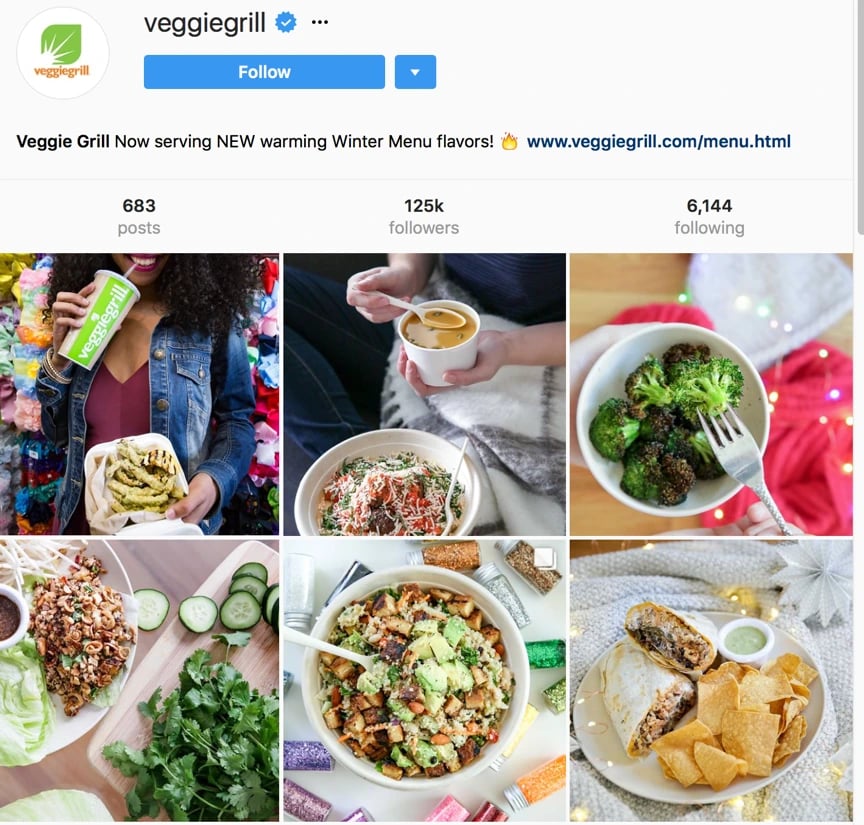 4. Capitalize on trends
New trends are popping up on social media every day. Give these topics your own twist to take advantage of the increased exposure that comes with them. However, don't try to jump on every trend that comes your way. Choose the ones that align with your brand stand, style, and tone.
5. Show your human side
It's easy to get lost in posting promotional and 'sales-y' content about your restaurant. However, the best way to connect with your audience is by showing them that you're more than a business. Sharing about the people behind your restaurant, some BTS snippets, and other 'non-promotional'' content helps people to see your brand as a relatable account and enables you to build stronger relationships with them.
6. Add a "book now" button
Some social media platforms like Instagram and Facebook allow restaurants to generate sales directly from their social pages by adding a "book now" button. All you need to do is be enlisted with one of the supporting reservation platforms, like Eat App, and you can allow people to reserve their table straight through your profile.
Learn how to enable direct bookings from your Facebook page here.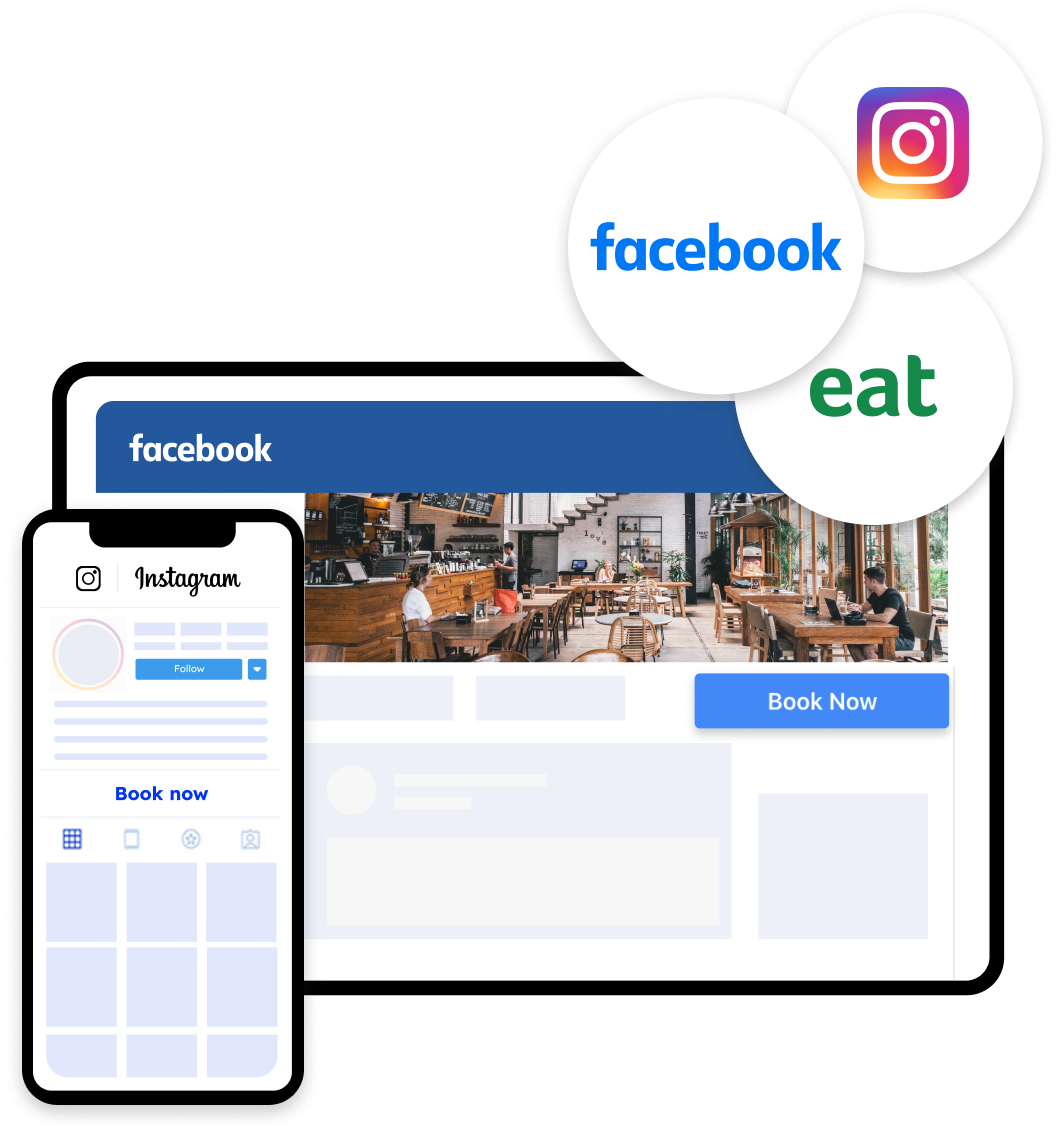 7. Engage with your audience
As social media is all about connecting people, engaging with your audience is crucial to improving your strategy. Communicating with them by asking questions, requesting feedback, and asking for suggestions helps create a two-way dialogue and makes people feel heard by your brand. For example, you can ask them to "fill in the blanks" - this will also up your engagement on your social media profile.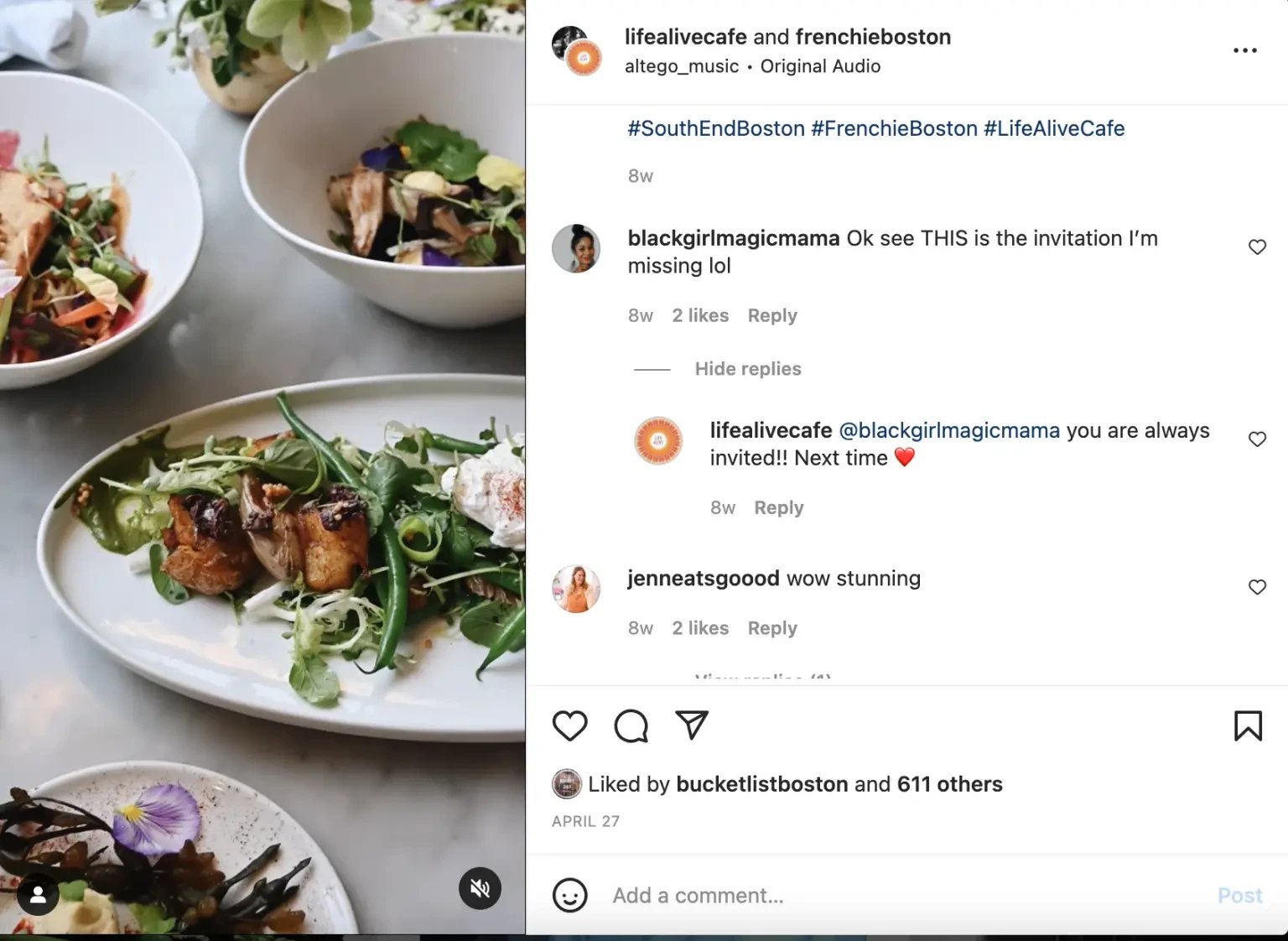 8. Analyze your strategy
Social media is constantly evolving. It's important to keep track of your performance and see how these changes are affecting your strategy, what's working and what's not working, and take action accordingly. Only upon analyzing will you be able to understand the type of content that works best for your restaurant.
9. Respond to reviews and feedback
Start by always telling the customer that you appreciate their feedback by saying "thank you." Make sure to also respond to any reviews or negative comments in a timely manner - as other customers might review how fast you deal with a query. Remember to always stay professional and courteous. Only apologize if appropriate and offer to take the conversation offline, especially if it's negative feedback. It's also important to remain genuine and authentic when dealing with your customers online.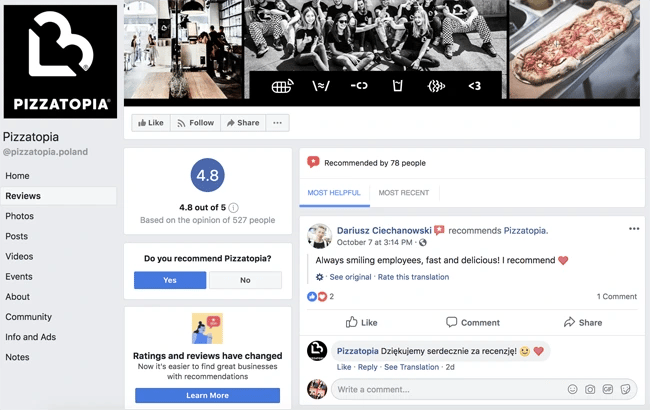 10. Utilize user-generated content
If you believe in your restaurant, and you feel confident that your food is top-class, why not encourage your customers to take a picture and share it on social media? It's also highly recommended to create an easy-to-use hashtag that your customers can use and remember when they post an image of your food or restaurant. Check-ins can also be very beneficial for your restaurant.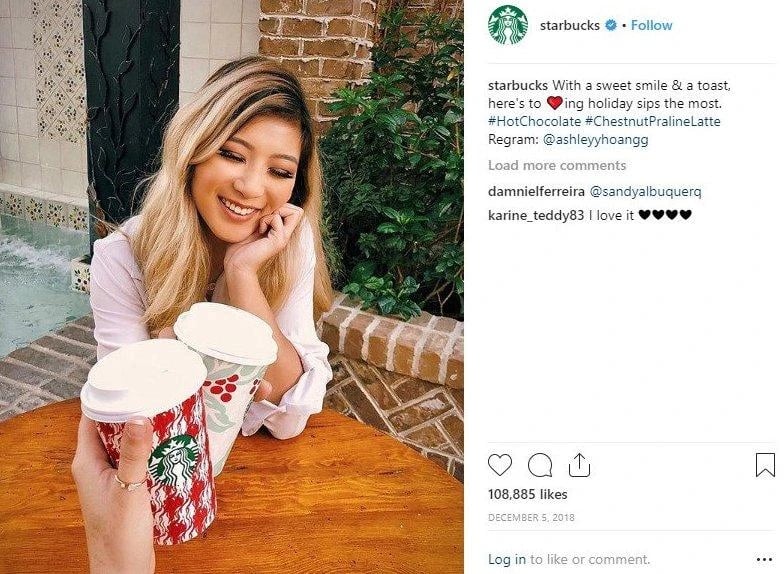 11. Use quality assets
It's considered essential when sharing videos or images of your restaurant on your social media platforms. Therefore, make sure to capture and share the overall ambiance, as well as the decor of your restaurant.
12. Highlight deals and promotions
Using social media to advertise your restaurant's events and deals is a great idea. To entice your followers to make a reservation or visit your restaurant, be sure to share details about impending events, such as live music nights or holiday specials, and convey a sense of urgency.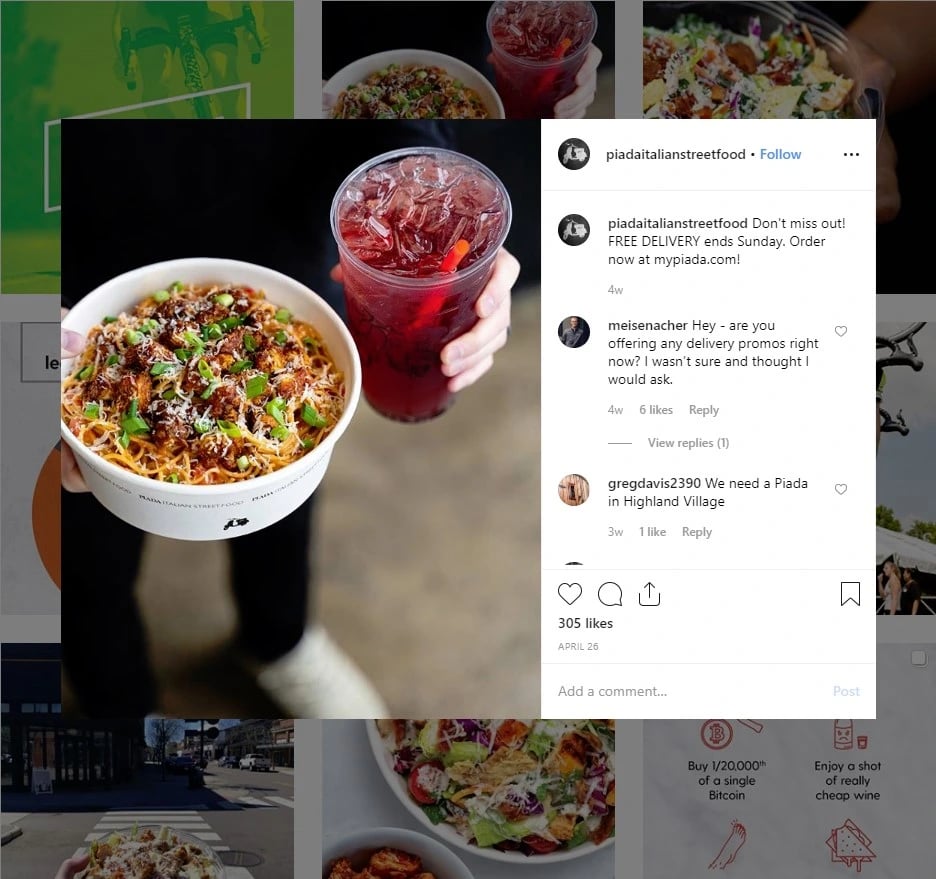 13. Use relevant hashtags and location tags
The best way to increase your social media following is through the use of hashtags and location tags, especially when you are first getting started. With the former, you can connect with people who are interested in a specific subject, while with the latter, you have a chance to show up in local social search results and be found by people in your area.
14. Post updated menus
Make sure to also include any new and exciting menu changes to your restaurant's social media channels. To take it a step further, call up a few reporters and food critics as well as foodie bloggers and influencers with sizable social media followings. Then, inform them that you are launching a new menu and provide them with incentives, such as free food and first tastings, to visit and try your new dishes.
15. Pose a question to engage with your audience
Sharing events from your restaurant with your followers on social media is just one aspect of the platform. It also involves paying attention to them. Using websites like Facebook, Twitter, and Instagram, you can have a two-way conversation with your audience. For prospective customers, Instagram stories' question and poll features are especially interesting and entertaining. Instead of just scrolling to the next story or down the page, asking questions can encourage followers to engage with your posts and with you.
16. Provide social media-only discounts
Providing special discounts to your social media followers can boost engagement and improve restaurant traffic. Customers who share a post or a story about your restaurant on social media can receive a discount on their meal or a free meal.
17. Advertise on social media
Advertising on social media can be a terrific method to promote your restaurant and reach a specific audience. On websites like Facebook or Instagram, you can build advertisements that are targeted at particular groups of people or interests. With a bit of ad spend you will be able to generate more users visiting your social media profiles. In other words, potential clients who might not be following your social media accounts can be reached this way.
18. Create a cohesive brand voice on your social media platforms
You spend time creating a fantastic restaurant interior. Show off on Instagram with an Instagram post on how amazing it is! To showcase your company through images, take into account your brand rules and stick to the same color palette.
19. Share images of your dishes
This one ought to be obvious, right? Of course, your restaurant should display the food it offers to clients! Yet, there is one thing you must remember: your photos must be really stunning. If your cuisine doesn't appear enticing, you run the risk of turning away clients. You may think about working with an expert photographer or you could use these straightforward guidelines for a DIY picture shoot. At the absolute least, spend some time investigating simple staging techniques, lighting setups, and other methods to make your food look its best.
20. Identify your audience
Use social media to find your customers and extend an invitation.
Individuals who are visiting other locations frequently post requests for food recommendations on social media. With social media monitoring, you as a business can spot these requests for recommendations on social media. Afterwards, you get in touch with that person and make your offer.
All you require is a project that is well-optimized and social media monitoring. Yes, you must compete with each and every customer on social media.
Examples of Successful Social Media Campaigns by Restaurants
1. Share kitchen BTS
Winnipeg bakery Jenna Rae Cakes gives its followers a look into their kitchen by sharing snippets of how they make their popular treats. These posts have proven very successful for the bakery, helping them gain thousands of views on its content.
2. Highlight your team
Miami-based bakers Sweet Studio introduced their staff with a fun and engaging Instagram reel that helped people connect with their brand in a personal way. One person commented, "I went to the bakery for the first time on Saturday and had a wonderful experience💗 The staff members and treats were fantastic! Thank you💞". Seeing the team highlighted encouraged her to share her positive experience with others.
3. Run a competition
Dubai-based fine-dining restaurant Bombay Borough ran a Father's day giveaway on their social media that encouraged people to engage with the brand and receive an incentive in return. With this strategy, they capitalized on the existing Father's day trend and used it to boost their brand awareness.
4. Use a social media influencer
London-based Dumplings Legend restaurant collaborated with social media influencer @clerkenwellboyec1 to promote their limited edition dumpling pop-up. This allowed them to capitalize on Clerken's huge Instagram following and create awareness for their event.