In today's digital age, social media influencers have become a powerful marketing tool for businesses, including restaurants. Restaurant influencers are individuals who have a significant following on social media platforms and have built a reputation for sharing their food experiences and recommendations.
Collaborating with restaurant influencers can help restaurant owners increase their brand awareness, reach a wider audience, and attract new customers.
In this article, we will highlight the top 21 restaurant influencers to follow and why restaurant owners should collaborate with them.
Key Takeaways
Influencers in the restaurant industry instruct their followers on where to eat, what to order, and when to go.

These food influencers have all the greatest advice, whether you're looking for the tastiest breakfast or authentic Mexican food to eat.

Restaurants will be able to establish a more sincere, "one-on-one" connection with their fans if they incorporate an influencer's voice into their social media marketing.
Top restaurant influencers
The top restaurant influencers are revered figures in the culinary world, renowned for their discerning palates, impeccable taste, and ability to discover hidden gems. Following these influential individuals guarantees a curated selection of the most exquisite dining experiences while staying ahead of the latest food trends and discovering the city's most buzz-worthy restaurants.
Amy, a 'blondie' who was born in Australia, relocated to China in 2017. She maintains a Youtube account and shares her experiences with the regional cuisine and culture online. Amy trusts the waiters/waitresses just as much as the audience would and orders everything they suggest, even if she has no idea what the plate is. More than 400K people follow this top 10 restaurant influencer on TikTok, and she has more than 300K subscribers on Youtube.
According to Amy, to know what the best dish on the menu is, ask the waiter. "I love doing this! You can discover so many new dishes this way and also get outside your comfort zone," she says.
View Amy's account here.

From Madrid, Andrés Moreno Castillo is a cuisine enthusiast and content producer. In the capital of Spain, he regularly visits budget-friendly restaurants and shares his plans and restaurant recommendations. His audience is primarily young because of his engaging and relatable content.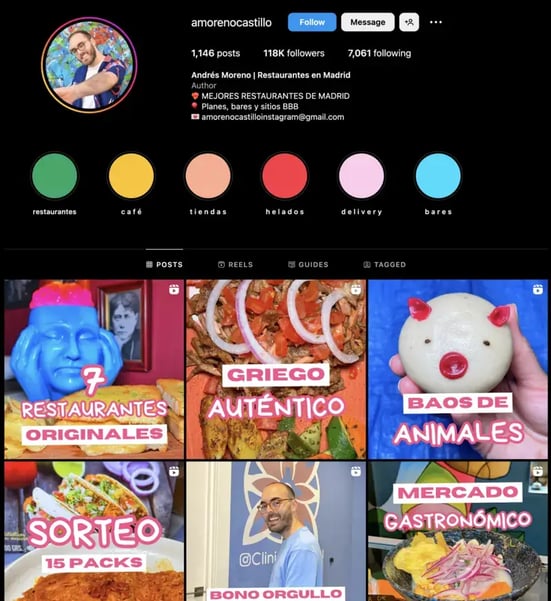 3. Yanni the Foody Fetish (@foodyfetish)
One of the top content producers in the world in the fields of food and travel is Yanni Georgoulakis, a foodie with a base in Miami. He established his Instagram account in 2015 and currently has over 6 million followers across many platforms. Yanni is also a founding partner of three Miami-area eateries. This top restaurant influencer has worked with companies including Burger King, Jagermaister, and Royal Caribbean Cruises in the realm of influencer marketing.
View Yanni's account here.
The designer of lickyplate, which is based "in London and beyond," is likely to make anyone feel ravenous.
The account, which is well-known for its mouthwatering images and funny, pun-filled comments, provides updates on all the best gourmet finds across the UK so you never miss a tasty snack (or a lick-worthy plate).
>>> Discover our guide to social media marketing for restaurants
The Gnoch Gnoch account, a well-known social media presence that gives restaurant and cuisine suggestions, is run by Nguyen Yeats-Brown. She also posts vlogs and food recommendations when she travels. Nguyen began working on her project in 2018, and since then, it has continued to expand. Additionally, she co-hosts the Hot Girl Supper podcast, whose primary focus is, unsurprisingly, food.
Knives To Meet You London is run by Bev, a foodie and content developer located in London. She offers suggestions for the top restaurants in London, including both award-winning restaurants and street food vendors. 'Discovering London's hidden jewels' is the title of a TikTok series created by this influencer. When Bev is traveling, she also posts food-related stuff, so you might see Spanish or Canadian food on her feed, for instance.
View Bev's account here.
Tulio is a food enthusiast and restaurant influencer from Colombia who runs the Tulio Recomienda website and social media pages. Tulio began his career writing a cuisine and wine column for various periodicals before starting his own blog. He is the founder of the Burger Master, Pizza Master, and Sushi Master national competitions in Colombia, where eateries present a single plate and the public votes on social media to determine which establishment has the finest plate in the nation.
Why collaborate with them?
These influencers are unbeatable when it comes to actionable content. They provide their viewers with local ideas they can quickly act upon rather than simply general advice to put on a bucket list with items like "the best rooftop bars in Clapham" or "where to go for brunch outside in King's Cross." Being included on a list like this is one way for a London-based company to stand out from the competition.
>>> View our guide on a successful collaboration with influencers
NYC restaurant influencers
Following NYC restaurant influencers is a must for food enthusiasts seeking expert recommendations, insider tips, and a glimpse into the vibrant culinary scene of New York City, ensuring unforgettable dining experiences at the city's finest establishments.
When I first got to New York City, Greg, and Rebecca were the first food influencers I started following. They captured me because of their contagious passion and excellent advice. They were a food-obsessed couple who virtually always ate out. Rather than feeling bad about it, they saw their passion for food as an investment.
Originally known as Meals and Reels, the pair posted images of their delicious meals along with movie reviews. However, they changed their attention when they saw that their culinary posts were receiving more engagement and followers on social media.
View Greg and Rebecca's account here.
9. Megan Radice and Audrey Jongens (@theviplist)
The owners of a New York City-based, gastronomy-focused TikTok channel that has become well-known for its frank restaurant critiques are these top food influencers in NYC. When the pandemic first began, this friendship pair began blogging about their experiences as two young girls living in New York City.
Megan discussed their business and their motivations in an interview with Delish. "The world was shut down and we were so bored. I was in New York, Audrey was in Miami and we would FaceTime every day. We were like, 'Let's think of something we can do. Once I downloaded TikTok I started noticing that people were posting where to go, what to eat. And I was like, 'if anyone knows where to go, where to party, and what to eat...it's us," she said.
Former Columbia student and well-known New York food influencer Morgan Raum was reared on the Upper East Side and made the decision to make money off her passion for food while still in college. She is well recognized for directing New Yorkers based on their preferences and surroundings. She has authored several digital food guides, some of which have titles like "The Best Southern Food is in Brooklyn" and "Chinese Food on Christmas Takeout Guide."
Morgan's fame increased as a result of her warm social media presence and her relationship with her fans. In essence, following Morgan's advice is like having a conversation with a friend. She is adored online for her thorough meal advice and upbeat attitude toward food.
Jeremy Jacobowitz is a top culinary influencer in New York City, a food blogger, a podcast host, and a former TV program producer. His website "Brunch Boys" features blog pieces on his culinary experiences as well as images of his favorite delicacies, which have made him particularly well known. The majority of his time is spent traveling, cooking, and creating food-related videos for his Instagram, TikTok, and YouTube channels.
With 211.9K followers, 145.1K average views, 11.3K likes, 178 comments, and an engagement rate of 5.33%, Jeremy has expanded his platform on TikTok. On TikTok, his audience is more evenly split (51.40% female and 48.60% male), although they tend to be younger (18 to 24 years old). Additionally, The Feed Feed, Poppy O'Toole, and Max The Meat Guy are among his most renowned devotees.
Luxury restaurant influencers
Are five-star reviews what you're after? How about identifying yourself with the appeal of the Michelin star? The following influencers will lend your marketing campaign the type of upscale cache you require:
12. Aiste Miseviciute (@luxeat)
Aiste is the ideal restaurant influencer for individuals looking for something special because she is a journalist and a frequent visitor to upscale eateries. Her Instagram feed features the best restaurants and delves deeply into the intriguing delicacies that define truly delicious meals.
Nowhere else can you discover a more exquisitely curated exhibition of top-notch food, regardless of the occasion. This Instagram influencer is ideal for eateries looking to showcase their top-notch culinary talent.
"At 3 Michelin starred Fräntzén in Stockholm @restaurantfrantzen by @bjornfrantzen, one of my favourite fine dining restaurants in the world, which, judging from my last visit there, is just getting better and better. Everything was perfect and utterly delicious," said Aiste when visiting one of her most beloved restaurants.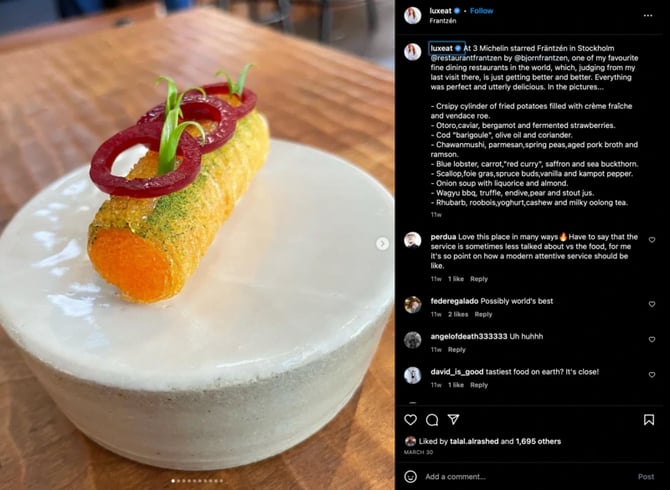 Emily, a TikTok lifestyle influencer with a penchant for better things in life, frequently gives upscale dining recommendations with her nearly 65k followers. For restaurant owners wishing to develop a marketing plan around a full luxury lifestyle, this influencer is a perfect option.
Moet at Harrods, Jimmy Choo pop-ups, and dinner at the Lanesborough... Everything needed for a gourmet meal.
View Emily's account here.
@emily_jane_johnston

The best burger to take on the beach in Beaufort, South Carolina is found at Beedo's. It's also just one of the best burgers in Beaufort. Their menu is extensive and I have a soft spot for their display of love for the community. You can also get coffee, ice cream, tons of baked goods and eat in or take away. Today we're taking away because we're headed to Hunting Island, the nearest beach with a rather beautiful view for a burger moment. This is a South Carolina state park for your bucket list. Bag in hand we make our way onto the beach. First I have to show you the fired bologna sandwich ordered with fries. Just trust me, this is southern comfort food worth seeking out. But, for me it's always the burger, with onion rings. This smash burger is just the tastiest feast and somehow the ocean breeze just enhances this perfectly cooked burger with juicy pickles and a buttered and toasted bun. It's messy and it needs a few napkins but I'm here for it. And yes, word got out we had beedos on the beach and fights broke out… #beachday #beaufort #burgertok

♬ Menu Theme (From "Life Is Strange") - DOLKINS
Top chef influencers
When a person works, breathes, and is immersed in the food industry, their suggestions are intrinsically reliable. Although you'll usually find these gourmet influencers tweeting their own recipes or photos from their day jobs, their restaurant recommendations won't be disregarded because they've made the culinary arts their careers:
The self-styled "potato queen" Poppy first became well-known on TikTok for her 15-hour potato dish, which many of the biggest creators on the platform have subsequently copied.
Her post is a little too potato-forward. But because she received Michelin training, you'll find more than just mash and roasties to be inspired by on her page.
View Poppy's account here.
French chef Yllan, who has had classical training, publishes films on his channel demonstrating exquisite delicacies. His content changes every day because he works as a private chef, which is a terrific method to make sure nothing gets old (pun intended).
Even better: In addition to his cooking advice, Yllan frequently posts on his favorite nearby eateries, providing terrific restaurant recommendations.
View Yllan's account here.
Why collaborate with them?
Social media users enjoy sharing their experiences and enjoy watching lifestyle films that give them an inside look at how others spend their days. This allows them to get a glimpse into a different world. Food and that together make a wonderful mix. Additionally, restaurants will be able to establish a more sincere, "one-on-one" connection with their fans if they incorporate a chef voice into their social media marketing.
Other famous food influencers
First We Feast is a renowned food influencer that brings together the worlds of food, pop culture, and entertainment. With their wildly popular YouTube channel, they produce engaging content that explores all aspects of the culinary world. From hosting celebrity guests on their hit series "Hot Ones," where guests answer questions while eating progressively spicier chicken wings, to showcasing unique food trends and challenges, First We Feast never fails to entertain and inform food enthusiasts.
Munchies is a food influencer that focuses on the intersection of food and culture. They offer a unique perspective by exploring the diverse culinary landscapes around the world. Through their website, YouTube channel, and social media platforms, Munchies delivers captivating food documentaries, chef profiles, recipe videos, and behind-the-scenes glimpses into the food industry. With their commitment to showcasing both traditional and innovative food experiences, Munchies provides an engaging platform for food lovers to expand their culinary horizons.
The Kitchn is a popular food influencer that provides practical and accessible content for home cooks. With its website and social media presence, The Kitchn offers a wide range of recipes, kitchen tips, meal planning ideas, and cooking tutorials. They strive to make cooking more approachable and enjoyable, catering to individuals at all skill levels. Whether you're looking for quick weeknight dinner ideas or want to master a new cooking technique, The Kitchn is a reliable resource for home chefs seeking culinary inspiration.
Food Republic is a food influencer that celebrates the world of gastronomy through engaging storytelling and visually stunning content. With a focus on culinary trends, food culture, and global cuisines, Food Republic offers a diverse array of articles, recipes, videos, and interviews. From exploring street food in far-flung destinations to providing in-depth features on renowned chefs, Food Republic connects food enthusiasts with a wealth of inspiration.
Spoon University is a food influencer that caters specifically to college students and young adults. With a mission to make cooking and food knowledge accessible to this demographic, Spoon University offers a wide range of recipes, meal ideas, and cooking hacks that are budget-friendly and easy to execute. Through its website and social media channels, Spoon University also covers food-related topics such as nutrition, restaurant recommendations, and food trends that resonate with young adults navigating the world of cooking and dining on a student budget.
"I'm a sucker for hidden gems! If you're a cafe chain girly, try visiting a local cafe, it may be your new favorite!" - Spoon University Influencer
Saveur is a respected food influencer that celebrates the art of cooking and the rich diversity of global cuisines. With a focus on culinary traditions, unique ingredients, and authentic recipes, Saveur delivers content that appeals to both professional chefs and home cooks alike. Their beautifully curated articles, stunning food photography, and engaging storytelling transport readers into the world of gastronomy, encouraging a deeper appreciation for the cultural significance of food. Saveur is a go-to resource for those seeking inspiration to expand their culinary repertoire and explore the flavors of the world.
Why collaborate with them?
Collaborating with food influencers can help restaurant owners increase their brand awareness, reach a wider audience, and attract new customers. According to a study conducted by Markerly, an influencer marketing platform, "Instagram influencers with fewer than 1,000 followers have a like rate of about 8%, while those with 1,000 to 10,000 followers have a like rate of 4%.
Influencers with 10,000 to 100,000 followers have a like rate of 2.4%, while those with 1 million to 10 million followers have a like rate of 1.7%." This means that food (and even restaurant) influencers with a smaller following can still have a significant impact on a restaurant's brand awareness and customer base.
Collaborating with food influencers can also help restaurant owners reach a wider audience. By partnering with influencers who have a significant following on social media platforms, restaurant owners can increase their brand awareness and attract new customers who may not have heard of their restaurant before.
Finally, collaborating with food influencers can help restaurant owners attract new customers. According to a study conducted by Nielsen, "92% of consumers trust recommendations from people they know, and 70% trust recommendations from people they don't know."
This means that food influencers can have a significant impact on a restaurant's customer base by sharing their food experiences and recommendations with their followers.
Conclusion
Collaborating with restaurant, chef, and food influencers can be a powerful marketing tool for restaurant owners. By partnering with influencers who have a significant following on social media platforms, restaurant owners can increase their brand awareness, reach a wider audience, and attract new customers. The top 20 restaurant influencers highlighted in this article are all experts in their field and can help restaurant owners achieve their marketing goals.
Read more about restaurant marketing on the Eat App blog