After months of meticulous planning and countless hours of hard work, your restaurant is finally ready to open.
The quickest way to now solidify your restaurant business presence in the community is by holding a restaurant grand opening event.
Your grand opening doesn't have to be a lavish event attended by hundreds of guests, but it has to at least publicly announce that your restaurant is now ready for visitors. How else are they going to know?
The most difficult part about this entire ordeal though is coming up with simple yet effective ideas that will guarantee you a successful grand opening.
To help, we've provided you with 20 restaurant grand opening ideas you can follow to set your event apart from the rest. Including everything you'll need to put together for a grand opening checklist ahead of your launch.
Bonus: Stick around to the end for free downloadable grand opening invitation templates.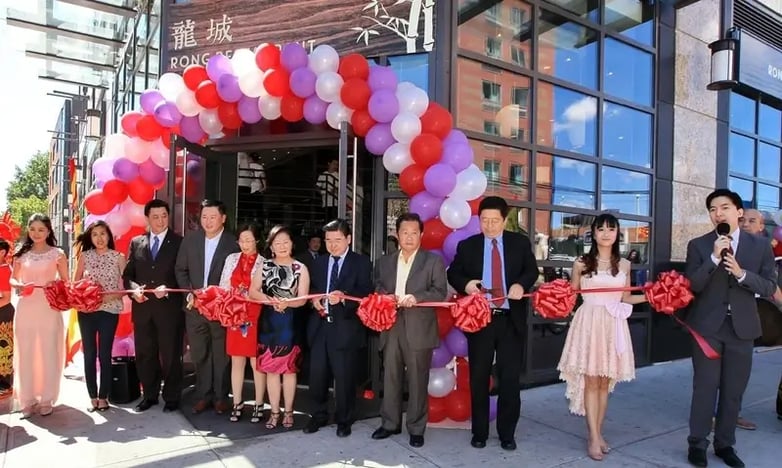 1. Invite friends or family to visit
In our blog post, 9 Essential Steps for Opening a Restaurant, we discussed the importance of having a soft opening before fully investing in a grand opening. To make the soft launch period even more successful and to ensure that everything is running smoothly by the time you hold your grand opening, invite your friends and family.
By setting aside one night for an invite-only dinner, you give your staff the chance to experience handling a fully booked restaurant with a group of more understanding guests.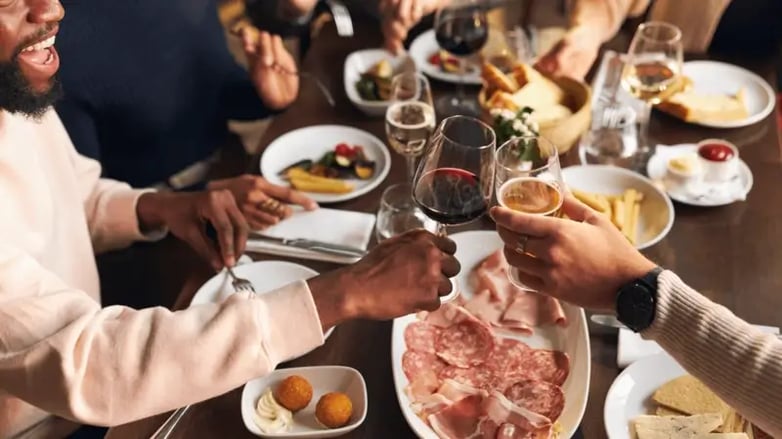 2. Make a guest list for the big opening of your restaurant
As you prepare for your grand opening, it's critical to think strategically about your guest list. You should invite many important VIP groups in addition to the general public to the event.
First, host a ribbon-cutting ceremony at the opening of your restaurant and invite the press (plus write a press release) and your mayor (or another high-ranking person from your town) to attend.
Second, invite all the people who helped make the restaurant possible, including friends, family, and investors. Finally, invite additional social media personalities and influencers who can generate discussion about your big opening and draw people with social media posts.
To generate awareness for your restaurant's grand opening, invite the media and influencers, as well as your friends and family, to show your appreciation for their support. More on this topic below.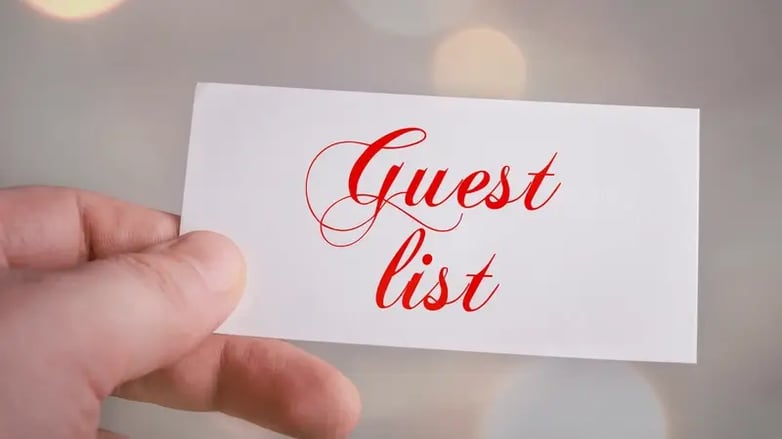 3. Provide an exceptional experience
People will be eager to attend your grand opening if you provide the perfect experience. For example, promote that you'll be striving to break a Guinness world record. Although it may seem frightening, businesses frequently engage in it. For example, did you know the Tour de France began as a publicity stunt to support a brand-new French newspaper? You might also organize a parade or another form of a PR stunt.

Another option is to hold an elegant occasion, such as an art show, and invite nearby artists to display their work. You might also commission them to live-paint a mural on the side of your building in front of your customers.
>>> Need help creating an unforgettable restaurant experience all year long? Reach out to us today.
4. Invite influencers
The quickest way to get the word out to the public of your opening is by inviting influencers. Social media influencers, often including bloggers, are people who have garnered thousands and thousands of online followers. One picture or tweet across their social media accounts can result in hundreds of potential new customers all wanting to visit.
By inviting a large number of local influencers to your grand opening party, you can guarantee thousands of unaware online users will see and hear about your restaurant within a matter of days.
5. Express gratitude to the vendor
The majority of business owners appear to forget that the locals that assisted in building your restaurant may also be your best customers. The obvious first: Be nice to them while you're building or remodeling, and then host a party where they may invite their relatives and display their craftsmanship. If you support your vendors, they will end up supporting you.
6. Partner with a charity
Partnering with a local or regional charity not only helps you increase the coverage your grand opening event, receives but it also help solidify your relationship with the public. By associating your grand opening event with a charity, you show that you are willing to support local causes. If possible, attempt to partner with a charity that is somewhat related to your brand/business.
7. Special offers and discounts
One of the easiest ways to get guests through the door is by providing them with an incentive. Special offers and discounts on opening nights are a quick way to generate interest in the grand opening event. Make sure at least one of your offers is a 'bounce-back offer' - an offer that can be redeemed at a later date to encourage guests to visit again.
Some special offer ideas include:
50% off everything
Free drinks
Free food on their next visit
Free appetizer with any order
8. Add decorations
You are going to want to decorate your restaurant in honor of the grand opening event. This includes printing massive banners to drape across the front of the restaurant and placing signs and balloons around the venue. The combination of these decorations leading up to the event will help generate interest within the community.
9. Celebrate a person or a group of people
A fast and memorable method to open your restaurant is to celebrate a particular individual or group of people, similar to supporting a deserving cause.

Here are a few suggestions to get you going:
Invite them to bring out their large trucks to make a show by advertising "First Responders Eat Free" to them.
Invite a renowned veteran and connect this concept with a local politician who can in some manner recognize them.
Long-term advantages can also result from honoring a group of people right away. Increase the likelihood that they'll return week after week by offering them a consistent discount or by hanging their photo on the wall.
10. Open your restaurant on a holiday
The one constant during holidays is that people frequent restaurants. Make your launch successful by choosing the proper timing. For example:
On Valentine's Day: Promote candle-and-free dessert meals with a romantic ambiance.




Celebrate Halloween by hosting a costume party and setting up a prize drawing.




With every Thanksgiving dinner your clients purchase, give a free meal to a person in need.




Christmas: Give away something worthwhile, like no-cost photos with Santa during the season.
11. Plan an extravagant giveaway
Although it sounds like a no-brainer, many firms choose the incorrect path. Giving away an iPhone, which everyone already has, isn't going to be appealing enough to generate a crowd, therefore prizes can occasionally be underwhelming.

If you're an Italian restaurant, make sure the prize you're giving away is substantial and thrilling, such as a brand-new convertible or an all-expenses-paid vacation to Italy. If this proposal appears unrealistic or out of your price range, think about collaborating with another nearby company so you can split the costs and attention. They would gladly collaborate and are probably seeking original ways to attract clients.
12. Create the perfect ambiance
Crowds can occasionally be attracted by torches around the patio, a lit fireplace, or perhaps individual fire pits outside for eating or drinking. Consider adding restaurant décor, such as candles at all the tables, to replicate a similarly warm and cozy atmosphere if outdoor seating is not available.
13. Consider a marketing plan
Without the right marketing, none of these endeavors will be as effective as planned. Conventionally, you could pay for a spot on the radio, local newspaper, or a billboard ad, and while this is effective it is also very costly.
An alternative to this is to run location-based Facebook ads. With Facebook's built-in ad manager, it is possible to target people within a certain radius of your restaurant, increasing the likelihood they will visit.
If you don't have a marketing budget for either option, you can send out press releases to local media outlets asking to be published. Alternatively, check out our blog post on cheap promotion ideas to get inspired.
14. Live entertainment
A grand opening is not complete without some entertainment, so make sure you have some arranged for the grand opening. Try scheduling the entertainment in advance to have time to build excitement leading up to the opening.
If at this point you have exhausted your budget, try hiring local talent looking for exposure. This will both provide you with entertainment, and give back to the community.
15. Hold multiple restaurant events
Holding multiple events ahead of your restaurant's grand opening is a great way to generate hype. Invite local press or business owners for a private tour of your restaurant along with dinner to increase the excitement for your official launch. Alternatively, host friends and family night to allow your staff to show their loved ones what they've been working on.
These events, while rewarding to the people attending, can also be rewarding for you and your staff as they provide them with a means to train willing customers ahead of a grand opening.
16. Print a special menu
Allow your guests to try a range of your menu items at your grand opening. If your menu suits it, serve smaller versions of your favorite dishes allowing your customers to try many dishes all at once instead of only one main course.
By doing this, you are increasing the likelihood that customers will like at least one of the dishes and come back again.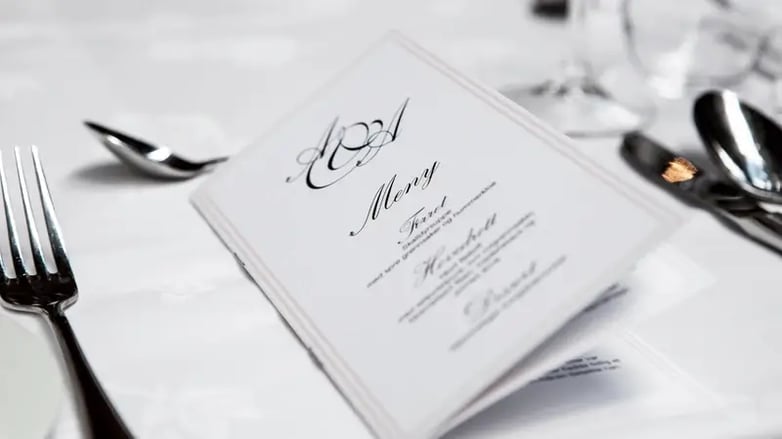 17. Conveniently "leak" an exclusive menu
Nothing makes people feel more special than ordering off-menu. Why? Because people appreciate exclusivity. Come up with a number of recipes or dish modifications that you can "let slip" to certain selected food bloggers, charitable organization members, community events, or local politicians. They then enjoy the satisfaction of providing their followers with further value by sharing them.
18. Organize an exciting challenge
Food challenges are always well-liked, especially if the customer stands to gain something. Try launching a regular contest at your restaurant where the winner receives a free dinner, a t-shirt, and a spot on the wall.

Make sure to add a little more spectacle to your grand opening so that it draws a crowd. Add a number of contestants, provide a significant prize, and name a dish after the winner on the menu.
19. Set up a fun game
Making an entertaining game is a fantastic way to connect customers with your restaurant and, if done well, may keep their interest past opening day. With their card game, Skip's Kitchen can serve as inspiration. When it comes time to pay, the cashier spreads out a deck of cards in front of each customer so they can choose one.

If customers choose a joker, their supper is on the house. The majority of cards function as table markings so the waitress knows where to bring their food. It has grown to be a major lure for customers and keeps people lined up for a chance to win.
20. Give guests a "comeback" offer
Giving out "comeback" offers to everyone participating from the start of your series of events is a terrific idea, including merchants, friends, family, influencers, charity goers, opening day attendees, and everyone else.

Comeback deals typically take the shape of an additional coupon that remains valid for a few extra weeks after your initial time period expires. The objective is to welcome these visitors back as soon as feasible.
The quicker you can entice them back, the quicker you can convert visitors into regulars because it takes several visits for someone to form an attachment to your restaurant, its fantastic food, and its exceptional service.
>>>Want to know more about turning guests into loyal customers? Request a demo today.
4 Top practices for opening a new restaurant
Grand opening celebrations for restaurants are crucial to creating the much-needed initial buzz about your business. The following best practices will help you stack the deck in your favor on grand opening day in addition to the key ideas mentioned above.

1. Display a Banner to Ensure Citizens You're Now Open formally
As your restaurant was being built, people passed by frequently, so it's crucial to let them know that you are now open and accepting reservations.
2. Invite everyone you know
A grand opening celebration is both a public and a private spectacle. Invite both your immediate and extended family. Encourage your team to follow suit. Make sure you individually invite your neighbors as well. Send invitations to all of your suppliers and contractors who assisted in the construction of your restaurant while you're at it; you know what they say, the more, the merrier.
3. Make a big splash on social media
Create an account on all the necessary platforms, then start growing your fan base. Consider some smaller giveaways like "a guaranteed table on opening day" or "we'll name a drink after our raffle winner" and run some local advertisements to encourage people to raise awareness of the opening.
4. Invite others to support you
On opening day, you're going to invest a lot of time, energy, and money, especially into your tasting menu, so make the most of it as much as you can. Request reviews of the food and the whole experience from customers. In exchange for evaluations, provide more of those "comeback goodies" like coupons or vouchers to entice customers to not only submit positive reviews but also to dine with you again.
Free: Restaurant Grand Opening Invitation Templates
Once you've gathered all your unique grand opening ideas and have a stellar grand opening planned, it's time to start thinking about how you're going to invite your guests. Despite living in the 21st century, guests still appreciate and look forward to receiving personalized invitation letters or flyers.
To help make your grand opening easier we've put together a handful of downloadable templates and emails perfect for restaurants.
Recap
That was a lot of information to process, so we've gone ahead and laid out everything you need to know below in a concise grand opening checklist.
Hold a soft opening to test the waters with friends and family.
Set an official grand opening date.
Create your restaurant opening invitations and flyers.
Put together a marketing plan. Utilize online ads, newspaper ads, radio ads, and social media marketing.
Book live entertainment.
Arrange decorations as well as grand opening gifts for your guests.
Set up a few exclusive offers for the attendees.
Consider printing special menus for the event.
Invite bloggers, influencers, and the press.
Partner with a local charity to give back to the community.
Give away a grand prize and create an exceptional challenge.
Enjoy your restaurant's grand opening!