After months of meticulous planning and countless hours of hard work, your restaurant is finally ready to open. The quickest way to now solidify your presence in the community is by holding a restaurant grand opening event.
Your grand opening doesn't have to be a lavish event attended by hundreds of guests, but it has to at least publically announce that your restaurant is now ready for visitors. How else are they going to know?
The most difficult part about this entire ordeal though, is coming up with simple yet effective ideas that will guarantee you a successful grand opening.
To help, we've provided you with 8 simple steps you can follow to set your event apart from the rest. Including everything you'll need to put together a grand opening checklist ahead of your launch.
Bonus: Stick around to the end for free downloadable grand opening invitation templates.
---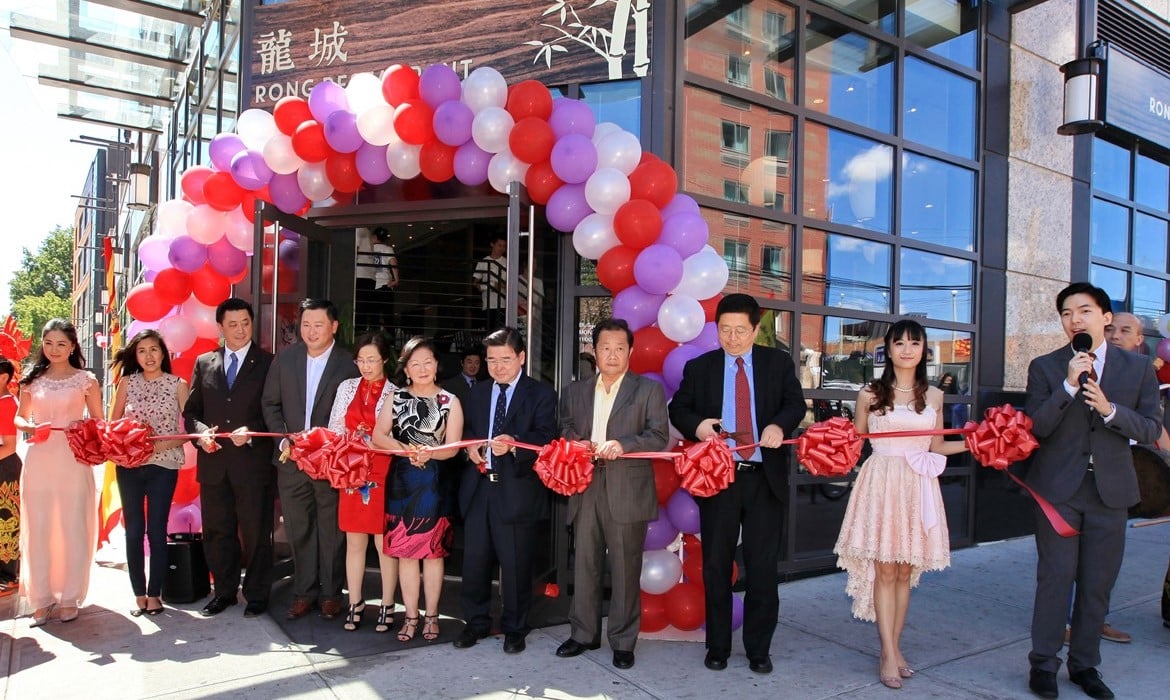 Invite friends or family to visit
In our blog post, 9 Essential Steps for Opening a Restaurant , we discussed the importance of having a soft opening before fully investing into a grand opening. To make the soft launch period even more successful and to ensure that everything is running smoothly by the time you hold your grand opening, invite your friends and family.
By setting aside one night for an invite-only dinner, you give your staff the chance to experience handling a fully booked restaurant with a group of more understanding guests.
Invite Influencers
The quickest way to get word out to the public of your opening is by inviting influencers. Social media influencers, often including bloggers, are people who have garnered thousands and thousands of online followers. One picture or tweet across their social media accounts can result in hundreds of potential customers wanting to visit.
By inviting a large number of local influencers to your grand opening, you can guarantee thousands of unaware online users will see and hear about your restaurant within a matter of days.
Partner with a charity
Partnering with a local or regional charity not only helps you increase the coverage your grand opening event, receives but it also help solidify your relationship with the public. By associating your grand opening event with a charity, you show that you are willing to support local causes. If possible, attempt to partner with a charity that is somewhat related to your brand/business.
Special Offers and Discounts
One of the easiest ways to get guests through the door is by providing them with an incentive. Special offers and discounts on opening night are a quick way to generate interest in the grand opening event. Make sure at least one of your offers is a 'bounce-back offer' - an offer that can be redeemed at a later date to encourage guests to visit again.
Some special offer ideas include:
50% off everything
Free drinks
Free food on their next visit
Free appetizer with any order
Decorations
You are going to want to decorate your restaurant in honor of the grand opening event. This includes printing massive banners to drape across the front of the restaurant, and placing signs and balloons around the venue. The combination of these decorations leading up to the event will help generate interest within the community.
Marketing Plan
Without the right marketing, none of these endeavors will be as effective as planned. Conventionally, you could pay for a spot on the radio or a billboard ad, and while this is effective it is also very costly. An alternative to this is to run location based Facebook ads. With Facebook's built in ad manager, it is possible to target people within a certain radius of your restaurant, increasing the likelihood they will visit.
If you don't have a marketing budget for either option, you can send out press releases to local media asking to be published. Alternatively, check out our blog post on cheap promotion ideas to get inspired.
Live entertainment
A grand opening is not complete without some entertainment, so make sure you have some arranged for the grand opening. Try scheduling the entertainment in advance to have time to build excitement leading up to the opening.
If at this point you have exhausted your budget, try hiring local talent looking for exposure. This will both provide you with entertainment, and give back to the community.
Hold multiple restaurant events
Holding multiple events ahead of your restaurant grand opening is a great way to generate hype. Invite local press or business owners for a private tour of your restaurant along with dinner to increase excitement for your official launch. Alternatively, host a friends and family night to allow your staff to show their loved-ones what they've been working on.
These events, while rewarding to the people attending, can also be rewarding for you and your staff as they provide them with a means to train on willing customers ahead of a grand opening.
Special Menu
Allow your guests to try a range of your most popular dishes at your grand opening. If your menu suits it, serve smaller versions of your favorite dishes allowing your customers to try many dishes all at once instead of only one main course.
By doing this, you are increasing the likelihood that customers will like at least one of the dishes and come back again.
---
Free: Restaurant Grand Opening Invitation Templates
Once you've gathered all your grand opening ideas and have a stellar grand opening planned, it's time to start thinking about how you're going to invite your guests. Despite living in the 21st century, guests still appreciate and look forward to receiving a personalized invitation letters or flyers.
To help make your grand opening easier we've put together a handful of downloadable templates perfect for restaurants.
Recap
That was a lot of information to process, so we've gone ahead and laid out everything you need to know below in a concise grand opening checklist.
Hold a soft opening to test the waters with friends and family.
Set an official grand opening date.
Create your restaurant opening invitations and flyers.
Put together a marketing plan. Utilize online ads, newspaper ads, radio ads, and social media marketing.
Book live entertainment.
Arrange decorations as well as grand opening gifts for your guests.
Set up a few exclusive offers for the attendees.
Consider printing special menus for the event.
Invite bloggers, influencers, and the press.
Partner with a local charity to give back to the community.
Enjoy your restaurant grand opening!