For many restaurants, Instagram has essentially become their main presence on social media. This is because, despite the sheer number of other social media sites geared towards acquiring a following online, Instagram does the best job of generating interest for restaurants.
The photo-sharing platform is the perfect spot for restaurants looking to share their most tantalizing food photos, promote one-off special offers, and gauge what their customers think.
One Instagram feature many restaurant operators still aren't aware of though is the ability to add a reservation link within a restaurant's Instagram profile.
If this describes you, read on to learn about Instagram's hidden booking feature and how to add a book now button to your profile.
Key Takeaways
Instagram can streamline bookings and increase visibility.

A "Book" button on Instagram provides a quick booking option.

Integrating a reservation system can improve efficiency.

Instagram Insights helps optimize the booking process.

Consider influencers or ads to increase visibility and bookings.

Ensure the website and online platforms are user-friendly.
Why is Instagram important for restaurants?
With over 800 million monthly active users, Instagram is quickly becoming one of the biggest social media sites around. As a restaurant owner/operator, you should be trying to use this to your advantage.
This is because:
55% of 18-29-year-old Americans are using Instagram.
Since 2012 adult Instagram users have doubled.
30% of Instagram users make between $50,000-$75,000 annually (25% make $75,000+).
More than 70% of global brands are already advertising on Instagram.
5% of Instagram users take action after being inspired by a single post.
Generating bookings through Instagram
Using your restaurant's Instagram profile to generate online reservations is a great strategy to increase overall reservations at your restaurant.
If you are already partnered with a restaurant reservation provider, this is as simple as integrating your booking widget link into your pre-existing Instagram profile.
Typically, restaurants send their Instagram followers out of the app to their website to make reservations. This isn't the best strategy as most restaurant websites are ironically not optimized to make reservations.
Mobile users are much more likely to make a reservation through an optimized in-app restaurant booking widget.
How to add reservation link to Instagram
We've teased Instagram's hidden booking button long enough. Follow the steps below to add your booking link to your restaurant's Instagram profile.
Open Instagram on your Restaurant profile.
Tap "Edit Your Profile at the top.
Click on the "Action Button"
Choose "Reserve" from the list of options and select your reservation provider from the list (only official Instagram reservation partners, like Eat App, will be available to choose from)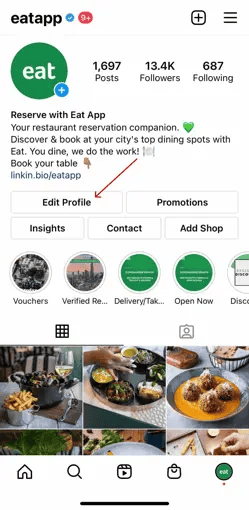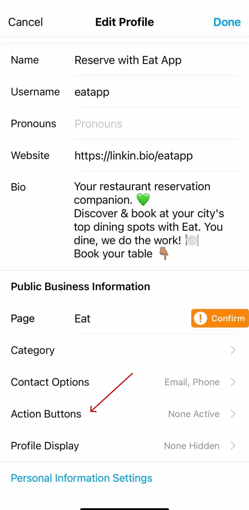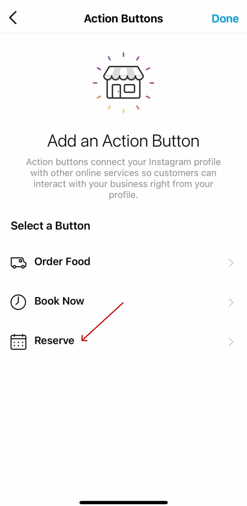 3 Tips for optimizing Instagram reservations
There are a number of extra steps you can take to increase the number of reservations that are made through your Instagram booking link.
Every time you post a new picture, make sure to remind your followers that they can make a reservation through your Instagram profile.
When posting Instagram stories, use them as an opportunity to mention that bookings for your restaurant can be made through your profile.
Add a call to action in your Instagram profile to serve as a constant reminder of your booking link.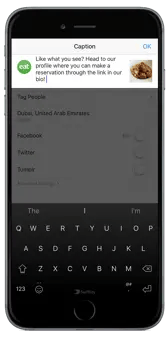 What's next?
Want to learn more about how you can start increasing restaurant reservations through Instagram and a number of other online channels? Download our FREE guide to booking widgets to get a complete run-down along with tips and tricks to convert your online traffic into restaurant customers.