With new restaurants popping up every day, the hospitality industry is becoming one of the most competitive to operate in. In horse races like this, there's one thing that consistently helps a restaurant stand out - targeted and personalized marketing.
Most restaurants shy away from targeted marketing campaigns and instead stick to generic and impersonal messaging with little to no segmentation - due to the time and effort involved. However, this style of content typically leads to very low, if any, effectiveness in grabbing your customer's attention and then converting them to loyal diners.
Personalized and targeted messaging, on the other hand, is the key to elevating your marketing strategy to the next level. Sharing highly targeted and relevant content with your diners is what keeps them coming back for more, but is more often than not, too time-consuming and tedious of a task for the restaurant managers to handle. This is where restaurant automation comes in.
What is Restaurant Automation?
Restaurant automation is a simple and easy way of automating your restaurant's every day tasks. Systems that provide restaurant automation solutions, like Eat App, enable restaurant managers to set up a set of personalized automation rules that trigger chosen tasks to run in the background without the restaurant having to lift a finger.
A few ways automation helps optimize your restaurant's operations:
Auto-update reservation statuses when guests are late or never arrive
Capture prepayments from guests that book a table and then never show up
Tag guests based on rules you create - for example, once a guest hits 10 visits to tag them as a regular customer
Send marketing emails to guests on their birthday/anniversary or any other reason
While automation helps optimize your restaurant's overall operations, one of its most integral functions is automating the restaurant's marketing flow that enables you to leverage your existing guest data and create highly targeted and personalized messaging campaigns without any extra effort or hassle.
How to supercharge your marketing with restaurant automation
1. Identify your high-value customers
The first step to providing a personalized and unique marketing experience is to understand your customers and identify the ones that are most valuable for your restaurants, such as a high spender or a loyal customer, in order to share targeted messaging and rewards to keep them coming back for more. Automation makes this easy by auto-tagging guests based on various criteria like the number of visits, spend amount, etc. determined by your personalized set of automation rules.
A few ways you can set up automation rules to identify your meaningful customers are:
If a guest reaches 10 visits, then they should be tagged as regular
If a guest reaches 100 visits, then they should be tagged as VIP
If a guest spends more than $1000, then they should be tagged High Spender
If a guest leaves more than 10 reviews, then they should be tagged as 'Critic'
This automated tagging system helps you segment your customer base and target each segment with a personalized marketing approach
2. Take personalization to the next level
Marketing automation allows you to leverage your guest data reserve and provide a uniquely personalized experience to every customer by sending tailored messaging based on guest details and historical guest behavior. This personal touch helps diners feel like they are an important part of the brand and leads to a satisfied and loyal customer.
A few ways you can set up automation rules to improve personalization are:
If today is the guest's birthday, send them a happy birthday message
If a guest is tagged as VIP, send them an exclusive early-bird discount for Valentine's Day
If a guest leaves 10 reviews, then they should be tagged as "Critic" and messaged a "thank you for reviewing us" message
3. Engage with customers consistently
One of the key factors for building a strong customer relationship that is often missed by restaurants is simply staying in touch with your diners. Restaurants focus solely on messaging to update diners about special events or discounts, however, a regular "just because" SMS/email can help your customers feel special, and build a stronger relationship with your brand. A well-timed message can even help in bringing back previously lost diners.
Manually triggering such messages can cost your staff hours of their precious time, however, automating your messaging campaigns makes it easy for you to reach your customers consistently through various touchpoints to keep them hooked to your restaurant.
A few ways you can set up automation rules to improve customer engagement are:
If a guest's last visit has crossed 15 days, send them a "we miss you" message
If a guest's visit count is 1, send them a message with an exclusive discount
If a guest reaches 10 visits, then they should be tagged as regular and sent a "thank you" message
4. More accurate data, better marketing decisions
By eliminating the dependency on manually inputting data, automation gives restaurants access to a highly-accurate data set with a standardized process and low margin for error. This enables restaurant managers to make strategic marketing decisions based on precise predictions derived from meticulous historical data instead of following their gut-based on incomplete and vague information.
As a result, managers are able to optimize their marketing campaigns based on real-time data and create more successful campaigns with an improved ROI.
5. Efficiency like never before
Automation, by enabling standardized processes, does not only save countless hours but also leads to a more effective marketing strategy and unlocks a unique, streamlined marketing flow that creates a tailored, personalized experience that would not be possible if done manually.
Say Hello to Efficiency with Eat App's Restaurant Automation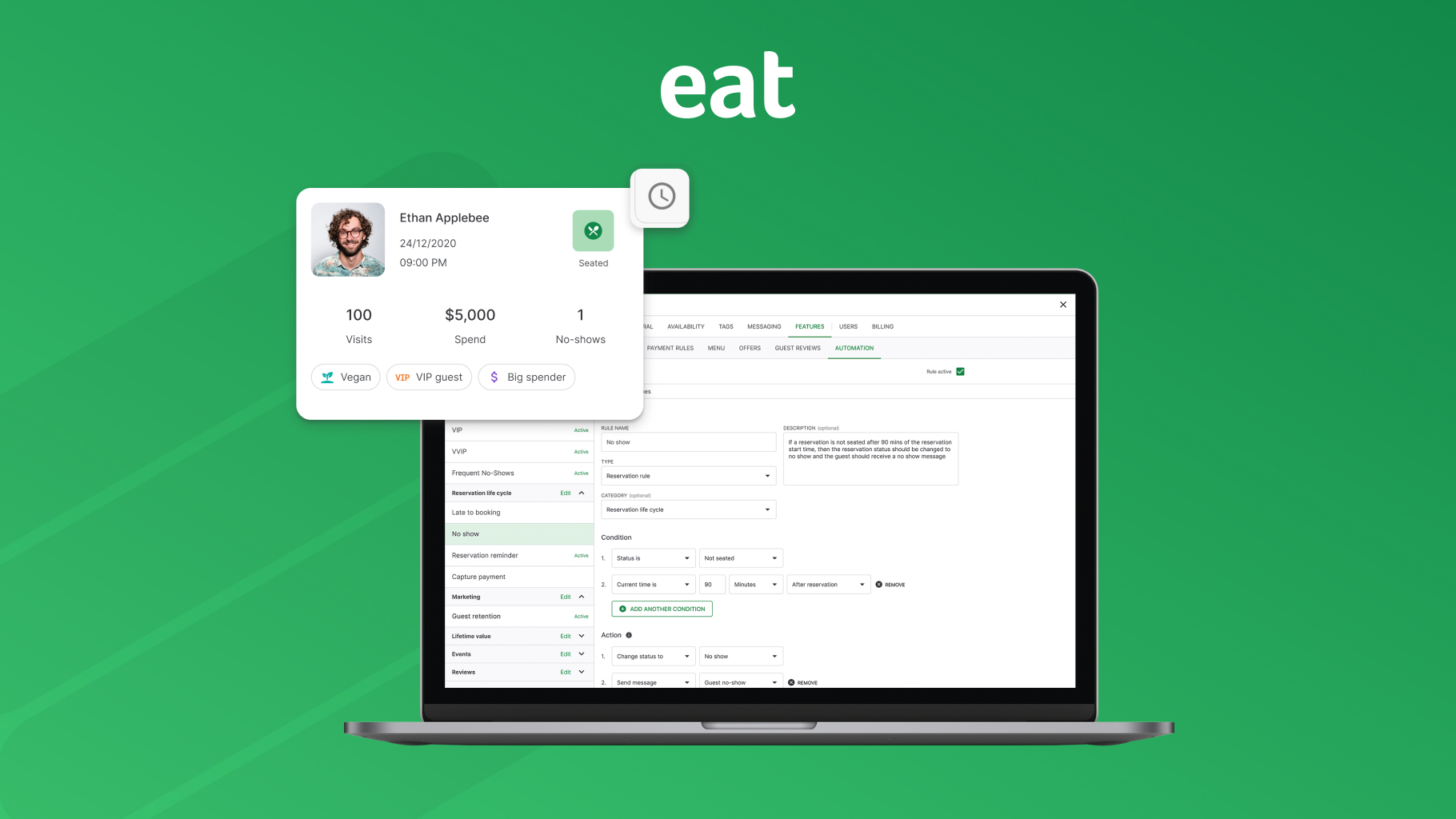 Eat App's industry-first automation feature enables you to automate your day-to-day tasks and save countless hours without compromising your guest experience. This intuitive, easy-to-use system integrates directly into Eat App's table management software and allows restaurants to trigger various tasks to run on autopilot based on a personalized set of criteria, making it easier than ever to collect accurate and holistic data across each stage of the customer journey.
Set up a demo with one of our specialists to get started today!
Automate your restaurant's marketing flow, intuitively tag and segment customers, set-up automated reservation status updates, and optimize your restaurant operations in many more ways with this one-of-a-kind restaurant management system.
See automation in action ⬇️