Restaurant marketing automation has changed the way many food and beverage businesses operate.
---
Aside from the visible time-saving benefits, marketing automation helps operators achieve targeted conversions, increase efficiency, and advance the use of marketing data points. According to Statista marketing automation is considered the most effective digital marketing technique, alongside content marketing.
This blog takes a look into the power of restaurant marketing automation, catering to both beginners and experienced restaurant operators alike. We will discuss how restaurants can build a strong customer base through automated marketing technologies, effective use of customer data, and other strategies that lead to higher conversion rates.
Furthermore, marketing automation is an excellent technique to enhance customer loyalty and improve the reputation of a business. But first, let's look at what marketing automation means for restaurant owners.
Key Takeaways
Restaurant marketing automation helps achieve targeted conversions, increase efficiency, and utilize marketing data effectively.

Email marketing is a popular automation method, offering customized templates and special discounts to frequent visitors.

Collecting guest data through automation simplifies the process and provides valuable information for future campaigns.

Personalized experiences based on customer preferences lead to satisfaction and loyalty.

Automated messaging campaigns engage customers and bring back lost ones.

Automation enhances the collection of customer reviews and facilitates prompt responses and more.
What is restaurant automation?
Restaurant marketing automation involves using software and powerful tools to send the right messages to the right customers at the right time. This approach leads to better conversion of leads, more loyal customers, and targeted marketing efforts with measurable results.
According to Ryan Andrews, a marketing expert at Eat App, "Automation is the key to unlocking the full potential of restaurant marketing. By leveraging advanced technologies and tools, restaurants can effectively reach their target audience with personalized and timely messages, resulting in higher customer engagement and increased revenue."
One way to automate restaurant marketing is through email campaigns. For example, operators can create customized email templates and send them only to frequent visitors. These emails can offer special discounts or loyalty rewards to encourage customers to refer others and keep coming back.
>>> Watch a video on Marketing Automation here.
According to Statista, in 2023, email marketing emerged as the top choice for automation among marketers, with a preference of 63%.
But, this is just one example of restaurant marketing automation. Let's explore a few more effective ways how to use marketing automation to help increase revenue:
How to supercharge your marketing with restaurant automation
1. Collect valuable guest data
To begin with, restaurant marketing automation, provided by software solutions like Eat App, is an invaluable tool for effortlessly gathering essential guest information. By leveraging data-driven marketing campaigns, you can effectively target future audiences by utilizing the knowledge you acquire about your customers.
But imagine the daunting task of collecting all that data manually. It would be a nightmare. Luckily, thanks to marketing automation, you can wave goodbye to those laborious tasks.
Various marketing solutions exist that automatically collect guest information from your website, booking widget, and other marketing materials. This valuable data is then stored in a database, ready to be utilized for planning your upcoming campaigns.
>>> Want to know more about creating a robust guest database? Request a demo today!
2. Identify your high-value customers
Once you've collected the data, the first step to providing a personalized and unique marketing experience is to understand your customers and identify the ones that are most valuable for your restaurants, such as high spenders or loyal customers, to share targeted messaging and rewards to keep them coming back for more.
Automation within your reservation platform makes this easy by auto-tagging guests based on various criteria like the number of visits, spend amount, etc. determined by your personalized set of automation rules.
>>> Want to know more about guest tagging within your reservation system? Request a demo today.
3. Take personalization to the next level
Marketing automation allows you to leverage your guest data and provide a uniquely personalized experience to every customer by sending tailored messaging, like SMSs and emails based on guest details and historical guest behavior. This personal touch helps diners feel like they are an important part of the brand and leads to a satisfied and loyal customer.
A recent study by Infosys revealed that personalization significantly influenced the buying behavior of 59% of customers. When it comes to restaurant marketing, personalized approaches have demonstrated remarkable results, with quick-service restaurants experiencing an 8-20% increase in repeat purchases and fine dining establishments seeing a 6-12% boost. Achieving personalization at scale is only feasible through automation.
>>> Learn the secret behind creating excellent guest experiences with our free eBook.
4. Engage with customers and build loyalty
One of the key factors for building a strong customer relationship that is often missed by restaurants is simply staying in touch with your diners. Restaurants focus solely on messaging to update diners about special events or discounts, however, a regular "just because" SMS/email can help your customers feel special, and build a stronger relationship with your brand. A well-timed message can even help in bringing back previously lost diners.
Manually triggering such messages can cost your staff hours of their precious time, however, automating your messaging campaigns makes it easy for you to reach your customers consistently through various touchpoints to keep them hooked to your restaurant.
5. Collect accurate data and make better decisions
By eliminating the dependency on manually inputting data, automation gives restaurants access to a highly-accurate data set with a standardized process and low margin for error. This enables restaurant managers to make strategic marketing decisions based on precise predictions derived from meticulous historical data instead of following their gut based on incomplete and vague information.
As a result, managers can optimize their marketing campaigns based on real-time data and create more successful campaigns with an improved ROI.
6. Manage your marketing campaigns across outlets
If you have several outlets or restaurant brands, one of the most difficult aspects of restaurant marketing is promoting and raising the sales of specific locations. Marketing methods that work in one medium may not work in another, making creating, running, and optimizing campaigns for specific outlets time-consuming. As a result, it is critical to launch tailored marketing efforts for individual channels.
This is where restaurant marketing automation comes in. You may build outlet-level discounts and offers, as well as execute SMS and email campaigns for clients of that specific outlet, using a smart restaurant marketing module.
7. Keep regulars happy
The standard of restaurant marketing automation includes loyalty programs. They provide several incentives to current customers and can expand the company to new heights.
For example, you can provide loyal clients who have placed their ninth online food order with a free meal or several combo offers. You can automatically notify them before their subsequent order that they are eligible for a free special discount.
According to a study, rewards programs have been found to increase overall revenue by 5-10%. Loyalty members also tend to spend 5-20% more than non-members on average. This not only offsets the costs of running the loyalty program but also generates additional profits.
8. Increase online reviews
Customer reviews are crucial in boosting referral business for any restaurant.
On that note, you can anticipate fast business expansion and a strong brand reputation when there are a lot of favorable restaurant guest evaluations available.
Operators can utilize restaurant marketing automation to enhance their guest review collection efforts. One effective approach is to utilize tools like Eat App's guest survey feature, which automates the process of collecting valuable feedback from guests. By implementing this feature, operators can effortlessly gather insights into their guests' experiences, helping them understand their strengths and areas for improvement.
Once your automated feedback survey is set up, you'll also be able to:
Obtain feedback by sending an automatic email to your visitors asking them to score and comment on their experience.
Edit the survey questions using this page.
Collect review emails every day.
View each review that is associated with a client under their guest profile.
Review total evaluations using review reports.
Additionally, operators can employ a review management tool to monitor and respond to online reviews. This feature enables them to automatically keep track of their online reputation, engage with customers, and address any concerns promptly.
>>> Learn more about our new review management tool here.
Another automated method involves the utilization of unique QR codes placed on tables. By integrating a system that automatically collects these codes, operators can swiftly identify positive reviews and effortlessly share them online, leveraging Eat App's internal review management tool for seamless posting.
With restaurant marketing automation, operators can streamline their guest review collection process and ultimately increase their online presence and reputation.
9. Spread the word through social media
In a previous article, we discussed the importance of social media marketing for restaurants. One notable feature of modern social media platforms is the automation they offer.
These platforms come with built-in marketing and data analytics tools. By utilizing Facebook Insights, Twitter Analytics, and Instagram Analytics, you can assess the performance of your ads and determine how effectively your restaurant posts engage the audience.
Data-driven marketing tools provided by these platforms enable the creation of unique and engaging content by identifying pain points and suggesting relevant content strategies. Additionally, there are external paid tools such as HootSuite, Planner Io, and BuzzSumo that can be employed to track industry trends in restaurant marketing.
BuzzSumo, in particular, is renowned for monitoring real-time viral content across various topics and can help you create similar posts for your restaurant's newsfeed.
Thanks to automated restaurant marketing, engaging with your audience and leveraging data has become more convenient than ever before.
Other automated features include:
Scheduling posts
Automating replies
Creating and posting new, and
Posting based on specific triggers
10. Keep guests coming back
Automated marketing for restaurants includes a significant aspect: discount offers and discount codes. While the practice of providing discount codes through vouchers or third-party discount websites has been around for some time, automation has taken it to the next level.
With automation, customer purchase data is recorded and presented in easily accessible reports for business owners. Operators regularly monitor these reports to identify the most active customers, analyze the types of food ordered within specific periods, and track other important metrics.
As part of a loyalty program, these valuable customers are rewarded with special discount codes and other incentives to encourage them to continue ordering. In turn, these customers become influential advocates through word-of-mouth marketing, which is both cost-free and highly effective, particularly for restaurants with a strong reputation.
Platforms for restaurant marketing automation
You're probably thinking about what platforms you can use to automate your marketing process by now. And, to be honest, there are a variety of possibilities available, especially when it comes to extremely specialized duties.
Having said that, there are a few easy-to-use automation solutions that stand out from the crowd.
Here are three of the most popular solutions:
Eat App's restaurant automation
Eat App's industry-first automation feature enables you to automate your day-to-day tasks and save countless hours without compromising your guest experience. This intuitive, easy-to-use system integrates directly into Eat App's table management software and allows restaurants to trigger various tasks to run on autopilot based on a personalized set of criteria, making it easier than ever to collect accurate and holistic data across each stage of the customer journey.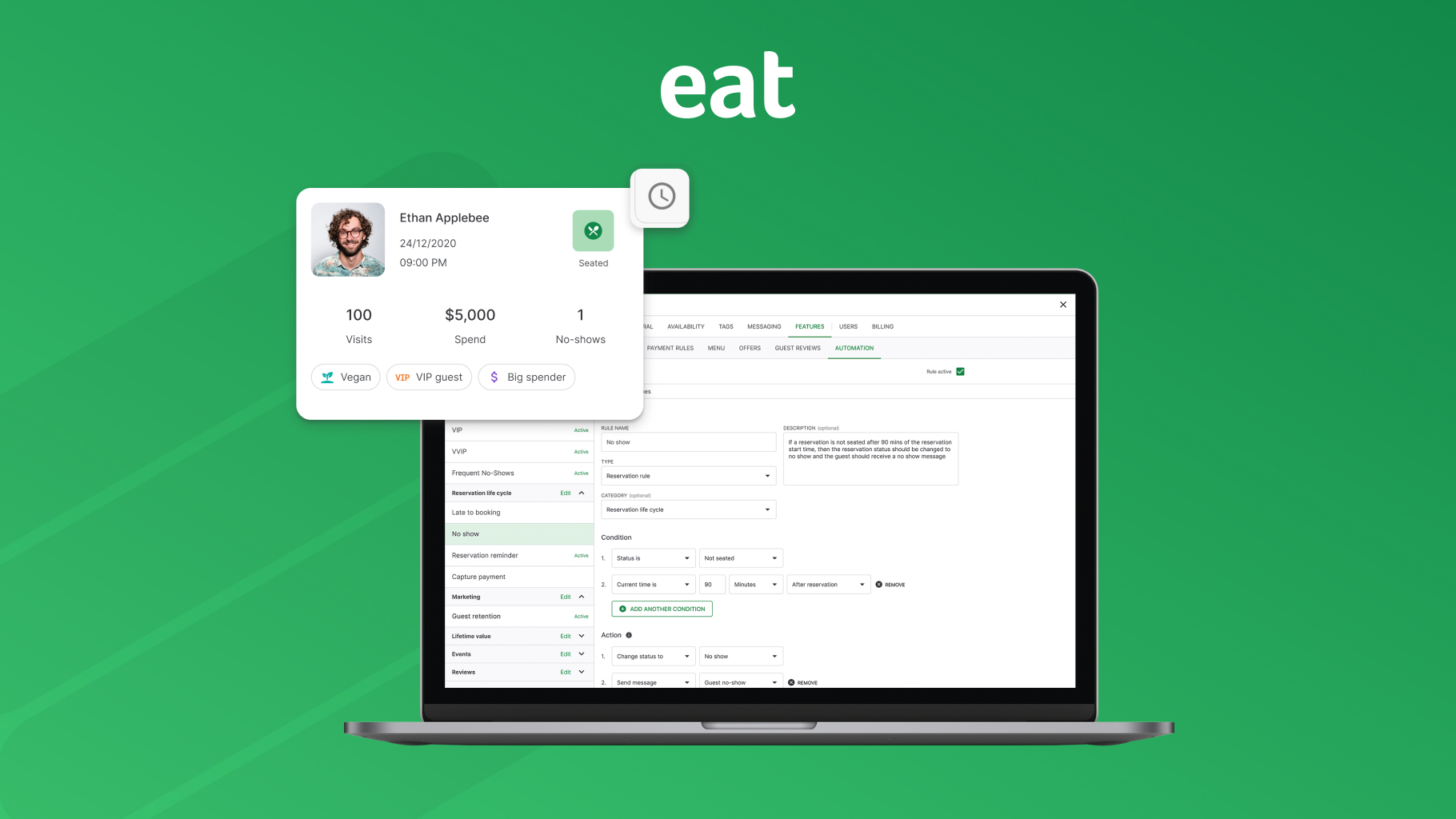 Get started with marketing automation at your restaurant. >>
Automate your restaurant's marketing flow, intuitively tag and segment customers set up automated reservation status updates, and optimize your restaurant operations in many more ways with this one-of-a-kind restaurant management system.
Create a distinct identity for your restaurant and distribute your brand through various channels such as social media, email, and SMS. Messages may be sent automatically from a single all-in-one restaurant marketing system. Reach out to thousands of diners with personalized messages without adding time to your day. View in-depth reports to see how diners responded and how to improve your future marketing initiatives.
Incentivio's digital marketing suite includes several tools to assist you in creating long-term engagement with your visitors and attracting new guests. You can target the appropriate visitors with the right offers at the right time with data-driven automation, increasing your revenues and online visibility with successful restaurant marketing.
Conclusion
Restaurant marketing automation is a must-have. You will be more efficient, quicker, and more in tune with your customer's journey, allowing you to gain deep insights into your customer's behavior and preferences. And this is really significant since you will be able to develop intelligent restaurant marketing tactics to boost guest interaction and, as a result, revenue.
FAQ
Frequently Ask Questions