Many restaurant owners forget about email when considering how they can interact with and reach their customers. It sounds stale.
It might be interpreted as spam. How do you even get your visitors' email addresses? A restaurant email list holds the key.
Email is actually one of the best ways restaurants can interact with their customers for a variety of reasons. These are covered here, along with a few strategies that make obtaining visitor emails simple.
A restaurant email list is a crucial, practical marketing tool, and building one from the start is easier than you might think.
Are you prepared to email your guests? For all the details, continue reading.
Key Takeaways
Email is a powerful marketing tool for restaurants, with a high ROI.

A restaurant email list is essential for building relationships with customers and promoting your business.

There are many ways to collect email addresses from customers, such as offering free wifi, providing online reservations, and running contests.

When using email marketing, it is important to create beautiful emails with eye-catching subject lines and clear calls to action.

Your emails should also be mobile-friendly so that they can be easily read on smartphones and tablets.
Why is a restaurant email list needed?
Despite its age, email is one of the most effective marketing tools. The most profitable channels for restaurants to use include social media and paid advertising, but email marketing has the best return on investment (ROI), returning an average of $36 for every dollar invested.
"Email marketing is one of the most effective ways that digital marketing offers to establish a two-way communication with your audience or customers." - Nicolle Boniello (Digital Marketing Manager)
The creation of a top-notch list of recipients for your emails is the cornerstone of effective email marketing. Numerous opportunities for your business could result from having an email list. Some of the greatest advantages are listed below.
Boost customer adherence and repeat business
Boost additional revenue
Gather and manage criticism
Send out critical updates and notifications
Always keep your restaurant in mind
You can see that your list has the potential to be a formidable marketing tool, but how you go about gathering customer information is crucial. Building a list that complies with local laws and has reliable information is crucial. If you don't have accurate consumer information, you won't be able to reach visitors even if you spend weeks building email designs and creating effective campaigns.
Related content: 12 Email Marketing Templates to Boost Revenue
How to create an email list for a restaurant
One important tip to bear in mind while beginning to grow your restaurant's email list is to not buy it.
You need actual email addresses from individuals who are likely to visit your restaurant and interact with your brand online for your email business list to be successful.
There are third parties who would sell you what they claim to be an extensive database that already contains thousands of email addresses.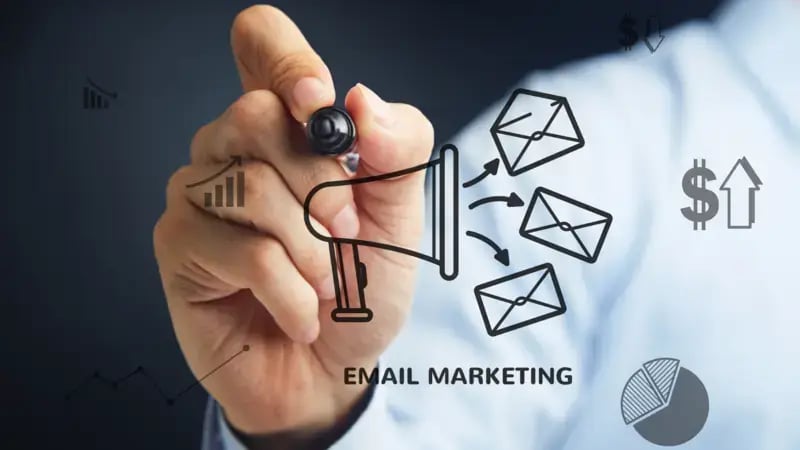 But you should stay away from that tactic. Since those are unlikely to be reliable email addresses for your restaurant, bulk emailing them could result in you being reported as a sender of unsolicited emails.
You're better off starting from scratch when establishing your restaurant email list because it requires more work and time.
Here are 14 strategies to begin collecting email addresses from your customers so you may create an email database to sell your restaurant.
1. Give guests free wifi
Offering free wifi is a simple approach to obtaining email addresses from customers who enter your business. Then, utilize a landing page to gate your network by requesting visitors to sign up for special offers and promotions or to provide an email address in order to access the wifi.
2. Offer online reservations
An additional simple method to gather email addresses from visitors is to create a reservation form (or use a reservation platform, like Eat App). Ask for their contact information when they make a reservation, including their email address so you can confirm it, and then give them the choice to join your mailing list.
>>> Want to know more about activating your online reservation? Book a demo today!
3. Use social media to promote your email newsletter
You can advertise your email list on your restaurant's social media profiles if they already exist. Make postings that invite visitors to sign up and include links to a website where they can do so.

4. Run a giveaway
Restaurants have been holding competitions to gather guests'' business cards for years. You can do the same to gather emails in 2023.
Give away something, such as a gift card, a party, or a special dinner. Then, request that customers register with their email at your restaurant to be entered to win.
Related content: 15 Creative Instagram Post Ideas for Your Restaurant
5. Put together a contact form for your website
An oldie, but a goodie. Add a contact form with a required field for email addresses—along with other helpful visitor contact information—to your website's contact page instead of merely listing your phone number and email address.
In this method, you may add any customers who contact you through that form to your restaurant's email list.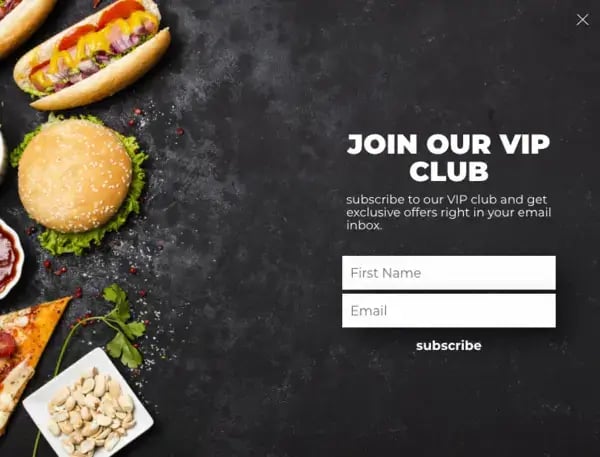 6. Use a pop-up banner on your website
Introduce a pop-up that informs visitors to your website about your email outreach when they arrive. Request their contact information and think about enticing them with a welcome offer, such as 15% off their next order, if they sign up.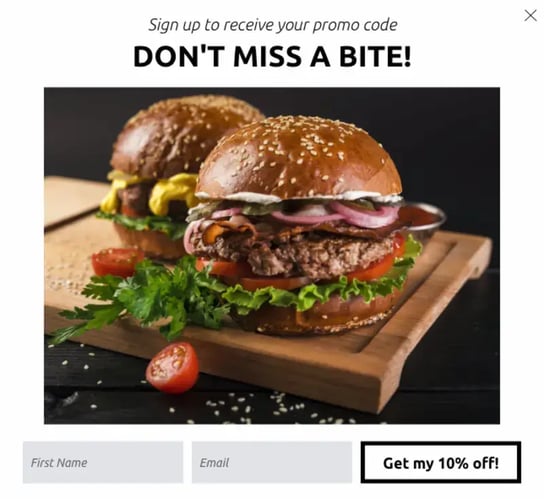 7. Take direct orders online
Online orders can let you collect customers' email addresses in a similar way to online reservations. Remember that this will only function if you accept online orders directly from your website. If you utilize a delivery service from a third party, such as Postmates or UberEats, the app itself gathers the guest's email address, not you.
8. Promote your email list within your restaurant
Take advantage of the fact that visitors to your restaurant will read during their visit by promoting your email list on menus and table tents. To make it simple for customers to sign up for your restaurant's email list directly from their table, you can add a QR code that directs them to a signup page.
9. Organize email-only promotions
There is no doubt that if there is a benefit for them, customers are more inclined to sign up for your restaurant's newsletters. Make subscriber-exclusive incentives via email to encourage sign-ups. Then, when you use any of the other suggestions on this list, let your visitors know that registering will get them a gift card, a deal, or some other perk.
10. Personally ask guests for their email address
You can simply ask customers in person if they'd want to join your restaurant email list while you're first starting to establish one. If you have regulars with whom you've developed a relationship, this will probably be extremely successful. Let them know about your new email efforts, and they'll probably be eager to assist you.
11. Advertise your email information on the receipt
The receipts you give out to guests are another location where you can promote your email list. You've probably seen eateries that provide patrons who take a survey that appears on their receipt a discount. This is a really effective method of gathering email addresses.
12. Launch a referral campaign
You could ask existing guests to refer their friends and family if your email list starts to take off. Offer additional benefits to visitors who encourage others to sign up for emails, such as a discount, complimentary appetizers, or a gift card.
13. Use your waitlist
Another excellent chance for gathering visitor information is during walk-ins. Train your hosts and FOH workers to demand that customers give their email addresses to join the waitlist on busy evenings when visitors are lining up or swarming your host stand for a table.
Asking "... and your email address?" when gathering visitor information is a simple method to accomplish this. By asking this question instead of "what is your email?" you can improve the chance that a respondent will give you their email address.
Pro Tip: Make it easier for people to sign up for the waitlist by posting QR codes at the host stand. This will relieve pressure on your personnel. They can then track their position in the queue and enter their own data.
>>> Want to know more? Request a demo today!
14. Collect email addresses at an event
An event is a fantastic approach to increase email list size and get people interested in your restaurant.
Use your social media platforms, community, and partners to spread the news about any event, whether it's a wine or whisky tasting, jazz night, or paint and sip session.
You may expand your email list and possibly bring in more attendees by advertising your event through additional platforms.
How to use the email list for your restaurant
Creating an email list for your business is just the beginning. You then need to put it to use. As you begin to develop restaurant email marketing campaigns, keep these best practices in mind.
Create beautiful emails
Your emails should look professional to readers, with colors, fonts, and branding that coordinate with your restaurant's physical branding.
Additionally, using photos instead of only text will increase the effectiveness of newsletters.
You can develop your own template to use for all of your emails, but many email newsletter services offer templates you may use to generate a fantastic-looking marketing email.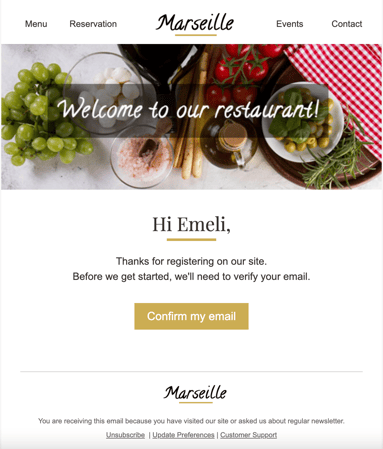 Write mind-blowing subject lines
If no one reads your email, it doesn't matter how it appears; the easiest approach to get recipients to open your emails is with an attention-grabbing subject line. For greater open rates, promote sales, occasions, or discounts in your content.
Related content: 34 Restaurant Subject Lines that Convert
Consider the body text and the call to action
When it comes to emails, nobody enjoys reading a novel. Keep your writing succinct, engaging, and simple to read. Additionally, adding a little personality and humor never hurts.
Your call to action (CTA) is what you want the reader to do after reading your email. Is it for reserving a space? Make an online purchase? Purchase a gift card? Whatever your objective, use a button to make it prominent and obvious.
Create mobile-friendly emails
Instead of desktop computers, smartphones are now the primary source of web traffic. Your visitors will almost certainly view your emails on a mobile device, therefore you need to use a mobile-responsive design to prevent them from having to pinch and zoom to see content that is too small.
Segment your restaurant email list
Segmentation is essential for effective email marketing. Marketers have reported a 760% boost in email income from segmented campaigns, according to Campaign Monitor.
Not every subscriber will connect with every message. You can more effectively adapt your communications and increase interaction by segmenting your audience based on their demographics, behaviors, or preferences.
For instance, your gluten-free visitors might not be interested in an email you send out marketing a new pizza dish or beer you just added to the menu.
Your gluten-free diners can be left out of this particular promotion if you can segregate your list depending on dietary requirements, and you can subsequently focus on them when you have a more suitable offer.
Test your emails before you send them
Send test emails to yourself and a few other restaurant staff members before sending them to your complete email marketing list. Before sending them to visitors, you may use this to ensure that they can be sent and to view how they seem on various devices.
Get into a routine with email
Try to establish a cadence for your timing when you begin to send out emails on a regular basis. Daily emails will probably be too much for visitors to handle.
They might have enough time between emails to forget about your restaurant if you only send them once every few months. Send promotional emails at first once every few weeks to once per month.
Track your KPIs, like open and click-through rates, and try out different strategies to determine what makes them better. If you can, get visitor feedback and make any necessary adjustments.
Be mindful of the CAN-SPAM Act
Americans are better protected against commercial spam thanks to the CAN-SPAM Act. If you break it, your restaurant risks receiving severe fines.
To continue to comply:
In your headers, subject lines, or email copy, never utilize any information that is inaccurate, misleading, or deceptive.
Make use of the name of your company. Label your email as an advertisement and yourself as a company.
Send every email with your physical address included.
Be specific about how visitors can choose not to receive emails from you in the future. Quickly comply with any opt-out requests.
Automate your emails
Email automation is the use of software to send emails automatically based on certain triggers.
For example, you could use email automation to send a welcome email to new customers who sign up for your email list, or to send a reminder email to guests who have made a reservation.
Reservation and table management systems like Eat App can help you to automate your email marketing.
This means that you can create and send emails directly from your table management system, without having to switch between different applications.
Here are some examples of how you can use email automation for restaurant guests:
Send a welcome email to new customers who sign up for your email list.
Send a reminder email to guests who have made a reservation.
Send a thank-you email to guests after their visit.
Send a birthday email to guests with a special offer.
Send a follow-up email to guests who have not visited in a while.
Send a survey to guests to get feedback on their experience.
Email automation can be a powerful tool for restaurant marketing. By automating your email marketing, you can save time and reach more customers with targeted messages.
Choose the right restaurant email marketing software
When it comes to restaurant email marketing, the right software can make all the difference.
The wrong software can lead to low open rates, low click-through rates, and low conversions.
So how do you choose the right restaurant email marketing software? Here are a few things to consider:
Features: The software should have all the features you need to send effective email campaigns. This includes the ability to store and segment your list, personalize your emails, track metrics, and provide reporting.


Integrations: The software should integrate with your other restaurant systems, such as your reservations, online ordering, and POS system. This will allow you to create more personalized emails and track your email ROI more accurately.


Ease of use: The software should be easy to use, even if you don't have a lot of experience with email marketing.


Customer support: The software should have good customer support in case you need help setting up or using the software.
Here are a few of the best restaurant email marketing software options:
No matter which restaurant email marketing software you choose, make sure to test it out before you commit to a long-term plan.
This will help you make sure that the software is right for your needs and that you are happy with the results.
Different types of email marketing for restaurants
Marketers are uncommon among restaurant proprietors. Traditional advertisements, such as those in print or on television, come to mind when people think about marketing. In the era of digital media, marketing now includes much more. Here are a few inventive email marketing suggestions that will advertise your restaurant while probably seeming far more natural than a conventional commercial.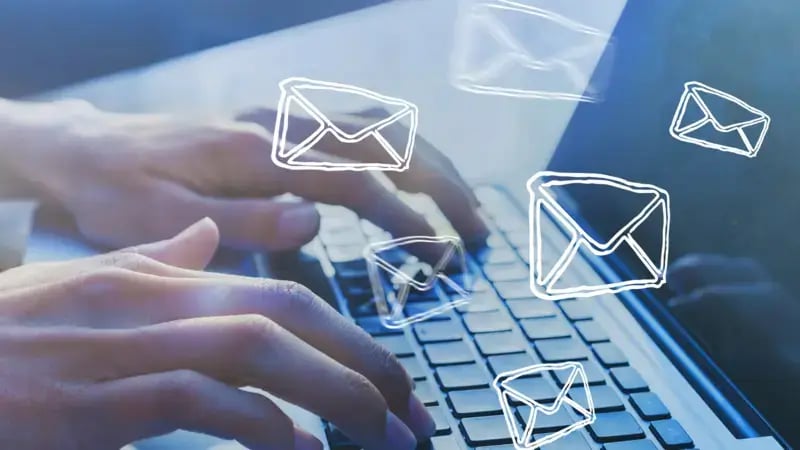 A welcome offer for guests
Send new subscribers to your email list a welcome offer, such as a discount on their subsequent purchase, to entice them to come to the dining establishment as soon as possible.
Related content: 12 Email Marketing Templates to Boost Revenue
Weekday specials
Select a particular day of the week to be a special occasion at your eatery. Offer #WineWednesday in a bar or happy hour location, or #FriesFriday at a burger joint or restaurant, for instance.
Then, send emails to highlight any offers you're offering on that day or just before it.
Special offers & flash deals
According to studies, customers are more likely to take advantage of a promotion if they are aware that there is a deadline for doing so. Send out flash sales—extremely brief offers—via email.
Send an email marketing for a meal special that is only available that day, for instance, in the middle of the morning.
Holiday deals
Restaurants have numerous options to advertise their services and themselves during holidays. Promote Christmas sales. Send a reminder through email to book reservations for Valentine's Day. Use your restaurant mailing lists to advertise any unique menu items or holiday events you may be hosting.
Promotional emails
Make contact with other eateries in the neighborhood and begin compiling a list of those eager to collaborate to promote each other. After that, mention them in your emails in return for their promotion of your restaurant in an email to their clients.
A peek behind the scenes
Your restaurant's emails are a fantastic tool to spread the word about your establishment. Tell visitors about your beginnings. Invite them to a pictorial tour of the kitchen or a behind-the-scenes look at your chef.
Birthday emails
Ask for their birthday when visitors subscribe to your email list. After that, send them a unique birthday offer before the big day. It's a good idea to offer free dessert or drinks.
Emphasize your menu
An email is a fantastic tool for promoting any specific menu items. To inform customers of menu changes, such as the addition of new chef's specials or seasonally appropriate meals, you can also send emails.
Recipe emails
Use your email list to distribute unique recipes if you have a dish that your visitors adore and you don't mind sharing some trade secrets. Additionally, this can encourage sign-ups.
Takeaways
Finally, the peak of the mountain comes into view. You've created a reliable email list, chosen a platform for email marketing, and started your first campaign. But the trip doesn't end just because you reach the top.
You might be tempted to "set it and forget it" after you've created your email list. But you should audit your list at least once a year.
Pay attention to statistics like the open rate, click-through rate, and spam and unsubscribe rates.
You'll get a clear understanding of how your readers interact with your emails from this. Remember that quality matters more than quantity.
FAQs
Frequently Ask Questions
Is purchasing email lists legal?
Although buying an email list is legal, it's not a good idea because these people haven't chosen to receive emails from your company. Without express permission from people, you run the danger of breaking laws depending on where the recipient lives.
How can I build an email list for a restaurant?
The greatest methods include taking reservations and placing orders online, holding a contest, asking visitors for comments, including a newsletter sign-up form on your website, and holding events.
Should your restaurant have an email list?
In order to deliver their customers newsletters, promotions, and exclusive deals, restaurants should indeed maintain an active email list. Another highly profitable marketing tool for restaurants is email.