Hiring the right employees for your restaurant is necessary, but providing them with a smooth onboarding process when they join is equally as important.
Properly trained employees that are well-versed in your company's values, culture, vision, etc., are much more likely to lead your restaurant to success. This is why the onboarding process is so crucial.
If done correctly, it can set employees up for success, while a lousy one can lead to poorly trained and confused employees, eventually leading to high employee turnover and loss of revenue.
This is where a restaurant employee handbook can come in handy.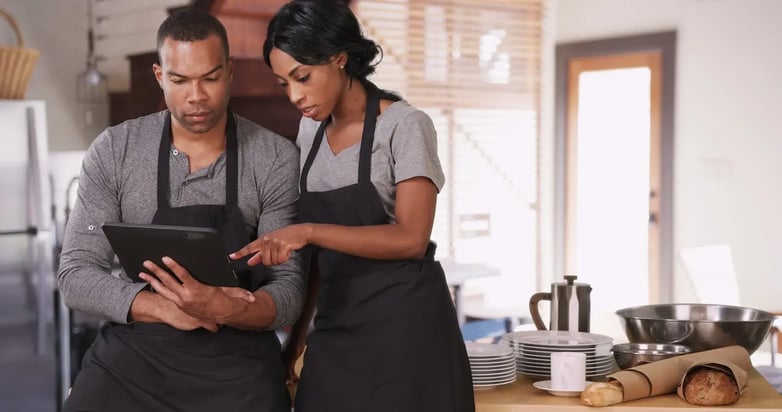 What is a restaurant employee handbook
Traditionally, an employee handbook is a manual that includes rules and cookie-cutter policies about the business and its operations that employees have to follow to the tee. Does that sound like something you would be interested in reading? Probably not.
A good employee handbook that employees would actually read should introduce them to your restaurant - its values, its mission, its history, its culture. What the restaurant stands for and what it aims to achieve.
A good employee handbook tells employees your restaurant's story, which in turn helps them connect with the business and motivates them to work towards achieving the restaurant's goals.
Apart from that, the handbook should also include guidelines that help every member of your team understand what to expect and what's expected of them- their responsibilities, code of conduct, compensations, benefits, and more.
A well-written employee handbook can streamline the onboarding process and make sure your employees are all on the same page from day one.
Given its importance, a restaurant employee handbook can be a daunting task to take up. We're here to help you get started with creating your employee handbook with the help of our tips and tricks.
Let's get started!
How to create your restaurant employee handbook
When it comes to creating an employee handbook, there is no "one size fits all" approach. Every restaurant has its unique processes and operations, which is why no two handbooks can be the same.
We have listed down a few sections like code of conduct, employee compensations, etc., that are important parts of each handbook. However, make sure to tailor the content within each of these sections according to your restaurant.
For instance, the code of conduct of a fine-dining restaurant will be far more rigid than that of a fast-casual restaurant. You can add or remove sections as per your restaurant's requirements.
Here are a few essential sections you should add to your restaurant employee handbook:
1. Introduction
The introduction sets the tone for your employee handbook, which is why it's important to make it engaging and interesting. The more interesting the introduction, the more likely your employees are to actually read the handbook.
Instead of diving straight into rules and responsibilities, use this section to welcome your employees into the team and tell them your restaurant's story - the history, the beginning, the reason behind starting the restaurant, the owners, the team, and more. After reading the introduction, new employees should feel welcome and connected to your restaurant.
Adding a personal word from the owner welcoming them to the team is also a nice way to kickstart their journey into the restaurant.
2. Mission statement and values
There is a 'why' behind every restaurant - the reason why a restaurant exists and the goal it aims to achieve. A restaurant's mission statement helps communicate just that to your employees. Your team needs to be well-versed with the mission statement so that they can contribute their efforts towards achieving it.
The mission statement is a pillar of your identity. It tells the world who you are and what you stand for while helping to guide your decisions as a company.
That's why writing a restaurant mission statement is a personal affair. To make it meaningful, you'll need to dig into some pressing questions. What makes you stand out from the rest? Why should your customers, employees, investors, the media, and other entities favor you?
Don't have a mission statement? Learn how to write one here
To write a mission statement that truly reflects your business, you first have to carve out the core values your restaurant stands by. These values drive your restaurant towards achieving its goals and set benchmarks for your employees.
With these set values guiding your team, your restaurant's performance is much more likely to be cohesive and consistent towards achieving your vision.
Make sure this section communicates who you are, what you do, and why you do it to your new employees.
3. Employee code of conduct
Every restaurant has its own unique set of policies. The code of conduct should define the dos and don'ts regarding every behavioral aspect of employees. These can include, but are not limited to:
Dress code
Phone usage policy
Facial hair policy
Tobacco policy
How to deal with customers
Punctuality Policy
Dating policy
Although not an exciting one, the code of conduct is one of the most important sections of the employee handbook. It should precisely clarify what is expected out of the employees so that there is no misunderstanding or room for error.
This section can seem very rigid and fear-inducing to the employees - it's important to not scare them away by setting up unreasonable policies and providing clear guidelines under each section.
The content of your code of conduct depends on your restaurant. Casual restaurants tend to have more relaxed policies while fine-dining ones have various strict protocols that need to be followed to the tee. Make sure to tailor your code of conduct as per your restaurant's needs.
4. Operational processes and systems
Each restaurant runs its operations differently. It's important to ensure that the employees are well aware and educated about the systems and processes in place so that to know exactly how things work at your restaurant.
Use your restaurant employee handbook to lay out all your processes and procedures so that employees can better understand each one and have something to look back on and guide them throughout.
This can include your operational processes like opening the shift, kitchen processes, inventory processes, etc., and also determine who is responsible for which task.
It should also include other non-operational internal processes that should be followed like applying for leave or sick days, providing feedback and suggestions, reporting complaints or other issues, etc.
In addition to that, this section should also list down the how-tos of running the different systems at your restaurant, like the POS system, the CRM system, the reservation system, and anything else that is used within your organization.
5. Employee compensation and benefits
Now that you've given employees an overview of their roles and responsibilities, it's time to give them a mood boost by talking about their pay.
This section should provide a clear description of all the compensation and benefits employees are entitled to, which includes:
Basic pay
Commission
Overtime policy
Tip distribution policy
Health insurance benefits
Paid time off, sick days, bereavement days, etc.
Gratuity Policy
Any other benefits like employee lunches, exclusive discounts, etc. that are included in their package
Apart from that, this section should also include payment frequency (weekly, bi-weekly, monthly), method (cash, cheque, bank transfer), and any other details that may be required for clarity.
6. Safety procedures
Your employees' safety should be one of your top priorities. In this section, list down the safety processes that are to be followed at your restaurant to avoid any accidents and also the procedures to be followed in case of any emergency.
These can include:
Health and safety processes to be followed while using hazardous machinery like cutters, fryers, ovens, etc.
Hygiene regulations and requirements of your restaurant
Fire safety procedure
Safety procedures for other incidents like robberies, pandemics, natural disasters, etc.
7. Anti-harassment policies
Employees must know that your restaurant is a safe working space where they are protected from any kind of harm and no unfair practices like harassment, racism, or bullying will be tolerated.
It's important to set this precedent at the beginning so that they are clear about what is acceptable and unacceptable, and do not cross the line at any cost.
Make sure they know that the restaurant always has their back and provide them the confidence that they are free to report any incident without any fear, without the loss of confidentiality.
Here, you should also include who they can approach and how they can file their complaint anonymously in case of a punishable incident.
8. Concluding summary and signature
As a closing note, thank your employees for being a part of your team, and once again welcome them to your restaurant. Use this space to remind them of your what, why, and how and let them know that you are excited to have them on board.
You can also mention a few next steps they should take after finishing the handbook, like:
Give your manager your size for the uniform
Take your training test
Read the training manual
Talk to your manager about your schedule
Once you have provided them with a closing summary and next steps, add a signature section for the employee to fill out. Although the employee handbook is not a legal document, a signature provides accountability that the employee has read and understood all the policies and procedures mentioned in the book.
Ready to create an employee handbook for your restaurant? Get started now with our free template!