Your restaurant's mission statement is a pillar of your identity. It tells the world who you are and what you stand for while helping to guide your decisions as a company.
That's why writing a restaurant mission statement is a personal affair. To make it meaningful, you'll need to dig into some pressing questions about your values, vision, and goals. What makes you stand out from the rest? Why should your customers, employees, investors, the media, and other entities favor you?
How to Write Your Restaurant's Mission Statement
Mission statements come in all shapes and sizes. Yours can be as short as a sentence or two, or you can use it as an opportunity to tell a story about your brand and the impact it strives to have in the local, national, or global community.
Regardless of the format, it's critical that you deep-dive into what really makes you tick, and how your internal aspirations and values translate into your interactions with others.
It's shockingly easy to create a bland, generic, and downright boring mission statement that fails to differentiate you from your competitors. To avoid doing so, dig deep into a few important points in the process:
Your Values
It's important to define what your restaurant's core values and beliefs are in order to write a mission statement that represents your restaurant personally.
Your Vision Statement
A vision statement gives an insight into your restaurant's future aspirations and goals. It gives direction to your team, helps them stay focused, and provides clarity about your long-term vision.
Your Culture
A company's culture determines how people communicate within the company, what values they hold, and how the overall internal organization works. It's important to take it into account so that the final mission statement reflects the true spirit of your team.
Your Goals
What is the main purpose of your restaurant? Is it to create a sense of community, or to spread awareness about your local cuisine? Taking a look back at your goals can help you in crafting your mission statement.
Now that you have a general checklist for writing your restaurant mission statement, let's look at some examples from other restaurants.
Once you've gathered these important insights, answer the following questions to get a full picture of your restaurant operations before you write the final mission statement
The What
What does your restaurant do for its customers? Do you provide fresh and organic food, or serve family-style meals? Your mission statement should reflect what makes you different from all the other restaurants.
The Why
Why do you do what you do? Here, you're defining the purpose behind your restaurant's "what". For instance, a restaurant may provide fresh and healthy meals made with organic produce to promote a healthy lifestyle in society - this is the reason behind what they do. Take a look back at your goals to determine your restaurant's "why"
The Who
Your customers are the most important part of your business, make sure to reflect on who you want to serve at your restaurant so that you can create a mission statement that is catered especially to them. If your customers are the younger generation, for instance, the mission statement will be much different from one that focuses on creating a family-friendly atmosphere.
The How
How do you make your mission successful? Think about your restaurant's culture and beliefs, the values your team holds, and how they bring your restaurant's goals to life.
Tips on how to write a restaurant mission statement
Keep it short and sweet so that it's easy to remember and recall. Remember, it's not an investment pitch, you just want to give customers a brief overview of your restaurant. Make sure it's never more than three or four sentences.

Keep it clear and concise, don't use technical industry jargon. People should be able to understand it in one read.

Be humble, don't go overboard in praise of your restaurant by using big words like 'fantastic food', 'unmatched service' etc. Keep it simple and straightforward.

Keep your audience's choice and preferences in mind so that you can create a mission statement that is attractive to them.

Take a look at your competition and what's working for them. Looking at examples can be helpful, but make sure to only take it as inspiration and add your own personal touch to it.

Ask yourself - can any of my competitors use this exact same mission statement? If the answer is yes, it's time to dig a bit deeper into why your company exists.
Examples of restaurant mission statements
From fine dining to fast-food chains, here's a list of restaurant mission statements that range from a short-and-sweet to a longer storytelling approach.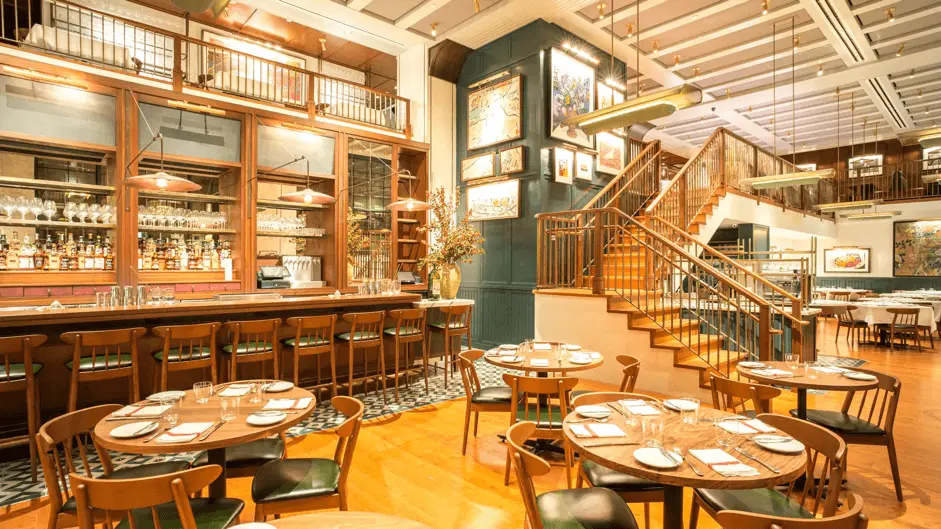 Upscale and fine dining examples
Union Square Cafe is committed to extending hospitality beyond the walls of our restaurant and into the community.
Our philosophy is simple: to source the best local ingredients and prepare them with authentic Italian methods and spirit. A focus and commitment to freshness and respect for every ingredient is paramount in our daily life.
We are passionately committed to offering the freshest, safest ingredients, presenting a seasonal menu that is locally focused and globally artistic, and cultivating a healthy relationship on our tables and for the planet.
At Gracie's, our mission is simple: enhance and educate the palate with the freshest ingredients and flavors, while surprising and exciting each guest with personal care and service.
Nomad
No presumptions. No pretensions. Ask questions. Feel comfortable.
Never bending to industry trends, the dishes and service at Oriole give guests a thought-provoking and interactive experience, where the diner is the true focus of the meal.
Corporation and chain restaurant examples
McDonald's brand mission is to be our customers' favorite place and way to eat and drink. Our worldwide operations are aligned around a global strategy called the Plan to Win, which center on an exceptional customer experience – People, Products, Place, Price and Promotion. We are committed to continuously improving our operations and enhancing our customers' experience.
Delight every customer, so they want to tell their friends – with great value through fresh, delicious, made-to-order sandwiches, and an exceptional experience.
To inspire and nurture the human spirit – one person, one cup and one neighborhood at a time.
To make the most awesome doughnuts on the planet every single day.
Our guiding mission is to deliver superior quality products and services for our guests and communities through leadership, innovation and partnerships.
To create an environment where absolute guest satisfaction is our highest priority.
We take pride in making the best Mexican style fast food providing fast, friendly, & accurate service.
Apple Bee's
To contribute to the growth, joy and enrichment of all the lives we touch.
To provide a one-of-a-kind experience that energizes everyone with an enthusiastic welcome, exceptional service, awesome food, killer tunes, and an unforgettable time.
To be the leading provider of the wide range delicious beverages & baked product around the kingdom in a convenient, relaxed, friendly environment, that insures the highest level of quality product and best value for money.
Conclusion
Whether you're building a restaurant business plan from scratch or revamping your restaurant's branding and direction, a mission statement can help to paint a better picture of your company.
It can help to establish and build trust for your brand in the eyes of key people and entities like customers, employees, stakeholders, and the media.
When writing your restaurant mission statement, make sure that you're clear about your values, vision, and purpose, and how your company creates this impact. Ultimately, your mission should set you apart in a unique way that showcases what you're all about.
Ready to write your mission statement? Download our free template to get started now.