Are you running a finely tuned front of the house? Do your diners feel as special when they come through the door as when they're being served at the table?
What about the back of the house? Is your restaurant set up to be as efficient as possible? Are you giving your employees everything they need to do their job?
Running a tight front and back of the house means balancing lots of interdependent elements of service. As such, it requires proper planning, training, and evaluation.
However, by consistently focusing your attention on the tips in this article, you'll find it easier to provide the kind of dining experience that wins you repeat customers and the kind of back-of-house management that gets you, loyal employees.
Key Takeaways
FOH management is crucial for exceptional guest experiences.
Train FOH staff on hospitality, SOPs, and product knowledge.
Implement effective communication channels and utilize technology.
Monitor guest flow, optimize seating, and manage wait times.
Implement strategies for upselling and handling guest complaints promptly.
Continuously train and develop FOH staff.
Regularly review and update FOH management strategies.
For more details, refer to the blog below.
What is "Front of House"?
The "Front of House", often abbreviated FOH, refers to everything your customers can see when they dine at your restaurant. This includes the hostess booth, the dining room, and all the employees and equipment required to keep this portion of your restaurant running efficiently.
What is "Back of House"?
The "Back of House", abbreviated BOH, refers to whatever your customers can't see when visiting your restaurant. For most restaurants, this includes the kitchen, walk-in freezers, offices, storage, and anything or anybody else that your customers don't see.
How are back-of-house and front-of-house connected?
For any restaurant to run properly, the front of house and back of house needs to have proper channels of communication in place.
A chef is not expected to walk out into the dining room to take each order from seated guests, just as a waiter is not expected to prepare dishes for a busy restaurant.
For each of these employees to do their jobs they need the front of house and back of the house to be linked.
A few tools that help achieve this at restaurants are:
Table management system
POS system
Accounting software
Inventory management
PMS integration software (if you run a restaurant within a hotel)
---
With these definitions in mind, let's now see how you can improve operations in both your front of house and back of the house with a few simple changes.
How to improve the front-of-house?
Your front of house is everything that your guests see when they visit your business, as such it makes sense to make it the best possible experience for them as possible.
Welcoming your guests
Let's start where your diners do – at the door. The welcome potential guests' experience can mean the difference between stepping in and taking a table or turning around and heading to your competitor.
It's crucial to remember that the manner your host or hostesses use when addressing and greeting customers helps to set the tone for their whole dining experience. A customer doesn't care if someone has called in sick and you're understaffed or if your 7 pm table of six has just turned up and is now a table of nine. When they walk through that door, a customer deserves your undivided attention, a warm greeting, and clear guidance on what to expect.
The very best welcomes involve good eye contact, adapting to the mood and tone of the customer, friendly body language and clear direction on what will happen next. It's important that the welcome host knows where to direct people while waiting for a table and what to say if there are no tables available at that time.
Should they offer the diners nibbles and a drink and give them the expected wait time? Perhaps you're so packed it'd be better to mention your takeaway service? Far too often the greeting post is abandoned when the front of the house is busy and this can have a detrimental impact on the whole customer experience. No matter how busy it is, your host should have a clear and informed plan.
If you want to turn up your guest experience a notch, personalization is key, and the only way of enabling personalization is by gathering as much guest data as possible. Restaurants can use automation software to help build a robust database and create targeted segments like regulars, VIPs, etc. by auto-tagging diners based on a set of criteria like a number of visits and spend amount.
If your restaurant is part of a hotel, this personalization can also be enabled through PMS integration software. Choosing the right PMS integration provider can provide you with additional guest details at a glance such as stay duration, hotel room and preferences - allowing your staff to provide an even more customized experience.
Having access to these important guest details at a glimpse will enable your staff to greet diners with a personal touch which in turn will make them feel important and improve their chances of coming back.
Online reservations
Harnessing the power of the internet can have a big impact on both organization and time-saving in your front of the house. Shifting from predominantly taking your bookings from email and phone to online frees up a huge amount of time for staff who could otherwise be focusing on hospitality.

For example. Let's say the average time it takes a staff member to record a phone reservation is 2 minutes and the restaurant gets on average 20 bookings a night then that that's a whopping 243 hours and 20 min your staff spends on the phone over the course of a year just taking bookings.
Online reservation systems also help front-of-house stay organized by automatically adding and assigning tables and time slots to guests. If the restaurant is full then the booking system will automatically inform the guest and save more unnecessary phone calls.
Wait times
We've said it once and we'll say it again. No matter how good your food is or how friendly your staff is, if table and food wait times are not managed, your customer's perception of the dining experience will diminish. We've covered some great tips for waitlist management in the post about how to keep customers on your waitlist happy.
Ultimately, you need to think about how effectively you manage walk-ins and table-turning, how well your hosts and wait staff set wait expectations, and how well equipped your front-of-house area is when it comes to entertaining waiting customers.
Do you have a wait or bar area where waiting customers can sit with a drink and menu while they wait? How's the ambiance? Is your restaurant the type of place that would benefit from some live music? Think also about how you keep track of tables that need to be readied for the next booking. Our reservation system for example highlights tables that need to be turned at a glance. But whether you have the support of an app or are relying on your front-of-house team to manage service speed, training your wait staff appropriately is key.
Assigned roles, briefing, and debriefing
You can have a burgeoning front-of-house team and a full back-of-house team in action and service can still end up in chaos if there's no effective role assignment, briefing, and debriefing in place. Some front-of-house managers like to assign different wait staff to set tables and touchpoints, while others may work with sectors or zones.
Whatever your approach, you should be confident that you have someone to welcome and seat guests along with staff for taking orders and running drinks. Waiting staff or the front-of-house manager should also touch on tables to ensure the needs of each table are managed and the speed of service is in line with bookings.
A pre-shift brief can highlight any obstacles such as short staffing during a particular time or in a certain area, it should reinforce knowledge of any specials, customer or staff incentives and help to effectively motivate staff for the service ahead. A debrief can also prove useful. Consider praising and thanking staff for their efforts and highlight any problems that need to be ironed out before the next service.
Organization
While a restaurant manager who is adept at spinning many plates is worth hanging on to, in modern restaurant management, technology has a very valuable part to play in effective front-of-house service. The online and real-time booking technology that can be fed into table planning is consistently rated as one of our customer's favorite features. It helps you to effectively stagger bookings and allows your welcome host to set realistic expectations for walk-ins who can be added to your table plan when they arrive.
Tech can also be used in the briefing, role assignment, and debriefing. Tables can be assigned to wait for staff ahead of service. And, thanks to customer profiling, those staff can check on any notes attached to customers' profiles about dining preferences, allergies, or other special requests.
When it comes to managing table-turning and wait times, color-coding means you can see at a glance when a table is coming towards the end of its allotted time slot and may need service speed increased or a check dropped. And as an extra bonus, data collected throughout service can be used in staff or customer incentives. A look at your data may lead you to reward the server who clocked up the highest average cover spend or design a marketing offer to incentivize customers to return during a time slot when bookings are becoming fewer.
How to improve back-of-house operation?
Although the back of the house is tucked away conveniently behind your kitchen walls, it is the heart of your restaurant. Problems in your back of house spread out into your front of house and make running your restaurant harder than it needs to be.
Here are a few tips to improve your back of the house.
Be transparent
Improving your back of the house has to start with your employees. That involves being more transparent so that your staff gains perspective on what the other half of your restaurant does and what they need to make their jobs easier.
A back-of-house employee will often remain a back-of-house employee for as long as they work at your restaurant. Whether they start as a dishwasher, cook, or chef, they often get promoted within their own section of the restaurant.
A dishwasher will rarely move out to the front to become a hostess. This means that most of your employees only know what it's like to work for one side of the operation and not the other.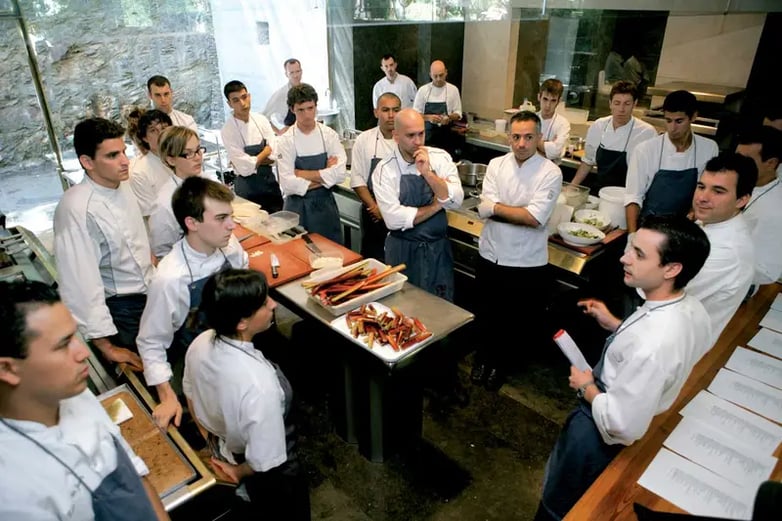 Holding semi-regular meetings with your entire staff to discuss problems each employee is facing and how their jobs could be better is immensely beneficial in creating a transparent work environment where your employees can start to gain perspective.
Reward employees
Front-of-house employees such as waiters/waitresses have a natural reward system in the form of tips. That helps keep staff motivated to do a better job because doing a better job means getting higher tips.
Back-of-house employees, on the other hand, don't have a feedback system in the same way that your front-of-house staff does.
Taking the time to acknowledge and reward employees for doing a good job can go a long way in boosting morale and motivation.
Rewards don't always have to be monetary, sometimes just acknowledgment and praise is enough.
Check-in with your staff
Because the back-of-house employees are hidden out of sight, it is very easy to forget to check in on how they are doing, especially at a busy restaurant or during a busy shift.
Restaurant managers need to take time out of their day to check in on their back-of-house employees to make sure they have everything they need and nothing is interfering with their ability to do their jobs.
Often times you'll realize that problems don't come to light on their own. They come out when you check in on your employees.
---
What do you think the number one priority of providing good front-of-house service is? What about running an efficient back of the house? Do you afford enough attention to your welcome and waitlists or is it time to invest more in thorough briefing or helpful tech?