A restaurant's success depends on its employees. Well-performing employees can help take your restaurant from good to great, while their poor performance can cost you customers; which is why training them correctly is one of the most crucial factors for restaurant success.

Every restaurant has its own way of doing things. It's important to train each and every employee in a proper way, even the ones with years of experience, to ensure that all of them are on the same page about the workings of your restaurant.

The best way to make that happen is to create a restaurant training manual that will help standardize the training process throughout.
---
Key Takeaways

A restaurant training manual is important for onboarding new employees.
It should include policies, procedures, job descriptions, and training checklists.
Examples of sections to include are: food safety, customer service, POS usage, and opening/closing procedures.
Regularly review and update the manual to ensure accuracy.
Hands-on training should complement the manual.
A comprehensive training manual can lead to more efficient training and better restaurant performance.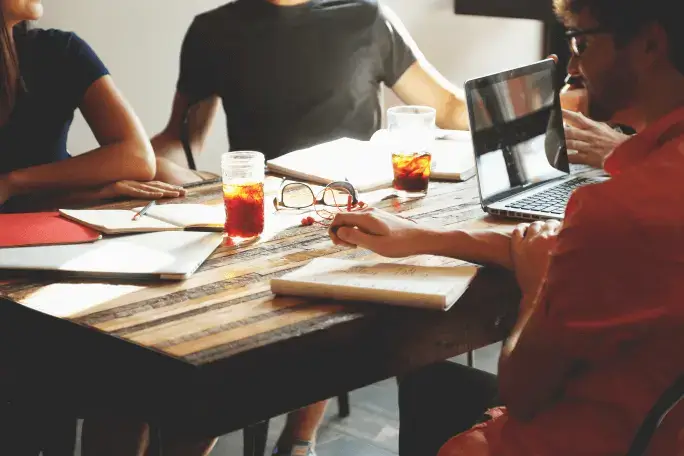 What is a restaurant training manual?
A restaurant training manual or an employee handbook is a guide that outlines the job role, rules, regulations, policies, and guidelines of your restaurant for your new hires and helps management train them in a standardized manner.
Every time a new staff member is hired, the management can take them through all the training steps as per the training manual, making sure no important information is missed out.
It also gives employees something to look back on to reinforce their responsibilities and the restaurant's ethics and etiquette without having to storm their managers with a thousand questions every day.
Creating such a crucial document can be challenging, though: where do you start? To whom do you involve? Just the task of conducting basic research may be enough to make even the most motivated restaurant owner's eyes droop.
Whether you're making a restaurant training manual from scratch or simply trying to improve an existing one, here are a few guidelines you can follow.
Let's start with the 7 basic steps.
1. Write down your mission statement
The first page of your restaurant training manual is reserved for the mission statement. A lot of restaurateurs aren't aware of how often servers get questions from guests about the restaurant's values. This is your chance to ensure your staff is sharing your mission with your customers.
If you don't have a mission statement, ask yourself:
What do I want to achieve? Gain recognition for my service? Create an irresistible happy hour menu? It could be both.
Who is my customer base? Who exactly am I appealing to?
How am I going to fulfill my mission?
When you've identified the answers to these questions, you'll know what you should communicate in your restaurant training manual.
2. Introduce your concept
You probably talked about your concept a lot during the hiring process. In fact, it should have guided you in selecting the right candidates. For instance, if you own an Italian restaurant with a jazz music theme, you'll want your servers to have some knowledge of jazz. If your restaurant is popular for offering an expansive wine list to its guests, you'll want your staff to be educated about various wines, and particularly those on your list. This section of the manual is where you can introduce your concept again and reinforce it.
3. Divide it into sections
Ideally, you will have a different manual for each position at your restaurant: servers, bartenders, cooking staff, managers, etc.
That, however, doesn't mean you will have to start each one from scratch. You can save time by including standard sections for all personnel and then adding specific instructions depending on the position.
If you have a restaurant operations manual, you can take most of these standard sections from there, including the mission statement and concept.
If you don't have one yet, read this: Restaurant Operations Manual: Why You Need One and How to Write It
Examples of standard sections:
Expected behavior

. Let new hires know what they can or can't do when they are at work, what behavior is expected and rewarded, and what won't be tolerated.


Dress code.

Outline your expectations concerning hair, uniform, shoes, facial piercings, and clothing accessories.


Health and Safety.

In addition to food safety procedures, this section should convey how to best manage health-related situations, such as a customer choking on food, a colleague fainting, etc.
Food preparation.

A classic disappointing moment in hospitality is when servers are not able to answer questions about the ingredients of a dish. Servers should know everything about all the items on the menu (minus cooking them). Indeed, this part of the training should also include menu tastings.


Payroll

. This part should detail everything related to work hours and payments, including PTO (Paid time off) and Worker's Compensation.


Emergency procedures

. In case of a natural disaster or any other emergency, employees should know what procedures to follow.
Examples of sections for a server's training handbook
Customer service

. Along with greeting customers with a smile, the customer service portion of the manual should include protocols for describing the menu, offering personal recommendations to guests, and upselling.


POS Usage

. How should servers enter their sales for the shift and tip any food runners or bussers? How to record daily check averages? This part should include answers to such questions as well as links to any online resources that can help train employees without the need to use human resources.
See how Eat App brings together guest and sales data with the POS system integration.
Cash handling.

This is a critical part of the training manual. Getting it right means avoiding errors and losses down the road, so don't be afraid to add too many details. For example: how to count cash before accepting it, verify $50 and $100 bills, handle tips, or limit the amount of cash in the drawer.


Staff policies

: This section can include several different policies: side-work duties (stocking the salad bar, cutting vegetables, etc.); tip pooling; day-to-day procedures, including those for opening and closing; customer policies for late arrivals or no shows, table management, etc.
Related: Learn how Eat App's table management solution helps you stay in control
4. Add checklists
With checklists you can break down a complex set of tasks into single actions, helping trainees learn faster. They're also an excellent tool for completing several preliminary checks or reacting in critical situations.
Here is an example of a checklist for front-of-house personnel, detailing all the steps of the cycle of service. You can expand this to cover a whole typical day, including post-service duties, opening, and closing, etc.
Before the shift
Check cleanliness of your area

Check cleanliness of station

Check that all menus are clean

Check restrooms

Check that tableware is clean, and that glassware and dishware are not chipped

Check that tablecloths and napkins are clean

Study specials to be ready to answer customers' questions

Discuss any issues with the manager
Welcoming guests
Greet guests with a smile

Introduce yourself with your first name

Take special care for elderly guests, guests with disabilities, children, expectant women, etc.

Stay within arm's length of the customer as you're escorting them to their table
Taking orders
Take orders starting from the drinks and suggestively sell an appetizer

Give menus to ladies first and then continue clockwise

When there are multiple guests at the table, take the order from left to right

If they seem to be in a hurry, suggest menu items that take less time to prepare

Let customers know if a dish they ordered requires more time

Repeat the order back to the customer

Ask guests who haven't ordered appetizers whether they prefer to wait or receive the main course with the rest of the items
During service
Check back every 20 minutes to ensure everything is OK

Be alert for any signs of discomfort or dissatisfaction. Discuss with your manager if necessary

Clean the table for dessert from the guest's right side with the right hand, and then transfer it to the left hand.

Remove bread and butter, soiled dishes, cutleries, and condiments
5. Add training goals and a final review
Make sure you add clear goals at the beginning of each section, as that will make learning much more effective. Examples of goals are: recounting the mission statement, knowing the ingredients of recipes by heart, or how tables are numbered. The manual should also include a final test covering all or most of the topics.
6. Include resources for cross-training
How many times have you experienced the only host call in sick and there's no one to take his/her place? If it's becoming a more frequent occurrence at your restaurant, it can be very helpful to cross-train new employees so you can have them jump in where they're needed. Detailing the protocols of key positions in your restaurant will give personnel something to refer back to when they're asked to temporarily work as a busser, host, or back of house employee.
7. Include a release to sign
Having new employees read the manual and sign a release stating they understand the training procedures is critical for ensuring they know its contents. With this, you should also include a disclaimer to make personnel aware the manual is in no way a contract of employment. Give each new hire a copy of this page to retain as well, before letting them start in the kitchen or in the front of the house.
5 Tips to improve your restaurant training manual
Once you know the process of creating a restaurant training manual, start thinking about the ways you can make it more effective and increase its appeal. After all, no one would be interested in reading a handbook that's dry and boring. Here are a few things you can do.
Name it something else

. Show your lighter side by naming the manual something else like, "The Playbook" or "Our Best Secrets." This will help create a comfortable learning experience for new employees.
Include summaries and previews. Once the primary content of your training manual is ready, include chapter summaries and previews for the convenience of your employees.
Relate to real-life situations. Where possible, cite real-life scenarios that new recruits can relate to in their day-to-day work. The point is not to make it feel like an outdated textbook. Including role-playing is also recommended. It requires a little more effort but can deliver tremendous results.
Include visual aids.

Relevant images are always helpful. For example, if the manual covers a software-based process (like how to insert data in your POS), you can capture and list screenshots of the required steps. Or you can use pictures to illustrate a tricky cleaning procedure.

Don't forget the Why. Instructions and prescriptions alone won't go very far. Employees will be much more willing to do something if they understand why it's important to do it and why it must be done that way.
Example of a restaurant training program
An employee handbook, however important, should be part of a wider program that includes theory and hands-on practice. Here's an example of a three-week program with day-by-day details for the first week, and additional goals for weeks two and three. Training doesn't end there, though. It's an ongoing process that should include regular updates on menu items, procedures, and problem-solving.
Day 1
Tour of back and front of house
Lunch (menu sampling)
Station tour and observation
Study appetizer recipes
Employee handbook review
Day 2
On-the-job training shift
Lunch (menu sampling)
Study main course recipes (pt. 1)
Study food safety and hygiene procedures
Day 3
On-the-job training shift
Lunch (menu sampling)
Demonstration of food safety and hygiene procedures
Study main course recipes (pt. 2)
Day 4
On-the-job training shift
Lunch (menu sampling)
Study menu desserts and review the rest of the manual
Day 5
On-the-job training shift
Final test pt. 1. Content of the test:

Dining room sections and table numbers
Mission statement
Table setting
Day 6
On-the-job training shift
Final test pt. 2. Content of the test:

Food safety and hygiene practices
Recipe ingredients, preparation, and cooking times
Review with the manager
Goals for weeks 2 and 3:
Bridge training gaps
Recite the wine list and suggest wine pairings
Know meat cuts
Know possible ingredients substitutions
Cross-training
Dealing with particular situations such as:

An argument over the check
A customer who tries to leave without paying
A customer fainting
A sudden power outage
A customer spilled a full glass of wine over the table
Conclusion
Creating a restaurant training manual may seem like a daunting task at first, but it's actually pretty easy to ace once you know what's needed. While it's true that you will have to invest labor hours to write it, a poorly trained employee will probably cost you much more in the long run.
On the flip side, by spelling out how your restaurant functions internally and how personnel should conduct themselves, you can:
Provide a consistently high-quality dining experience, increase retention and referrals, and ultimately revenue

Create a safe, enjoyable, and productive work environment

Secure your business from legal disputes down the road

Reduce employee turnover
Want to get started with your employee training manual? Download our handy training manual template.