The food you serve up to your guests along with the quality of their dining experience is crucial in determining the appeal and long-term success of your restaurant concept.
However, these won't be the sole reasons diners come through the door. How your brand is perceived and your basic restaurant concept is also important and more so for some than others.
When selecting a restaurant concept, some establishments choose to make the most of a unique geographic location, Mother Nature's elements or add a novelty spin to their menu or service style to create a dining experience that their restaurant makes it onto must-visit lists. The right concept can be the heart of your restaurant marketing.
A unique restaurant concept can help your restaurant stand out from the competition
15 examples of unique restaurant concepts
Super Intimate
Circus Show
Dark Dining
Tables in the Sky
Opera with Dinner
High Altitude Dining
Under The Sea
Ice and Snow
Tree Top
Terrifying Eats
In a Prison
Restaurant Run By Children
Airplane Dining
A Single Dish
No Menu Dining
1) Super intimate
Securing a booking at a really in-demand restaurant often helps the occasion to feel that bit more special. Diners may enjoy a sense of exclusivity from successfully booking a table.
So, what do you think would happen if instead of a whole bunch of tables, you served just one or two tables of diners at a time? The super cozy restaurant is a concept you'll stumble across from time to time. After all, diners frequently complain of being packed too tightly onto dining floors in the name of profit-making.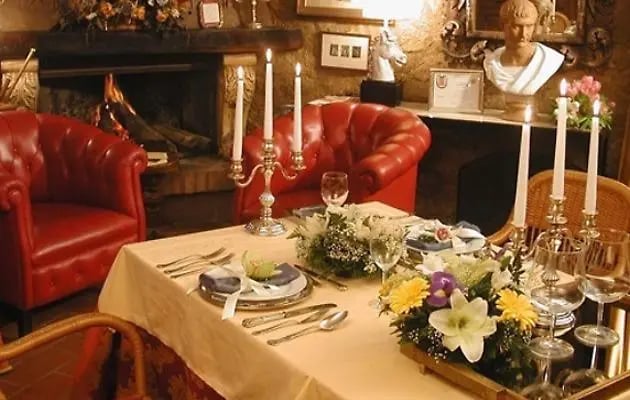 Solo Per Due in central Italy claims to be the smallest restaurant in the world. With just one small dining room, it sits just two diners at a time.
2) Circus show
Entertainment and dining have long gone hand in hand as a concept. But while some restaurants have jazz musicians or pianists playing, there are others that choose to wow diners with acrobatics and brave feats such as fire breathing, as well as the quality of their food.
Circus in London is a circus-themed restaurant where guests can enjoy cocktails, food, and a show. It offers a sharing menu for groups of five or more along with a tasting menu and a la carte options.
3) Dark dining
The presentation has become a huge aspect of fine dining marketing. But would the food on your plate taste better if you couldn't see it? The loss of one sense is said to heighten the other senses and thus intensify food's flavors.
This is the primary concept behind dine in the dark restaurants. Over the last few decades, a number of such restaurants have opened up across the globe, though the very first is said to have launched in Paris in the early 1990s.
The wait staff at these eateries are often visually impaired or are specially trained to provide service in the dark.
Dans le Noir is international dining in the dark chain open in cities from Paris to St Petersburg.
4) Tables in the sky
Restaurateurs love to play with diners' senses or to provide some kind of spectacle. And dining in the sky at a table suspended high in the air certainly promises both.
Along with a sense of danger, visiting such eateries usually has a touch of exclusivity, as it's simply not possible to suspend a huge number of diners in the sky at once.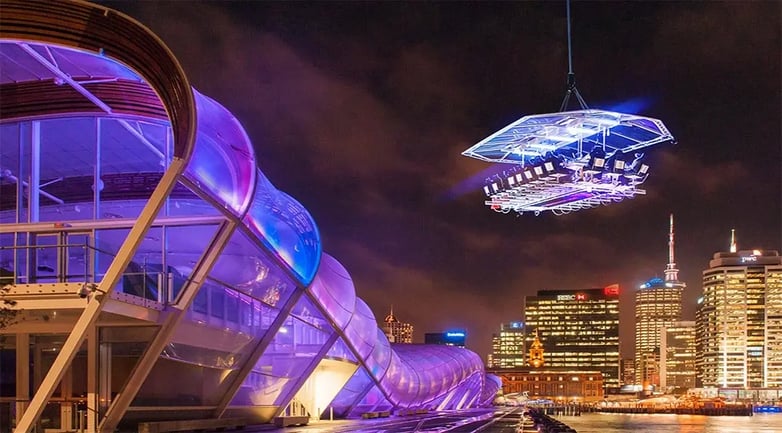 You'll find dining in the sky restaurants all over the world, including the 45 countries where the dinner in the sky chain operates.
5) Opera with dinner
You've heard of a pre-theatre menu, right? Why not cut out a journey and save some time by serving up opera alongside the dinner menu?
A number of restaurants choose to provide aural entertainment for their diners but there's also the option to drive up to an open-air opera show and enjoy dinner in your car. Is it the perfect mix of culture and convenience?
The Santa Fe Opera offers a unique opera tailgating dining option.
6) High altitude eating
Dinner with a view can make eating out an even more special experience, and some of the eateries located at high altitude spots across the globe certainly boast a good vista. Fine dining and fine views frequently go hand-in-hand to cement a premium dining experience.
The highest restaurant in the world At.mosphere is located on the 122nd floor of the world's largest building, the Burj Khalifa in Dubai.
7) Under the sea
You may find that you want to skip the fish course if you're lucky enough to dine at an under-the-sea restaurant.
A handful of partially or fully submerged eateries are located across the globe and a new venture – the first in Europe – is due to open in Norway in 2019. Expect to be wowed by marine life swim by, above, or around you.
5.8 Undersea Restaurant in the Maldives is an all-glass underwater restaurant with a totally unique view.
8) Ice and snow
Ice-themed restaurants have popped up in some surprising locations across the globe. You might expect to encounter them in the Arctic Circle, for example, and you can certainly book ice-dining experiences if you choose to visit the region.
You can also find Ice themed dining options in less obvious places like Dubai, taking the 'chill-out' factor of eating out to new levels.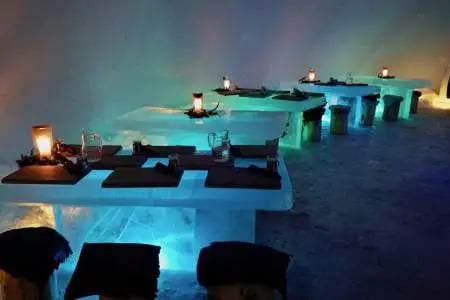 The Northern Lights Village's Ice Bar & Restaurant in Saariselkä offers traditional Arctic Circle delicacies in a restaurant made from snow and ice.
9) Tree top
Got a head for heights? Maybe you're a fan of foliage? Treehouse restaurants can be found in countries with a diverse range of climates.
It goes without saying that eating among the branches is a great way to appreciate the spectacle of nature around you while enjoying a bite to eat. However, some eateries go above and beyond to provide a dining experience that's out of the ordinary.
Treepod dining at Soneva Kiri features service from the zip-lining wait staff.
10) Terrifying eats
Being served undercooked chicken or enduring a two-hour wait between courses would definitely qualify you as having a horrific dining experience, but if you're a horror fan, there are truly some scarier eateries out there!
From haunted houses to ghoulish wait staff, there are some truly terrifying dining options.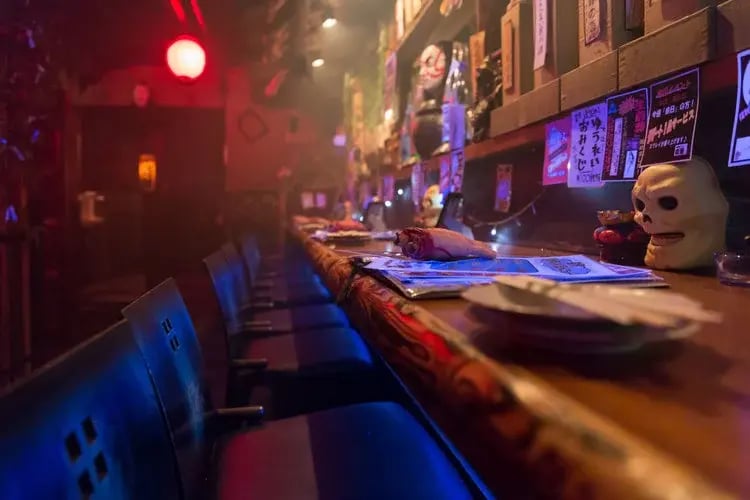 Yurei is an underground ghost-themed restaurant in Tokyo with a fun, spooky atmosphere.
11) In a prison
There's no doubt that working in a restaurant can be stressful but it can also be very satisfying, cooking itself is considered by many to be a therapeutic activity. It's perhaps no surprise therefore that a number of restaurants around the world run their own prisoner rehabilitation schemes.
Attached to or actually, inside prisons, some of these restaurants have won awards for their quality of food and service and provide training that is said to reduce re-offending records.
The Clink Charity runs a number of prison restaurants in the UK.
12) Restaurant run by children
Do your little ones like to help out in the kitchen? How do you think they'd cope waiting on customers? A restaurant run by children may seem like a place ripe for chaos and tantrums, but it does actually exist!
Kinderkookkafe is a restaurant in the Netherlands run by children in a childcare setting. The kids prepare and cook the food under supervision, wait on tables and take the bill to diners as part of a learning experience. As you'd expect, the diners are usually their very proud parents.
13) Airplane dining
It gets bad press but in-flight dining has come a long way in recent years. And of course, airplane dinners are part and parcel of exciting journeys. But how would you feel about dining in an airplane that never leaves the ground? Aviation enthusiasts in particular are likely diners at airplane-themed establishments.
The Airplane Restaurant in Colorado Springs, United States calls a Boeing KC-97 tanker home and features an aviation-themed casual dining menu.
14) A single dish
Spend your daydreaming about the best-ever bowl of cereal? Can't get enough cheese?
As a restaurant, it's great to have a signature dish or to be known for a particular section of your menu but some chefs narrow the field even further and focus on just one single dish or ingredient. And the novelty of such concepts means that such eateries can prove very popular indeed.
The Cereal Killer Café is a small but global chain of cereal specialists who recently added savory and alcoholic options to the menu at their London branches.
15) No menu dining
Want your kitchen staff to be able to concentrate on serving up the finest locally sourced and seasonal ingredients without being bound to a regular menu? No menu dining is certainly no new thing. In fact, the restaurants choosing to adopt this concept are harking back to days gone by.
Diners enjoy the surprise of being served whatever comes out of the kitchen and the chef is free to make the most of what is available. Plus, the customers don't need to worry about not being able to choose what to eat. It's like a Prix Fixe with a bigger element of surprise!
Chinese restaurant Hunan in London is one such restaurant known for its no-menu approach.