We're pleased to announce that Eat App has launched an official partnership with Google to bring the 'Reserve with Google' restaurant booking functionality to UAE's restaurants.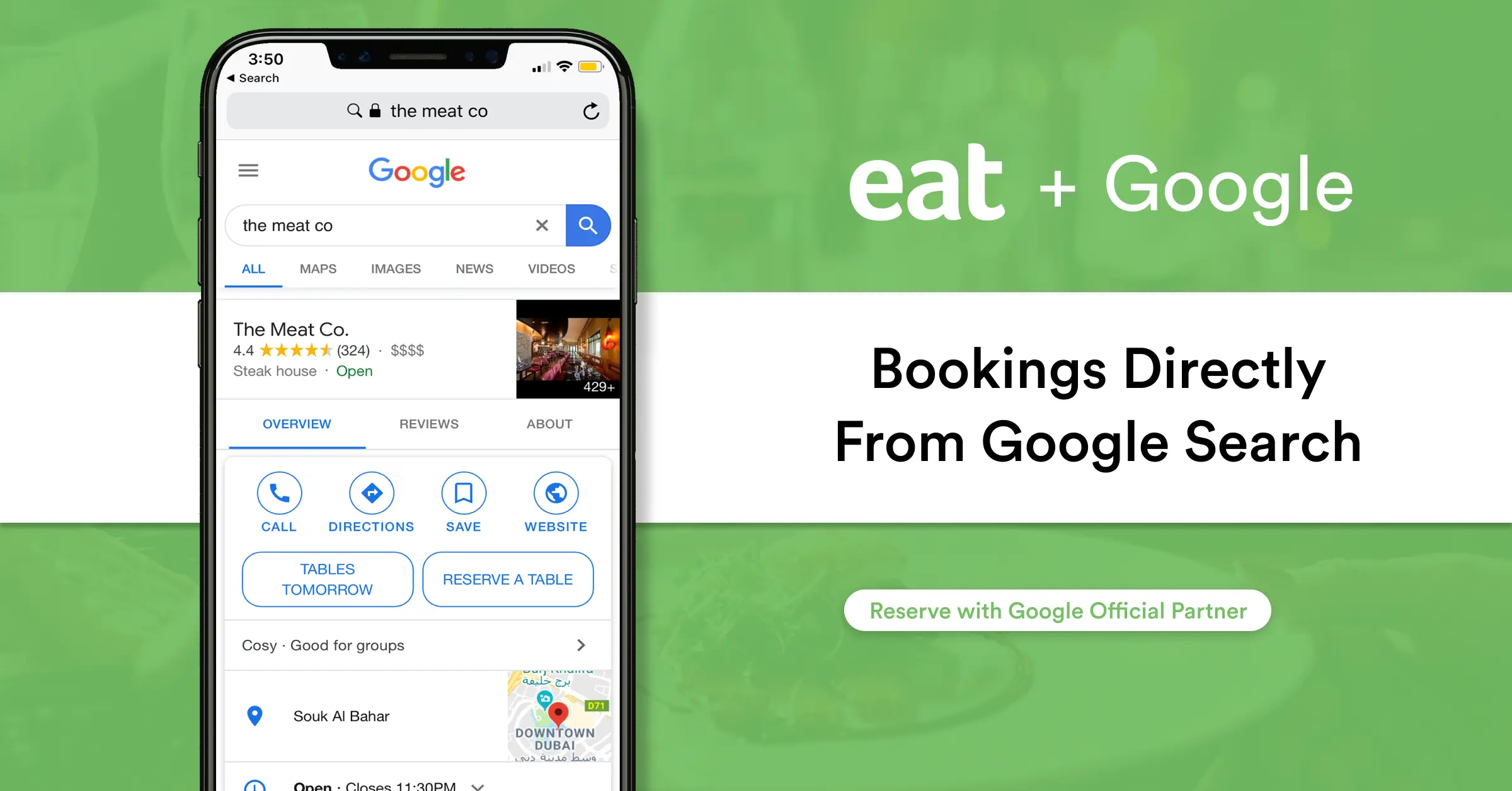 'Reserve with Google' is a unique reservation generator for restaurants. We've worked closely with Google to provide seamless online reservations to guests directly from Google search results and Maps, via their Business Profile.

Through our implementation of Reserve with Google in the UAE, restaurants can take advantage of people searching for terms like 'restaurants near me', as well as the 100,000+ monthly searches for restaurants across the country.
Restaurant Marketing is Evolving
Though Search and Maps, Google has revolutionized the way consumers find restaurants. Thanks to real-time keyword searching via GPS enabled mobile devices consumers now research, choose and book at restaurants from their smartphones.
The smartphone and Google search is now a major marketing tool for restaurants looking to find their next customers. Reserve with Google is the link that connects searchers directly with a restaurant's reservation system and provides diners with a booking engine they instinctively trust.
With Reserve with Google, residents and tourists in UAE, seeking out restaurants on Google Search will:
See 'Book a table' buttons on the Google Business profiles of restaurant.
When they click, real-time table availability is presented through Eat App and Google via our integration.
The diner can then place a reservation through Google's easy to use interface.
The reservation is confirmed by SMS and Email and can be easily cancelled by the diner.
We're excited to offer this new revenue generation channel to UAE's restaurants. We provide the easiest and most cost-effective way for restaurants to take advantage of 'Reserve with Google' and are the only solution that offers on-the-ground, local tech support.
Our Reserve with Google partnership is the latest addition to our family of products that help restaurants succeed online. Eat App also offers restaurants bookings through TripAdvisor, TimeOut and 6 other smaller local reservation partnerships, as well as through our own booking platform at eatapp.co. This makes Eat App the largest regional restaurant reservation network.
For more details please contact us here