We're excited to release Eat App's latest addition to our restaurant efficiency suite in the form of automation.
Learn more about Eat App's restaurant automation feature ->
Restaurant operations on autopilot - Eat App's newest automation feature enables you and your staff to save countless hours every day without ever compromising the guest experience. This industry-first feature allows you to set up automation rules that run in the background - making it easier than ever to tag guests, improve restaurant reporting and even automate your restaurant marketing.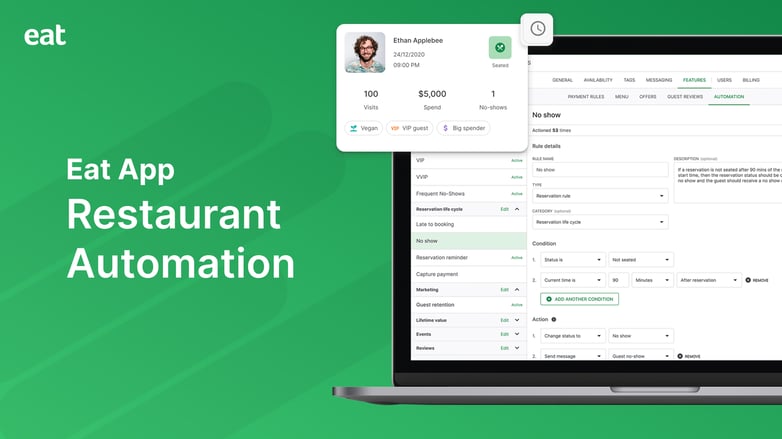 Best part? Eat App's restaurant automation doesn't get in the way of your daily operations, using this feature enables increased productivity and when paired with a holistic strategy - can set your restaurant up for success.
What is restaurant automation?
Restaurant automation is a rule-based system that allows you to set up automation actions across hundreds of data points that span guests, reservations, payments, marketing, and more. You set up the rules and Eat App's automation system does the rest in the background. A few examples of what your first automation rules might look like:
Guest visits 10+ times → Automatically tag them as "Regular Customer" → Send them an email with a promotion to get them to come back an 11th time → Send an internal staff email to tell the team we have a new regular.
30 minutes after reservation and the guest hasn't arrived yet → Mark reservation as no-show → If there is a credit card hold, capture the deposit → Send email to guest informing them.


What is unique about Eat App's restaurant automation?
It's the only feature of its kind on the market. Eat App is the first table management and reservation company to put automation in restaurant owners hands. This game changing product opens the door for improved efficiency at a scale that restaurant operators have never been able to achieve.
Typically, restaurant operators had to dedicate hours every day manually updating reservations, guest details, payments and even triggering marketing messaging. With Eat App's restaurant automation tool, the power to save countless hours and skyrocket your efficiency is now in your hands.
Eat App's restaurant automation tool is perfect for restaurants wanting to run more efficiently without compromising the guest experience.
Integrated right into your table management system is now a powerful efficiency tool that can help you
Automatically update reservation statuses when guests are late or never arrive
Capture prepayments from guests that book a table and then never show up
Tag guests bases on rules you create - for example once a guest hits 10 visits to tag them as a regular customer
Send marketing emails to guests on their birthday/anniversary or any other reason
Send internal emails to your staff about guests and reservations so that you are always in the loop and never miss a beat
Efficiency, meet reporting and guest experiences
Eat App's restaurant automation feature not only saves your staff countless hours, it enriches the data you are able to collect about your restaurant and guest performance and enables you to provide memorable guest experiences every time. By standardizing the process of updating reservations and guest data - you can ensure that your data is being updated seamlessly and without ever having to lift a finger so you can start to
Understand and analyze trends in reservation materialization, dig into why a guest has canceled or never showed up.
Learn when customers become meaningful to your brand - such as a high spender or a loyal customer and then reward them to keep them coming back
Upgrade your tagging with specific tags like "Visted x Days ago" so that you can have a more nuanced approach to operating your restaurant
Enable personalization that is natural and flexible - you decide what information is important and what you do with it.
Restaurant efficiency is now even better with Eat App
Your restaurant's efficiency is now in better hands with Eat App's extensive suite of features that are directly integrated across the board - from your booking widget all the way to your table management and reservation system. This suite includes:
Advanced shifts and capacity management
Advanced tagging
Yield management and discounts
Table optimization
Advanced reporting and analytics
And now you can add restaurant automation to the list of features that will help you run your restaurant like a pro without breaking a sweat. Part of that is by shaving off hours of busy work for you and your staff so that you can spend more time doing the things that matter.
Check out Eat App's restaurant automation today!
See it in action