It's no secret that our dining and spending habits have changed recently. The pandemic forced many restaurants to close their doors to the public, cementing the dine-at-home experience as one of the major trends in e-commerce.
What we're now seeing is that many businesses are retaining these new strategies. In fact, over 50% of the top 1000 retail chains now offer curbside pickup to their customers.
Are you looking to implement curbside pickup or for your operation to run smoother? Well, this article will tell you everything you need to know about the practical side of restaurant curbside pickup.
Key Takeaways
Clear communication and signage are crucial for a smooth curbside pickup experience.

Offer online or mobile ordering options to streamline the process.

Train staff for efficient and friendly curbside pickup service.

Use secure and labeled packaging to maintain food quality.

Implement contactless payment options for minimal physical interaction.

Promote the service through social media and marketing channels.

Collect customer feedback and make improvements as needed.

Monitor and analyze performance to optimize operations.
What is restaurant curbside pickup?
A curbside pickup service is when a restaurant allows its customers to place an online order for food that they may pick up from their local store. It's somewhat similar to delivery services such as Uber Eats or Deliveroo, albeit without the middle-man delivery driver.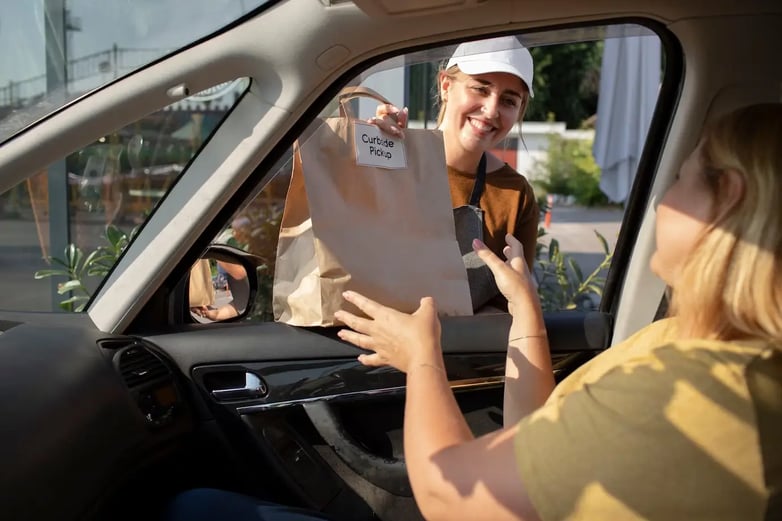 By handing this option to customers, it essentially transforms a traditional dine-in restaurant experience into a takeout service.
Often, restaurants offer curbside pickup in tandem with their dine-in operation. The dishes are prepared in the same kitchen by the same staff and only differ because they're packaged into takeout containers.
Why should you offer this service?
Wider reach
Curbside pickup offers your loyal customers an alternative dining experience and widens the pool of potential customers.
A survey by Tasting Table found that nearly 8% of Americans eat restaurant food five or more days per week. Now, imagine how many of those customers sit inside to dine on every occasion - not many. Perhaps they're on the commute home from work and want an easy meal, or they're too busy with obligations to dine inside. Regardless of the reason, convenience is crucial.
Giving your customers the option of in-house or at-home dining hands them freedom in how they interact with your business. In this respect, you may think of it as a sales enablement tool. This can help foster a loyal customer base and bring an additional revenue stream to your business.
Consider customer lifecycle journey mapping to give you a complete picture of how your customers are interacting with your business. This will help you to identify areas where you can widen your reach and improve your customer service at the same time. It'll give you a better idea of who your customers are so you can tailor your new service directly to them.
Lower fees for customers
A perk of curbside pickup for consumers is that the relative cost of that dining experience is lower. It might be that you offer a slightly cheaper menu for takeout dining to reflect the lower overhead costs. Even if you don't, they'll be saving money by not paying for delivery.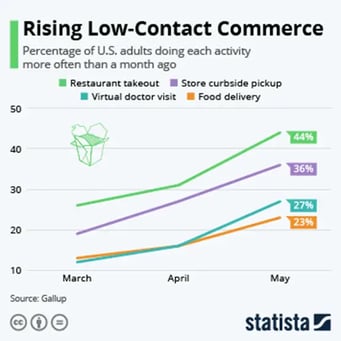 Lower overhead costs
On the business side of things, offering a customer pickup service can help drive up profits. For starters, you may find that your overall sales increase. You'll also be able to accept more orders than usual with a smaller front-of-house team.
Paying waiters and waitresses to take orders, bring food, accept payment, and respond to customer queries can be a lengthy and expensive process. You'll find that a dine-at-home service is cheaper as you'll be able to handle a greater quantity of orders with a smaller team.
This can be made even easier by automating business processes. You can streamline sales, marketing, and communications to help your business run more efficiently and reduce your costs.
If this model works well for you, you may consider moving to a smaller restaurant with lower rent/maintenance costs.
Tips for better curbside pickup operations
Give clear instructions (to staff and customers)
Whenever you launch a new service, your staff must be prepared to handle its operation. That means training them adequately and having enough management to oversee the launch. On the customer side of things, you must have clear signage and systems in place for communication.
If your restaurant operation is a mess on launch day, it lowers team morale and sends the wrong message to your customers. You want to start off on the right foot and improve your metrics for CSAT (customer satisfaction), not damage your reputation in your first week.
So spend some time putting in place clear workflows and make sure everyone fully understands how the system will work.
Package your food appropriately
In the restaurant business, having happy customers matters. They bring good reviews, recommendations, and repeated commerce. A significant advantage of in-house dining is that it allows you to manage and respond to complaints as they arise. With takeout services, you'll not have this opportunity.
That's why it's so important that you package your goods properly. Imagine how upsetting it would be for a customer if their food leaked everywhere. What's worse, in this situation, you've no easy way to remedy the problem. By then, your customers will be hangry, and simply offering a refund or replacement won't cut it.
Avoid this problem by using appropriate packaging!
Offer a different menu
Many restaurants offer a separate menu for their takeout customers. There are numerous reasons for this. For instance, some dishes will not keep well during transport. Fried items like mozzarella sticks might not be as crispy and appetizing by the time they reach your customers' plates.
Other considerations include offering a smaller menu with your best-selling items and reducing dishes with overlapping ingredients. You may even consider offering "set meals" that incorporate menu items that are commonly ordered together.
Then new customers won't feel intimidated by the selection, whereas repeat customers will feel that they're getting better value.
Establish a pickup window
Hopefully, your curbside pickup service is popular with your customers. However, you may find that this increase in popularity presents challenges for your business. For example, you might find that the heavy footfall of pickup customers creates traffic at the front of your restaurant.
For this reason, you might choose to have a dedicated "window" for curbside pickup that's separate from your storefront. This keeps both sets of customers out of each other's way and makes it easier for your staff to process orders.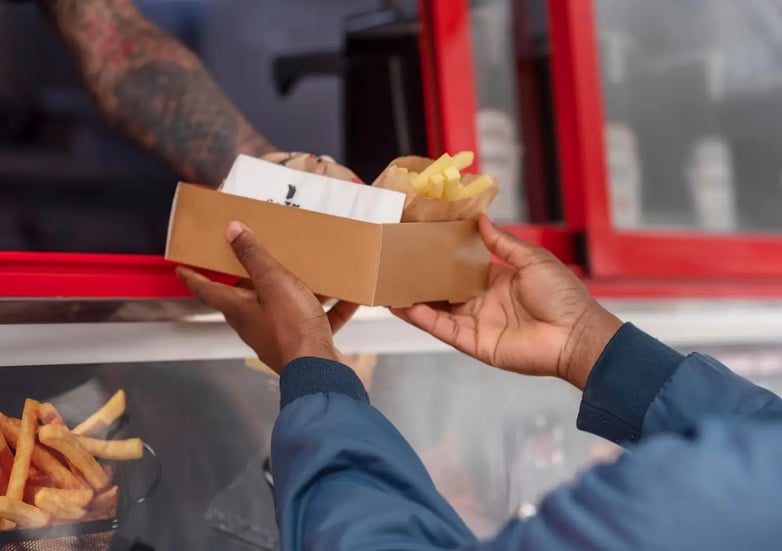 Conclusion
Offering your customers alternative dining experiences is of paramount importance in 2022. By now, you should know what it takes to run a successful curbside pickup operation. However, bear in mind the challenges and responsibilities that come with it, too.
The best way to keep your customers happy with at-home dining is to get it right first. You might want to implement the new service at a quieter time in the retail fiscal calendar. That way, your staff can get to grips with the processes in a more relaxed environment.