Our latest case study takes a look at Dubai's most awarded F&B group, Solutions Leisure - the leader of the unforgettable dining experiences, memorable nightlife events, and entertainment scenes that create the moments people live for every day.
We spoke to the Operations Manager of top-rated restaurants within Solutions Leisure, Koyo, STK, and Ula, Sapita Diaz to learn more about the ever-growing and evolving growth of the renowned hospitality group.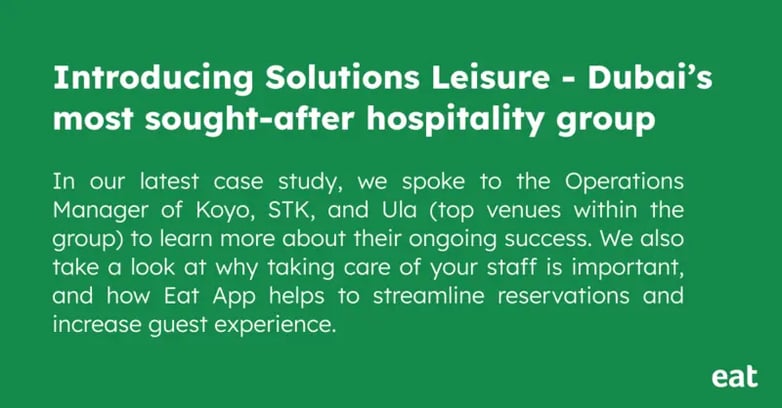 Introduction
For over two decades, the Solutions Leisure group has been the home of Dubai's most sought-after restaurants, clubs, family entertainment venues, and bars. From starting with LSB (Lock, Stock & Barrel) to Asia Asia and multiple more, the group grew into a fully diverse and upcoming entertainment and hospitality center, providing visitors with an unforgettable experience they will never forget. "The reason why people keep coming back is not just because they [the group] have a club or a bar but because they have different brands and different venues to suit everyone's palate and taste," Sapita says.
"That's what attracts people mostly when it comes to Solutions Leisure. If you want Japanese [food], you can go to Koyo. If you want a steakhouse that is not very American-led, you can go to STK. If you want good ol' Asian cuisine, you go to Asia Asia, and if you want a good night out, you go to Lock, Stock & Barrel," she continued to explain.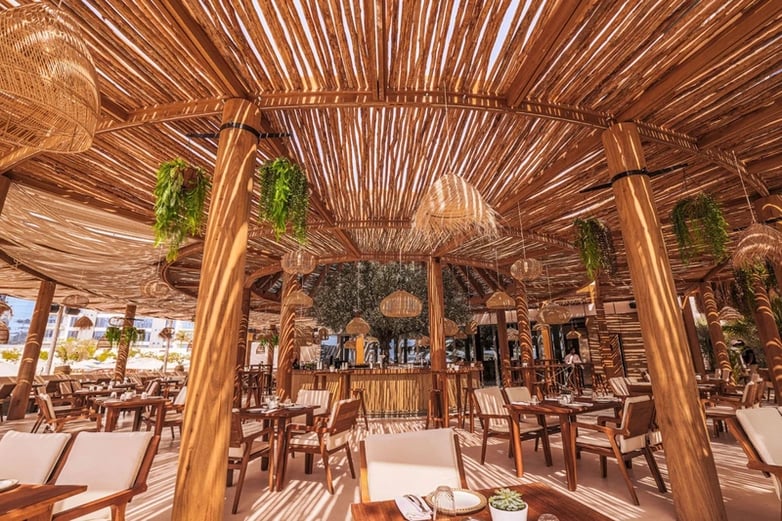 But, the highly popular hospitality group's offering doesn't stop there for local and international guests alike. "Now we also have Central in Abu Dhabi. If you have family, you have children, you can go to Central, where your children get to play, and then you can grab a quick drink on the side. So we are obviously trying to cater to everyone," Sapita says.
So, how do they continue to grow and achieve continued success?
Solutions Leisure's key to Success
For the hospitality group, giving guests a great experience is extremely important. "For us, the key to success is fun," she says. The Operations Manager also highlights the importance of taking care of your employees. "First of all, you need to look after your staff. They are the friend and face of Solutions Leisure. We do look after our staff because if you have happy staff, you have happy guests," Sapita says.
"If a company does get to the point [of success], they understand that they do need their staff. You can't just consider a staff member as a number. You need to understand that they are there and you need them and you need to tap into what they are very good at and provide all the training and then an environment that is safe for all of them," she adds.
Once your staff feels valued, they will make your guests feel valued. "If you have happy staff, then definitely the success of your venues will come because then there is a reputation of not only the food being good, because yes, you can go to any restaurant with good food, but if the experience was catastrophic, I don't think you'll be going back. It doesn't matter how good the food is," Sapita says. For the hospitality group, it was important to keep their staff top of mind and provide them with the necessary tools to focus on what's important; and that is giving guests an unforgettable experience.
So, what are the challenges Solutions Leisure faced, and how did they overcome them?
The challenges
Being at the top of your game can mean high pressure, especially for hospitality groups in a city that offers endless luxury hotels and unforgettable dining experiences. "One of the main challenges I've learned, and I think any company in Dubai would face, is that Dubai is very unforgiving", Sapita says. "You really need to be on top of your game if you want to keep on attracting the footfall. And also, Dubai is growing so fast. So, what was popular six months ago might not be popular two months after that or a year after that," she adds.
The Operations Manager's tip: "It's very important that you always try to reinvent yourself. You always try to keep up with the market trends and try push forward. So your brand stays significant in the market," Sapita says.
The solution
To help streamline their operations, help staff work more effectively, and continue providing guests with the best possible experience Sapita and her team knew they needed a reservation and table management system they could trust. "When I joined Solutions Leisure, it was the first time for me to use Eat App. I met Kendall [Account Manager a couple of times. She's a lovely girl and she's always flexible to try and help us to get the best out of the application," she says.
For the Operations Manager having a seamless booking experience for the guests was key. Not only does the software help guests make it easy to book online, but they have seen an increase in revenue. "Eat App as a tool does drive our footfall. You can't work at a restaurant and just hope people would walk in, correct? You need people to book in [to your restaurant]. And so far, we haven't had any negative comments from any guests saying the app is too difficult to use or anything down those lines, which is very important for us," Sapita says.
"Especially when we have our mystery shoppers and we ask how they feel about the booking system and stuff like that, we haven't had any negative comments, which is good for us," she adds.
What do the staff enjoy most about Eat App?
Eat App is not only user-friendly but effective when it comes to reservation management. "To make a reservation is quite fast. There are some apps where they ask too many questions before you even finish placing the booking, and sometimes the guests will get tired and they might just cancel as well on you. So that's very quick," Sapita says. "And I like the communication tab where staff can add their requests from the guests or any comments they want to add on - it's quite easy for them to want to do so," she says.
Other features include shift management and guest notes. "And we also love the future of who takes the booking and then clicks in their name, so we'll know exactly who is dealing with that guest. Some reservation systems don't have those," Sapita says. "The back of the house - when it comes for us to do a new plan, close for the day, and change all the administrative parts as well, it's very straightforward, which is very good," she adds.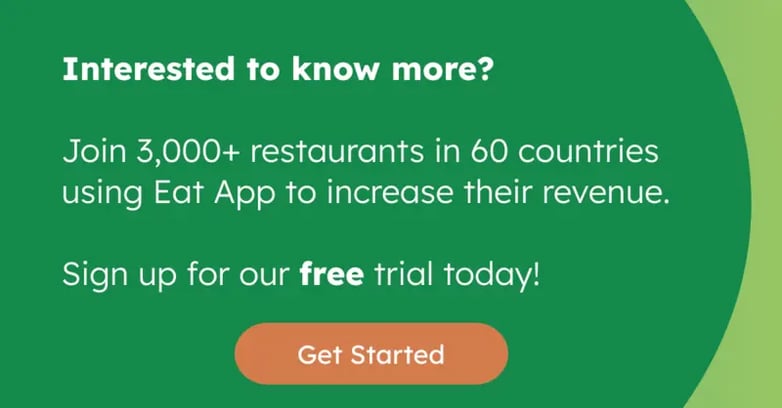 What's next for Solutions Leisure?
If you thought Solutions Leisure was done growing their offering, think again. Big things are yet to come for the renowned Dubai hospitality group. "There's amazing stuff coming that is going to be announced very soon. And Solutions Leisure will keep on growing fast and I can't wait to see people's reactions to some of the stuff we're going to open soon," Sapita says.
"Hopefully there's more international expansion, but right now I'm sure we're going to take Dubai by storm soon. So yeah, everyone better to watch out," she says with great excitement.
Would you recommend Eat App?
The Operations Manager is quite familiar with a variety of reservation systems so we had to know if she recommend Eat App to other operators and restaurant managers? "I would definitely recommend Eat App. It's quite easy to use and it's user-friendly. And also as a company, you guys are quite approachable, which is very important. Kendall [Account Manager] has always been there to support us. I don't remember the last time that she did not reply to me or she didn't make the effort to meet us," Sapita says. The support team has made it possible for the staff to get set up and ready to take control of the bookings and guest experience. "She made the time to come a couple of times to help the whole team, and sort out everything we wanted. And which for me was quite important. Especially for my hosting, because STK is busy and you need a system that works and works fast and it's user friendly," she says.