Our latest case study takes a look at Riggers Loft - East Bay's go-to location for wine, relaxation, and music. Known for the exceptional Bay views set as the backdrop, the winery production facility is a popular meeting spot for locals far and wide to come to and relax with friends over wine, cider, food, live music, and other regular events.
We spoke to the owner of Riggers Loft, Kevin Brown to learn more about how they managed to get back into the swing of things after the dreadful pandemic and make their winery more visible for visitors online.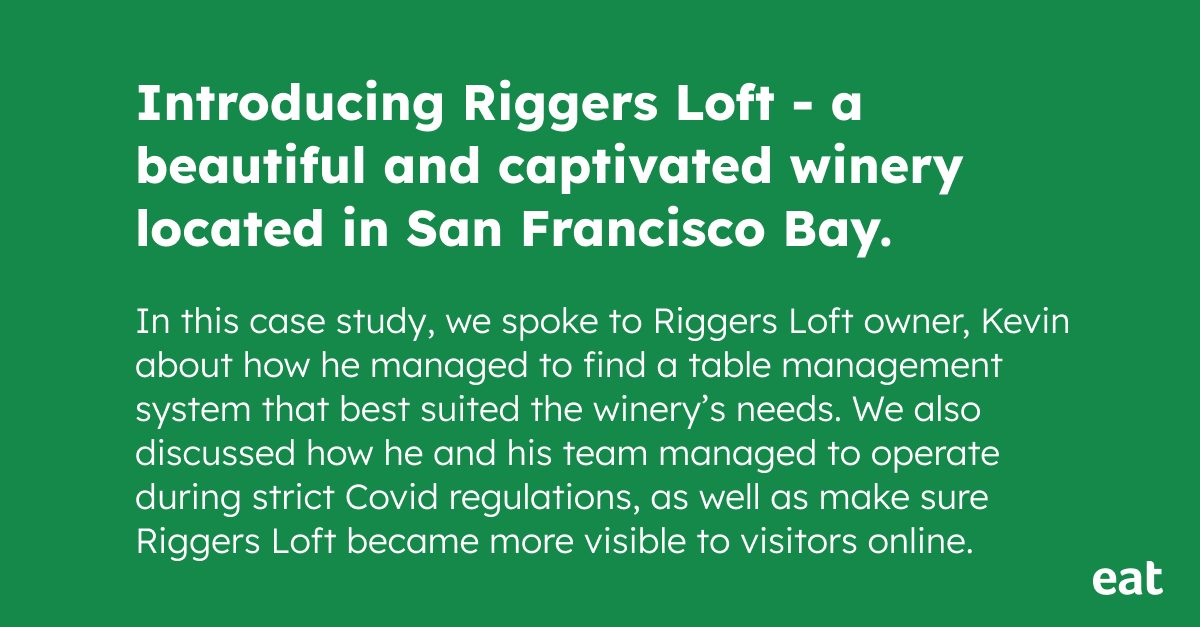 Introduction:
In 2014, Kevin started renovating the facility and did their first crush as a winery in 2015. By 2016, Riggers Loft opened up their first tasting room. Then fast forward to today, and Riggers Loft has become an exceptional location to celebrate life's most precious moments. "We do weddings and parties of different kinds, whether they're anniversaries or, or engagement parties or quinceaneras or all corporate events, team building events, sales events, that kind of thing as well," Kevin says.
According to the Riggers Loft's owner, it's their location that sets them apart from other venues. "We're kind of unique. We are located right on the San Francisco Bay. I mean, literally from our tasting patio, you could throw a rock into the San Francisco backyard. We have a 270-degree view of the San Francisco Bay, the most amazing view of the San Francisco skyline and the bay bridge and Oakland and all of that," he says." And at night everything lights up like beautiful jewelry. It's a real, pretty thing," Kevin adds.
Unlike other wineries and tasting rooms, Riggers Loft's events are hosted in the old Kaiser shipyard from World War II. "There's a historic component to it, which is very interesting. And we're kind of an urban, industrial, funky chic, and unique space," he says.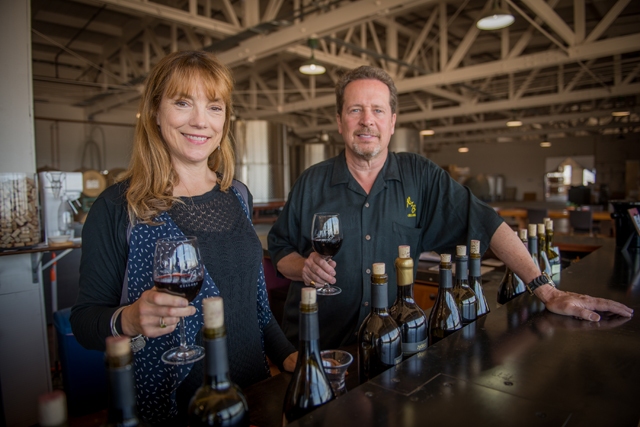 The Challenge:
So, what are the biggest challenges when it comes to Riggers Loft and driving their continued success? "Well, our location is our biggest plus and to some degree, it's our biggest minus in that we are not along a route that people travel by all the time. So it's not a major road. You don't drive by us to get anywhere else. We are at the end of the line. Finding us sometimes has been a little bit of a challenge for folks. Although, with Google Maps and all that stuff, I think it's getting better," he adds.
During the midst of the pandemic, Riggers Loft also had to deal with the limitation of what they had to offer the public. "During the whole pandemic with the shutdown and the other craziness, we had an outdoor patio and that's really what allowed us to stay in business," Kevin says. "You know, the ability of people to be outside, to be socially distanced and safe and all of that. And when you couldn't do things indoors," he adds. This to an extent became a great benefit for the winery. "So the problem that we were running into was that we were the only game in town. Probably because other places did not have an outdoor component or they did not as aggressively pursue using their outdoor component. We were one of the only places [in the area] that were open. So we were booked out completely all the time, but it was all just walk-ins and you had no control over it," Kevin says.
The Solution:
The Riggers Loft owner, who used another well-known table management and reservation system, had to re-evaluate his current spending but knew not having a tool in place wasn't an option. "We had stopped using our previous system, you know, while it has a number of the same features, it's very expensive relative to what you get. And we didn't think we were getting a lot from it," he says. "But we figured we needed to come up with some kind of reservation system," Kevin says.
The first thing the Riggers Loft owner did was do a bit of research online. "I started looking into reservation systems and then looked into reviews and Eat App was well-reviewed. And of course, that and the Kempinski hotel group, the Four Seasons and a number of other, you know, high-end places seemed to give it good reviews as well," he says. "So that's how we started looking into it and how we got involved," Kevin adds.
Setting up & getting started with Eat App
According to Kevin, he was very excited to try out Eat App. "When we first started using the system, like anything, you know, you're kind of a kid with a new toy and you're playing with it and there's a lot of fun things about it," he says. As he started exploring, he found a few great features to help him and his team at Riggers Loft. "There's a lot of very, very good things about Eat App. Delightful and, you know, all the support staff, everybody was really good at getting us set up. The pricing I thought was very, very reasonable," he says.
It's been a year later and here are a few key Eat App features the winery utilizes today:
1. Planning for the number of guests we're expecting and how busy you will be on the day
Being prepared for their guests and ensuring they get the best possible experience is essential for the team at Riggers Loft. A reason why a table management system is important for the winery. "The key feature of Eat is to get a sense of the number of guests that we may have on any given day when we're opening," Kevin says. The software is especially useful on days when the Riggers Loft is hosting live music events. "It does allow us to coordinate with the caterer in terms of understanding how many reservations and how many covers we're going to expect. You know, that's what's on the books right now and there are always walk-ins to go beyond it. So you can get a sense of how busy you may or may not be," he says.
2. Rearranging tables and making sure Covid-19 regulations are followed
This powerful tool was especially useful during strict Covid-19 regulations. It was important to make sure there was social distancing between tables and the necessary safety measures were taken during a guest's visit. It was also a great way to ensure the venue didn't exceed its limit. "But now that the COVID stuff is starting to roll back, we're doing more open seating. We check all of our reservations on a given day to see if there's a large group that's coming at this time. So we'll reserve some of the larger tables for them and set those aside and mark them," Kevin says.
3. Having access to an excellent support team
One aspect Kevin spoke about is when it comes to Eat App, the support team is also available to assist if he needs any help with our software or features. "I do think that your support staff is excellent. I mean, they're responsive. If you put in a request, they always answer you and they answer quickly. That's one of the things that, you know, you should be very proud of and very pleased about," the Riggers Loft owner says.
For Kevin, it's knowing that they will always have the support they need when it comes to maintaining the features they implemented for the winery. The Riggers Loft owner describes signing up for new software as getting to play with a new toy, and even though the beginning seems fun and exciting, he wants a support team to be there later down the line when they need assistance. "It's after 'how do I keep the toy working' and doing all the things that I thought it was going to do that becomes the critical thing. And for people the support side of their businesses is not particularly important to them anymore," he says.
Luckily, if Kevin and his team need help with any of the Eat App features they have access to our support team. "[With other companies] you get caught in a phone tree, press this one and do this and do that. And okay. If you're looking for this press that key, if you're looking to do that, press that gate, I hate that stuff. And I think most people probably do. They don't find it very personal and It's also not very intuitive," Kevin says.
Having a personal relationship with the support team is extremely important to Kevin, especially when it comes to utilizing the features. "I liked the app and I liked the company and I liked the folks that work there," the Riggers Loft owner adds.