Our latest case study takes a look at the Baron, Beirut located in Lebanon - best known for being Mediterranean influenced, European executed and entirely Beirut. The restaurant, above all else, aims to be creative and provide a welcoming place for guests to eat.
We spoke to the Managing Partner of the Baron and Tasty Kitchen Hospitality Private Limited, Etienne Sabbagh to learn more about the incredible and ongoing growth of the restaurant for almost seven years.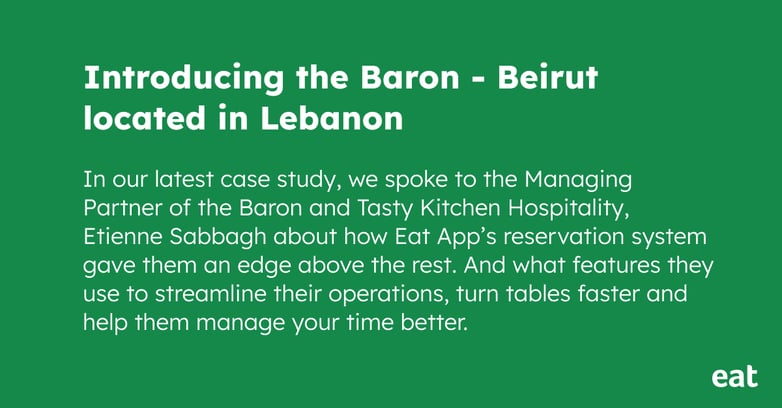 Introduction
The Baron's organic in their approach and delivery; their space is local, spreading from the inside out. The team's background is complex and while they hail from some of the finest dining establishments in the world, they just want to be your favorite neighborhood joint. "The Baron was established six and a half years ago. The cuisine was mostly influenced by a lot of spices from the Mediterranean. It's a lot of international dishes and an open kitchen, meaning we have a food counter that you can sit on and watch all the desserts being made right in front of you," he says. "We also have a small trolly for the bar that can move around tables," Etienne says.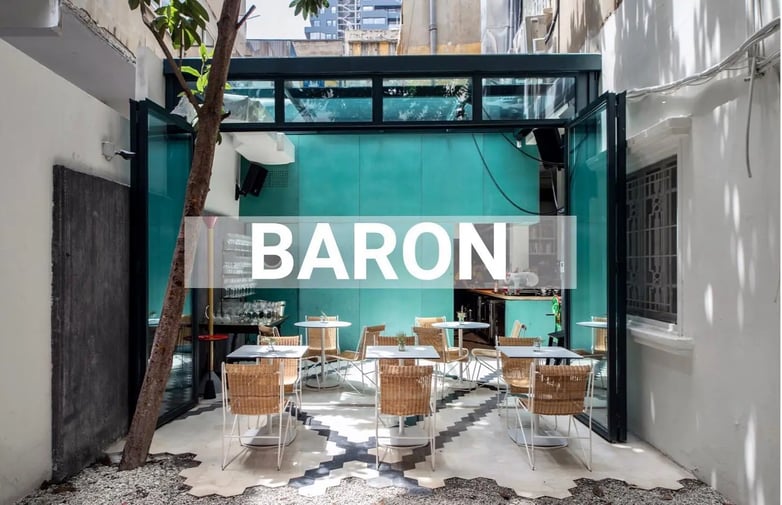 Attracting visitors from around the world, the unique establishment knew that they needed a table management system to help streamline operations, increase online reservations and most importantly improve the guest experience. "We started using Eat App seven years ago before we opened the place," he says. "I wanted to have a new system that was out of the box, one that wasn't like the usual systems that everyone used. And Eat App was one of the systems that you can modify inside the updates depending on your plan and your space," the Managing Partner of Baron added.
Fast forward to seven years later, and Etienne and his team still use Eat App daily to help them grow their restaurant brand. Let's take a look at the unique Eat App features that Etienne and the team at The Baron use and why they have become a loyal customer up until today:
The Baron's go-to Eat App features
1. Customizing their floor plan and the restaurant's needs to exactly how they operate
According to Etienne, he enjoys using Eat App based on the fact that you can modify the system according to your restaurant needs and how you and your team operate daily. "You can specialize the software and modify it how you need it," Etienne says. "And the table management or reservation system helps you to manage your table and manage your profits, especially during busy hours, high traffic or season," he says.
Note: Our editor will also give you granular control over volume, pacing, and online availability to help streamline your operations. You are fully in control when it comes to planning and setting up your restaurant.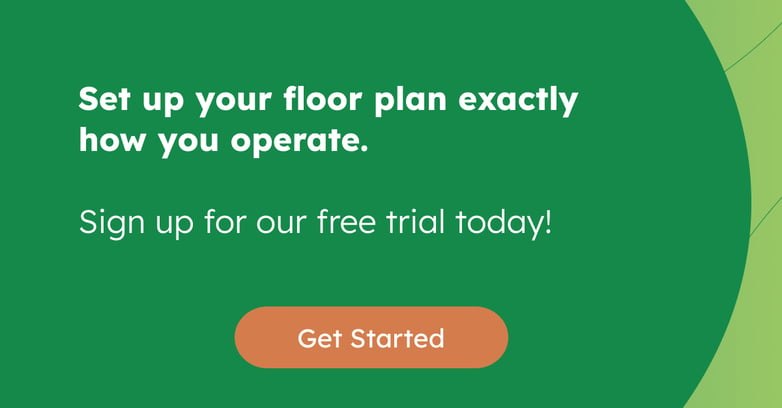 2. They're able to collect valuable information about their guests and send them personalized SMSs
When it comes to running a restaurant it's important to keep a pulse on your guests and their experiences. This is why a table management system, like Eat App, collects important guest information about your visitors each time they enter your doors. This data will not only allow you to keep track of who is a regular visitor at your restaurant, but you will be able to better understand your guests by viewing their order history, average spend and preferences such as a table or drink request.
And by using Eat App you will be able to do all of this without lifting a finger. Guests who make an online reservation through your booking widget are automatically added to your guest database, showcasing their specific guest profiles. A unique Eat App feature, Etienne and his team have been finding useful up until today. "With Eat App you have a good back office now. You can have all the data of your clients. This included their visits, email addresses and all of this [information]. And at the same time you have the cancellation process where we send an SMS to a guest if the table [booking] has been canceled," he says. "We also have proof that the client canceled this table or we canceled that table, because they were late by half an hour or we called them and they didn't show. This all helps us to have a solid reservation system," Etienne says.
3. A reservation and table management system gives them an edge over everyone else
Meeting the restaurant's guests online has also helped the Baron increase their bookings significantly. "The online reservation helped us a lot and gave us an edge over everyone else. Especially in Lebanon, because you have a lot of foreigners coming to Lebanon and a lot of tourists visiting the country," he says. "Eat App helped us a lot because guests can make a booking on Google, Facebook, Instagram and it's much easier not to call someone to make a reservation," Etienne added. And best of all, through data reports, you're also able to view and monitor where most of your guests are coming from online. For example, 50% of your guests make their reservations on Google, while 10% have made a booking through your Facebook page.
4. Managing their restaurant anytime, anywhere
With Eat App, you can successfully streamline operations across your restaurant. For example, you can reduce wait times, fill more seats and keep service flowing smoothly. It's the ultimate command center for your host stand. And best of all you can manage your restaurant from any device, anytime anywhere. The aim is to make it as convenient and accessible as possible and help owners and their staff to have control over the restaurant no matter where they are on the floor. "The managers, the hostess and some of the waiters use Eat App; so around six or seven people," he says explaining which team members have a bird's eye view over every table, hour, shift and guest that dines at your restaurant. "And it's on my phone. I have an app account on my phone. I then go and check the number of reservations every day," he added.
"I also follow up with the staff and the chef, who I've added to the reservation system. This way, they can see how many people they can expect during the night or day. This helps a lot, especially when it comes to the preparation of the kitchen. It helps manage you in all cases," Etienne added.
A table management system is a great tool that will help you plan and streamline your operations daily. For Etienne, it's been especially convenient when he is on the road traveling. "I open up the app on my phone like six or seven times a day. And some people call me to make a reservation and I can help them from my phone directly. No need to call the restaurant and then do all the hassle, I can make a booking for them directly on my phone using their contact details," the Managing Partner of Baron says.
5. They have access to analytics where they can view valuable data about their restaurant
To help operators evaluate their restaurant's performance and pinpoint their shortcomings, Eat App provides in-depth guest and reservation data, including unique metrics, that enable the next level of restaurant performance tracking. "Every month I do a full report on the data analysis from the cancellation to visitors, from covers and all of this," Etienne says.
Eat App's single dashboard reporting system makes it easier to compare data, and share it with your team through exportable graphs and charts.
With your advanced analytics reports, you'll be able to:
View in-depth guest and reservation reports

Breakdown reports on a daily, weekly, monthly, or yearly basis

View reports for a custom time range

Breakdown reports based on reservations or covers

Export CSV reports or graphs from any chosen time period
>>>> Read more about Eat App's performance tracking tool for restaurants here
6. A table management system helps operators grow their restaurant brand
With a table management system, restaurant owners can bring all their reservations and guest data into one place so they can do what they do best - deliver outstanding guest experiences. "It helps you on time management, it helps you understand the clients, the behavior of the client from the time they arrive until they have left. So you have all this on the system, if the guest is 15 minutes late or some people have arrived or others will come later or when they started eating and what time they have left," Etienne says. "It helps you with time management, especially during high season. We do a double booking all the time and then during high season at night we do a booking at 19:30 and 21:30 and we have another booking for people who want to come late, let's say at 22:30," he added. "So, we take another booking at eight or 20:15 in order to have a 2-hour gap in between to let the people enjoy their meal. And it shows you on the floor plan how you can control the booking and how you can profit to the maximum and have a better table turnover rate," Etienne explains.
In addition, a support team is always there to help restaurants every step of the way. "Honestly reservation-wise, Eat App is one of the best reservation systems I have worked with. And the support team is great. They reply to you at night at 10 or 11 at night. And this is what a restaurant needs," he says.