We're pleased to announce the launch of a new table management feature specifically designed for restaurant managers on-the-go. As of today restaurants are able to manage their reservations on either desktop or mobile through our web portal, meaning even more flexibility when combined with the iPad reservation system.
Perfect for Restaurant Mangers
The web version of Eat provides a simplified interface optimized for mobile. It gives managers the ability to:
Manage reservations on the fly - add, edit or cancel bookings and assign tables. See which customers are expected and which bookings have been confirmed.
Plan for upcoming shifts - Quickly see how many covers are expected per shift.
How it works?
Login in using your existing login information at https://app.eatapp.co
The home screen of the web version shows an overview of daily covers at the your restaurant.
Tap the calendar on the top left to change the date - either past or present.
Total number of covers for the shift is top right.
Tap 'Add Booking' at the bottom to quickly add walk-ins or phone reservations.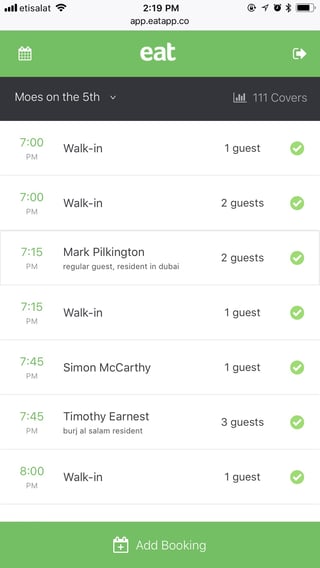 Add Booking
After you can tap 'add booking', a reservation can added in the same way as on the main iPad app.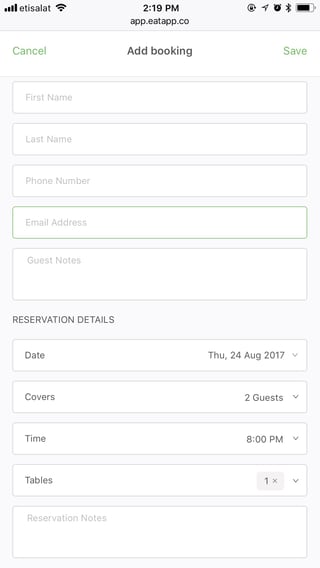 Managing Bookings
To edit a reservation simply tap any booking from the main page. From here you can change all the details of the reservation or delete it.