Operating a restaurant is no easy task. A successful restaurant requires a strong team including servers, hostesses, bussers, cashiers, and more. The most essential role, however, is that of the restaurant manager.
The restaurant manager is responsible for overseeing all restaurant operations while managing both the front and back of house staff to ensure that everything is running smoothly. It's a role of many hats. A good restaurant manager must be highly skilled in all aspects of the house including people management, financial matters, time management, and more, making sure that the restaurant is performing well and making money.
Think of your restaurant as a ship. The restaurant manager is the captain of your ship wheeling it in the right direction while overcoming any obstacles on the way, which is why it's important to hire the right person for the job who believes in and shares the values, mission, and vision of the restaurant. Remember, if the captain is not skilled enough or does not share your vision, the boat is bound to sink.
In this article, we will go through some of the key skills and responsibilities of a restaurant manager that should be kept in mind when hiring one for your restaurant.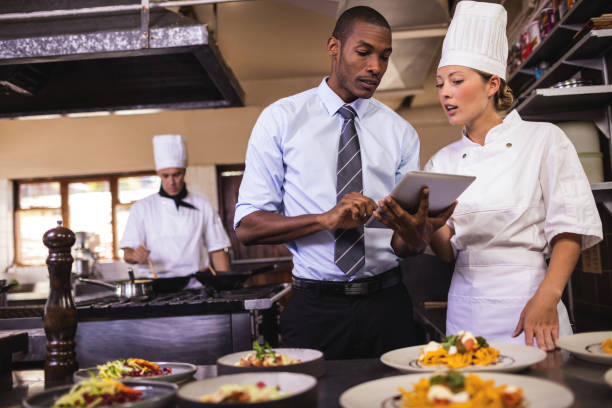 9 Key Responsibilities of a Restaurant Manager
1. Market Research
The responsibilities of a restaurant manager start much before guests step foot in the restaurant. One of the most important tasks of a manager is to do a thorough research of the current market. This includes:

a. Target Market Research
Who is the main audience? What are their demographics and behavioral qualities? What are their food preferences? What segments can they be categorized into? Answering these questions can help the manager gain a comprehensive understanding of the target market and make strategic decisions that will improve the likelihood of reaching the target audience and increasing restaurant sales and revenue.

b. Competitor Analysis
For surviving in a competitive industry like F&B, it's essential to be knowledgeable about your competitors and understand things like their USP, what people like and dislike about them, and how they can affect your business. Competitor analysis should be conducted by the restaurant manager on a regular basis to stay up to date with the current market situation.
2. People Management
One of the main tasks of the restaurant manager is people management. As the captain of the ship, the manager is responsible for looking over and managing the team to ensure smooth sailing. As a people manager, he/she has to take over the following responsibilities:

a. Leadership
As the head of the team, it's the manager's responsibility to lead the team and provide them with a sense of direction. This includes helping staff members understand their role and duties, boosting morale and motivation, and offering a helping hand wherever needed while maintaining effectiveness and efficiency in the team. Good leadership makes staff members happier and improves the team's retention rate

b. Handling conflicts
Whenever there are multiple people involved, conflicts are bound to happen. The manager must be able to control any issues between team members and resolve them before they escalate into something bigger. It's up to him/her to maintain peace and dignity within the team.

c. Human resources
Restaurant managers also have to take up the responsibility of HR and conduct the whole hiring process which includes sourcing candidates, taking interviews, onboarding, training, and even termination. Although the process may seem like a hassle, hiring good candidates is essential for restaurant success, and therefore, is a very essential role of the restaurant manager.
3. Purchasing and inventory management
Managers need to ensure that the kitchen is always stocked with all the required ingredients with minimal wastage, for which they have to set up purchase orders and manage inventory. In this aspect of restaurant management, they are responsible for:

a. Keeping a record of raw materials
The manager must keep a record of all the ingredients required in the kitchen to make sure everything is always available.

b. Sourcing suppliers
Once they have the list of ingredients, the managers have to source the right suppliers for each product that can be trusted on quality and pricing.

c. Placing purchase orders
It's important to have a purchasing and delivery schedule for each supplier and make sure that you're on track with the purchase orders to ensure that all the ingredients are always available in the right quantities.

d. Managing inventory
Apart from sourcing the ingredients, the manager also has to undertake inventory management on a daily basis to make sure there is no over or under ordering leading to wastage or lost revenue due to unavailability.
4. Accounting and financial management
The manager is also responsible for handling the financial side of the restaurant. He/she has to manage the accounts and create necessary financial statements for performance tracking. A restaurant manager's financial responsibilities include:

a. Managing daily accounts
While the cashier is responsible for handling the till the manager has to overlook all the income and expenses for the day and make sure that everything is recorded into the restaurant's accounting system, and that the daily account is balanced.

b. Financial reporting for performance tracking
Reports like profit & loss statements, cash flow statements, etc. have to be drafted on a regular basis to keep track of the restaurant's performance. The manager must be equipped with adequate financial skills to create and analyze these reports and share the results with the restaurant owners.
5. Admin duties
The managerial role also includes various day-to-day admin tasks like scheduling, maintaining records, etc. Here are some of the possible admin duties included in this role:

a. Managing restaurant technology
Each restaurant is equipped with various different restaurant technologies like POS systems, online delivery systems, table management and reservation systems, and more. The manager has to ensure that each system is up-to-date and running smoothly at all times.

b. Scheduling
The restaurant manager's job comes with a lot of scheduling tasks, like creating staff shift schedules, time-off schedules, purchase and delivery schedules, inventory management schedules, meeting schedules, and more. He/she should maintain and keep track of each schedule regularly.

c. Other admin duties
Apart from the above-mentioned, the manager is responsible for many other small tasks, like following up with guests after they make a reservation, creating guest lists, sending out emails, and other ad-hoc tasks.
6. Maintainance
Restaurants use many different types of equipment and systems. If even a single one stops working, it can potentially disrupt the entire operational process. The restaurant manager should ensure all the equipment is always in good shape by taking up the following duties:

a. Regular equipment checks
Just like inventory, the restaurant manager should also create an equipment check schedule and checklist and conduct check-ups regularly to find any issues and fix them immediately. With the equipment being pre-checked regularly, the chances of it breaking down mid-shift are much lower.

b. Service and maintenance
The machinery should also be sent for regular servicing to increase their longevity and ensure that they are always working at optimal performance.
7. Customer Service
Apart from maintaining back-of-house operations, the restaurant manager is also responsible for overlooking the floor and making sure that the customer service is always as per restaurant standards. A few of these customer service duties include:

a. Attending to guests
The manager must always be available to jump in and attend to the guests as and when needed. It's also a good idea to touch base with diners during their meal to check if everything is in order. A visit from the manager is bound to make them feel more special.

b. Dealing with issues
One of the most important responsibilities of the manager is to resolve any issues faced by diners, like delay in food being served, wrong order being served, or if the customer is not happy with the dining experience. The manager must always be open to customer feedback and make sure guests don't leave the restaurant unhappy or unsatisfied.

c. Collecting feedback
Guest feedback is crucial for restaurant success. Managers must actively work towards collecting feedback from diners after their meal by simply asking them how their experience was, offering comment cards, or sending out post-dining surveys.
8. Marketing
Along with maintaining restaurant operations, the managers also have to take up the role of marketers to make sure that they are able to attract as many customers as possible. A restaurant managers marketing duties include:

a. Keeping social platforms up-to-date
Social channels like Facebook, Instagram, Tripadvisor, and Google are the main sources for attracting customers. It's important to keep these platforms up-to-date with the latest information and share exciting content with people to convince them to visit the restaurant.

b. Listing on relevant reservations platforms
Nowadays, there are many reservation platforms in the market that provide your restaurant access to a wide range of users. Managers must research the market and list the restaurant in the best reservation platforms to reach as many customers as possible.

c. Events and promotions
Exclusive events and promotions are a great way to attract more diners to your restaurant. The restaurant manager is responsible for coming up with relevant ideas according to the target audience. For instance, if the restaurant is family-friendly, family brunches or kids' special discounts can be some relevant ideas that can be explored.
9. Optimizing restaurant operations
Apart from the various duties mentioned above, the manager is also responsible for making sure that the restaurant operations are as optimized as possible. Restaurant managers have to get creative and try to find new and better ways to improve processes and streamline restaurant operations even further. This can be a tricky one as it requires time and creativity, but contributes significantly to restaurant success.

Optimizing operations also includes finding gaps in service and pain points in operations and coming up with solutions to resolve them. If the manager is performing his/her other duties well, it will be easy to identify any issues in operations. It's important to be well aware of the workings of your restaurant to improve overall productivity.