It doesn't matter the size of your hospitality group or hotel chain, managing the facility takes a lot of work. Especially since you need to maintain a strict record of every procedure, from bookings and bookkeeping to administration and processing of guest data.
So, the question remains, how can you run your company efficiently in this kind of chaos faced daily? The answer is simple, a hotel property management system (PMS). The centralized system helps to "digitize" your hotel property management and automate routine tasks.
In this blog post, we'll examine what hotel property management software is, define its essential components, and discuss the most typical difficulties you could have when setting up a hotel PMS. To help you, we've gathered all of our knowledge from working with operators and hospitality groups to explain how this powerful system works.
This article covers all you need to know about developing custom property management systems for hotels. Let's begin!
>>> Want to know more about Eat App's PMS Integration? Click here.
---
PMS: Definition & Objectives
The management of hospitality groups is facilitated by the use of property management systems (PMS). A centralized computer system enables the organization, planning, and execution of daily operations and transactions in rooms, businesses, and hospitality facilities. Only owners and managers of hotels, motels, hostels, resorts, and similar establishments are catered to by hotel PMS solutions.
A hotel PMS has traditionally been thought of as software that enables hotel organizations to maximize their front-office capabilities by displacing laborious, paper- and spreadsheet-intensive operations. Reservations, check-in/check-out procedures, room assignments, rate administration, and billing were all made easier by user-friendly hotel management system features. They frequently needed a sizable amount of on-site controlled hardware.
What purpose does a PMS system provide in the current hospitality industry? The key objective continues to be the automation of routine front-office and administrative duties. It's crucial to remember that automation can help progressive organizations save up to 70%. All hotel PMS software includes the necessary modules for front-desk operations, housekeeping, and reservations. Modern hotel PMS solutions also come with a number of capabilities that support customized, tailored guest experiences.
What advantages do hotel property management solutions offer?
The following are only a few of the benefits of a modern PMS for the hotel industry:
A more improved check-in and check-out procedure
The front desk personnel of a hotel may check guests in and out, assign rooms, and activate guest services whenever they want and from wherever they are thanks to a mobile-enabled cloud hotel PMS.
Better housekeeping efficiency
The software can notify cleaning staff when a person checks out or in real-time after a guest arrives early and needs their room to be ready. It makes it simpler to identify and address room maintenance problems.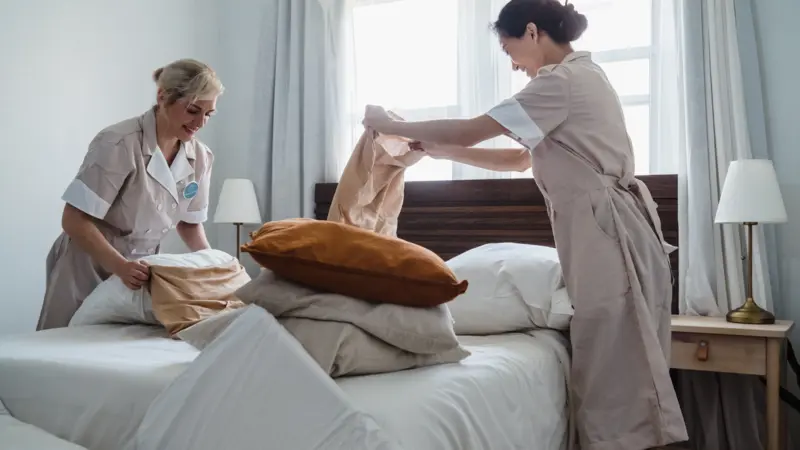 From a single central system, several functions that were previously performed by various programs can be completed. Everything can be kept by management in one location so it won't get misplaced. Across all departments and many property locations, employees can access, update, and keep track of all pertinent information. They can work together more efficiently and from any location.
>>> Read more about the 9 PMS integrations that will help you boost efficiency.
More effective revenue management
Operations and financial activities are connected by hotel property management software. It makes use of pre-built connectors with payment gateways, point-of-sale systems, accounts payable, and accounts receivable. Additionally, reporting, analytics, and competitive intelligence all assist in enhancing hotel business operations.
Better management of guest data
All guest data is collected and securely stored by PMS for hotels, allowing for the creation of comprehensive guest profiles and ensuring compliance with consumer data protection laws. This makes it easier to prevent frequent hotel booking scams. It is possible for hotel businesses to create more specialized packages and services by having an awareness of guest purchasing trends.
Increased efficiency and engagement of employees
User-friendly interfaces make it easier to teach hotel workers and lower the risk of mistakes. The personnel may focus on adding value rather than spending hours on repetitive administrative chores that can be automated.
When the entire hotel's data is kept on the cloud, it can be downloaded, analyzed, and secured using cutting-edge technology. Your cloud-based hotel PMS has secured data that is safely backed up. The hotel data will still be available to hotel PMS users even in the event that a computer malfunctions or a laptop is misplaced.
Improved guest experience
The automation of routine business operations and administrative tasks promotes the consistent provision of high-quality services. Additionally, hotel PMS keeps track of visitor preferences and analyzes comments, which provides staff with useful information to assist assure better guest experiences.
Plus, by integrating your Table Management System, like Eat App with your PMS, a hotel restaurant owner, and their personnel can view the client's room by connecting the two systems, which connects the entire guest experience.
This will essentially lead to the visitor experience ultimately improving as a result of staff workers automatically knowing the guest's room number and any other details like preferences even before they arrive.
To sum it up, the advantages of merging your TMS and PMS are as follows:
Being aware of who is visiting from the hotel and who is not

Provides personnel with useful guest information, such as room numbers, specific preferences, and the number of visitors in the room that will help enhance the experience of your guests

Makes a central data center that connects the customer journey from your restaurant to your hotel

Operators can retarget both hotel and non-hotel guests to entice them to come again at another time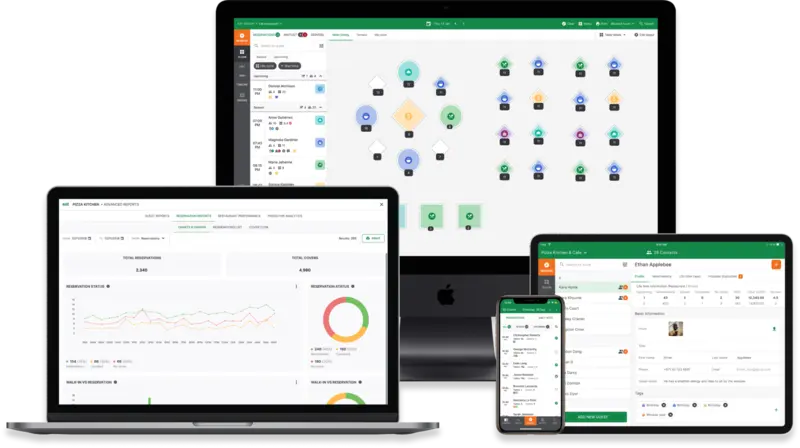 In conclusion, a hotel PMS system has a lot of benefits for the hospitality industry. All of that is due to its usefulness. Let's examine the essential features that any specialized property management system for the hotel industry ought to have.
What are the main characteristics that every hotel management system must have?
A current hotel PMS unifies several work settings into a single piece of software. The arrangement of modules in a system and the functionalities within a module can change depending on your company's demands. However, a capable hotel operating system should be able to handle, at the very least, the following duties:
#1 Front of House and Reservation Operations
The online booking engine and other distribution channels should be coupled with the reservation service, which holds all inventory information and dates. The administration of the hotel may see the existing and upcoming reservations on practical and user-friendly dashboards. They can maintain track of reservations and visitors, verify the status of rooms, and transfer people around as necessary. One secure system is used by this module to check visitors in and out, issue key cards, manage room-related requests, track room allocation, process payments, provide guest receipts, do night and shift audits, and more.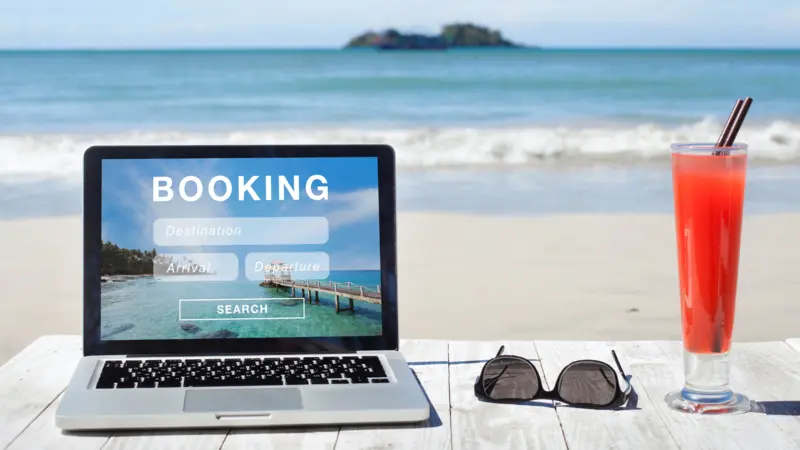 #2 Management of the distribution channel
Businesses in the hospitality industry need to be visible across a variety of internet distribution channels to reach their target customers. Bookings can be made through a hotel's website, travel portals, mobile applications, business clients, airlines, and other channels. Using hotel property management software, a company may manage several channels and increase its online presence. It permits the listing of rooms and pricing on numerous channels and through third-party booking partners, and it interfaces with online travel agencies (OTAs) and global distribution systems (GDSs).
Direct sales are handled by a central hotel booking engine, and distribution channels are managed online. This function streamlines booking-related transactions and aids in the elimination of manual management. The program offers a single interface for managing and distributing stocks across all channels and integrates directly with the reservation system. All reservations are coordinated, and all channels receive real-time updates on the status of available rooms. Additionally, it guarantees stability in the hotel's tariffs and promotions.
#3 Room Status Management
The management of room statuses, cleaning task allocations, and task tracking are all included in the housekeeping functionality. The module connects cleaning employees to the front office and automates management responsibilities. Rooms that need to be cleaned or readied for the upcoming guest should be flagged by the program, and chores should be delegated to the appropriate staff members. A front-desk manager can keep tabs on the condition of every room and arrange maintenance logs. When everything is finished, housekeepers can update the status of their chores or rooms on their smartphone or tablet thanks to cloud-based hotel PMS. The personnel can also upload pictures of any problems so that the maintenance division can promptly evaluate and fix them.
A maintenance management system aids in the planning and coordination of maintenance activities, the documentation of hotel disruptions and repairs, the management of maintenance reports, the tracking of maintenance requests, and the updating of requests' statuses.
#4 Strategy for Revenue Management
To track, manage, and analyze payments, a hotel revenue management system offers a simple and secure interface. Online payments are accepted, credit/debit card information is promptly verified, and in the event of non-payment, it assists in managing outstanding charges.
The use of flexible, data-driven revenue management tactics is made possible by hotel property management software. They monitor important performance factors like occupancy, RevPAR (revenue per available room), and ADR (ADR). To help find the best prices, special algorithms use past data as well as information on the rates of competitors, the weather, or nearby events. Hotel management can set restrictions, automatically modify room prices across all distribution channels, create packages and special offers, and more with the use of dedicated pricing tools. Systems for managing revenue also assist hoteliers in changing procedures to improve outcomes and maintain financial control.
#5 Managing guest information and relationships
Customer communication should be possible with hotels before, during, and after a guest's stay. Guest contact information and other data are gathered and organized from these sources by a CRM that is integrated with the front desk and reservation systems. For more individualized visitor experiences, hoteliers can create membership and loyalty programs with the aid of a guest information database. Additionally, hotel PMS systems offer a thorough capability for managing customer feedback. The data may be utilized on the hotel's website, surveys, and online and mobile travel agencies.
The hotel PMS on mobile should be integrated with any CRM systems used by a chain of hotels or resorts.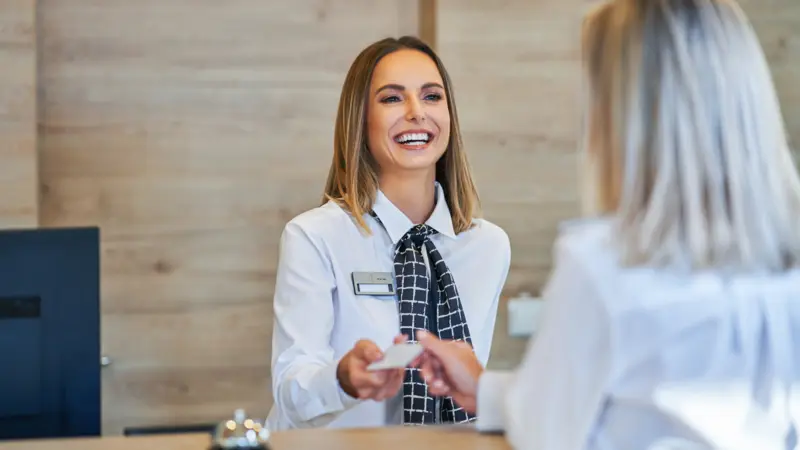 #6 Data Analytics and Reporting
For the hotel industry to expand, reporting must be thorough and fast. Hotel PMS systems can produce a variety of automated reports, depending on the program, including night audits, shift audits, room and tax reports, departure/arrival, housekeeping, and other continuing reporting.
A reporting dashboard makes it easier to keep track of sales, reservations, and inventories and offers insightful daily data, occupancy rates, ADR, and RevPAR into hotel performance. The proper hotel PMS also assists in adhering to local tax reporting laws and regulations.
#7 Optimizing Your Back-Office
The back-office and administrative hotel activities are streamlined, made more visible, and optimized with the aid of this module.
It might perform the following duties:
Management of human resources, including scheduling and employee billing evaluations management

Catering and event planning

Management of the gym, spa, and conference rooms

Execution of sales and catering for group reservations

Management of assets

Inventory evaluation

Analysis of consumption prices and hotel expenditures sales and managing marketing initiatives
Internal communications, reporting on visitor arrival times, campaign management, email sending, and occasionally, simple bookkeeping are all possible with the back-office module.
#8 Services Provided by Point-Of-Sale (POS)
In addition to restaurants, banquet and conference rooms, gyms, day spas, and gift shops, many hotels also feature other facilities. On the guest folio, they can also list additional fees or discounts for food and drink, room services, mini-bar products, TV, or Wi-Fi. The POS function of hotel operating systems automates transactions, maintains data centrally, and aids in managing all payments taken through several point-of-sale terminals.
We looked at the essential components that a system ought to have. Let's look at a few actual hotel PMS samples to get a better idea of how a final solution can appear and operate.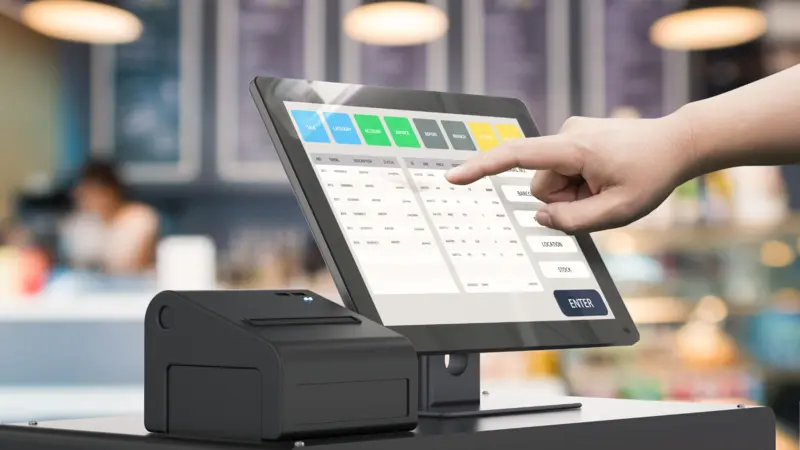 Hotel property management system (PMS) examples:
Cloudbeds
With the help of Cloudbeds, hotels can effortlessly handle the booking process, arrange payments, expedite check-ins and check-outs, and gather data to properly assess the market and set prices. Users of Cloudbeds can streamline everyday chores, save time, and improve the level of service at their hotels.
Oracle Hospitality
Another illustration of a property management system used in hotels is Oracle Hospitality. A number of useful functions, including direct bookings, housekeeping management, personalized services, transaction operations, reporting, and analytics, are included in the program to make it easier to conduct everyday hotel operations.
Autoclerk
The guest experience is the cornerstone of every hotel operator's operation. Autoclerk aims to make the front desk procedures as clear-cut and user-friendly as they can since it's crucial for your front desk workers to be organized and self-assured. Their distinctive one-step screens are easy to use and extremely effective.
eZee Absolute
An all-in-one management system called eZee Absolute assists hotels in automating their daily tasks like reservations, back-office work, transactions, housekeeping, etc. Additionally, this hotel's PMS has a mobile app that provides exceptional customer service and enables visitors to self-check in or request necessary services.
Infor
Infor's complete cloud hospitality software for hotels and resorts enables businesses to establish a scalable, end-to-end technological foundation for their operations.
We looked at a few prevalent PMSs in hotels above. Your product might appear on this list one day. You should be aware of some potential difficulties in order to successfully create your hotel property management system. Let's think about them!
The difficulties you could encounter when creating a unique hotel property management system
You should be aware of some frequent difficulties before beginning to create a hotel management system so that you can prevent them. Let's examine the most typical issues that a hotel PMS might experience and how to fix them.
The resiliency of the product
You must first validate the concept for your product to be truly feasible and meet all of your business needs. For instance, you need to consider a product discovery stage that ensures you have a workable product idea, defines project complexity, and evaluates potential hazards. The foundation for your future product's success is set during this stage.
Preserving security and privacy
One of the biggest difficulties you'll probably run into when developing a hotel management system is security. Your system will store and process a lot of sensitive data, including information about your client's personal information and hotel revenue. You must take the appropriate security precautions in order to prevent hacking and information leaking. First and foremost, be sure to encrypt personal data to prevent hackers from hurting your company. Additionally, you want to restrict access by demanding special login information for each hotel PMS user and putting multi-factor authentication into place.
Ensuring easy navigation and user experience
Routine chores need to be completed swiftly and effectively at many hotels. As a result, when designing a system, significant consideration must be given to an appealing user interface and a simple user interface. One-click must be required to access the primary functionality. For instance, you ought to create a dashboard that displays the hotel's occupancy from above.
Are you prepared to transform the way your hotel business operates?
Hoteliers are putting in a lot of effort to satisfy guests' requirements and expectations at every stage of the stay in order to stay competitive. This encompasses the web search, the reservation procedure, the in-room experience, and the post-stay social media reviews. Software for hotel property management is helpful in this situation.
Although there are pre-made options available, they fall short of a personalized hotel management system. Customized solutions might be quite advantageous. The most important is management software that completely satisfies your unique needs for your hotel business. The services provided to your guests will be improved by a custom hotel PMS, which will free up time formerly spent on administrative tasks and increase revenue.
Do you intend to create a unique property management system for your hotel enterprise? Get in touch with us to receive a revolutionary hotel PMS development solution!
Here are a few FAQs:
What is a hotel management system?
Any size hotel can efficiently manage its daily activities, such as reservations, housekeeping, billing, etc., thanks to a hotel property management system.
What core duties does a hotel property management system perform?
Here are a few of the top features we've recommended:
Reservation (to view past and upcoming reservations, offer online booking, and determine whether a room is available);

Housekeeping (to assign room cleaning assignments, track housekeeper tasks, and manage room statuses);

Management of customer connections (to collect and organize guests' contact information)

Back-office administration (to streamline administrative hotel operations)

POS (point-of-sale) services (to manage all payments, automate transactions, and keep the data in one place)
What are some of the biggest benefits of a specialized hotel property management system?
Routine processes being automated, personnel being more productive, all data being in one location, easy management of customer data, high level of data security, and improved guest experience.
Does management software aid in the growth of the hotel industry?
The answer is yes. When you use the proper hotel management software features, your everyday operations will be greatly improved, and thorough, timely reporting will provide invaluable insights to help you manage your business successfully.
How much does developing a customized hotel property management system cost?
The expenses of developing a hotel property management system directly depend on the project's needs, complexity, team size, the number of necessary features, design, and other factors.
For instance, creating an MVP version with only the most important functionality will take about 1,000 hours. In Eastern Europe, the standard hourly wage is $50. The development will therefore cost about $55,000.
However, this is simply a basic illustration of cost. The precise sum is determined by your needs and the details of the project.
Want to know more about PMS integration? Utilize Eat App's Property Management System (PMS) Integration to address some of the most significant issues facing hoteliers. By cutting down on administrative work and tying together the customer journey from check-in to check-out, you can provide your visitors with the most fulfilling stay imaginable.